Abstract
This research note introduces the Dutch Parliamentary Behaviour Dataset, a record of parliamentary (voting) behaviour in the Dutch Tweede Kamer (Second Chamber, House of Representatives) since 1945. The Dutch Parliament was often excluded from past comparative work on legislative (voting) behaviour because behavioural data were not available in an accessible format. By digitizing the parliamentary archives and compiling the data in a structured format, we have created a comparatively rich dataset, that is made publically accessible for other researchers. In this research note, we describe the dataset and data collection process and provide some examples as how the data might be used in the growing quantitative literature on legislative behaviour.
This is a preview of subscription content, log in to check access.
Access options
Buy single article
Instant access to the full article PDF.
US$ 39.95
Price includes VAT for USA
Subscribe to journal
Immediate online access to all issues from 2019. Subscription will auto renew annually.
US$ 124
This is the net price. Taxes to be calculated in checkout.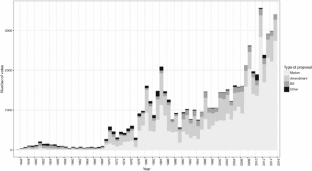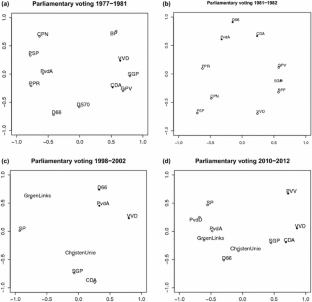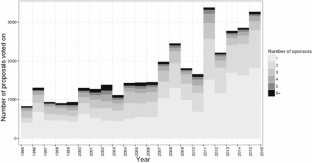 References
Alemán, E., Calvo, E., Jones, M.P. and Kaplan, N. (2009) Comparing cosponsorship and roll-call ideal points. Legislative Studies Quarterly 34(1): 87–116.

Andeweg, R.B. and Thomassen, J.J.T. (2011) Pathways to party unity: Sanctions, loyalty, homogeneity and division of labour in the Dutch parliament. Party Politics 17(5): 655–672.

Bergmann, H., Bailer, S., Ohmura, T., Saalfeld, T. and Sieberer, U. (2016) Namentliche Abstimmungen im Bundestag 1949 bis 2013: Befunde aus einem neuen Datensatz. Zeitschrift Für Parlamentsfragen Parlamentsfragen 47(1): 26–50.

Bovend'Eert, P. and Kummeling, H. (2010) Het Nederlandse Parlement. Deventer: Kluwer.

Carey, J.M. (2007) Competing principals, political institutions, and party unity in legislative voting. American Journal of Political Science 51(1): 92–107.

Carey, J.M. (2008) Legislative Voting and Accountability. Cambridge: Cambridge University Press.

Coman, E. (2016) Dimensions of political conflict in West and East: An application of vote scaling to 22 European parliaments. Party Politics. doi:10.1177/1354068815593454.

Daalder, H. and Wolters, M. (1987) 'Politicologen en psychologen op zoek naar partijen in de ruimte. In: H.F.M. Crombag, L.J.T. Van der Kamp and C.A.J. Vlek (eds.) De Psychologie voorbij: ontwikkelingen rond model, metriek en methode in de gedragswetenschappen. Lisse: Swets & Zeitlinger, pp. 253–270.

Depauw, S. and Martin, S. (2009) Legislative party discipline and cohesion in comparative perspective. In: D. Giannetti and K. Benoit (eds.) Intra-Party Politics and Coalition Governments. New York: Routledge, pp. 103–120.

Fivaz, J., Louwerse, T. and Schwarz, D. (2014) Keeping promises: VAAs and political representation. In: D. Garzia and S. Marschall (eds.) Matching Voters with Parties and Candidates. Colchester: ECPR Press, pp. 197–216.

Goeree, M. and Popping, R. (2014) Types of motions as proposed in the Dutch House of representatives. Quality & Quantity 48(6): 3253–3269.

Hansen, M.E. (2008) Reconsidering the party distances and dimensionality of the Danish Folketing. The Journal of Legislative Studies 14(3): 264–278.

Hansen, M.E. (2009) The positions of Irish Parliamentary Parties 1937–2006. Irish Political Studies 24(1): 29–44.

Hix, S. (2001) Legislative behaviour and party competition in the European Parliament: An application of nominate to the EU. JCMS. Journal of Common Market Studies 39(4): 663–688.

Hix, S. and Noury, A. (2016) Government-opposition or left-right? The institutional determinants of voting in legislatures. Political Science Research and Methods 4(2): 249–273.

Hug, S. and Schulz, T. (2007) Left-right positions of political parties in Switzerland. Party Politics 13(3): 305–330.

Kam, C.J. (2009) Party Discipline and Parliamentary Politics. Cambridge: Cambridge University Press.

Koninklijke Bilbiotheek (2016) Staten-Generaal Digitaal. http://statengeneraaldigitaal.nl/, accessed 26 January 2016.

Laver, M.J. (2006) Legislatures and parliaments in comparative context. In: B. Weingast and D. Wittman (eds.) Oxford Handbook of Political Economy. Oxford: Oxford University Press, pp. 121–140.

Lijphart, A. (1975) De paradox van Condorcet en de Nederlandse parlementaire praktijk. Acta Politica 10(2): 188–198.

Louwerse, T. and Otjes, S. (2015) The impact of parliamentary specialisation on cosponsorship. The Journal of Legislative Studies 21(4): 476–494.

Louwerse, T., Otjes, S., Willumsen, D.M. and Öhberg, P. (2016) Reaching across the aisle: Explaining government-opposition voting in parliament. Party Politics. doi:10.1177/1354068815626000 (early online publication).

Mokken, R.J. and Stokman, F. (1985) Legislative analysis: Methodology for the analysis of groups and coalitions. In: H.A M. Wilke (ed.) Coalition Formation. Amsterdam: Elsevier, pp. 173–227.

Officiële Bekendmakingen (2016) Overheid.nl – Officiële Bekendmakingen, https://zoek.officielebekendmakingen.nl/zoeken/parlementaire_documenten, accessed 26 January 2016.

Oost, E. (2016) Partijgedrag, partijgedrag.nl, accessed 16 September 2016.

Otjes, S. (2011) The Fortuyn effect revisited. How did the LPF affect the Dutch Parliamentary Party System? Acta Politica 46(4): 400–424.

Otjes, S. (2012) Imitating the newcomer. How, when and why established political parties imitate the policy positions and issue attention of new political parties in the electoral and parliamentary arena: the case of The Netherlands. Ph.D. Thesis, Leiden University.

Otjes, S. (2014) Animal party politics in parliament. In: M. Wissenburg and D. Schlossberg (eds.) Political Animals and Animal Politics. Palgrave: Basingstoke, pp. 107–122.

Otjes, S. and Louwerse, T. (2013) Een bijzonder meerderheidskabinet? Parlementair gedrag tijdens het kabinet Rutte-I. Res Publica 55(4): 459–480.

Otjes, S. and Louwerse, T. (2014a) Een middenkabinet of een minderheidskabinet? In: G. Voerman (ed.) Halverwege? Tussenbalans kabinet-Rutte II. Montesquieu Instituut: Den Haag, pp. 35–48.

Otjes, S. and Louwerse, T. (2014b) A special majority cabinet? Supported minority governance and parliamentary behavior in The Netherlands. World Political Science Review 10(2): 343–363.

Otjes, S. and Louwerse, T. (2015) Populists in parliament: Comparing left wing and right-wing populism in The Netherlands. Political Studies 63(1): 60–79.

Peress, M. (2013) Estimating proposal and status quo locations using voting and cosponsorship data. The Journal of Politics 75(3): 613–631.

Political Mashup (2016) Parliament Debate Search, http://search.politicalmashup.nl/, accessed 26 January 2016.

Poole, K.T. (2005) Spatial Models of Parliamentary Voting. Cambridge, New York: Cambridge University Press.

Poole, K.T. (2008) Nominate: A short intellectual history. SSRN Electronic Journal. doi:10.2139/ssrn.1154153.

Poole, K.T. and Rosenthal, H. (1984) The polarization of American politics. The Journal of Politics 46(4): 1061–1079.

Popping, R. (2013) Coding issues in cognitive mapping of games. Open Journal of Political Science 3(1): 16–23.

Popping, R. and Wittek, R. (2015) Success and failure of parliamentary motions: A social dilemma approach. PLoS ONE. doi:10.1371/journal.pone.0133510.

Rice, S.A. (1925) The behavior of legislative groups: A method of measurement. Political Science Quarterly 40(1): 60–72.

Rosenthal, H. (1984) Why statistical foundations are needed in roll call analysis. Historical Social Research 32(4): 85–88.

Rosenthal, H. and Voeten, E. (2004) Analyzing roll calls with perfect spatial voting: France 1946–1958. American Journal of Political Science 48(3): 620–632.

Sieberer, U. (2006) Party unity in parliamentary democracies: A comparative analysis. The Journal of Legislative Studies 12(2): 150–178.

Spirling, A. and McLean, I. (2007) UK OC OK? Interpreting optimal classification scores for the U.K. House of Commons. Political Analysis 15(1): 85–96.

The Public Whip (2016) Raw data – The public whip, http://www.publicwhip.org.uk/project/data.php, accessed 15 September 2016.

Tweede Kamer (2016) Stemmingsuitslagen, http://www.tweedekamer.nl/kamerstukken/stemmingsuitslagen, accessed 26 January 2016.

Van Aelst, P. and Louwerse, T. (2014) Parliament without government: The Belgian parliament and the government formation processes of 2007–2011. West European Politics 37(3): 475–496. doi:10.1080/01402382.2013.832953.

Van den Doel, J. (1975) De macro-politieke paradox van Arrow 's nachts in het parlement. Acta Politica 10(2): 199–205.

Van der Brug, W. (1997) Where's the Party? Voters' Perceptions of Party Positions. Ph.D. Dissertation, Amsterdam University.

Van der Pas, D. and Jansen, E. (2011) The Dimensionality of Voting Behaviour in Two European Parliaments. Paper presented at the ECPR General Conference, 25–27 August 2011 Reykjavik, Iceland.

Van Tijn-Koekebakker, M., Brinkman, W. and Koomen, W. (1970) Onderzoeksproblemen. Verschillen in stemgedrag tijdens het kabinet Cals. Acta Politica 5(2): 173–177.

Van Vonno, C.M.C. (2016) Achieving Party Unity: A Sequential Approach to Why MPs Act in Concert. Ph.D. Dissertation, Leiden University.

Visscher, G. (1994) Parlementaire invloed op wetgeving. Inventarisatie van de invloed van de beide kamers der Staten-Generaal op de wetgevende activiteit van de kabinetten-Marijnen tot en met -Lubbers I. Den Haag: SDU.

Votewatch (2016) Votewatch Europe: European Parliament, Council of the EU, http://www.votewatch.eu/, accessed 15 September 2016.

Wels, C. B. and Wolters, M. (1982) Analyse van het stemgedrag van Tweede Kamerleden in 1849. Tussenstand van een onderzoek. Tijdschrift voor Geschiedenis 95: 31–57.

Wolters, M. (1978a) Is de Eerste Kamer overbodig? Bestuurswetenschappen 32: 99–107.

Wolters, M. (1978b) Models of roll-call behaviour. Political Methodology 5(1): 7–54.

Wolters, M. (1980) Strategic voting: An empirical analysis with Dutch roll call data. In: P. Whiteley (ed.) Models of Political Economy. London: Sage, pp. 319–342.

Wolters, M. (1984) Interspace Politics. Ph.D. Dissertation, Leiden University.
Electronic supplementary material
Below is the link to the electronic supplementary material.
About this article
Cite this article
Louwerse, T., Otjes, S. & van Vonno, C. The Dutch Parliamentary Behaviour Dataset. Acta Polit 53, 149–166 (2018). https://doi.org/10.1057/s41269-017-0042-4
Keywords
legislative studies

parliament

legislative behaviour

legislative voting

The Netherlands