Abstract
This paper investigates whether and how individual shocks of temporary employment translate into feelings of political alienation. Recently, research started to investigate cross-sectional associations between temporary employment, political attitudes and behavior. Yet, the cross-sectional research so far struggles to disentangle empirically whether the relationship between temporary work and political orientations is determined by structural factors only – such as skill-set and education – or whether we are also able to observe the dynamic patterns suggested in theoretical arguments. This paper takes up the task of tracing the dynamic relationship between temporary employment experiences and adjustments in political orientations. It is argued that temporary employment has ambiguous effects on political orientations and that we are in need for convincing strategies to tackle this heterogeneity. Using perceived risk measures as mediators, we propose a strategy to capture the dynamic effects of temporary employment. Fixed-effects regressions show that if temporary employment experiences are translated by increases in perceived job insecurity and perceived financial insecurity, trust in politics starts to erode. The identification of such dynamic patterns is highly relevant for research on the political effects of labor market disadvantages.
This is a preview of subscription content, log in to check access.
Access options
Buy single article
Instant access to the full article PDF.
US$ 39.95
Price includes VAT for USA
Subscribe to journal
Immediate online access to all issues from 2019. Subscription will auto renew annually.
US$ 124
This is the net price. Taxes to be calculated in checkout.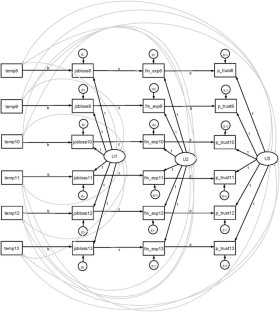 References
Allison, P. D. (2009) Fixed effects regression models. London: Sage.

Alwin, D. F. and Krosnick, J. A. (1991) Aging, cohorts, and the stability of sociopolitical orientations over the life span. American Journal of Sociology, 97(1), 169–195.

Blekesaune, M. and Quadagno, J. (2003) Public attitudes toward welfare state policies a comparative analysis of 24 nations. European Sociological Review, 19(5), 415–427.

Booth, A. L., Francesconi, M. and Frank, J. (2002) Temporary jobs: Stepping stones or dead ends? Economic Journal, 112(480), F189–F213.

Burgoon, B. and Dekker, F. (2010) flexible employment, economic insecurity and social policy preferences in Europe. Journal of European Social Policy, 20(2), 126–141.

Citrin, J., Mcclosky, H., Merrill Shanks, J. and Sniderman, P. M. (1975) Personal and political sources of political alienation. British Journal of Political Science, 5(1), 1–31.

Corbetta, P. and Colloca, P. (2013) Job precariousness and political orientations: The case of Italy. South European Society and Politics, 18(3), 333–354.

Easton, D. (1975) A re-assessment of the concept of political support. British Journal of Political Science, 5(4), 435–457.

Emmenegger, P. (2009) Barriers to entry: Insider/outsider politics and the political determinants of job security regulations. Journal of European Social Policy, 19(2), 131–146.

Emmenegger, P. (2014) The power to dismiss. Trade unions and the regulation of job security in Western Europe. Oxford: Oxford University Press.

Emmenegger, P., Häusermann, S., Palier, B. and Seeleib-Kaiser, M. (2012) How We Grow Unequal. In P. Emmenegger, S. Häusermann, B. Palier and M. Seeleib-Kaiser (Eds.), The age of dualization: The changing face of inequality in deindustrializing societies (pp. 3–26). New York: Oxford University Press.

Emmenegger, P., Marx, P. and Schraff, D. (2015) Labour market disadvantage, political orientations and voting: How adverse labour market experiences translate into electoral behaviour. Socio-Economic Review, 13(2), 189–213.

Emmenegger, P., Marx, P. and Schraff, D. (2017) Off to a bad start: Unemployment and political interest during early adulthood. The Journal of Politics, 79(1), 315–328.

Enders, C. K. (2001) A primer on maximum likelihood algorithms available for use with missing data. Structural Equation Modeling, 8(1), 128–141.

Fong, C. (2001) Social preferences, self-interest, and the demand for redistribution. Journal of Public Economics, 82(2), 225–246.

Giesecke, J. (2009) Socio-economic risks of atypical employment relationships: Evidence from the German labour market. European Sociological Review, 25(6), 629–646.

Goodin, R. E., Headey, B., Muffels, R. and Dirven, H. (1999) The real worlds of welfare capitalism. Cambridge: Cambridge University Press.

Hamermesh, D. S. (2004) Subjective outcomes in economics. Southern Economic Journal, 71(1), 2–11.

Hatemi, P. K., Funk, C. L., Medland, S. E., Maes, H. M., Silberg, J. L., Martin, N. G., et al. (2009) Genetic and environmental transmission of political attitudes over a life time. The Journal of Politics, 71(3), 1141–1156.

Honaker, J., King, G. and Blackwell, M. (2011) Amelia II: A program for missing data. Journal of Statistical Software, 45(7), 1–47.

King, G. and Honaker, J. (2001) Analyzing incomplete political science data: An alternative algorithm for multiple imputation. American Political Science Review, 95(1), 49–69.

King, D. and Rueda, D. (2008) Cheap labor: The new politics of "bread and roses" in industrial democracies. Perspectives on Politics, 6(2), 279–297.

Lieberson, S. and Hansen, L. K. (1974) National development, mother tongue diversity, and the comparative study of nations. American Sociological Review, 39(4), 523–541.

Lindvall, J. and Rueda, D. (2013) The insider-outsider Dilemma. British Journal of Political Science, 44(2), 460–475.

Marx, P. (2014a) Labour market risks and political preferences: The case of temporary employment. European Journal of Political Research, 53(1), 136–159.

Marx, P. (2014b) The effect of job insecurity and employability on preferences for redistribution in Western Europe. Journal of European Social Policy, 24(4), 351–366.

Marx, P. (2015) The political behavior of temporary workers. Basingstoke: Palgrave Macmillan.

Marx, P. (2016) The insider-outsider divide and economic voting: Testing a new theory with german electoral data. Socio-Economic Review, 14(1), 97–118.

Marx, P. and Picot, G. (2013) The party preferences of atypical workers in Germany. Journal of European Social Policy, 23(2), 164–178.

Mughan, A., Bean, C. and McAllister, I. (2003) Economic globalization, job insecurity and the populist reaction. Electoral Studies, 22(4), 617–633.

Mughan, A. and Lacy, D. (2002) Economic performance, job insecurity and electoral choice. British Journal of Political Science, 32(3), 513–533.

OECD. (2014) Labor Force Statistics 2014. Paris: OECD.

Pontusson, J. and Rueda, D. (2010) The politics of inequality: Voter mobilization and left parties in advanced industrial states. Comparative Political Studies, 43(6), 675–705.

Rubin, D. B. (1987) Multiple imputation for nonresponse in surveys. New York: Wiley.

Rueda, D. (2005) Insider–outsider politics in industrialized democracies: The challange to social democratic parties. American Political Science Review, 99(1), 61–74.

Schwander, H. and Häusermann, S. (2013) Who is in and who is out? A risk-based conceptualization of insiders and outsiders. Journal of European Social Policy, 23(3), 248–269.

Sobel, M. E. (1982) Asymptotic confidence intervals for indirect effects in structural equations models. Sociological Methodology, 13, 290–312.

van der Meeer, T. and Dekker, P. (2011) Trustworthy states, trusting citizens? A multilevel study into objective and subjective determinants of political trust. In S. Zmerli and M. Hooghe (Eds.), Political Trust. Why Context Matters (pp. 95–116). Colchester: ECPR Press.

Verba, S., Scholzman, K. L. and Brady, H. E. (1995) Voice and equality. Civic voluntarism in American politics. Cambridge: Havard University Press.
Acknowledgements
For helpful comments and advise, I would like to thank Patrick Emmenegger, Flavia Fossati, Paul Marx, and André Walter, as well as the two anonymous reviewers. Of course, all remaining errors are mine.
About this article
Cite this article
Schraff, D. Labor market disadvantage and political alienation: a longitudinal perspective on the heterogeneous risk in temporary employment. Acta Polit 53, 48–67 (2018). https://doi.org/10.1057/s41269-016-0037-6
Keywords
labor market disadvantage

temporary employment

insider–outsider conflict

political alienation

panel data