Abstract
Issue ownership theory expects political parties to focus their campaigns on 'owned' issues for which they have a reputation of competence and a history of attention, and to avoid issues that play to the advantage of their opponents. However, recent empirical studies show that parties often campaign on the same issues. The literature has suggested several factors to account for this behavior, but has mostly neglected that issue emphasis strategies can vary across campaign communication channels and parties. Based on a quantitative content analysis of the manifestos and press releases of all seven parties competing in the 2009 regional elections in Flanders (Belgium), we make two contributions. First, we show that while there is some consistency in parties' issue priorities, they do not necessarily set the same issue priorities in their different campaign communication channels. Second, it appears that parties follow different strategies depending on their standing in the polls, and, to a lesser degree, according to their position in government or in opposition.
This is a preview of subscription content, log in to check access.
Access options
Buy single article
Instant access to the full article PDF.
US$ 39.95
Price includes VAT for USA
Subscribe to journal
Immediate online access to all issues from 2019. Subscription will auto renew annually.
US$ 124
This is the net price. Taxes to be calculated in checkout.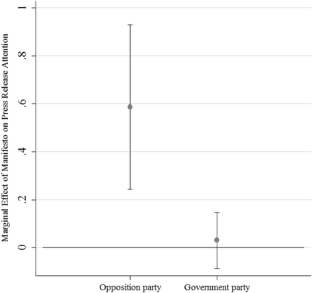 References
Banda, K. (2013). The dynamics of campaign issue agendas. State Politics & Policy Quarterly, 13(4), 446–470.

Baumgartner, F. R., and Jones, B. D. (1993). Agendas and Instability in American Politics. Chicago: University of Chicago Press.

Brouard, S., Grossmann, E., and Guinaudeau, I. (2012). La compétition partisane française au prisme des priorités électorales: compétition sur enjeux et appropriations thématiques. Revue française de science politique, 62(2), 255–276.

Budge, I. (1982). Electoral volatility: Issue effects and basic change in 23 post-war democracies. Electoral Studies, 1(2), 147–168.

Budge, I. (2015). Issue emphases, saliency theory and issue ownership: A historical and conceptual analysis. West European Politics, 38(4), 761–777.

Budge, I. and Farlie, D. (1983a). Party competition – selective emphasis or direct confrontation? An alternative view with data. In H. Daalder & P. Mair (Eds.), Western European Party Systems. Continuity and Change (pp. 267–305). Beverly Hills: Sage.

Budge, I. and Farlie, D. (1983b). Explaining and Predicting Elections. London: George Allen & Unwin.

Damore, D. F. (2004). The dynamics of issue ownership in presidential campaigns. Political Research Quarterly, 57(3), 391–397.

Damore, D. F. (2005). Issue convergence in presidential campaigns. Political Behavior, 27(1), 71–97.

Deschouwer, K. (2009). The Politics of Belgium: Governing a Divided Society. Basingstoke/New York: Palgrave Macmillan.

Deschouwer, K., Delwit, P., Hooghe, M., and Walgrave, S. (2010). De verkiezingen van 2009. Resultaten en algemene tendensen. In K. Deschouwer, P. Delwit, M. Hooghe, & S. Walgrave (Eds.), De Stemmen van het Volk. Een analyse van het kiesgedrag in Vlaanderen en Wallonië op 7 juni 2009 (pp. 7–28). Brussels: VUB Press.

Dolezal, M., Ennser-Jedenastik, L., Müller, W. C., and Winkler, A. K. (2014). How parties compete for votes: A test of saliency theory. European Journal of Political Research, 53(1), 57–76.

Downs, A. (1957). An Economic Theory of Democracy. New York: Harper.

Elmelund-Præstekær, Ch. (2011). Mapping parties' issue agenda in different channels of campaign communication: A wild goose chase? Javnost – the Public, 18(1), 37–52.

Geys, B. (2012). Success and failure in electoral competition: Selective issue emphasis under incomplete issue ownership. Electoral Studies, 31(2), 406–412.

Green, J. (2011). A test of core vote theories: The British Conservatives, 1997–2005. British Journal of Political Science, 41(4), 735–764.

Green, J. and Hobolt, S. B. (2008). Owning the issue agenda: Party strategies and vote choices in British elections. Electoral Studies, 27(3), 460–476.

Greene, Z. (2015). Competing on the issues: How experience in government and economic conditions influence the scope of parties' policy messages. Party Politics. doi:10.1177/1354068814567026.

Green-Pedersen, Ch. and Mortensen, P. B. (2010). Who sets the agenda and who responds to it in the Danish parliament? A new model of issue competition and agenda-setting. European Journal of Political Research, 49(2), 257–281.

Green-Pedersen, Ch. and Mortensen, P. B. (2015). Avoidance and engagement: Issue competition in multiparty systems. Political Studies, 63(4), 747–764.

Hopmann, D. N., Elmelund-Præstekær, Ch., Albæk, E., Vliegenthard, R., and de Vreese, C. H. (2012). Party media agenda-setting: How parties influence election news coverage. Party Politics, 18(2), 173–191.

Iyengar, S. and Kinder, D. R. (1987). News That Matters: Television and American Opinion. Chicago: University of Chicago Press.

Jacobs, L. R. and Shapiro, R. Y. (1994). Issues, candidate image, and priming: The use of private polls in Kennedy's 1960 presidential campaign. American Political Science Review, 88(3), 527–540.

Kaplan, N., Park, D. K., and Ridout, T. N. (2006). Dialogue in American political campaigns? An examination of issue convergence in candidate television advertising. American Journal of Political Science, 50(3), 724–736.

Kleinnijenhuis, J., and Takens, J. (2011) Het politieke nieuwsaanbond van dagbladen en televisie: Objectief en pluriform? In J. Thomassen and R. Andeweg (Eds.), Democratie doorgelicht. Het functioneren van de Nederlandse democratie (pp. 407–424). Leiden: Leiden University Press.

Lachat, R. (2014). Issue ownership and the vote: The effects of associative and competence ownership on issue voting. Swiss Political Science Review, 20(4), 727–740.

Lefevere, J. (2011) Campaign effects on voter decision making, Unpublished PhD thesis, Department of political science, University of Antwerp.

Maddens, B. (2010). Election Spendings of 2009 in Perspective (De verkiezingsuitgaven van 2009 in perspectief). Vives Briefings (p. 6). Leuven: K.U. Leuven.

Meyer, T. M. and Wagner, M. (2016). Issue engagement in election campaigns: The impact of electoral incentives and organizational constraints. Political Science Research and Methods. doi:10.1017/psrm.2015.40.

Norris, P., Curtis, J., Sanders, D., Scammel, M., and Semetko, H. A. (1999). On Message. Communicating the Campaign. London: Sage.

Petrocik, J. R. (1996). Issue ownership and presidential elections, with a 1980 case study. American Journal of Political Science, 40(3), 825–850.

Riker, W. H. (1993). Introduction. In W. H. Riker (Ed.), Agenda Formation (pp. 1–12). Ann Arbor: University of Michigan Press.

Robertson, D. (1976). A Theory of Party Competition. London: Wiley.

Sides, J. (2006). The origins of campaign agendas. British Journal of Political Science, 36(3), 407–436.

Sigelman, L. and Buell, E. H., Jr. (2004). Avoidance or engagement? Issue convergence in U.S. presidential campaigns, 1960–2000. American Journal of Political Science, 48(4), 650–661.

Simon, A. (2002). The winning message: Candidate behavior, campaign discourse, and democracy. Cambridge: Cambridge University Press.

Spiliotes, C. J. and Vavreck, L. (2002). Campaign advertising: Partisan convergence or divergence? The Journal of Politics, 64(1), 249–261.

Spoon, J.-J., Hobolt, S. B., and de Vries, C. (2014). Going green: Explaining issue competition on the environment. European Journal of Political Research, 53(2), 363–380.

Stimson, J. A., Mackuen, M. B., and Erikson, R. S. (1995). Dynamic representation. American Political Science Review, 89(3), 543–565.

Stubager, R., and Slothuus, R. (2013). What are the sources of political parties' issue ownership? Testing four explanationa at the individual level. Political Behavior, 35(3), 567–588.

Van Aelst, P. and Lefevere, J. (2012). Has Europe got anything to do with the European elections? A study on split-ticket voting in the Belgian regional and European elections of 2009. European Union Politics, 13(1), 3–25.

Vliegenthart, R. and Walgrave, S. (2011). When the media matter for politics: Partisan moderators of the mass media's agenda-setting influence on parliament in Belgium. Party Politics, 17(3), 321–342.

Wagner, M. and Meyer, T. M. (2014). Which issues do parties emphasise? Salience strategies and party organisation in multiparty systems. West European Politics, 37(5), 1019–1045.

Walgrave, S. and de Swert, K. (2007). Where does issue ownership come from? From the party or from the media? Issue–party identifications in Belgium, 1991–2005. International Journal of Press/Politics, 12(1), 37–67.

Walgrave, S. and van Aelst, P. (2006). The contingency of the mass media's political agenda setting power: Toward a preliminary theory. Journal of Communication, 56(1), 88–109.

Walgrave, S., Lefevere, J., and Tresch, A. (2012). The associative dimension of issue ownership. Public Opinion Quarterly, 76(4), 771–782.

Walter, A. S., van der Brug, W., and Van Praag, Ph. (2014). When the stakes are high: Party competition and negative campaigning. Comparative Political Studies, 47(4), 550–573.
Acknowledgements
This work was supported by the PARTIREP Consortium, an IAP Attraction Pole that is funded by the Belgian Science Policy [P6/37 to Kris Deschouwer, Stefaan Walgrave, Marc Hooghe, and Pascal Delwit], and the Swiss National Science Foundation (PP00P1_150451).
About this article
Cite this article
Tresch, A., Lefevere, J. & Walgrave, S. How parties' issue emphasis strategies vary across communication channels: The 2009 regional election campaign in Belgium. Acta Polit 53, 25–47 (2018). https://doi.org/10.1057/s41269-016-0036-7
Keywords
saliency theory

issue ownership

political parties

communication channels

election campaigns

Belgium