Abstract
Small island states are much more likely to have democratic regimes than large continental states. This trend also holds across Africa, where the five island states with populations of 1.5 million or less are all rated at least 'partly free' by Freedom House. In this article we explore what it is about being a small island state that might explain this trend. Building on studies from other small island states, we find that the interaction between the two contextual factors is key to explaining their diversion from mainland trends in the African context. Specifically, 'smallness' leads to closer links between citizens and politicians in addition to more effective service delivery, while 'islandness' promotes community cohesion and provides a buffer against instability and conflict in neighbouring states. This results in a positive feedback loop that guards against authoritarian excess. Our focus on population size and geography thus adds to the existing studies of the contextual drivers of African democratisation.
Access options
Buy single article
Instant access to the full article PDF.
USD 39.95
Price includes VAT (USA)
Tax calculation will be finalised during checkout.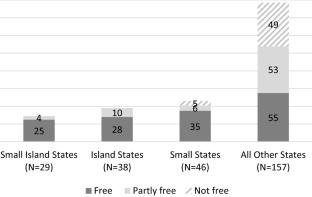 Notes
1.

The Varieties of Democracy (V-DEM) project offers several democracy indexes varying from low (0) to high (1). The 2019 data shows that all island states outperform the regional average scores in the electoral democracy index (0.43) and in the liberal democracy index (0.3). The Comoros are a partial exception to this pattern and displays a more irregular trend: after standing above the regional average roughly between 2004 and 2018 its score slightly decreased in 2019 to 0.39 in the electoral democracy index, and to 0.18 in the liberal democracy index. Without denying the differences in quality of democracy across cases, both the V-Dem and the Freedom House data, suggest that the Comoros are closer to being an electoral democracy than to being an autocracy.

2.

Seventeen interviews were conducted in Cabo Verde (in 2017), fourteen interviews were conducted in the Seychelles (in 2011), and participant observation and informal interviews were conducted in São Tomé and Príncipe (in 2019). The interview respondents primarily consisted of (former) politicians, as well as journalists, academics, and representatives of non-governmental organisations (NGOs). The participant observation in São Tomé happened during a two-week event that aimed at promoting citizenship and political participation in the country. The interviews were conducted as part of different research projects, and unfortunately we have not yet been able to conduct interviews in the Comoros and Mauritius. However, this deficiency is partially remedied by the existence of a more extensive secondary literature on these (larger) cases, from which we have drawn insights.

3.

Initially named the Seychelles People's United Party (SPUP).
References
Abbay, Alemseged (2004) 'Diversity and state-building in Ethiopia', African Affairs 103(431): 593–614.

Ali, Damir Bem, Kaambi Roubani and Mahamoudou Said (2011) Analyse Des Potentiels et Dynamiques de Conflits et Des Facteurs Structurels Qui Minent La Cohésion Sociale En Union Des Comores, Moroni: UPND.

Anckar, Carsten (2008) 'Size, Islandness, and Democracy: A Global Comparison', International Political Science Review 29(4): 433–59.

Anckar, Dag (2006) 'Islandness or Smallness? A Comparative Look at Political Institutions in Small Island States', Island Studies Journal 1(1): 43–54.

Anckar, Dag (2002) 'Why Are Small Island States Democracies ?', Round Table 365: 375–90.

Baker, Bruce (2009) 'Comoros: The Search for Viability', Civil Wars 11(3): 215–33.

Baker, Bruce (2008) 'Seychelles: Democratising in the Shadows of the Past', Journal of Contemporary African Studies 26(3): 279–93.

Baker, Bruce (2006) 'Cape Verde: The Most Democratic Nation in Africa?', Journal of Modern African Studies 44(4): 493‒511.

Banks, Arthur S., Thomas C. Muller and William R. Overstreet, eds (2007) The Political Handbook of Africa 2007, Washington, DC: CQ Press.

Barkan, Joel D. (1984) 'Legislators, Elections, and Political Linkage', in Joel D. Barkan, ed., Politics and Public Policy in Kenya and Tanzania, 71–101, New York: Praeger.

Bernhard, Michael, Christopher Reenock and Timothy Nordstrom (2004) 'The Legacy of Western Overseas Colonialism on Democratic Survival', International Studies Quarterly 48(1): 225–50.

Bertram, Geoff (2007) 'Reappraising the Legacy of Colonialism: A Response to Feyrer and Sacerdote', Island Studies Journal 2(2): 239‒54.

Boswell, John, Jack Corbett and R. A. W. Rhodes (2019) The Art and Craft of Comparison. Cambridge: Cambrige University Press.

Boswell, Rosabelle (2008) 'Challenges to Creolization in Mauritius and Madagascar', Diaspora: A Journal of Transnational Studies 17(1): 64‒83.

Branco, Rafael and Afonso Varela (1998) Os Caminhos Da Democracia: São Tomé e Príncipe [Pathways to Democracy: São Tomé and Príncipe], Amadora: Selfpublishing.

Bratton, Michael, Ravi Bhavnani and Tse Hsin Chen (2012) 'Voting Intentions in Africa: Ethnic, Economic or Partisan?', Commonwealth and Comparative Politics 50(1): 27–52.

Bratton, Michael and Nicolas van de Walle (1997) Democratic Experiments in Africa: Regime Transitions in Comparative Perspective, Cambridge: Cambridge University Press.

Campling, Liam, Hansel Confiance and Marie-Therese Purvis (2013) Social Policies in Seychelles, Hampshire: Commonwealth Secretariat and United Nations Research Institute for Social Development.

Chabal, Patrick, and Jean-Pascal Daloz (1999) Africa Works: Disorder as Political Instrument, Oxford: James Currey.

Chabal, Patrick, ed. (2002) A History of Postcolonial Lusophone Africa, Indiana: Indiana University Press.

Chakravarty, Anuradha (2014) 'Navigating the middle ground: The political values of ordinary Hutu in post-genocide Rwanda', African Affairs 113(451): 232–53.

Cheibub, Jose Antonio, Adam Przeworski, Fernando Papaterra Limongi Neto, and Michael M. Alvarez (1996) 'What Makes Democracies Endure?', Journal of Democracy 7(1): 39‒55.

Cheeseman, Nic (2015) Democracy in Africa Successes, Failures, and the Struggle for Political, New York: Cambridge University Press.

Cheeseman, Nic (2010). 'African Elections as Vehicles for Change', Journal of Democracy 21(4): 139–53.

Cheeseman, Nic, Michaela Collord, and Filip Reyntjens (2018) 'War and Democracy: the Legacy of Conflict in East Africa', Journal of Modern African Studies 56(1): 31‒61.

Clemente-Kersten, Ana Catarina (1999) 'Cape Verde', in Dieter Nohlen, Michael Krennerich and Bernhard Thibaut, eds, Elections in Africa. A Data Handbook, 189–204, New York: Oxford University Press.

Congdon Fors, Heather (2014) 'Do Island States Have Better Institutions?', Journal of Comparative Economics 42(1): 34–60.

Corbett, Jack (2015) '"Everybody Knows Everybody": Practising Politics in the Pacific Islands', Democratization 22(1): 51–72.

Corbett, Jack, and Wouter Veenendaal (2018) Democracy in Small States: Persisting Against All Odds, Oxford: Oxford University Press.

Dahl, Robert Alan and Edward R. Tufte (1973) Size and Democracy, Stanford, CA: Stanford University Press.

Diamond, Larry Jay and Svetlana Tsalik (1999) 'Size and Democracy: The Case for Decentralization', in Larry Jay Diamond, ed., Developing Democracy: Towards Consolidation, 117–60, Baltimore, MD: John Hopkins University Press.

Dulani B., Adam S. Harris, Jeremy Horowitz and Happy Kayuni (2021) 'Electoral Preferences Among Multiethnic Voters in Africa', Comparative Political Studies 54(2): 280‒311.

Englebert, Pierre (2000) State Legitimacy and Development in Africa, Boulder, CO: Lynne Rienner Publishers.

Englebert, Pierre, Stacy Tarango, and Matthew Carter (2002), 'Dismemberment and Suffocation: A Contribution to the Debate on African Boundaries', Comparative Political Studies 35(10): 1093‒118.

Freedom House (2020) Country and Territory Ratings and Statuses, 1973-2020. Available at: https://freedomhouse.org/report/freedom-world. Accessed on 09 May 2020.

Frynas, Jędrzej George, Geoffrey Wood and Ricardo M. S. Soares de Oliveira (2003) 'Business and Politics in São Tomé e Príncipe: From Cocoa Monoculture to Petro‐State', African Affairs 102(406): 51–80.

Gerring, John and Wouter Veenendaal (2020) Population and Politics: The Impact of Scale, Cambridge: Cambridge University Press.

Grydehøj, Adam (2017) 'A Future of Island Studies', Island Studies Journal 12(1): 3‒16.

Hassan, Hamdy A. (2009) 'The Comoros and the Crisis of Building a National State', Contemporary Arab Affairs 2(2): 229–39.

Herbst, Jeffrey (2014) States and Power in Africa: Comparative Lessons in Authority and Control, London: Princeton University Press.

Horowitz, Donald L. (2000) Ethnic Groups in Conflict, California: University of California Press.

Jütersonke, Oliver, Moncef Kartas, Isabelle Dauner, Julie Mandoyan and Christoph Spurk (2010) Peace and Conflict Impact Assessment (PCIA) Madagascar. Geneva: Centre on Conflict, Development and Peacebuilding (CCDP).

Kasenally, Roukaya (2011) 'Mauritius: The Not so Perfect Democracy', Journal of African Elections 10(1): 33–47.

Lange, Matthew (2010) 'Democracy and British Plantation Colonialism', APSA 2010 Annual Meeting Paper, available at SSRN: https://Ssrn.Com/Abstract=1642831 (last accessed on 21 December, 2020).

Lee, Alexander and Jack Paine (2019) 'British Colonialism and Democracy : Divergent Inheritances and Diminishing Legacies', Journal of Comparative Economics 47(3): 487–503.

Levitsky, Steven and Lucan A. Way (2010) Competitive Authoritarianism: Hybrid Regimes After the Cold War, Cambridge, UK: Cambridge University Press.

Lijphart, Arend (1977) Democracy in Plural Societies: A Comparative Exploration, New Haven and London: Yale University Press.

Linz, Juan J. (1990) 'The Perils of Presidentialism', Journal of Democracy 1(1): 51–69.

Mainwaring, Scott and Matthew S Shugart (1997) 'Juan Linz, Presidentialism, and Democracy: A Critical Appraisal', Comparative Politics 29(4): 449–71.

Marcus, Richard R. (2016) The Politics of Institutional Failure in Madagascar's Third Republic, Lanham, Maryland: Lexington Books.

Medard, Jean-François (1982) 'The Underdeveloped State in Tropical Africa: Political Clientelism or Neo-Patrimonialism', in Christopher Clapham, ed., Private Patronage and Public Power: Political Clientelism in the Modern State, 162‒92, London: Frances Pinter.

Miles, William F.S. (1999) 'The Mauritius Enigma', Journal of Democracy 10(2): 91–104.

Mohamed, Abdelaziz Riziki (2001) Comores: Les Institutions D'un Etat Mort-Né. Paris: Editions L'Harmattan.

Nyamnjoh, Francis B. (2005) Africa's media, democracy and the politics of belonging, London: Zed Books.

Ojo, Akinloye (2016) 'Comoros, Federal Islamic Republic of The', in Toyin Falola and Daniel Jean-Jacques, eds, Africa: An Encyclopedia of Culture and Society, 254–83, California: ABC-CLIO, LLC.

Owolabi, Olukunle P. (2017) 'The Developmental Legacies of the Bifurcated Colonial State: Statistical Evidence from 67 British, French, and Portuguese Colonies', Working Paper No. 419, Notre Dame: Kellogg Institute for International Studies.

Peiffer, Caryn and Pierre Englebert (2012) 'Extraversion, Vulnerability to Donors, and Political Liberalization in Africa', African Affairs 111(444): 355–78.

Remmer, Karen L. (2010) 'Political Scale and Electoral Turnout: Evidence From the Less Industrialized World', Comparative Political Studies 43(3): 275–303.

Rield, Rachel (2014) Authoritarian Origins of Democratic Party Systems in Africa, Cambridge, UK: Cambridge University Press.

Sanches, Edalina Rodrigues (2020a) 'Small Island States with Strong Democracies: Cape Verde and São Tomé and Príncipe Compared', in Lino Briguglio, eds, Handbook of Governance in Small States, 38–51, New York: Routledge.

Sanches, Edalina Rodrigues (2020b) 'Transitions to Democracy, Institutional Choices and Party System Stability: Lessons from Small African Islands', Journal of Contemporary African Studies 38(2): 186‒204.

Sanches, Edalina Rodrigues (2018a) 'Poderes Presidenciais e Qualidade da Democracia em África' [Presidential Powers and Quality of Democracy in Africa], in António Costa Pinto and Paulo José Canelas Rapaz, eds, Presidentes e (Semi)Presidencialismo nas Democracias Contemporâneas, 113–36, Lisboa: Imprensa de Ciências Sociais.

Sanches, Edalina Rodrigues (2018b) Party Systems in Young Democracies: Varieties of Institutionalization in Sub-Saharan Africa, Oxford: Routledge.

Seibert, Gerhard (2012) 'Creolization and Creole Communities in the Portuguese Atlantic: São Tomé, Cape Verde, the Rivers of Guinea and Central Africa in Comparison', in Toby Green Brokers of Change: Atlantic Commerce and Cultures in Pre-Colonial Western Africa, 29–51, Oxford: Oxford University Press.

Seibert, Gerhard (1999) Comrades, Clients and Cousins: Colonialism, Socialism and Democratization in Sao Tome and Principe, Leiden: Brill.

Srebrnik, Henry (2004) 'Small Island Nations and Democratic Values', World Development 32(2): 329–41.

Srebrnik, Henry (2002) '"Full of Sound and Fury": Three Decades of Parliamentary Politics in Mauritius', Journal of Southern African Studies 28(2): 277–89.

Starr, Harvey (1991) 'Democratic Dominoes : Diffusion Approaches to the Spread of Democracy in the International System', Journal of Conflict Resolution 35(2): 356–81.

Sutton, Paul (2007) 'Democracy and Good Governance in Small States', in Eliawony Kisanga and Sarah Jane Danchie, eds, Commonwealth Small States: Issues and Prospects, 201–17, London: Commonwealth Secretariat.

Teorell, Jan (2010) Determinants of Democratization: Explaining Regime Change in the World, 1972–2006, Cambridge, UK: Cambridge University Press.

Thibaut, Bernhard (1999a) 'Comoros', in Dieter Nohlen, Michael Krennerich and Bernhard Thibaut, Elections in Africa. A Data Handbook, 243–59, New York: Oxford University Press.

Thibaut, Bernhard (1999b) 'Seychelles', in Dieter Nohlen, Michael Krennerich and Bernhard Thibaut, Elections in Africa. A Data Handbook, 775–88, New York: Oxford University Press.

Vaughan, Megan (2005) Creating the Creole Island Slavery in Eighteenth-Century Mauritius, Duke University Press.

Veenendaal, Wouter (2020) 'Islands of Democracy', Area 52(1): 30‒37.

Veenendaal, Wouter (2019) 'How Smallness Fosters Clientelism: A Case Study of Malta', Political Studies 67(4): 1034‒52.

Veenendaal, Wouter (2014) Politics and Democracy in Microstates, London and New York: Routledge.

Veenendaal, Wouter and Jack Corbett (2020) 'Clientelism in Small States: How Smallness Influences Patron-Client Networks in the Caribbean and the Pacific', Democratization 27(1): 61‒80.

Walker, Iain (2007) 'What Came First, the Nation or the State? Political Process in the Comoro Islands', Africa: Journal of the International African Institute 77(4): 582-‒605.
Acknowledgements
The authors are thankful to the three anonymous reviewers and the editors of the Journal of International Relations and Development, for their careful reading and insightful comments.
Additional information
Publisher's Note
Springer Nature remains neutral with regard to jurisdictional claims in published maps and institutional affiliations.
About this article
Cite this article
Sanches, E.R., Cheeseman, N., Veenendaal, W. et al. African exceptions: democratic development in small island states. J Int Relat Dev (2021). https://doi.org/10.1057/s41268-021-00223-1
Keywords
Africa

Community cohesion

Democratisation

Elite-citizen links

Informal politics

Small island states