Abstract
Scholars have long debated whether trade leads to a 'race to the bottom' or to a 'race to the top' in the labour standards of developing countries. Recent literature has offered encouraging findings consistent with the latter theory: stringent labour laws diffuse from importing countries to their export partners in the developing world. This finding has advanced our understanding of trade and labour rights, but more fine-grained analysis can further clarify what sorts of bilateral trade partnerships generate diffusion. In particular, South–South trade appears not to be characterised by the competitive pressures and foreign policy norms that produce labour rights diffusion. As such, this study compares the diffusion effects of South–South trade to those of other types of trade, using data covering 104 developing countries from 1986 to 2011. Results demonstrate that South–South trade is not accompanied by diffusion of labour laws, in contrast to other types of trade. This finding has important implications: whereas empirical results in earlier work suggest that developing countries will experience labour rights betterment if they export intensively to partners with stringent labour standards, my findings clarify that this will not occur if those partners are countries of the Global South.
This is a preview of subscription content,
to check access.
Access this article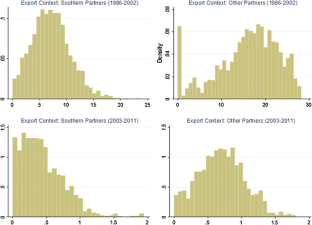 Notes
To tease out the nature of the diffusion effect, Greenhill et al. (2009) analyse measures of both collective labour laws and labour practices. This separation proves fruitful, as the results demonstrate a trade-based diffusion of labour laws, but no such diffusion of labour practices.

As noted in the introduction, Greenhill et al. do lay out scope conditions in their theoretical analysis as qualifiers for trade-based diffusion—those being the market power, domestic politics, and product standards of trade partners. However, their methods do not explicitly attend to these scope conditions and their results do not necessarily capture their role in trade-based diffusion.

For example, the United States downgraded Bangladesh's trade privileges following the 2013 collapse of the Rana Plaza garment factory in 2013 (McMullen 2013) and the European Union threatened to do the same. Bangladesh responded to these efforts by adopting new laws requiring factories to allocate 5% of their profits for employee welfare, baring the country's labour ministry from sharing the names of workers who wish to unionise with factory owners, and adding protections to improve building safety (Greenhouse 2013).

The US International Trade Commission suspended the GSP privileges of 13 countries from 1984 to 2000 (Greenhill et al. 2009).

This threat owed to the lobbying efforts of the AFL-CIO. Labour groups in the United States and in the European Union regularly pressure their governments to promote labour rights abroad (Mosley and Tello 2015). Governments in developing countries often argue that this constitutes a protectionist effort by labour groups in the Global North, as labour rights protections deter outsourcing and offshoring by raising the costs of doing business in less developed countries (Kolben 2006). In the case of Malaysia, however, Malaysian labour groups had coordinated with the AFL-CIO in an effort to reach the US government.

The emphasis on non-interference in South–South relations can be traced back to China's Five Principles of Peaceful Coexistence, which included the principle of mutual non-interference in one another's internal affairs. The five principles gained traction in South–South relations with the establishment of the Agreement on Trade and Intercourse between the Tibet Region of China and India at the Sino-Indian Summit in 1954. The five principles, including the provision for non-interference, were next incorporated into the 10-point 'declaration on promotion of world peace and cooperation' that emerged from the Bandung Conference of newly independent Asian and African states in 1955 and that informed the founding of the Non-Aligned Movement in 1961 (Richardson 2010). The inclusion of non-interference provisions in subsequent South–South treaties and organisations, including the Non-Aligned Movement, as well as ASEAN (Acharya 2009), CARICOM (Caribbean Community Secretariat 1979), the African Union (Agbor and Mentan 2013), and the CIS Treaty of Minsk (Malfliet 1998), among others, further solidified their importance as a guiding principle for relations between Southern countries.

It should also be noted that labour laws in less developed countries are often not particularly well enforced (Bhorat 2014).

A list of the sample countries is included in Appendix in Table 2.

This was also the time series analysed in the Greenhill et al.'s study and much of the data are drawn from their replication data.

As of 2009, there were 120 Non-Aligned Movement countries (Profile: Non-Aligned Movement 2009), meaning that most trade partnerships are between countries of the Global South by this measure. Lists of countries classified as South and Non-South are presented in Appendix in Table 3.

I also conducted analysis of labour practices, but I did not find evidence that either South–South trade or other types of trade flows are accompanied by the diffusion of labour practices. This is not surprising given that previous work in this area has found that labour laws are subject to trade-based diffusion, while labour practices are not (Greenhill et al. 2009). Data for labour law and labour practice are drawn from Mosley (2011b).

See Table 4 in Appendix for descriptive statistics of all the variables used in the analysis.

Data on trade agreements are drawn from Postnikov and Bastiaens (2014).

The post-2002 models containing these variables only extend to 2009, due to the limited number of years for which these data are available.

Specifically, the polity2 democracy score developed by Marshall and Jaggers (2002) is used. This score measures regime type on a 20-point scale from − 10 (most autocratic) to 10 (most democratic).

Population data were drawn from Greenhill et al. (2009) and from the World Bank's World Development Indicators.

Civil war data were drawn from the UCDP/PRIO Armed Conflict Database.

Fixed effects models are also analysed as a robustness check (discussed below), following Hausman test results (χ2 = 62.75; p = 0.000).

The consistency of key variables of interest is itself not entirely unsurprising, given the low correlation between dependent variable measures (− 0.0560).

Specifically, trade volume between partners was estimated by dividing the product of logged GDP by the logged distance between the countries.

Interestingly, the instrumental variable corresponding to export context: Southern partners is significant and negative, indicating that those sample countries that export to Southern countries with stringent collective labour laws are, themselves, characterised by weak laws. This finding, which differs from the non-significant results in the other models, might be reflective of sustained trading between Southern countries with good labour standards and those with poor standards.

Results are not presented in the text, but they are available on request.

Future work might also disaggregate countries to distinguish regions, welfare regimes, or other facets of foreign or corporate policy norms. Researchers might also wish to analyse how these patterns hold in regard to other policy areas shown to be subject to trade-based diffusion, such as environmental policy (Saikawa 2013) and human rights (Cao et al. 2012).
References
Acharya, Amitav. 2009. Whose Ideas Matter? Agency and Power in Asian Regionalism. Ithaca: Cornell University Press.

Achen, Christopher H. 2006. Let's Put Garbage-Can Regressions and Garbage-Can Probits Where They Belong. Conflict Management and Peace Science 22 (4): 327–339.

Adolph, Christopher, Vanessa Quince, and Aseem Prakash. 2017. The Shanghai Effect: Do Exports to China Affect Labor Practices in Africa? World Development 89 (1): 1–18.

Agbor, Julius and Tatah Mentan. 2013. 'After 50 Years of the OAU-AU: Time to Strengthen the Conflict Intervention Framework', Brookings Institution.

Alagappa, Muthiah. 1994. Democratic Transition in Asia: The Role of the International Community. Darby: DIANE Publishing.

Alemán, José. 2008. Labor Market Deregulation and Industrial Conflict in New Democracies: A Cross-National Analysis. Political Studies 56 (4): 830–856.

Aykut, Dilek, and Andrea Goldstein. 2007. Developing Country Multinationals: South-South Investment Comes of Age. In United Nations Department of Economic and Social Affairs, ed. Industrial Development for the 21st Century: Sustainable Development Perspectives, 85–116, United Nations Publication.

Beck, Thorsten, George Clark, Alberto Groff, Philip Keefer, and Patrick Walsh. 2001. New Tools in Comparative Political Economy: The Database of Political Institutions. World Bank Economic Review 15 (1): 165–176.

Berliner, Daniel, and Aseem Prakash. 2013. Signaling Environmental Stewardship in the Shadow of Weak Governance: The Global Diffusion of ISO 14001. Law & Society Review 47 (2): 345–373.

Bharadwaj, Prashant, Leah K. Lakdawala, and Nicholas Li. 2013. Perverse Consequences of Well Intentioned Regulation: Evidence from India's Child Labor Ban, National Bureau of Economic Research, Working Paper.

Bhorat, Haroon. 2014. Compliance with Minimum Wage Laws in Developing Countries. IZA World of Labor 80.

Bradley, David, Evelyne Huber, Stephanie Moller, François Nielsen, and John D. Stephens. 2003. Distribution and Redistribution in Postindustrial Democracies. World Politics 55 (2): 193–228.

Busse, Matthias. 2004. On the Determinants of Core Labour Standards: The Case of Developing Countries. Economics Letters 83 (2): 211–217.

Cao, Xun, Brian Greenhill, and Aseem Prakash. 2013. Where is the Tipping Point? Bilateral Trade and the Diffusion of Human Rights. British Journal of Political Science 43 (1): 133–156.

Caraway, Teri L. 2009. Labor Rights in East Asia: Progress or Regress? Journal of East Asian Studies 9 (2): 153–186.

Caribbean Community Secretariat. 1979. Declaration of St. George.

Cingranelli, David L., David L. Richards, and K. Chad Clay. 2014. The CIRI Human Rights Dataset. http://www.humanrightsdata.com. Accessed 25 April 2015.

Davies, Ronald B., and Krishna Chaitanya Vadlamannati. 2013. A Race to the Bottom in Labor Standards? An Empirical Investigation. Journal of Development Economics 103: 1–14.

Duong, Trinh. 2000. Codes of Conduct Don't Work: A View from the Factory Floor. Human Rights Dialogue 2 (4): 5.

Dür, Andreas, Leonardo Baccini, and Manfred Elsig. 2011. The Design of International Trade Agreements: A New Dataset in the Making, World Trade Organization, Staff Working Paper ERSD-2011-10.

Forstater, Maya, Simon Zadek, Yang Guang, Kelly Yu, Chen Xiao Hong and Mark George. 2010. Corporate Responsibility in African Development: Insights from an Emerging Dialogue, Institute of West-Asian and African Studies of the Chinese Academy of Social Sciences.

Greenhill, Brian, Layna Mosley, and Aseem Prakash. 2009. Trade-Based Diffusion of Labor Rights: A Panel Study, 1986–2002. American Political Science Review 103 (4): 669–690.

Greenhouse, Steven. 2013. Under Pressure, Bangladesh Adopts New Labor Law, New York Times, 16 July. http://www.nytimes.com/2013/07/17/world/asia/under-pressure-bangladesh-adopts-new-labor-law.html?_r=0. Accessed 4 October 2016.

International Monetary Fund. 2014. Direction of Trade Statistics.

Kaufman, Robert R., and Alex Segura-Ubiergo. 2001. Globalization, Domestic Politics, and Social Spending in Latin America: A Time-Series Cross-Section Analysis, 1973–97. World Politics 53 (4): 553–587.

Kim, Moonhawk. 2012. Ex Ante Due Diligence: Formation of PTAs and Protection of Labor Rights. International Studies Quarterly 56 (4): 704–719.

Kolben, Kevin. 2014. Trade, Monitoring, and the ILO: Working to Improve Conditions in Cambodia's Garment Factories. Yale Human Rights and Development Journal 7 (1): 79–107.

Kolben, Kevin. 2006. The New Politics of Linkage: India's Opposition to the Worker's Rights Clause. Indiana Journal of Global Legal Studies 13 (1): 225–259.

Kucera, David. 2002. Core Labour Standards and Foreign Direct Investment. International Labour Review 141 (1–2): 31–69.

Levine, Marvin J. 1997. Worker Rights and Labor Standards in Asia's Four New Tigers: A Comparative Perspective. New York: Plenum Publishing Corporation.

Malfliet, Katlijn. 1998. The Commonwealth of Independent States: Russian Ambitions Disguised in a European (Eurasian) Project. In Is Russia a European Power?: The Position of Russia in a New Europe, ed. Tom Casier, and Katlijn Malfliet, 91–128. Leuven: Leuven University Press.

Marshall, Monty G., and Keith Jaggers. 2002. Polity IV Project: Political Regime Characteristics and Transitions, 1800–2002, Center for International Development and Conflict Management, University of Maryland. http://www.cidcm.umd.edu/inscr/polity/index.htm. Accessed 24 October 2017.

McMullen, Anna. 2013. Bangladesh Factory Collapse: Who Really Pays For Cheap Clothes? CNN, 26 April. http://www.cnn.com/2013/04/25/opinion/bangladesh-factory-collapse-opinion/. Accessed 4 October 2016.

Mosley, Layna. 2011a. Labor Rights and Multinational Production. Cambridge, MA: Cambridge University Press.

Mosley, Layna. 2011b. Replication Data for: Collective Labor Rights Dataset, Harvard Dataverse. http://hdl.handle.net/1902.1/15590.

Mosley, Layna. 2008. Workers Rights in Open Economies Global Production and Domestic Institutions in the Developing World. Comparative Political Studies 41 (4–5): 674–714.

Mosley, Layna, and Lindsay Tello. 2015. Labor Rights, Material Interests, and Moral Entrepreneurship. Human Rights Quarterly 37 (1): 53–79.

Mosley, Layna, and Saika Uno. 2007. Racing to the Bottom or Climbing to the Top? Economic Globalization and Collective Labor Rights. Comparative Political Studies 40 (8): 923–948.

Neumayer, Eric, and Indra de Soysa. 2006. Globalization and the Right to Free Association and Collective Bargaining: An Empirical Analysis. World Development 34 (1): 31–49.

Poe, Stephen C., Neil Tate, and Linda Camp Keith. 1999. Repression of the Human Right to Personal Integrity Revisited: A Global Cross-National Study Covering the Years 1976–1993. International Studies Quarterly 42 (2): 291–313.

Postnikov, Evgeny, and Ida Bastiaens. 2014. Does Dialogue Work? The Effectiveness of Labor Standards in EU Preferential Trade Agreements. Journal of European Public Policy 21 (6): 923–940.

Prakash, Aseem, and Matthew Potoski. 2007. Investing Up: FDI and the Cross-Country Diffusion of ISO 14001 Management Systems. International Studies Quarterly 51 (3): 723–744.

Prakash, Aseem, and Matthew Potoski. 2006. Racing to the Bottom? Trade, Environmental Governance, and ISO 14001. American Journal of Political Science 50 (2): 350–364.

Profile: Non-Aligned Movement. 2009. BBC, 7 August. http://news.bbc.co.uk/2/hi/2798187.stm. Accessed 4 October 2016.

Richards, David L., Ronald D. Gelleny, and David H. Sacko. 2001. Money with a Mean Streak? Foreign Economic Penetration and Government Respect for Human Rights in Developing Countries. International Studies Quarterly 45 (2): 219–239.

Richardson, Sophie. 2010. China, Cambodia, and the Five Principles of Peaceful Coexistence. New York: Columbia University Press.

Rodríguez-Garavito, César A. 2005. Global Governance and Labor Rights: Codes of Conduct and Anti-Sweatshop Struggles in Global Apparel Factories in Mexico and Guatemala. Politics and Society 33 (2): 203–233.

Ross, Robert J.S., and Anita Chan. 2002. From North-South to South-South: The True Face of Global Competition. Foreign Affairs 81 (5): 8–13.

Rudra, Nita. 2002. Globalization and the Decline of the Welfare State in Less-Developed Countries. International Organization 56 (2): 411–445.

Saikawa, Eri. 2013. Policy Diffusion of Emission Standards Is There a Race to the Top? World Politics 65 (1): 1–33.

Sovey, Allison J., and Donald P. Green. 2011. Instrumental Variables Estimation in Political Science: A Reader's Guide. American Journal of Political Science 55 (1): 188–200.

Staiger, Douglas, and James H. Stock. 1997. Instrumental Variables Regression with Weak Instruments. Econometrica 65 (3): 557–586.

Tan-Mullins, May, Giles Mohan, and Marcus Power. 2010. Redefining "Aid" in the China-Africa Context. Development and Change 41 (5): 857–881.

Taylor, Ian. 2006. China's Oil Diplomacy in Africa. International Affairs 82 (5): 937–959.

van Roozendaal, Gerda. 2002. Trade Unions and Global Governance: The Debate on a Social Clause. London: Continuum.

Vogel, David. 1995. Trading Up: Consumer and Environmental Regulation in a Global Economy. Cambridge: Harvard University Press.

Wang, Hong-zen. 2005. Asian Transnational Corporations and Labor Rights: Vietnamese Trade Unions in Taiwan-Invested Companies. Journal of Business Ethics 56: 43–53.

World Bank. 2013. Country and Lending Groups | Data.

Xiaohong, Chen, Li Zhaoix, Jia Tao, Li Guoqiang, Zhou Yan, Simon Zadek, Kelly Yu, Maya Forstater, and Guy Morgan. 2009. Responsible Business in Africa: Chinese Business Leaders' Perspectives on Performance and Enhancement Opportunities, AccountAbility.

Yu, Xiaomin. 2008. Impacts of Corporate Code of Conduct on Labor Standards: A Case Study of Reebok's Athletic Footwear Supplier Factory in China. Journal of Business Ethics 81: 513–529.

Zeng, Ka, and Joshua Eastin. 2012. Do Developing Countries Invest Up? The Environmental Effects of Foreign Direct Investment from Less-Developed Countries. World Development 40 (11): 2221–2233.
Acknowledgements
Earlier versions of this paper were presented at the 2016 meetings of the International Studies Association (ISA) and the Midwest Political Science Association (MPSA), and on a Virtual International Political Economy Society (IPES) panel. The author thanks participants in those sessions, as well as Kevin Morrison, Martin Staniland, Meredith Wilf, Luke Condra, Jude Hays, three anonymous reviewers, and the editors at the JIRD for helpful comments.
Appendix
Appendix
See Tables 2, 3, 4, 5, 6, 7, 8, 9, and 10.
About this article
Cite this article
Gamso, J. South–South trade and collective labour laws: do developing countries race to the top when they trade with the South?. J Int Relat Dev 22, 954–982 (2019). https://doi.org/10.1057/s41268-017-0124-y
Published:

Issue Date:

DOI: https://doi.org/10.1057/s41268-017-0124-y
Keywords