Abstract
This is a study of pirate agency. Starting from an understanding of agency as an effect of 'agencements', I offer a reconstruction of six of such formations. Relying on different experiences with Somali piracy, ranging from watching movies, playing computer games, participating as an observer in various meetings, taking field notes, talking to interlocutors to reading academic literature, I show how different agencements produce different forms of agency. Throughout this reconstruction, we meet different pirates, moral bandits, enemies and villains, criminals, entrepreneurs, pirates as 'symptoms' and the pirate in denial. These are forms of agency that are the effects of the relations and practices of distinct agencements. Various 'actors', 'objects' and 'practices' produce these relations: journalists, moviemaker, game developer, diplomats, military officers and international bureaucrats, as well as various scientists across the disciplinary spectrum are all in the business of producing pirate agency. They engage in a diverse set of rhetorical and material activities, such as calculating, modelling, negotiating, writing or history telling and engage with a broad host of artefacts, and inscriptions, such as movies, games, policy documents, or legal texts. The analysis presents a primer for the study of the multiplicity of agency and its production.
Access options
Buy single article
Instant access to the full article PDF.
US$ 39.95
Tax calculation will be finalised during checkout.
Subscribe to journal
Immediate online access to all issues from 2019. Subscription will auto renew annually.
US$ 119
Tax calculation will be finalised during checkout.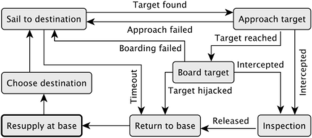 Notes
1.

2.

For a summary and critique, see Doty (1997) in particular.

3.

4.

See Adler and Pouliot (2011) for such a move.

5.

See Reckwitz (2002) for this argument.

6.

7.

8.

9.

See, for instance, the summary in Bliss (2009).

10.

For example, Bellamy (2011).

11.

12.

See, e.g., UNSC Res. 1816.

13.

14.

15.
References
Adler, Emanuel, and Vincent Pouliot. 2011. International Practices. International Theory 3 (1): 1–36.

Agent Technology Center. 2014. AgentC: Employing Agents to Fight Maritime Piracy, Project Description and Website. http://agents.fel.cvut.cz/projects/agentc/ Accessed 15 Jan 2014.

Ali, Muna, and Zahra Murad. 2009. Unravelling Narratives of Piracy: Discourses of Somali Pirates. Darkmatter Journal 5: 91–102.

Bellamy, Chris. 2011. Maritime Piracy. Return of the World's Second-Oldest Security Problem. RUSI Journal 156 (6): 78–83.

Benatouil, Thomas. 1999. A Tale of Two Sociologies. The Critical and the Pragmatist Stance in Contemporary French Sociology. European Journal of Social Theory 2 (3): 379–396.

Bendall, Helen B. 2010. Cost of Piracy: A Comparative Voyage Approach. Maritime Economics and Logistics 12: 178–195.

Berard, T.J. 2005. Rethinking Practices and Structures. Philosophy of the Social Sciences 35 (2): 196–230.

Bliss, Frank. 2009. U.S. Military Considers Attacks on Somali Pirates Land Bases. Bloomberg, 13 April.

Bucher, Bernd. 2017. Moving Beyond the Substantialist Foundations of the Agency-Structure Dichotomy: Figurational Thinking in International Relations. Journal of International Relations and Development 20 (1): 408–433.

Bueger, Christian. 2013. Practice, Pirates and Coastguards: The Grand Narrative of Somali Piracy. Third World Quarterly 34 (10): 1811–1827.

Bueger, Christian. 2014. Piracy Studies—Academic Responses to the Return of an Ancient Menace. Cooperation and Conflict 49 (3): 406–416.

Bueger, Christian. 2015. Making Things Known: Epistemic Practice, the United Nations and the Translation of Piracy. International Political Sociology 9 (1): 1–19.

Burr, Ty. 2010. The Expendables: Stallone and His Band of Macho Men. Boston Globe, 13 August. http://www.boston.com/ae/movies/articles/2010/08/13/the_expendables/. Accessed 7 Jan 2014.

Çalışkan, Koray and Michel Callon. 2009. Economization, part 1: shifting attention from the economy towards processes of economization. Economy and Society 38 (3): 369–398.

Çalışkan, Koray, and Michel Callon. 2010. Economization, Part 2: A Research Programme for the Study of Markets. Economy and Society 39 (1): 1–32.

Callon, Michel. 2007. What Does It Mean to Say That Economics is Performative? In Do Economists Make Markets? On the Performativity of Economics, ed. Donald MacKenzie, Fabian. Muniesa, and Lucia Siu. Princeton: Princeton University Press.

Carney, Scott. 2009. Cutthroat Capitalism. The Pirates Who Prowl the Somali Coast Aren't Just Buccaneers—They're Also Businessmen. Wired 17 (7): 110–119.

Cordingly, David. 1995. Life Among Pirates. The Romance and the Reality. London: Warner Books.

De Oliveira, Gilberto Carvalho. 2013. "New Wars" at Sea: A Critical Transformative Approach to the Political Economy of Somali Piracy. Security Dialogue 44 (1): 3–18.

Doty, Roxanne Lynn. 1997. Aporia: A Critical Exploration of the Agent-Structure Problematique in International Relations Theory. European Journal of International Relations 3 (3): 365–392.

Dutton, Yvonne M. 2011. Pirates and Impunity: Is the Threat of Asylum Claims a Reason to Allow Pirates to Escape Justice? Fordham International Law Journal 34: 236–295.

Emirbayer, Mustafa, and Ann Mische. 1998. What is Agency? American Journal of Sociology 103 (4): 962.

Fine, Marshall. 2010. Movie Review: The Expendables. Huffington Post, 9 August. http://www.huffingtonpost.com/marshall-fine/movie-review-ithe-expenda_b_675465.html. Accessed 7 Jan 2014.

Friman, Hakan, and Jens Lindborg. 2013. Initiating Criminal Proceedings with Military Force: Some Legal Aspects of Policing Somali Pirates by Navies. In Modern Piracy. Legal Challenges and Responses, ed. Douglas Guilfoyle, 172–201. Cheltenham: Edward Elgar Publishing.

Geiss, Robin, and Anna Petrig. 2011. Piracy and Armed Robbery at Sea: The Legal Framework for Counter-Piracy Operations in Somalia and the Gulf of Aden. Oxford: Oxford University Press.

Gettleman, Jeffrey. 2008. Q. & A. with a Pirate: "We Just Want the Money". 30. September. http://thelede.blogs.nytimes.com/2008/09/30/q-a-with-a-pirate-we-just-want-the-money/?ref=africa. Accessed 24 Aug 2012.

Gherardi, Silvia. 2016. To Start Practice Theorizing Anew: The Contribution of the Concepts of Agencement and Formativeness. Organization 23 (5): 680–698.

Guilfoyle, Douglas (ed.). 2013. Modern Piracy: Legal Challenges and Responses. Cheltenham: Edward Elgar.

Hallwood, Paul, and Thomas J. Miceli. 2013a. An Examination of Some Problems with International Law Governing Maritime Piracy. Maritime Policy and Management 40 (1): 37–41.

Hallwood, Paul, and Thomas J. Miceli. 2013b. An Economic Analysis of Maritime Piracy and Its Control. Scottish Journal of Political Economy 60 (4): 343–359.

Hardie, Iain, and Donald McKenzie. 2007. Assembling an Economic Actor: The Agencement of a Hedge Fund. Sociological Review 55 (1): 57–80.

Hastings, Justin V. 2009. Geographies of State Failure and Sophistication in Maritime Piracy Hijackings. Political Geography 28 (4): 213–223.

Hay, Colin. 2009. King Canute and the 'Problem' of Structure and Agency: On Times, Tides and Heresthetics. Political Studies 57 (2): 260–279.

Heller-Roazen, Daniel. 2009. The Enemy of All: Piracy and the Law of Nations. New York: Zone Books.

Jackson, Patrick Thaddeus, and Daniel H. Nexon. 1999. Relations Before States: Substance, Process and the Study of World Politics. European Journal of International Relations 5 (3): 291–332.

Jakob, Michal, Ondrej Vanek, Ondrej Hrstka, and Michal Pechoucek. 2012. Agents vs. Pirates: Multi-agent Simulation and Optimization to Fight Maritime Piracy. In 12th International Conference on Autonomous Agents and Multiagent Systems.

Jess-Cooke, Carolyn. 2010. Sequelizing Spectatorship and Building Up the Kingdom: The Case of Pirates of the Caribbean, or, How a Theme Park Attraction Spawned a Multibillion-Dollar Film Franchise. In Second Takes. Critical Approaches to the Film Sequel, ed. Carolyn Jess-Cooke, and Constantine Verevis, 205–225. Princeton: SUNY Press.

Joas, Hans. (1996) Die Kreativität Des Handelns [The Creativity of Action]. Frankfurt: Suhrkamp Verlag.

Kraska, James, and Raul Pedrezo. 2013. International Maritime Security Law. Leiden: Brill.

Land, Chris. 2007. Flying the Black Flag: Revolt, Revolution and the Social Organization of Piracy in the "Golden Age". Management and Organizational History 2 (2): 169–192.

Law, John. 2004. After Method: Mess in Social Science Research. London: Routledge.

Licoppe, Christian. 2010. The "Performative Turn" in Science and Technology Studies. Journal of Cultural Economy 3 (2): 181–188.

Manjikian, Mary. 2008. Diagnosis, Intervention, and Cure: The Illness Narrative in the Discourse of the Failed State. Alternatives: Global, Local, Political 33 (3): 335–357.

McKnight, Terrence, and Michael Hirsh. 2012. Pirate Alley. Commanding Task Force 151 off Somalia. Annapolis: Naval Institute Press.

Mol, Annemarie. 2002. The Body Multiple: Ontology in Medical Practice. London: Duke University Press.

Osiro, Deborah. 2011. Somali Pirates Have Rights Too. Judicial Consequences and Human Rights Concerns. Institute for Security Studies Working Paper, 224.

Parker, Martin. 2012. Alternative Business. Outlaws, Crime and Culture. Milton Park: Routledge Press.

Passoth, Jan-Hendrik, and Nicholas J. Rowland. 2010. Actor-Network State: Integrating Actor-Network Theory and State Theory. International Sociology 25 (6): 818–841.

Pattison, James. 2013. Justa Piratica: The Ethics of Piracy. Review of International Studies, online first, 29 October, 2013. 10.1017/S0260210513000405.

Phillips, John. 2006. Agencement/Assemblage. Theory, Culture and Society 23 (2–3): 108–109.

Porter, Theodore M. 1994. Making Things Quantitative. Science in Context 7 (3): 389–407.

Reckwitz, Andreas. 2002. Toward a Theory of Social Practices: A Development in Culturalist Theorizing. European Journal of Social Theory 5 (2): 243–263.

Rediker, Marcus. 2004. Villains of All the Nations. Atlantic Pirates in the Golden Age. Boston: Beacon Press.

Rice, Zan, and Abdiqani Hassan. 2008. We Consider Ourselves Heroes—A Somali Pirate Speaks. Guardian, 22 November. http://www.guardian.co.uk/world/2008/nov/22/piracy-somalia. Accessed 20 Aug 2012.

Rubin, Alfred P. 1988. The Law of Piracy. Newport: Naval War College Press.

Schindler, Sebastian. 2014. Man Versus State: Contested Agency in the United Nations. Millennium: Journal of International Studies 43 (1): 3–23.

Shabazz, Saeed. 2008. Somali Piracy Connected to Toxic Dumping, Illegal Fishing. Final Call, 20 November. http://www.finalcall.com/artman/publish/article_5415.shtml. Accessed 20 Aug 2012.

Stockbruegger, Jan. 2013. Constructing Pirate Economies. Somali Pirates, Marine Insurance and the Politics of Transnational Ransom Industries. Leiden: Leiden University.

Thomson, Janice E. 1994. Mercenaries, Pirates & Sovereigns, State-Building and Extraterritorial Violence in Early Modern Europe. Princeton: Princeton University Press.

Walker, R.B.J. 1991. Security, Sovereignty and the Challenge of World Politics. Alternatives: Global, Local, Political 15 (1): 3–28.

Wendt, Alexander E. 1987. The Agent-Structure Problem in International Relations Theory. International Organization 41 (3): 335–370.

World Bank. 2013a. Ending Somali Piracy: Go After the System, Not Just the Pirates. http://www.worldbank.org/en/news/feature/2013/04/11/ending-somali-piracy-go-after-the-system-not-just-the-pirates. Accessed 23 April 2017.

World Bank. 2013. The Pirates of Somalia: Ending the Threat, Rebuilding a Nation. Washington, DC: International Bank for Reconstruction and Development/World Bank.
Acknowledgements
For comments and suggestions on previous versions of this manuscript, I am grateful to Benjamin Braun, Frank Gadinger, Daniel Orders, Anna Leander, Jan Stockbruegger, Peter Sutch, Tobias Wille as well as the anonymous reviewers of JIRD. Research for this article has benefited from a Grant by the Economic and Social Research Council of the UK (ES/K008358/1) and the British Academy (GF16007).
About this article
Cite this article
Bueger, C. Performing piracy: a note on the multiplicity of agency. J Int Relat Dev 22, 832–852 (2019). https://doi.org/10.1057/s41268-017-0122-0
Keywords
Agency

Practice

Pirates

Multiplicity

Methodology