Abstract
This teaching case is based on a true situation at the Hospital for Sick Children, in Toronto Canada. The case asks students to either assume the role of the CIO or to advise the CIO in making a decision to outsource IT at Sick Kids Hospital. The case requires students to understand three important issues: First, while health care costs continue to increase, automation of information is an important opportunity to streamline patient care and reduce costs in a hospital environment. Second, IT outsourcing, relying on external service providers to deliver complex technology services, is a fundamental business strategy across all industries and has great potential in the health care industry. Third, hospitals and health care have unique requirements for IT outsourcing, particularly the critical importance of patient data security and privacy.
Notes
1.

2.

See Canadian Institute for Health Information (2015) National Health Expenditure Trends, 1975 to 2015.

3.

See Canadian Institute for Health Information (2012) Hospital Cost Drivers Technical Report.
References
Bahli, B., and S. Rivard. 2003. The information technology outsourcing risk: a transaction cost and agency theory based perspective. Journal of Information Technology 18 (3): 211–221. doi:10.1080/0268396032000130214.

Burmahl, B. 2001. Making the choice. The pros and cons of outsourcing. Health Facilities Management 14 (6): 16–22.

Canadian Institute for Health Information. 2012. Hospital Cost Drivers Technical Report. Retrieved from https://www.cihi.ca/en/health_costdriver_phys_tech_en.pdf.

Canadian Institute for Health Information. 2015. National Health Expenditure Trends, 1975 to 2015. Retrieved from https://secure.cihi.ca/free_products/nhex_trends_narrative_report_2015_en.pdf.

Coase, R.H. 1937. The nature of the firm. Economica 4 (16): 386–405. doi:10.1111/j.1468-0335.1937.tb00002.x.

Dibbern, J., T. Goles, R. Hirschheim, and B. Jayatilaka. 2004. Information systems outsourcing: a survey and analysis of the literature. SIGMIS Database 35 (4): 6–102. doi:10.1145/1035233.1035236.

Friedman, T. 2005. The World is Flat. New York: Farrar, Straus and Giroux.

Kern, T., and L. Willcocks. 2000. Exploring information technology outsourcing relationships: theory and practice. The Journal of Strategic Information Systems 9 (4): 321–350. doi:10.1016/S0963-8687(00)00048-2.

Lorence, D.P., and A. Spink. 2004. Healthcare information systems outsourcing. International Journal of Information Management 24 (2): 131–145. doi:10.1016/j.ijinfomgt.2003.12.011.

Menachemi, N., J. Burkhardt, R. Shewchuk, D. Burke, and R.G. Brooks. 2007. To outsource or not to outsource: examining the effects of outsourcing IT functions on financial performance in hospitals. Health Care Management Review 32 (1): 46–54.

Moschuris, S.J., and M.N. Kondylis. 2006. Outsourcing in public hospitals: a Greek perspective. Journal of Health Organization and Management 20 (1): 4–14. doi:10.1108/14777260610656534.

Ngwenyama, O.K., and N. Bryson. 1999. Making the information systems outsourcing decision: a transaction cost approach to analyzing outsourcing decision problems. European Journal of Operational Research 115 (2): 351–367. doi:10.1016/S0377-2217(97)00171-9.

Prahalad, C.K., and G. Hamel. 1990. The core competence of the corporation. Harvard Business Review 68 (3): 79–91.

Roberts, V. 2001. Managing strategic outsourcing in the healthcare industry. Journal of Healthcare Management 46 (4): 239–249.

Thouin, M.F., J.J. Hoffman, and E.W. Ford. 2009. IT outsourcing and firm-level performance: a transaction cost perspective. Information & Management 46 (8): 463–469. doi:10.1016/j.im.2009.08.006.
Appendices
Appendices
Exhibit A: selected slides from executive discussion on IT outsourcing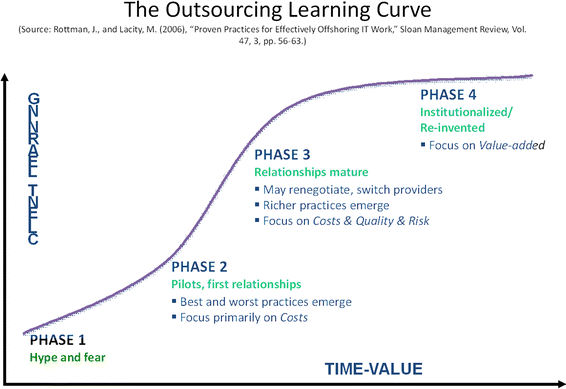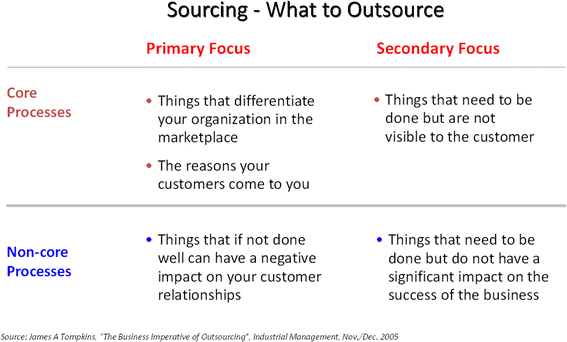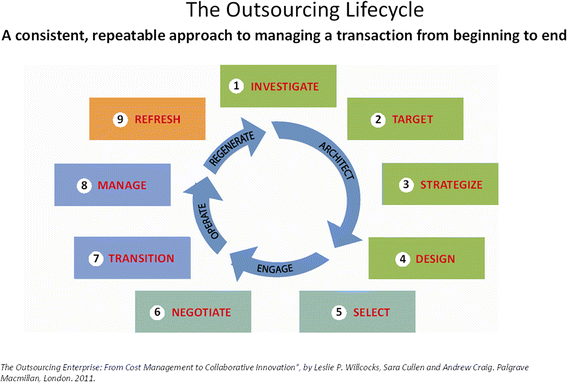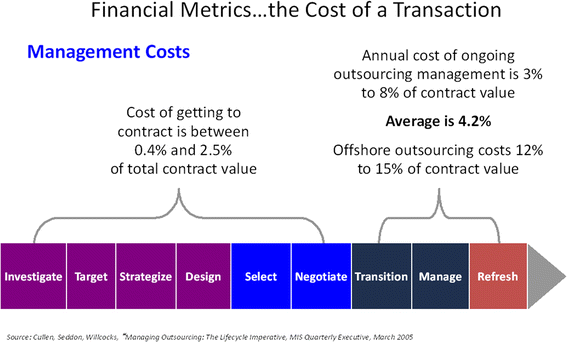 Exhibit B
A recent internal analysis that examined options for PeopleSoft Application Management Services (AMS) had found the following. An AMS proposal had identified costs of about $1.8 million per year, which would be approximately three times the current spending on in-house support for PeopleSoft. The proposal identified staffing levels from a high of 14.4 FTEs to a steady-state level of 11.5 FTEs, approximately double the current Sick Kids support staff of 6.8. The proposed AMS would be delivered by a mix of onshore and offshore personnel based in India.
Table 3 below provides a comparison between the external benchmark and internal costs. As the table shows, the external per-FTE costs may range from 1.6 to 1.8 times the cost of internal AMS.
Exhibit C: a workshop with IT staff at Sick Kids
A workshop was conducted with 12 senior managers of the Sick Kids (SK) IT organization. The workshop was a facilitated discussion to capture the perceived risks, challenges, and obstacles of outsourcing as well as the opportunities and benefits. Table 4 below presents the summary comments from the workshop.
A few other interesting points surfaced during the workshop. Sick Kids IT managers would not like to be at the 'bleeding edge' of technology, but would like to be abreast of current working technology. Consequently, they were interested in refresh cycles, how often should equipment and software be replaced and upgraded. For Sick Kids, HIS may not yet be a commodity, and the area of pediatric research, which is ever changing as new developments and discoveries are made, may not be suitable for a one-size-fits-all kind of software commodity.
About this article
Cite this article
Babin, R., Khan, M.S. & Stewart, K. An IT outsourcing dilemma at Sick Kids Hospital. J Info Technol Teach Cases 8, 81–89 (2018). https://doi.org/10.1057/s41266-017-0027-1
Keywords
IT outsourcing

Hospital information systems

Information systems security

Data privacy