Abstract
Scholars and practitioners alike increasingly recognize the importance of stock microblogs as they capture the market discussion and have predictive value for financial markets. This paper examines the extent to which stock microblog messages are related to financial market indicators and the mechanism leading to efficient aggregation of information. In particular, this paper investigates the information content of stock microblogs with respect to individual stocks and explores the effects of social influences on an interday and intraday basis. We collected more than 1.2 million stock-related messages (i.e., tweets) related to S&P 100 companies over a period of 7 months. Using methods from computational linguistics, we went through an elaborate process of message feature reduction, spam detection, language detection, and slang removal, which has led to an increase in classification accuracy for sentiment analysis. We analyzed the data on both a daily and a 15-min basis and found that the sentiment of messages is positively affected with contemporaneous daily abnormal stock returns and that message volume predicts 15-min follow-up returns, trading volume, and volatility. Disagreement in microblog messages positively influences stock features, both in interday and intraday analysis. Notably, if we give a greater share of voice to microblog messages depending on the social influence of microbloggers, this amplifies the relationship between bullishness and abnormal returns, market volume, and volatility. Following knowledgeable investors advice results in more power in explaining changes in market features. This offers an explanation for the efficient aggregation of information on microblogging platforms. Furthermore, we simulated a set of trading strategies using microblog features and the results suggest that it is possible to exploit market inefficiencies even when transaction costs are included. To our knowledge, this is the first study to comprehensively examine the association between the information content of stock microblogs and intraday stock market features. The insights from the study permit scholars and professionals to reliably identify stock microblog features, which may serve as valuable proxies for market sentiment and permit individual investors to make better investment decisions.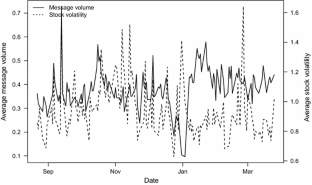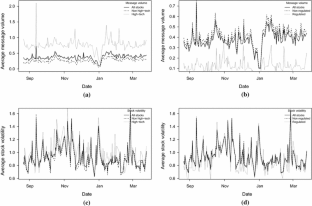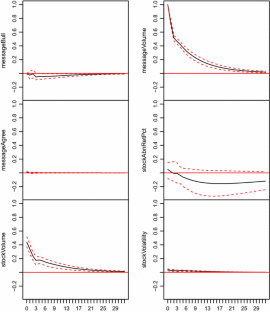 References
Aalbers, M. (2015). Corporate financialization. The International Encyclopedia of Geography: People, the Earth, Environment, and Technology. Oxford: Wiley.

Antweiler, W. and Frank, M.Z. (2004). Is all that talk just noise? The information content of internet stock message boards. The Journal of Finance 59(3): 1259–1294.

Aral, S. and Walker, D. (2011). Creating social contagion through viral product design: A randomized trial of peer influence in networks. Management Science 57(9): 1623–1639.

Baillie, R.T., Booth, G.G., Tse, Y. and Zabotina, T. (2002). Price discovery and common factor models. Journal of Financial Markets 5(3): 309–321.

Baker, M. and Wurgler, J. (2007). Investor sentiment in the stock market. The Journal of Economic Perspectives 21(2): 129–151.

Barber, B.M. and Odean, T. (2008). All that glitters: The effect of attention and news on the buying behavior of individual and institutional investors. Review of Financial Studies 21(2): 785–818.

Black, F. (1986). Noise. The Journal of Finance 41(3): 528–543.

Bollen, J., Mao, H. and Zeng, X. (2011). Twitter mood predicts the stock market. Journal of Computational Science 2(1): 1–8.

Chan, W.S. (2003). Stock price reaction to news and no-news: Drift and reversal after headlines. Journal of Financial Economics 70(2): 223–260.

Chen, H., De, P., Hu, Y.J. and Hwang, B.-H. (2014). Wisdom of crowds: The value of stock opinions transmitted through social media. Review of Financial Studies 27(5): 1367–1403.

Das, S.R. and Chen, M.Y. (2007). Yahoo! for Amazon: Sentiment extraction from small talk on the web. Management Science 53(9): 1375–1388.

De Long, J.B., Shleifer, A., Summers, L.H. and Waldmann, R.J. (1990). Noise trader risk in financial markets. Journal of Political Economy 98(4): 703–738.

Easley, D. and O'Hara, M. (1987). Price, trade size, and information in securities markets. Journal of Financial Economics 19(1): 69–90.

Fama, E.F. (1970). Efficient capital markets: A review of theory and empirical work. The Journal of Finance 25(2): 383–417.

Fama, E.F. (1991). Efficient capital markets: II. The Journal of Finance 46(5): 1575–1617.

Grossman, S.J. and Stiglitz, J.E. (1980). On the impossibility of informationally efficient markets. The American Economic Review 70(3): 393–408.

Hirshleifer, D. and Teoh, S.H. (2003). Limited attention, information disclosure, and financial reporting. Journal of Accounting and Economics 36(1): 337–386.

Keynes, J.M. (1936). The General Theory of Employment, Interest and Money. London: Macmillan.

Kogan, L., Ross, S.A., Wang, J. and Westerfield, M.M. (2006). The price impact and survival of irrational traders. The Journal of Finance 61(1): 195–229.

Lagoarde-Segot, T. (2016). Financialization: Towards a new research agenda. International Review of Financial Analysis. doi:10.1016/j.irfa.2016.03.007.

Lee, E. (2013). AP Twitter account hacked in market-moving attack. Bloomberg. https://www.bloomberg.com/news/articles/2013-04-23/dow-jones-drops-recovers-after-false-report-on-ap-twitter-page. Accessed 24 April 2013.

Lehmann, B.N. (2002). Some desiderata for the measurement of price discovery across markets. Journal of Financial Markets 5(3): 259–276.

Luo, X., Zhang, J. and Duan, W. (2013). Social media and firm equity value. Information Systems Research 24(1): 146–163.

Malkiel, B.G. (2003). The efficient market hypothesis and its critics. Journal of Economic Perspectives 17(1): 59–82.

Mizrach, B. and Weerts, S. (2009). Experts online: An analysis of trading activity in a public Internet chat room. Journal of Economic Behavior and Organization 70(1): 266–281.

Muniesa, F. (2014). The Provoked Economy: Economic Reality and the Performative Turn. Abingdon: Routledge.

Oh, C. and Sheng, O. (2011). Investigating predictive power of stock micro blog sentiment in forecasting future stock price directional movement. In International Conference on Information Systems (pp. 1–19). Shanghai.

Schreiber, P.S. and Schwartz, R.A. (1986). Price discovery in securities markets. The Journal of Portfolio Management 12(4): 43–48.

Shiller, R.J. (2003). From efficient markets theory to behavioral finance. Journal of Economic Perspectives 17(1): 83–104.

Shleifer, A. and Vishny, R.W. (1997). The limits of arbitrage. The Journal of Finance 52(1): 35–55.

Sprenger, T.O., Tumasjan, A., Sandner, P.G. and Welpe, I.M. (2014). Tweets and trades: The information content of stock microblogs. European Financial Management 20(5), 926–957.

Tetlock, P.C. (2011). All the news that's fit to reprint: Do investors react to stale information? Review of Financial Studies, 24(5): 1481–1512.

Tetlock, P.C., Saar-Tsechansky, M. and Macskassy, S. (2008). More than words: Quantifying language to measure firms' fundamentals. The Journal of Finance 63(3): 1437–1467.

Time. (2009). Turning Wall Street on its head, 10 ways Twitter will change American business. http://content.time.com/time/specials/packages/article/0,28804,1901188_1901207_1901198,00.html.

Tirunillai, S. and Tellis, G.J. (2012). Does chatter really matter? Dynamics of user-generated content and stock performance. Marketing Science 31(2): 198–215.

Xu, S.X. and Zhang, X.M. (2013). Impact of Wikipedia on market information environment: Evidence on management disclosure and investor reaction. MIS Quarterly 37(4): 1043–1068.

Yang, J. and Counts, S. (2010). Predicting the speed, scale, and range of information diffusion in Twitter. In Proceedings of the Fourth International AAAI Conference on Weblogs and Social Media (vol. 10, pp. 355–358). Washington, DC: Association for the Advancement of Artificial Intelligence.

Yuan, Y. (2015). Market-wide attention, trading, and stock returns. Journal of Financial Economics 116(3): 548–564.

Yu, Y., Duan, W. and Cao, Q. (2013). The impact of social and conventional media on firm equity value: A sentiment analysis approach. Decision Support Systems 55(4): 919–926.

Zeledon, M. (2009). StockTwits may change how you trade. New York: Bloomberg Businessweek. http://www.businessweek.com/technology/content/feb2009/tc20090210_875439.htm.

Zhang, Y. and Swanson, P.E. (2010). Are day traders bias free? Evidence from Internet stock message boards. Journal of Economics and Finance 34(1): 96–112.
Acknowledgments
We would like to thank the special issue editors and the anonymous reviewers for useful comments. We appreciate the data collection support of Dennis Sprenger. Earlier versions of this work were presented at the 2012 Workshop on Information Systems and Economics (WISE), 2013 Statistical Challenges in eCommerce Research Symposium (SCECR), City University of Hong Kong, Tsinghua University, and University of Amsterdam.
About this article
Cite this article
Li, T., van Dalen, J. & van Rees, P.J. More than just noise? Examining the information content of stock microblogs on financial markets. J Inf Technol 33, 50–69 (2018). https://doi.org/10.1057/s41265-016-0034-2
Keywords
analytics

big data

intraday analysis

sentiment analysis

social influence

social media

stock market

trading strategy

twitter