Abstract
Shifts in welfare policy over the last forty years towards a greater neo-liberal stance have resulted in citizens needing to take greater responsibility for their finances (Rowlingson 2000; Strauss 2008; Sherraden and Ansong 2016). This coupled with low levels of financial capability across the UK population and consumers trying to make informed decisions from this low knowledge base (Sandler 2002; FSA 2004, 2006; Thoreson 2007, 2008; Arthur 2016; Stillwell 2016) suggests a growing need to understand the barriers that consumers face regarding access to financial advice. This paper argues that barriers preventing access to financial advice are not yet adequately understood. To build understanding three variables are explored, namely knowledge, trust and affordability/cost that are shown to affect consumers' ability to access regulated financial advice. From these variables emerged the ideas that financial advice needed to be considered the 'subjective norm' and that 'trust heuristics', as a route to advice had certain embedded risks. As part of the research process a 'Financial Advice Belief Model' was developed as a tool to explore these variables more deeply and help interested stakeholders better understand factors that create barriers and may prevent consumers from seeking effective financial advice. Addressing these factors, we use the case of the UK to illustrate possible ways forward and argue that the findings could apply in other developed country settings. Further, these three key variables affecting access to needed financial services should be a key consideration for the UK's Money and Pensions Service as it looks to develop a wider focus on financial well-being as the core of its strategy for UK citizens in need of financial guidance.
Access options
Buy single article
Instant access to the full article PDF.
USD 39.95
Price excludes VAT (USA)
Tax calculation will be finalised during checkout.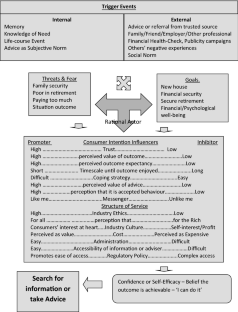 References
Ackert, L., and R. Deaves. 2010. Behavioural Finance: Psychology Decision Making and Markets. South Western: Cengage Learning.

Arthur, C. 2016. Financial Literacy Education as a Public Pedagogy: Consumerizing Economic Insecurity, Ethics and Democracy. In International Handbook of Financial Literacy, ed. C. Aprea, et al. Singapore: Springer.

Australian Securities & Investments Commission. 2010. Access to Financial Advice in Australia. Report 224, ASIC, Australia.

Bandura, A. 1977. Self-efficacy: Toward a unifying theory of behavioral change. Psychological Review 84(2): 191–215.

Behavioural Insights Team. 2014. Pensions Passport, Pensions Passport|The Behavioural Insights Team (bi.team)

Butler, M. 2017. Assessing the value of financial advice, Speech by Megan Butler, Director of Supervision - Investment, Wholesale and Specialists at the FCA, delivered to The Personal Investment Management and Financial Advice Association (PIMFA) in London, UK. https://www.fca.org.uk/news/speeches/assessing-value-financial-advice

CFEB. 2010. Transforming Financial Behaviour: Developing Interventions that Build Financial Capability. Consumer Research Report 01. CFEB, London, UK

Cheug, C. 2021. Three in Five Financial Planners Looking to Sell, FT Adviser, Financial Times, London, UK.

Clasen, J. 2015. Income Security During Sickness Absence. What Do British Middle-classes Do? Social Policy & Administration, 1–18.

Conner, M., and P. Norman. 2008. Predicting Health Behaviour. Maidenhead: Open University Press.

Craig, J. 2017. Financial Advice and Guidance: Qualitative research to inform the Financial Advice Review (FAMR) Baseline. London: NMG Consulting.

Dolan, P., Hallsworth, M., Halpern, D., King, D., & Vlaev, I. 2010. MINDSPACE: Influencing behaviour through public policy, Report for the Cabinet Office, UK.

Engel, J.F., R.D. Blackwell, and P.W. Miniard. 1995. Consumer Behaviour. Florida: The Dryden Press.

Economics, Europe. 2014. Retail Distribution Review Post Implementation Review. London: Europe Economics.

Farghly, F., Milward, J., Holt, M., Pantelis S., and Sandbrook, W. 2020. The Stronger Nudge Evaluation Report, Money & Pensions Service and Behavioural insights Team.

Financial Adviser. 2019. Adviser numbers to fall 7% as regulation bites. https://www.ftadviser.com/your-industry/2019/05/28/adviser-numbers-to-fall-7-as-regulation-bites/?page=1

FCA. 2015. Financial Advice Market Review: Call for Input. London: Financial Conduct Authority.

FCA. 2017a. Financial Advice Market Review: Baseline Report. London: Financial Conduct Authority.

FCA. 2017b. Assessing Suitability Review, https://www.fca.org.uk/publications/multi-firm-reviews/assessing-suitability-review

FCA. 2017c. Understanding the Financial Lives of UK Adults Findings from the FCA's Financial Lives Survey. London: FCA.

FCA. 2018. The Financial Lives of Consumers Across the UK Key Findings from the FCA's Financial Lives Survey 2017. London: Financial Conduct Authority.

FCA. 2019. Evaluation of the Retail Distribution Review and the Financial Advice Market Review Call for input. London: Financial Conduct Authority.

FCA. 2020. Financial Lives 2020a survey: the impact of coronavirus. London: FCA.

FCA. 2020. The Retail Intermediary Market 2019. London: FCA.

FCA. 2021. Finalised guidance FG21/1 Guidance for firms on the fair treatment of vulnerable customers. London: Financial Conduct Authority.

Florendo, J., and H. Estelami. 2019. The Role of Cognitive Style, Gullibility, and Demographics on the Use of Social Media for Financial Decision. Journal of Financial Services Marketing. 24: 1–10. https://doi.org/10.1057/s41264-019-00064-7.

FSA. 2004. Building Financial Capability in the UK: the role of advice, Financial Services Authority, London.

FSA. 2005a. Financial Capability: Developing the role of generic financial advice, Financial Services Authority, London.

FSA. 2005b. Towards Understanding Consumer Needs.

FSA. 2005c. Advice and the best way of delivering it. London: Prepared by Virginia Wallis for the FSA.

FSA. 2006. Levels of Financial Capability in UK: Results of a baseline survey. Prepared for the FSA by the Personal Finance Research Centre: University of Bristol, Bristol, UK.

FSA. 2007. FSA keeps RU64 rule, http://www.fsa.gov.uk/pages/Library/Communication/Statements/2007/ru64.shtml

FSA. 2009. Distribution of Retail Investments: Delivering the RDR. London: FSA.

HMT. 2014. Review of the Money Advice Service: Call for Evidence. London: HM Treasury.

Iannicola, D., Jr., and J. Parker. 2010. Barriers to Financial Advice for Non-Affluent Consumers. Financial Literacy Group: Society of Actuaries, USA.

IFF Research. 2012. Health Check Evaluation, prepared for the Money Advice Service by IFF Research and the Policy Studies Institute, London.

Kahneman, D., and A. Tversky. 1984. Choices Values and Frames. California: American Psychologist.

Kahneman, D. 2003. Maps of Bounded Rationality: Psychology for Behavioral Economics. The American Economic Review 93(5): 1449–1475.

Kempson, E. and Collard, S. 2005. Advice on Pensions and Savings for Retirement: Qualitative Research with Financial Intermediaries. Department of Work & Pensions. Research Report 289, Norwich, UK.

Lusardi, A., and O. Mitchell. 2006. Baby Boomer Retirement Security: The Roles of Planning, Financial Literacy, and Housing Wealth. USA: Michigan Retirement Research Center University of Michigan.

Luszczynska, A., and R. Schwarzer. 2008. Social Cognitive Theory. In Predicting Health Behaviour, ed. M. Conner and P. Norman. Maidenhead: Open University Press.

MaPS. 2022. Adult-Financial-Wellbeing-Survey-2021-Technical-Report.pdf (maps.org.uk)

MAS. 2012. Directors' Report and Financial Statements for Year Ending 31 March 2012. London: Money Advice Service.

MAS. 2022. Free and Impartial Money Advice, Set Up by Government. London: Money Advice Service.

Mehta, J. 2013. The Discourse of Bounded Rationality in Academic and Policy Areas: Pathologising the Errant Consumer. Cambridge Journal of Economics 37: 1243–1261.

Moss J. 2015. Personal Financial Planning Advice: Barriers to Access, University of Birmingham, UBIRA ETheses - Personal financial planning advice: barriers to access (bham.ac.uk)

Overton, L., and C.Q. Cook. 2022. Pension Decision-Making in the New Retirement Landscape: Understanding and Improving Outcomes for Consumers. CHASM: University of Birmingham.

Palmer, A. 2001. Principles of Services Marketing. Cheltenham: McGraw-Hill.

Rabbani, A., W. Heo, and J.E. Grable. 2021. The Role of Financial Literacy in Describing the Use of Professional Financial Advisors Before and During the COVID-19 Pandemic. Jouranl of Financial Services Marketing 26: 226–236. https://doi.org/10.1057/s41264-021-00109-w.

Redwood, R., L. Carrera, J. Armstrong, and T. Pennanen. 2013. What Level of Pension Contribution is Needed to Obtain An Adequate Retirement Income. London: Pensions Policy Institute.

Resolution Foundation. 2007. The Advice Gain: the Impact of Generic Financial Advice on the Financial Service Industry. London: Resolution Foundation.

Ripley, E., and J. Weir. 2020. Evaluation of the Retail Distribution Review and the Financial Market Review—Consumer Research to inform the FCA's Review. London: Ignition House.

Rosenstock, I. M., Strecher, V. J., and Becker, M.H. 1988. Social Learning Theory and the Health Belief Model. http://heb.sagepub.com/cgi/content/abstract/15/2/175.

Rowlingson, K. 2000. Fate, Hope and Insecurity: Future Orientation and Forward Planning. London: Policy Studies Institute.

Sandler, R. 2002. Medium and Long-Term Retail Savings in the UK A Review. London: HM Treasury.

Shefrin, H. 2002. Beyond Greed and Fear: Understanding Behavioral Finance and the Psychology of Investing. New York: Oxford University Press.

Sherraden, M.S., and D. Ansong. 2016. Financial Literacy to Financial Capability: Building Financial Stability and Security. In International Handbook of Financial Literacy, ed. C. Aprea, et al., 83–96. Singapore: Springer.

Simon, H. 1955. A Behavioral Model of Rational Choice. The Quarterly Journal of Economics 69(1): 99–118.

Spencer, L., J. Ritchie, and W. O'Connor. 2006. Carrying Out Qualitative Analysis. In Qualitative Research Practice, ed. J. Ritchie and J. Lewis. London: Sage Publications.

Stilwell, S. 2016. Financial Education in the UK: A case Studt in Practice. In Book: International Handbook of Financial Literacy (pp. 357–368).

Strauss, K. 2008. Re-Engaging with Rationality in Economic Geography: Behavioural Approaches and the Importance of Context in Decision-Making. Journal of Economic Geography 8(2008): 137–156.

Thaler, R. 1980. Toward a Theory of Consumer Choice. Journal of Economic Behavior and Organization. 1: 39–60.

Thoreson, O. 2007. Thoreson Review of Generic Financial Advice. Interim Report. Leeds: HM Treasury HMSO.

Thoreson, O. 2008. Review of Generic Financial Advice Final Report. London: HMSO on behalf of HM Treasury.

Tjandra, N.J., J. Ensor, M. Omar, and J.R. Thomson. 2020. Independent Financial Adviser (IFA)-Based Brand Equity Pyramid. Journal of Financial Services Marketing. 25: 53–64. https://doi.org/10.1057/s41264-020-00073-x.

Tversky, A., and D. Kahneman. 1974. Judgment under Uncertainty: Heuristics and Biases. Science 185(4157): 1124–1131.

Wells, J. and Gostelow, M. 2009. A Summary of Existing Research. (Professional Standards and Consumer Trust). Prepared for the Financial Services Authority, London, UK

Van Oorschot, Wim. 1991. Non-Take-Up of Social Security Benefits in Europe. Journal of European Social Policy 1: 15–30.
Ethics declarations
Conflict of interests
On behalf of all authors, the corresponding author states that there is no conflict of interest.
Additional information
Publisher's Note
Springer Nature remains neutral with regard to jurisdictional claims in published maps and institutional affiliations.
Rights and permissions
Springer Nature or its licensor holds exclusive rights to this article under a publishing agreement with the author(s) or other rightsholder(s); author self-archiving of the accepted manuscript version of this article is solely governed by the terms of such publishing agreement and applicable law.
About this article
Cite this article
Moss, J., Rowlingson, K. & Lymer, A. Exploring the barriers to accessing personal financial planning advice. J Financ Serv Mark (2022). https://doi.org/10.1057/s41264-022-00180-x
Received:

Revised:

Accepted:

Published:

DOI: https://doi.org/10.1057/s41264-022-00180-x
Keywords
Holistic financial advice

Personal finance

Trust

Heuristic

Welfare

Financial advice belief model

Bounded rationality