Abstract
The paper examines the effects of cultural tightness, rationalization, and perceived unfairness on Japanese consumers' attitude towards insurance fraud. The results show a positive effect of perceived inequity/unfairness on acceptance of fraud and a partial mediation of rationalization on insurance fraud acceptance, whereas cultural tightness was found to weigh against the acceptance of fraud. This would suggest that, while the perception of being unfairly treated by an insurance company and reframing a fraudulent behaviour as non-condemnable conduct contribute to fraud acceptance, the strength of social norms and the degree of sanctioning would reduce fraud tolerance. From a managerial perspective, global insurance companies would take advantage from understanding the role of cultural tightness in fighting against fraud. Furthermore, the use of counter-neutralization techniques would be helpful to reduce the effect of rationalization on public tolerance for insurance fraud.
This is a preview of subscription content, log in to check access.
Access options
Buy single article
Instant access to the full article PDF.
US$ 39.95
Price includes VAT for USA
Subscribe to journal
Immediate online access to all issues from 2019. Subscription will auto renew annually.
US$ 199
This is the net price. Taxes to be calculated in checkout.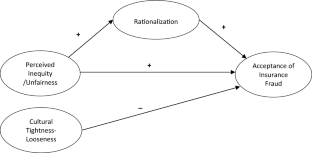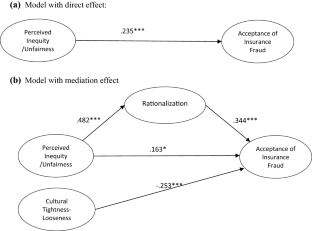 References
Adams, J.S. 1965. Inequity in Social Exchange. In Advances Experimental Social Psychology, vol. 2, ed. L. Berkowitz, 267–299. New York: Academic Press.

Bandura, A., C. Barbaranelli, G.V. Caprara, and C. Pastorelli. 1996. Mechanisms of Moral Disengagement in the Exercise of Moral Agency. Journal of Personality and Social Psychology 71: 364–374.

Baron, R.M., and D.A. Kenny. 1986. The moderator-Mediator Variable Distinction in Social Psychological Research: Conceptual, Strategic, and Statistical Considerations. Journal of Personality and Social Psychology 51(6): 1173.

Brinkmann, J. 2005. Understanding Insurance Customer Dishonesty: Situational Approach. Journal of Business Ethics 61: 183–197.

Brinkmann, J., and P. Lentz. 2006. Understanding Insurance Customer Outline of a Moral-Sociological Approach. Journal of Business Ethics 66: 177–195.

Brislin, R.W. 1970. Back-Translation for Cross-Cultural Research. Journal of Cross-Cultural Psychology 1(3): 185–216.

Chan, D.K.S. 1996. Tightness-Looseness Revisited: Some Preliminary Analyses in Japan and the United States. International Journal of Psychology 31(1): 1–12.

Chicago Tribune. 2008. Shoplifting Wave Points to Plight of Elderly Japanese. https://www.chicagotribune.com/news/ct-xpm-2008-12-03-0812020592-story.html. Accessed 23 Jan 2019.

Chin, W.W. 1998. The Partial Least Squares Approach to Structural Equation Modeling. In Modern Methods for Business Research, ed. G.A. Marcoulides, 295–336. New Jersey: Lawrence Erlbaum Associates, Mahway.

Choi, T.H. 2008. The Evolution of Business Ethics in Japan and Korea Over the Last Decade. Human Systems Management 27(3): 183–199.

Colquitt, L. L., and Hoyt, R. E. 1997. An empirical analysis of the nature and cost of fraudulent life insurance claims. Journal of Insurance Regulation 15(4): 451.

Copes, H., and J.P. Williams. 2007. Techniques of Affirmation: Deviant Behavior, Moral Commitment, and Subcultural Identity. Deviant Behavior 28(3): 247–272.

Costonis, M., and J. Bramblet. 2010. Improve Customer Service and Fraud Detection to Deliver High Performance Through Claims: Insurance Fraud Survey 2010. Accessed 9 May 2012.

Dean, D.H. 2004. Perceptions of Ethicality of Consumer Claim Fraud. Journal of Business Ethics 54(1): 67–79.

Deloitte-Japan. 2018. Japan Fraud Survey 2018–2020. https://www2.deloitte.com/jp/ja/pages/risk/articles/frs/jp-fraud-survey-2018-2020.html. Accessed 23 Jan 2019.

Erffmeyer, R.C., B.D. Keillor, and D.T. LeClair. 1999. An empirical Investigation of Japanese Consumer Ethics. Journal of Business Ethics 18(1): 35–50.

Farashah, A.D., and H. Estelami. 2014. The Interplay of External Punishment and Internal Rewards: An Exploratory Study of Insurance Fraud. Journal of Financial Services Marketing 19(4): 253–264.

Festinger, L. 1957. A Theory of Cognitive Dissonance. Stanford: Stanford University Press.

Fornell, C., and D.F. Larcker. 1981. Evaluating Structural Equation Models with Unobservable Variables and Measurement Error. Journal of Marketing Research 18(1): 39–50.

Gelfand, M.J. 2012. Culture's Constraints: International Differences in the Strength of Social Norms. Current Directions in Psychological Science 21(6): 420–424.

Gelfand, M.J., J.L. Raver, L. Nishii, L.M. Leslie, J. Lun, B.C. Lim, and S. Yamaguchi. 2011. Differences Between Tight and Loose Cultures: A 33-Nation Study. Science 332(6033): 1100–1104.

Grief, A. 1994. Cultural Beliefs and the Organization of Society: A Historical and Theoretical Reflection on Collectivist and Individualist Societies. Journal of Political Economy 102(5): 912–950.

Gelfand, M.J., L.H. Nishii, and J.L. Raver. 2006. On the Nature and Importance of Cultural Tightness-Looseness. Journal of Applied Psychology 91(6): 1–57.

Hair, J.F., C.M. Ringle, and M. Sarstedt. 2011. PLS-SEM: Indeed a Silver Bullet. Journal of Marketing Theory and Practice 19(2): 139–152.

Harman, H.H. 1976. Modern Factor Analysis. 3rd ed. Chicago: University of Chicago Press.

Höck, M., and C.M. Ringle. 2006. Strategic Networks in the Software Industry: An Empirical Analysis of the Value Continuum. IFSAM VIIIth World Congress, Berlin 2006. http://www.ib1-unihh.de/IFSAM06.pdf. Accessed 22 Feb 2009.

Hofstede, G. 1980. Motivation, Leadership, and Organization: Do American Theories Apply Abroad? Organizational Dynamics 9(1): 42–63.

Holton, D.C. 1946. Shintoism. In The Great Religions of the Modern World, 141–177.

Iwao, S. 1993. The Japanese Woman. Traditional Image and Changing Reality. The Free Press, New York. xii, 304 pp.

Japan Financial Intelligence Center (JAFIC). 2015. Annual Report. https://www.npa.go.jp/sosikihanzai/jafic/en/nenzihokoku_e/data/jafic_2015e.pdf. Accessed 27 Mar 2017.

Japanese Census. 2010. Population by Sex and Age. http://www.stat.go.jp/english/data/kokusei/2010/poj/pdf/2010ch02.pdf. Accessed 13 May 2014.

Kroll Global Fraud Report. 2015. http://anticorruzione.eu/wp-content/uploads/2015/09/Kroll_Global_Fraud_Report_2015low-copia.pdf. Accessed 13 May 2014.

Kidder, L.H. 1992. Requirements for Being "Japanese": Stories of Returnees. International Journal of Intercultural Relations 16(4): 383–393.

Lesch, W.C., and B. Byars. 2008. Consumer Insurance Fraud in the US Property-Casualty Industry. Journal of Financial Crime 15(4): 411–431.

Lesch, W., and B. Baker. 2011. Unraveling the Rationale for Property-Casualty Insurance Fraud. Helsinki: In Workshop on the Economization of Uncertainty.

Lesch, W.C., and B.R. Baker. 2013. Balancing the Insurance Equation: Understanding the Climate for Managing Consumer Insurance Fraud and Abuses. Journal of Insurance Issues 82–120.

Lesch, W.C., and J. Brinkmann. 2011. Consumer Insurance Fraud/Abuse As Co-creation and Co-responsibility: A New Paradigm. Journal of Business Ethics 103(1): 17–32.

Li, S., H.C. Triandis, and Y. Yu. 2006. Cultural Orientation and Corruption. Ethics and Behavior 16(3): 199–215.

Lloyd Bierstaker, J. 2009. Differences in Attitudes About Fraud and Corruption Across Cultures: Theory, Examples and Recommendations. Cross-Cultural Management: An International Journal 16(3): 241–250.

McFarlin, D.B., and P.D. Sweeney. 1992. Distributive and Procedural Justice as Predictors of Satisfaction with Personal and Organizational Outcomes. Academy of Management Journal 35(3): 626–637.

Miyazaki, A.D. 2009. Perceived Ethicality of Insurance Claim Fraud: Do Higher Deductibles Lead to Lower Ethical Standards? Journal of Business Ethics 87(4): 589–598.

MS&AD Insurance Group Holdings. 2018. Sophistication of Insurance Claims Settlement Process Utilizing Technology of AI. https://www.ms-ad-hd.com/en/news/irnews/news_topics-1357457459375690691/main/0/link/180404_ForceTM_e_hd.pdf. Accessed 23 Jan 2019.

Murphy, P.R., and M.T. Dacin. 2011. Psychological Pathways to Fraud: Understanding and Preventing Fraud in Organizations. Journal of Business Ethics 101(4): 601–618.

Newman, M. 2016. Customer Product Research. http://www.custprd.com/rsch/Crime%20in%20Japan%20%20Police%20Yakuza%20Drugs%20Financial%20Crime.pdf. Accessed 03 Dec 2009.

Pollara. 2012. Ontarians' Beliefs About Auto Insurance Fraud. Insurance Bureau of Canada Report. 1–43.

Powers, M. 2014. Acts of God and Man: Ruminations on Risk and Insurance. New York City: Columbia University Press.

Rawwas, M.Y., Z. Swaidan, and J. Al-Khatib. 2006. Does Religion Matter? A Comparison Study of the Ethical Beliefs of Marketing Students of Religious and Secular Universities in Japan. Journal of Business Ethics 65(1): 69–86.

Sparkling Logic. 2013. Next-Generation Insurance Fraud Detection System Built on Sparkling Logic SMARTS. https://www.sparklinglogic.com/news/next-generation-insurance-fraud-detection-system-built-on-sparkling-logic-smarts/. Accessed 20 May 2017.

Taylor, J. 1983. Shadows of the Rising Sun: A Critical View of the "Japanese Miracle". New York City: William Morrow.

Tennyson, S. 1997. Economic Institutions and Individual Ethics: A Study of Consumer Attitudes Toward Insurance Fraud. Journal of Economic Behavior Organization 32(2): 247–265.

Tennyson, S. 2011. Insurer Anti-fraud Programs: Contracts and Detection Versus Norms and Prevention. 10Year Anniversary, 151.

Tennyson, S. 2002. Insurance Experience and Consumers' Attitudes Toward Insurance Fraud. Journal of Insurance Regulation 21(2): 35.

Tennyson, S. 2008. Moral, Social, and Economic Dimensions of Insurance Claims Fraud. Social Research 75: 1181–1204.

The Japan Times. 2002. National False Auto Insurance Claims Rising. http://www.japantimes.co.jp/news/2002/11/22/national/false-auto-insurance-claims-rising/#.WNnbX_6guUk. Accessed 19 Mar 2017.

The General Insurance Association of Japan. 2016. http://www.sonpo.or.jp/en/statements/2016/1716_01.html. Accessed 20 July 2017.

Tian, K., and B. Keep. 2002. Customer Fraud and Business Responses: Let the Marketer Beware. Westport: Greenwood Publishing Group.

Triandis, H.C. 2004. The Many Dimensions of Culture. The Academy of Management Executive 18(1): 88–93.

Triandis, H.C., P. Carnevale, M. Gelfand, C. Robert, S.A. Wasti, T. Probst, and P. Schmitz. 2001. Culture and Deception in Business Negotiations. International Journal of Cross-Cultural Management 1(1): 73–90.

Triandis, H.C. 1989. The Self and Social Behavior in Differing Cultural Contexts. Psychological Review 96(3): 506.

Toa. 2013. Japan's Insurance Market. The Toa Reinsurance Company limited. http://www.toare.co.jp/english/html/pdf/2013_insurance.pdf. Accessed 20 Mar 2017.

Tseng, L.M., and W.P. Su. 2013. Customer Orientation, Social Consensus and Insurance Salespeople's Tolerance of Customer Insurance Frauds. International Journal of Bank Marketing 31(1): 38–55.

Tseng, L.M., Y.M. Kang, and C.E. Chung. 2014. Understanding the Roles of Loss-Premium Comparisons and Insurance Coverage in Customer Acceptance of Insurance Claim Frauds. Journal of Financial Crime 21(3): 321–335.

Tseng, L.M., and C.L. Kuo. 2014. Customers' Attitudes Toward Insurance Frauds: An Application of Adams' Equity Theory. International Journal of Social Economics 41(11): 1038–1054.

Viaene, S., and G. Dedene. 2004. Insurance Fraud: Issues and Challenges. The Geneva Papers on Risk and Insurance-Issues and Practice 29(2): 313–333.

Washington Post. 2008. Elderly Shoplifters on the Rise in Japan. http://www.washingtonpost.com/wp-dyn/content/article/2008/11/29/AR2008112901913_2.html?noredirect=on. Accessed 23 Jan 2019.

Weisberg, H.I., and R.A. Derrig. 1998. Quantitative Methods for Detecting Fraudulent Automobile Bodily Injury Claims. Risques 35: 75–101.

Winsted, K.F. 1997. The Service Experience in Two Cultures: A Behavioral Perspective. Journal of Retailing 73(3): 337–360.

Yamada, T. 2009. A Study of Insurance Fraud in Japan. Journal of Insurance Science 606: 191–209. https://doi.org/10.5609/jsis.2009.606_191.

Zhang, J., S.E. Beatty, and G. Walsh. 2008. Review and Future Directions of Cross-Cultural Consumer Services Research. Journal of Business Research 61(3): 211–224.

Zourrig, H., J.C. Chebat, and R. Toffoli. 2009. Consumer Revenge Behavior: A Cross-Cultural Perspective. Journal of Business Research 62(10): 995–1001.

Zourrig, H., and J. Cosentino. 2017. Perceived Deceptiveness of Insurance Fraud: A Cross-Cultural Perspective. ASBBS Proceedings 24(1): 567.

Zourrig, H., J. Park, K. El Hedhli, and M. Zhang. 2018. The Effect of Cultural Tightness–Looseness on Fraud Perception in Insurance Services. International Journal of Quality and Service Sciences 10(2): 138–148.
Acknowledgements
The authors acknowledge the financial support of Social Science and Humanities Research Council of Canada (SSHRC)-Insight Development grant to this research.
Additional information
Publisher's Note
Springer Nature remains neutral with regard to jurisdictional claims in published maps and institutional affiliations.
About this article
Cite this article
Zourrig, H., Park, J. The effects of cultural tightness and perceived unfairness on Japanese consumers' attitude towards insurance fraud: the mediating effect of rationalization. J Financ Serv Mark 24, 21–30 (2019). https://doi.org/10.1057/s41264-019-00061-w
Revised:

Published:

Issue Date:
Keywords
Cultural tightness

Rationalization

Counter-neutralization

Insurance fraud