Abstract
The banking industry is experiencing rapid and widespread changes due to advances in technology that go hand-in-hand with the customer demands for real-time, personalized and seamless banking experience. Along with this development, omni-channel orientation is becoming an inherent feature of banking services. However, its role has not yet been thoroughly understood, specifically in this context. The purpose of this study is to create in-depth understanding of how do customers experience omni-banking services and what are the key factors related to their experiences. We identify both actual critical events and imaginings, positive and negative that are related to the forming of customer experiences and suggest both theoretical and managerial implications based on the results.
Access options
Buy single article
Instant access to the full article PDF.
US$ 39.95
Tax calculation will be finalised during checkout.
Subscribe to journal
Immediate online access to all issues from 2019. Subscription will auto renew annually.
US$ 119
Tax calculation will be finalised during checkout.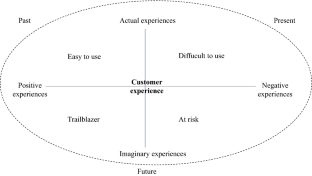 References
Carroll, D., and I. Guzman. 2015. The new omni-channel approach to serving customers: Strategy implications for communications service providers. https://www.accenture.com/be-en/~/media/Accenture/Conversion-Assets/DotCom/Documents/Global/PDF/Industries_2/accenture-new-omni-channel-approach-serving-customers.pdf. Accessed 10 Sept 2018.

Constantinides, E. 2004. Influencing the online consumer's behavior: The web experience. Internet Research 14(2): 111–126.

Dube, A., and A. Helkkula. 2015. Service experiences beyond the direct use: Indirect customer use experiences of smartphone apps. Journal of Service Management 26(2): 224–248.

Edvardsson, B. 1992. Service breakdowns: A study of critical incidents in an airline. International Journal of Service Industry Management 3(4): 17–29.

Edvardsson, B., and I. Roos. 2001. Critical incident techniques: Towards a framework for analysing the criticality of critical incidents. International Journal of Service Industry Management 12(3): 251–268.

Flanagan, J.C. 1954. The critical incident technique. Psychological Bulletin 51(4): 327–358.

Frow, P., and A. Payne. 2007. Towards the 'perfect' customer experience. Journal of Brand Management 15(2): 89–101.

Gentile, C., N. Spiller, and N. Giuliano. 2007. How to sustain the customer experience components to co-create value with the customer. European Management Journal 25(5): 395–410.

Heinonen, K., T. Strandvik, K.-J. Mickelsson, B. Edvardsson, E. Sundström, and P. Andersson. 2010. A customer-dominant logic of service. Journal of Service Management 21(4): 531–548.

Heinonen, K., T. Strandvik, and P. Voima. 2013. Customer dominant value formation in service. European Business Review 25(2): 104–123.

Helkkula, A., and C. Kelleher. 2010. Circularity of customer service experience and customer perceived value. Journal of Customer Behavior 9(1): 37–53.

Helkkula, A., C. Kelleher, and M. Pihlström. 2012. Practices and experiences: challenges and opportunities for value research. Journal of Service Management 23(4): 554–570.

Helkkula, A., and M. Pihlström. 2010. Narratives and metaphors in service development. Qualitative Market Research: An International Journal 13(4): 354–371.

Hoehle, H., E. Scornavacca, and S. Huff. 2012. Three decades of research on consumer adoption and utilization of electronic banking channels: A literature analysis. Elsevier 54(1): 122–132.

Holbrook, M.B., and E.C. Hirschman. 1982. Hedonic consumption: Emerging concepts, methods and propositions. Journal of Marketing 46(3): 92–101.

Jaakkola, E., A. Helkkula, and L. Aarikka-Stenroos. 2015. Service experience co-creation: Conceptualization, implications, and future research directions. Journal of Service Management 26(2): 182–205.

Kelleher, C., and A. Helkkula. 2010. Virtually speaking-customer to customer communication in blogs. Journal of Applied Management and Entrepreneurship 15(3): 4–17.

Klaus, P., and B. Nguyen. 2013. Exploring the role of the online customer experience in firms' multi-channel strategy: An empirical analysis of the retail banking services sector. Journal of Strategic Marketing 21(5): 429–442.

Komulainen, H., S. Saraniemi, P. Ulkuniemi, and M. Ylilehto. 2018. End-customer value restructuring the financial service supply chain. Marketing Intelligence & Planning 36(6): 709–720.

Lähteenmäki, I., and S. Nätti. 2013. Obstacles to upgrading customer value-in-use in retail banking. International Journal of Bank Marketing 31(5): 334–347.

Laukkanen, T., and J. Lauronen. 2005. Consumer value creation in mobile banking services. International Journal of Mobile Communications 3(4): 325–338.

Lemke, F., M. Clark, and H. Wilson. 2011. Customer experience quality: An exploration in business and consumer contexts using repertory grid technique. Journal of the Academy of Marketing Science 39(6): 846–869.

Light, J., A. McFarlane, K. Barry, and I. Ruotsila. 2016. Seizing the opportunities unlocked by the EU's revised payment services directive. https://www.accenture.com/t20160505T180127__w__/ca-fr/_acnmedia/PDF-15/PSD2-Seizing-Opportunities-EU-Payment-ServicesDirective%20(1)%20(1).pdf. Accessed 10 Dec 2017.

Marketing Science Institute. 2016. Research priorities 2016–2018. www.msi.org. Accessed 10 Nov 2017.

McColl-Kennedy, J.R., L. Cheung, and E. Ferrier. 2015. Co-creating service experience practices. Journal of Service Management 26(2): 249–275.

McKinney, T. 2014. Omni-channel banking customer experience: Forget what you thought you knew about channels. http://docplayer.net/18988425-Omni-channel-banking-customer-experience-forget-whatyou-thought-you-knew-about-channels.html. Accessed 29 Aug 2018.

Rosman, T. 2015. Investigating omni-channel banking opportunities in Sweden: From a user perspective. School of Computer Science and Communication: KHT Royal Institute of Technology.

Saghiri, S., R. Wilding, C. Mena, and M. Bourlakis. 2017. Toward a three-dimensional framework for omni-channel. Journal of Business Research 77: 53–67.

Sahoo, D., and S. Pillai. 2017. Role of mobile banking servicescape on customer attitude and engagement: An empirical investigation in India. International Journal of Bank Marketing 35(7): 1115–1132.

Shaikh, A.A., and H. Karjaluoto. 2015. Mobile banking adoption: A literature review. Telematics and Informatics 32(1): 129–142.

Skan, J., J. Dickerson, and S. Masood. 2015. The future of fintech and banking: Digitally disrupted or reimagined? www.accenture.com. Accessed 15 Nov 2017.

Tam, C., and T. Oliveira. 2017. Literature review of mobile banking and individual performance. International Journal of Bank Marketing 35(7): 1044–1067.

Thakur, R. 2014. What keeps mobile banking customers loyal? International Journal of Bank Marketing 32(7): 628–646.

Tynan, C., and S. McKechnie. 2009. Experience marketing: A review and reassessment. Journal of Marketing Management 25: 501–517.

Van Dijk, G., S. Minocha, and A. Lang. 2006. Multi-channel consumer behavior: Online and offline travel preparations. CHI 2006: 1457–1462.
About this article
Cite this article
Komulainen, H., Makkonen, H. Customer experience in omni-channel banking services. J Financ Serv Mark 23, 190–199 (2018). https://doi.org/10.1057/s41264-018-0057-6
Revised:

Published:

Issue Date:
Keywords
Customer experience

Omni-channel

Critical incident technique

Banking service