Abstract
Recent developments within branding theory suggest a move towards co-created branding. In theory, this approach holds great promise in terms of engaging stakeholders in dynamic processes of creating the corporate brands, but a brand co-creation process also exposes the organization to, for example, loss of control, dilution of identity and potential disharmony between the multiple voices co-creating the brand. Paradoxically, while brand co-creation has received increased theoretical attention, the role of the internal stakeholders (especially the employees) in this process remains vastly uncharted. Therefore, through an empirical case study of the Danish National Gallery, this paper shows how a public organization, which has engaged in brand co-creation, struggles to orchestrate the many internal voices in the co-creational dialogue. The importance of considering internal stakeholders in the co-creation process is illustrated through the discovery of six diverse brand expressions that surface in the so-called touchpoints of co-creation, i.e. the museum's communication with external stakeholders. Here, different professional groups of employees communicate their version of the brand, leaving the impression of a brand speaking with several, at times clashing, voices.
This is a preview of subscription content, log in to check access.
Access options
Buy single article
Instant access to the full article PDF.
US$ 39.95
Price includes VAT for USA
Subscribe to journal
Immediate online access to all issues from 2019. Subscription will auto renew annually.
US$ 453
This is the net price. Taxes to be calculated in checkout.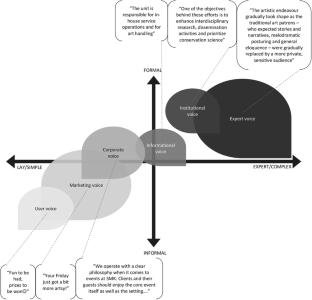 References
Aspara, J., H. Aula, J. Tienari, and H. Tikkanen. 2014. Struggles in organizational attempts to adopt new branding logics: The case of a marketizing university. Consumption Markets & Culture 17(6): 522–552.

Balmer, J., R. Abratt, and N. Kleyn. 2016. Corporate brands and corporate marketing: Emerging trends in the big five eco-system. Journal of Brand Management 23(1): 3–7.

Bakhtin, M.M. 1984. Problems of Dostoevsky's poetics. Minneapolis: University of Minnesota Press.

Batey, M. 2008. Brand meaning. New York: Routledge.

Belova, O., I. King, and M. Sliwa. 2008. Introduction: Polyphony and organization studies: Mikhail Bakhtin and beyond. Organization Studies. 29(4): 493–500.

Black, I., and B. Veloutsou. 2017. Working consumers: Co-creation of brand identity, consumer identity and brand community identity. Journal of Business Research 70: 416–429.

Bryman, A. 2016. Social research methods, 5th ed. Oxford: Oxford University Press.

Christodoulides, G. 2007. Breaking free from the industrial age paradigm of branding. Brand Management 15(4): 291–293.

Cova, B., and V. Cova. 2002. Tribal marketing. The tribilization of society and its impact on the conduct of marketing. European Journal of Marketing 36(5/6): 595–620.

Cova, B., D. Dalli, and D. Zwick. 2011. Critical perspectives on consumers' role as 'producers': Broadening the debate on value co-creation in marketing processes. Marketing Theory 11(3): 231–241.

Fisher, D., and S. Smith. 2011. Cocreation is chaotic: What it means for marketing when no one has control. Marketing Theory 11(3): 325–350.

Flyvbjerg, B. 2013. Case Study. In Strategies of qualitative inquiry, ed. N.K. Denzin, and Y.S. Lincoln, 169–204. Thousand Oaks, CA: SAGE.

Fournier, S., and J. Avery. 2011. The uninvited brand. Business Horizons 54(3): 193–207.

Fournier, S., and L. Lee. 2009. Getting brand communities right. Harvard Business Review 87(4): 105–111.

Fredriksson, M., and J. Pallas. 2016. Characteristics of public sectors and their consequences for strategic communication. International Journal of Strategic Communication 10(3): 149–152.

Galvagno, M., and D. Dalli. 2014. Theory of value co-creation: A systematic literature review. Managing Service Quality 24(6): 643–683.

Gouillart, F., and T. Hallett. 2015. Co-creation in government. Stanford Social Innovation Review 13(2): 40–47.

Greer, D.A. 2015. Defective co-creation: Developing a typology of consumer dysfunction in professional services. European Journal of Marketing 49(1/2): 238–261.

Gregory, A. 2007. Involving stakeholders in developing corporate brands: The communication dimension. Journal of Marketing Management 23(1–2): 59–73.

Halkier, B. 2003. The challenge of qualitative generalisations in communication research. Nordicom Review 24(1): 115–124.

Hatch, M.J., and M. Schultz. 2008. Taking brand initiative. Hoboken: Wiley.

Hatch, M.J., and M. Schultz. 2010. Toward a theory of brand co-creation with implications for brand governance. Brand Management 17(8): 590–604.

Iglesias, O., and E. Bonet. 2012. Persuasive brand management: How managers can influence brand meaning when they are losing control over it. Journal of Organizational Change Management 25(2): 251–264.

Iglesias, O., N. Ind, and M. Alfaro. 2013. The organic view of the brand: A brand value co-creation model. Journal of Brand Management 20(8): 670–688.

Ind, N. 2015. How participation is changing the practice of managing brands. Journal of Brand Management 21(9): 734–742.

Ind, N., and R. Bjerke. 2007. Branding governance. A participatory approach to the brand building process. Hoboken: Wiley.

Ind, N., and N. Coates. 2013. The meanings of co-creation. European Business Review 25(1): 86–95.

Ind, N., C. Fuller, and C. Trevail. 2012. Brand together: How co-creation generates innovation and re-energizes brands. London: Kogan Page.

Ind, N., O. Iglesias, and M. Schultz. 2013. Building brands together: Emergence and outcomes of co-creation. California Management Review 55(3): 5–26.

Ind, N., and C. Watt. 2004. Inspiration. Capturing the creative potential of your organisation. Hampshire: Palgrave Macmillan.

Johansen, T.S., and S. Esmann Andersen. 2012. Co-creating ONE: Rethinking integration within communication. Corporate Communication: An International Journal 17(3): 272–288.

Karmark, E. 2013. Corporate branding and corporate reputation. In The handbook of communication and corporate reputation, ed. C.E. Carroll, 446–459. Chichester: Wiley-Blackwell.

Keller, K.L. 2009. Building strong brands in a modern marketing communications environment. Journal of Marketing Communication 15(2–3): 139–155.

Kennedy, E., and F. Guzmán. 2016. Co-creation of brand identities: Consumer and industry influence and motivations. Journal of Consumer Marketing 33(5): 313–323.

Knudsen, M. 2013. New Visual Communication. In SMK: Come on in, ed. S. Linde, 32–39. Copenhagen: SMK.

Kornberger, M., S.R. Clegg, and C. Carter. 2006. Rethinking polyphonic organization: Managing as discursive practice. Scandinavian Journal of Management 22: 3–30.

Korsgaard, L. 2013. Museums Welcome You! In SMK: Come on in, ed. S. Linde, 6–11. Copenhagen: SMK.

Melewar, T.C., and B. Nguyen. 2015. Five areas to advance branding theory and practice. Journal of Brand Management 21(9): 758–769.

Muniz, A., and T. O'Guinn. 2001. Brand community. Journal of Consumer Research 27(4): 412–433.

Payne, A., K. Storbacka, P. Frow, and S. Knox. 2009. Co-creating brands: Diagnosing and designing the relationship experience. Journal of Business Research 62(3): 379–389.

Prahalad, C.K., and V. Ramaswamy. 2000. Co-opting customer competence. Harvard Business Review 78(1): 79–87.

Prahalad, C.K., and V. Ramaswamy. 2004. Co-creation experiences: The next practice in value creation. Journal of Interactive Marketing 18(3): 5–14.

Ramaswamy, V., and K. Ozcan. 2016. Brand value co-creation in a digitalized world: An integrative framework and research implications. International Journal of Research in Marketing 33(1): 93–106.

Säve, F., and Å. Thelander. 2014. The role of frames in a co-creation process. International Journal of Quality and Service Sciences 7(4): 442–457.

Schrøder, K. and E. Kristiansen. 2013. S.mart M.unter K.unstkampagne børster støvet af SMK. K-forum 20 February. http://www.kommunikationsforum.dk/artikler/statslig-kunst-har-faaet-farve-i-kinderne.

Simon, N. 2010. The participatory museum. Santa Cruz: Museum 2.0. http://www.participatorymuseum.org/read/.

Smith, A.M. 2013. The value co-destruction process: A customer resource perspective. European Journal of Marketing 47(11/12): 1889–1909.

Stake, R.E. 1995. The art of case study research. Thousand Oaks, CA: Sage.

Thelander, Å., and F. Säwe. 2015. The challenge of internal stakeholder support for co-creational branding strategy. Public Relations Inquiry 4(3): 323–341.

Van Ruler, B. 2005. Co-creation of meaning theory. In Encyclopedia of public relations, ed. R.L. Heath, 135–138. Thousand Oaks, CA: Sage.

Wentworth, J., and J. Marsh. 2013. From institution to Brand. In SMK: Come on in, ed. S. Linde, 20–31. Copenhagen: SMK.
Ethics declarations
Conflict of interest
On behalf of all authors, the corresponding author states that there is no conflict of interest.
About this article
Cite this article
Schmeltz, L., Kjeldsen, A.K. Co-creating polyphony or cacophony? A case study of a public organization's brand co-creation process and the challenge of orchestrating multiple internal voices. J Brand Manag 26, 304–316 (2019). https://doi.org/10.1057/s41262-018-0124-2
Revised:

Published:

Issue Date:
Keywords
Brand co-creation

Communication

Internal stakeholders

Employees

Branding in public organizations

Corporate branding