Abstract
This paper combines the brand personality and brand anthropomorphization concepts and introduces the notion of personality-driven brand management especially for the context of luxury branding. A central part of this paper is a study about the major dimensions of luxury brand personality. Results suggest that there exist five distinct luxury personality dimensions including tradition, modesty, elitism, eccentricity and sensuality. They help brand managers to develop distinct brand personalities by encouraging them to decide between contrasting traits. After presenting the major strategies to bring a luxury brand personality alive, the paper discusses the benefits of personality-based brand management and concludes with some major lessons learned.
This is a preview of subscription content, log in to check access.
Access options
Buy single article
Instant access to the full article PDF.
US$ 39.95
Price includes VAT for USA
Subscribe to journal
Immediate online access to all issues from 2019. Subscription will auto renew annually.
US$ 453
This is the net price. Taxes to be calculated in checkout.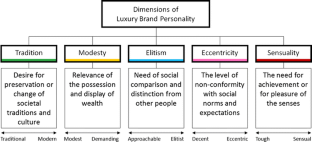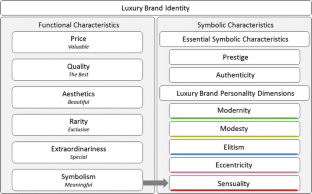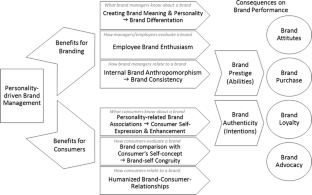 References
Aaker, J. 1997. Dimensions of Brand Personality. Journal of Marketing Research 34(3): 347–356.

Aaker, D.A. 2010. Building Strong Brands. London: Simon & Schuster.

Aggarwal, P., and A.L. Mcgill. 2012. When Brands Seem Human, Do Humans Act Like Brands? Automatic Behavioral Priming Effects of Brand Anthropomorphism. Journal of Consumer Research 39(2): 307–323.

Alvarez, C., and S. Fournier. 2016. Consumers' Relationships with Brands. Current Opinion in Psychology 10: 129–135.

Avis, M., S. Forbes, and S. Feguzon. 2014. The Brand Personality of Rocks: A critical Evaluation of a Brand Personality Scales. Marketing Theory 14(4): 1–25.

Azar, S.L. 2015. Toward an Understanding of Brand Sexual Associations. Journal of Product & Brand Management 24(1): 43–56.

Azoulay, A., and J.N. Kapferer. 2003. Do Brand Personality Scales Really Measure Brand Personality? Journal of Brand Management 11(2): 143–155.

Belk, R.W. 1988. Possessions and the Extended Self. Journal of Consumer Research 15(2): 139–168.

Beverland, M.B., A. Lindgreen, and M.W. Vink. 2008. Projecting Authenticity Through Advertising. Journal of Advertising 37(1): 5–15.

Bhat, S., and S.K. Reddy. 1998. Symbolic and Functional Positioning of Brands. Journal of Consumer Marketing 15: 32–43.

Caprara, G.V., C. Barbaranelli, and G. Guido. 2001. Brand Personality: How to Make the Metaphor Fit. Journal of Economic Psychology 22: 377–395.

Cattell, H.E.P., and A.D. Mead. 2008. The Sixteen Personality Factor Questionnaire (16PF). In The Sage Handbook of Personality Theory and Assessment, Vol. 2 — Personality Measurement and Testing, ed. G.J. Boyle, H. Matthews, and D.H. Saklofske. Thousand Oaks: Sage.

Charmaz, K. 2014. Constructing Grounded Theory. 2nd ed. Thousand Oaks: Sage.

Chen, Y.-P., L.D. Nelson, and M. Hsu. 2015. From "Where" to "What": Distributed Representations of Brand Associations in the Human Brain. Journal of Marketing Research LII(8): 453–466.

Corbin, J., and A. Strauss. 2008. Basics of Qualitative Research: Techniques and Procedures for Developing Grounded Theory. 3rd ed. London: Sage.

Dall'Olmo Riley, F., and L. de Chernatony. 2000. The Service Brand as Relationships Builder. British Journal of Management 11: 137–150.

De Chernatony, L. 1999. Brand Management Through Narrowing the Gap Between Brand Identity and Brand Reputation. Journal of Marketing Management 15: 157–179.

Dion, E., and E. Arnould. 2011. Retail Luxury Strategy: Assembling Charisma Through Art and Magic. Journal of Retailing 87(4): 502–520.

Dubois, B., G. Laurent, and S. Czellar. 2001. Consumer Rapport to Luxury: Analyzing Complex and Ambivalent Attitudes. Les Cahiers de Recherche 33(1): 1–56.

Dubois, B., S. Czellar, and G. Laurent. 2005. Consumer Segments Based on Attitudes Toward Luxury: Empirical Evidence from Twenty Countries. Marketing Letters 16(2): 115–128.

Epley, N., A. Waytz, and J.T. Cacioppo. 2007. On Seeing Human: A Three-Factor Theory of Anthropomorphism. Psychological Review 114(4): 864–886.

Esch, H.-R. 2014. Strategie und Technik der Markenführung. 8th ed. Wiesbaden: Vahlen.

Esteve, G., and J. Hieu-Dess. 2005. Etude d'une Stratégie du Luxe - Stratégie de Dior, dissertation. Marne-la-Vallée, Paris: Université Paris-Est.

Fionda, A.M., and C.M. Moore. 2009. The Anatomy of the Luxury Fashion Brand. Journal of Brand Management 16(5–6): 347–363.

Fournier, S. 1998. Consumers and their Brands: Developing Relationship Theory in Consumer Research. The Journal of Consumer Research 24(4): 343–373.

Fournier, S., and C. Alvarez. 2012. Brands as Relationship Partners: Warmth, Competence, and In-Between. Journal of Consumer Psychology 22(2): 177–185.

Freling, T.H., and L.P. Forbes. 2005. An Examination of Brand Personality Through Methodological Triangulation. Brand Management 13(2): 148–162.

Glisky, M.L., D.J. Tataryn, B.A. Tobias, and J.F. Kihlstrom. 1991. Absorption, Openness to Experience, and Hypnotizability. Journal of Personality and Social Psychology 60(2): 263–272.

Goldberg, L.R. 1990. An Alternative "Description of Personality": The Big-Five Structure. Journal of Personality and Social Psychology 59: 1216–1229.

Grohmann, B. 2009. Gender Dimensions of Brand Personality. Journal of Marketing Research 46(1): 105–119.

Guido, G., and A. Peluso. 2015. Brand Anthropomorphism: Conceptualization, Measurement, and Impact on Brand Personality and Loyalty. Journal of Brand Management 22(1): 1–19.

He, H., and J.M.T. Balmer. 2013. A Grounded Theory of the Corporate Identity and Corporate Strategy Dynamic. European Journal of Marketing 47(3): 401–430.

Heine, K. 2012. The Identity of Luxury Brands. Dissertation, Technical University of Berlin. www.conceptofluxurybrands.com.

Heine, K., and F.E. Petersen. 2015. Marketing Lessons Luxury Wine Brands Teach Us About Authenticity and Prestige. The European Business Review Jan/Feb: 38–43.

Heine, K., and M. Phan. 2010. Trading-Up Mass-Market Goods to Luxury Products. Australasian Marketing Journal 19(2): 108–114.

Hirschman, E.C. 1990. Secular Immortality and the American Ideology of Affluence. Journal of Consumer Research 17(1): 31–42.

Hofstede, G. 2001. Culture's Consequences: Comparing Values, Behaviors, Institutions and Organizations Across Nations. 2nd ed. London: Sage.

Kapferer, J.-N. 2012. The New Strategic Brand Management. 4th ed. London: Kogan Page.

Kapferer, J.-N., and V. Bastien. 2009. The Specificity of Luxury Management: Turning Marketing Upside Down. Journal of Brand Management 16(3): 311–322.

Kayande, U., J. Roberts, G. Lilien, and D. Fong. 2007. Mapping the Bounds of Incoherence: How Far Can You Go and How Does it Affect Your Brand? Marketing Science 26(4): 504–513.

Kelly, G.A. 1955. The Psychology of Personal Constructs. New York: W. W. Norton.

Kervyn, N., S. Fiske, and C. Malone. 2012. Brands as Intentional Agents Framework: How Perceived Intentions and Ability Can Map Brand Perception. Journal of Consumer Psychology 22(2): 166–176.

Lau, K.C., and I. Phau. 2007. Extending Symbolic Brands Using Their Personality: Examining Antecedents and Implications towards Brand Image Fit and Brand Dilution. Psychology & Marketing 24(5): 421–444.

Leibenstein, H. 1950. Bandwagon, Snob and Veblen Effects in the Theory of Consumer Demand. Quarterly Journal of Economics 64(2): 183–207.

MacInnis, D.J., and V.S. Folkes. 2017. Humanizing Brands: When Brands Seem to be Like Me, Part of Me, and in a Relationship with Me. Journal of Consumer Psychology 27(3): 355–374.

Maehle, N., and M. Supphellen. 2011. In Search of the Sources of Brand Personality. International Journal of Market Research. 53(1): 95–114.

McCracken, G. 1989. Who Is the Celebrity Endorser? Cultural Foundations of the Endorsement Process. Journal of Consumer Research 16(3): 310–321.

McCracken, G. 1993. The Value of the Brand: An Anthropological Perspective. In Brand Equity and Advertising, ed. D.A. Aaker and A. Biel. Hillsdale, NJ: Lawrence Erlbaum Associates.

Mills, J., A. Bonner, and K. Francis. 2006. The Development of Constructivist Grounded Theory. International Journal of Qualitative Methods 5(1): 1–10.

Napoli, J., S.J. Dickinson, M.B. Beverland, and F. Farrelly. 2014. Measuring Consumer-Based Brand Authenticity. Journal of Business Research 67(6): 1090–1098.

Plummer, J.T. 2000. How Personality Makes a Difference. Journal of Advertising Research 40(6): 79–84.

Plutchik, R. 1980. Emotion: A Psychoevolutionary Synthesis. New York: Harper and Row.

Plutchik, R., and H.R. Conte. 1997. Circumplex Models of Personality and Emotions. Washington, D.C.: American Sociological Association.

Puzakova, M., H. Kwak, and J. Rocereto. 2009. Pushing the Envelope of Brand and Personality: Antecedents and Moderators of Anthropomorphized Brands. Advances in Consumer Research 36: 413–420.

Puzakova, M., H. Kwak, and J.F. Rocereto. 2013. When Humanizing Brands Goes Wrong: The Detrimental Effect of Brand Anthropomorphization Amid Product Wrongdoings. Journal of Marketing 77(3): 81–100.

Rauschnabel, P.A., and A.C. Ahuvia. 2014. You're So Lovable: Anthropomorphism and Brand Love. Journal of Brand Management 21(5): 372–395.

Romaniuk, J. 2008. Comparing Methods of Measuring Brand Personality Traits. Journal of Marketing Theory and Practice 16: 153–161.

Schwartz, S.H. 2006. Value Orientations: Measurement, Antecedents and Consequences across Nations. In Measuring Attitudes Cross-Nationally—Lessons from the European Social Survey, ed. R. Jowell, C. Roberts, R. Fitzgerald, and G. Eva. London: Sage.

Sprott, D.E., and R.L. Liu. 2016. Research Trends on Branding in Consumer Psychology. Current Opinion in Psychology October: 124–128.

Sung, Y., S.M. Choi, H. Ahn, and Y.-A. Song. 2015. Dimensions of Luxury Brand Personality: Scale Development and Validation. Psychology and Marketing 32(1): 121–132.

Sweeney, J.C., and C. Brandon. 2006. Brand Personality: Exploring the Potential to Move From Factor Analytical to Circumplex Models. Psychology & Marketing 23(8): 639–663.

Thomson, M. 2006. Human Brands: Investigating Antecedents to Consumers' Strong Attachments to Celebrities. Journal of Marketing 70(3): 104–119.

Tylor, E.B. 1874. Primitive Culture: Researches into the Development of Mythology, Philosophy, Religion, Language, Art, and Customs. New York: Holt.

Veblen, T. 1899. The Theory of the Leisure Class. New York: MacMillan.

Vigneron, F., and L.W. Johnson. 2004. Measuring Perceptions of Brand Luxury. Brand Management 11(6): 484–506.

Ward, M.K., and D.W. Dahl. 2014. Should the Devil Sell Prada? Retail Rejection Increases Aspiring Consumers' Desire for the Brand. Journal of Consumer Research 41(3): 590–609.

Wee, T.T.T. 2004. Extending Human Personality to Brands: The Stability Factor. Brand Management 11(4): 317–330.
About this article
Cite this article
Heine, K., Atwal, G., Crener-Ricard, S. et al. Personality-driven luxury brand management. J Brand Manag 25, 474–487 (2018). https://doi.org/10.1057/s41262-018-0090-8
Keywords
Luxury branding

Brand identity

Brand personality

Anthropomorphization