Abstract
Videos are influential image creators and video-sharing sites like YouTube offer new opportunities to DMOs to communicate the identity and the brand of the destinations they represent. The aim of this article was to gain an insight into how Spanish DMOs use YouTube to communicate their promotional videos and to study whether these videos communicate brands through two main elements: attraction factors and emotional values. The research methodology combined an analysis of two important communicative variables of the official YouTube channels (interactivity and visibility) of the analysed destinations with a content analysis of the last 25 videos uploaded to those channels by the DMOs. On the one hand, results showed that the usage of YouTube by Spanish tourist destinations was widespread but with some limitations. The contents of the videos were mainly informative, and this helped to communicate attraction factors rather than emotional values. On the other hand, the presence of brand values is usually related to good results in terms of visibility and interactivity. The article contributes to good practices and recommendations to communicate territories' brands via YouTube.
Access options
Buy single article
Instant access to the full article PDF.
US$ 39.95
Tax calculation will be finalised during checkout.
Subscribe to journal
Immediate online access to all issues from 2019. Subscription will auto renew annually.
US$ 399
Tax calculation will be finalised during checkout.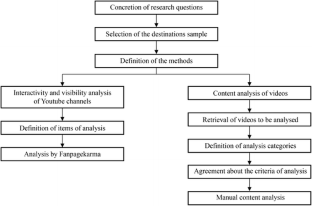 References
Aaker, J. L. (1997) Dimensions of brand personality. Journal of Marketing Research 34(3): 347–356.

Alexa Index. (2014)The top 500 sites on the web, http://www.alexa.com/topsites, accessed 5 April 7 2015.

Anholt, S. (2016) Places: Identity, Image and Reputation. Berlin: Springer.

Babin, L.A. and Burns, A.C. (1997) Effects of print ad pictures and copy containing instructions to imagine on mental imagery that mediates attitudes. Journal of Advertising 26(3): 33–44.

Baloglu, S. and McCleary, K.W. (1999) A model of destination image formation. Annals of Tourism Research 26: 868–897.

Beeton, S. (2001) Smiling for the camera: The influence of film audiences on a budget tourism destination. Tourism Culture & Communication 3(1): 15–25.

Bigné, E.J., M.I. Sánchez-García and Sanz-Blas, S. (2009) The functional-psychological continuum in the cognitive image of a destination. A confirmatory analysis. Tourism Management 30 (5): 715–723.

Blain, C.; Levy, S.E. and J.R.B. Ritchie (2005) Destination branding: Insights and practices from destination management organizations. Journal of Travel Research 43(4): 328–38.

Buhalis, D. and Law, R. (2008) Progress in information technology and tourism management: 20 years on and 10 years after the Internet—The state of eTourism research. Tourism Management 29 (4): 609–623.

Busby, G. and Klug, J. (2001) Movie-induced tourism: The challenge of measurement and other issues. Journal of Vacation Marketing, 7(4): 316–332.

Butler, R.W. (1990) The influence of the media in shaping international tourist patterns. Tourism Recreation Research, 15(2): 46–53.

Chan, B. (2007) Film-induced tourism in Asia: A case study of Korean television drama and female viewers' motivation to visit Korea. Tourism Culture & Communication 7(3): 207–224.

Choi, S. Lehto, XY and Morrison, AM (2007) Destination image representation on the web: Content analysis of Macau travel related websites. Tourism Management 28: 118–129.

Connell, J. (2005) Toddlers, tourism and Tobermory: Destination marketing issues and television-induced tourism. Tourism Management 26(5): 763–776.

Connell, J. and Meyer, D. (2009) Balamory revisited: An evaluation of the screen tourism destination-tourist nexus. Tourism Management 30(2): 194–207.

De Moya, M. and Jain, R. (2013) When tourists are your "friends": Exploring the brand personality of Mexico and Brazil on Facebook. Public Relations Review 39: 23–29.

Dinhopl, A. and Gretzel, U. (2015) Changing practices/new technologies: Photos and videos on vacation. In: L. Tussyadiah and A. Inversini (Eds.) Information and Communication Technologies in Tourism 2015. Vienna: Springer, pp. 777–788.

Echtner, C.M. and Ritchie, J.R.B. (2003) The meaning and measurement of destination image. Journal of Tourism Studies 14 (37–48): 1.

Ekinci, Y. and Hosany, S. (2006) Destination personality: An application of brand personality to tourism destinations. Journal of Travel Research 45: 127–139.

Feighey, W. (2003) Negative image? Developing the visual in tourism research. Current Issues in Tourism 6(1): 76–85.

FEMP, TourSpain (eds) (2008) Modelos de gestión turística local: Principios y prácticas. Federación Española de Municipios y Provincias, Secretaría General de Turismo, Madrid, Spain.

Frost, W. (2006) Braveheart-ed Ned Kelly: Historic films, heritage tourism and destination image. Tourism management 27(2): 247–254.

Galí, N. and Donaire, J.A. (2015) Tourists taking photographs: the long tail in tourists' perceived image of Barcelona. Current Issues in Tourism 18(9): 893-902.

Garrod, B. (2008) Exploring place perception a photo-based analysis. Annals of Tourism Research 35 (2): 381–401.

Gartner, W.C. (1994) Image formation process. Journal of Travel & Tourism Marketing 2(2/3): 191–216.

Govers, R., Go. F.M. and Kumar, K. (2007) Promoting tourism destination image. Journal of Travel Research 46(1): 15–23.

Govers, R., Go. F.M. and Kumar, K. (2009) Place Branding: Glocal, Virtual and Physical Identities, Constructed, Imagined and Experienced. Hampshire: Palgrave Macmillan.

Hanefors, M. and Larsson, L. (1993) Video strategies used by tour operators. Tourism Management 14 (1): 27–33.

Hao, X., Wu, B., Morrison, A. M. and Wang, F. (2016). Worth thousands of words? Visual content analysis and photo interpretation of an outdoor tourism spectacular performance in Yangshuo-Guilin, China. Anatolia 27(2): 201–213.

Hays, S., Page, S.J. and Buhalis, D. (2013) Social media as a destination marketing tool: its use by national tourism organisations. Current Issues in Tourism 16(3): 211–239.

Hosany, S., Ekinci, Y. and Uysal, M. (2006) Destination Image and Destination Personality: An Application of Branding Theories to Tourism Places. Journal of Business Research 59 (5): 638–642.

Hsieh, Y.-C. and Chen, K.-H. (2011) How different information types affect viewer's attention on internet advertising. Computers in Human Behaviour 27(2): 935–945.

Huang, Z., Cai, L. and Ismail, J.A. (2010) Cognitive image change and loyalty in destination branding. International Journal of Services Technology and Management 13(3/4): 234–246.

Hudson, S., and Ritchie, J. B. (2006) Promoting destinations via film tourism: An empirical identification of supporting marketing initiatives. Journal of Travel Research 44 (4): 387–396.

Huertas, A. (2014) La comunicación de los territorios, los destinos y sus marcas. Guía práctica de aplicación desde las relaciones públicas. Barcelona: DIRCOM-UOC.

Huertas, A. and Mariné-Roig, E. (2015) Destination brand communication through the social media: What contents trigger most reactions of users? In: L. Tussyadiah and A. Inversini (eds.) Information and Communication Technologies in Tourism 2015. Vienna: Springer, pp. 295–308.

Huertas, A. and Marine-Roig, E. (2016) Differential destination content communication strategies through multiple social media. In: A. Inversini and R. Schegg (eds.) Information and Communication Technologies in Tourism 2016. Vienna: Springer, pp. 239–252.

Jennings, G. and Weiler, B. (2006) Mediating meaning: Perspectives on brokering quality tourism experiences. In: G. Jennings and N. Nickerson (eds.) Quality Tourism Experiences. Oxford: Elsevier Buttermworth-Heinemann, pp. 57–78.

Kim, S.S., Agrusa, J., Lee, H. and Chon, K. (2007) Effects of Korean television dramas on the flow of Japanese tourists. Tourism Management 28 (5): 1340–1353.

Kim, S.-B., Kim, D.-Y. and Bolls, P. (2014) Tourist mental-imagery processing: Attention and arousal. Annals of Tourism Research 45: 63–76.

Kim, H. and Richardson, S.L. (2003) Motion picture impacts on destination images. Annals of Tourism Research, 30(1): 216–237.

Krippendorff, K. (2004) Content analysis: An introduction to its methodology. London: Sage.

Lee, W. and Gretzel, U. (2012) Designing persuasive destination websites: A mental imagery processing perspective. Tourism Management 33(5):1270–1280.

MacKay, K.J. and Couldwell, C. M. (2004) Using visitor-employed photography to investigate destination image. Journal of Travel Research 42 (4): 390–396.

Mansson, M. (2011) Mediatized Tourism. Annals of Tourism Research 38(4): 1634–1652.

Michaelidou, N., Siamagka, N.-T., Moraes, C. and Micevski, M. (2013) Do Marketers use visual representations of destinations that tourists value? Comparing visitors' image of a destination with Marketer-controlled images online. Journal of Travel Research 52 (789–804): 6.

Míguez-González, M. I. and Huertas, A. (2015) The power of photographs in the communication and public relations of tourist destinations and their brands through Facebook and Flickr. Catalan Journal of Communication & Cultural Studies 7(2): 197–215.

Mordue, T. (2001) Performing and directing resident/tourist cultures in Heartbeat country. Tourist Studies 1(3): 233–252.

Morgan, N., and Pritchard, A. (1998) Tourism promotion and power: Creating images, creating identities. John Wiley & Sons Ltd.

Morgan, N. J., Pritchard, A. and Piggott, R. (2003) Destination branding and the role of the stakeholders: The case of New Zealand. Journal of Vacation Marketing 9(3): 285–299.

Munar, A.M. (2012) Social media strategies and destination management. Scandinavian Journal of Hospitality and Tourism 12(2): 101–120.

Pan, B. and Li. X. (2011) Long tail of destination image and online marketing. Annals of Tourism Research 38(1): 132–152.

Pan, S., Tsai, H. and Lee, J. (2011) Framing New Zealand: Understanding tourism TV commercials. Tourism Management 32 (3): 596–603.

Pritchard, A. (2001) Tourism and representation: a scale for measuring gendered portrayals. Leisure Studies 20(2): 79–94.

Pullman, M. E. and Robson, S. K. (2007) Visual methods using photographs to capture customers' experience with design. Cornell Hotel and Restaurant Administration Quarterly 48 (2): 121–144.

Riley, R., Baker, D., and Van Doren, C. S. (1998) Movie induced tourism. Annals of Tourism Research 25(4): 919–935.

Sargent, A. (1998) The Darcy effect: Regional tourism and costume drama. International journal of heritage studies 4(3–4): 177–186.

Schmallegger, D., Carson, D. and Jacobsen, D. (2010) The Use of Photographs on Consumer Generated Content Websites: Practical Implication for Destination Analysis. Townsville City: James Cook University & Charles Darwin University.

Stepchenkova, S. and Zhan, F. (2013) Visual destination images of Peru: Comparative content analysis of DMO and user-generated photography. Tourism Management 36: 590–601.

Tooke, N. and Baker, M. (1996) Seeing is believing: the effect of film on visitor numbers to screened locations. Tourism Management 17 (2): 87–94.

Tussyadiah, L.P. and Fesenmaier, D.R. (2009) Mediating tourist experiences: Access to places via shared videos. Annals of Tourism Research 36(1): 24–40.

Walther, J. B. and Jang, J. (2012) Communication processes in participatory websites. Journal of Computer-Mediated Communication 18(1), 2–15.

Winter, T. (2002) Angkor meets Tomb Raider: Setting the scene. International Journal of Heritage Studies 8 (4): 323–336.

Yoo, K.-H. and Kim, J.R. (2013) How US state tourism offices use online newsrooms and social media in media relations. Public Relations Review 39 (5): 534–541.
Acknowledgements
This work was supported by Spain's Ministry of Economy and Competitiveness (Grant id.: CSO2012-34824 "Uso e influencia de los social media y la comunicación 2.0 en la toma de decisiones turísticas y en la imagen de marca de los destinos").
About this article
Cite this article
Huertas, A., Míguez-González, M.I. & Lozano-Monterrubio, N. YouTube usage by Spanish tourist destinations as a tool to communicate their identities and brands. J Brand Manag 24, 211–229 (2017). https://doi.org/10.1057/s41262-017-0031-y
Revised:

Published:

Issue Date:
Keywords
YouTube

promotional videos

destination brands

destination management organizations

emotional values