Abstract
Asset quality is a key indicator of sound banking. However, it is difficult for banking regulators and investors to assess it in the absence of a common, cross-border scheme to classify assets. Currently, no standard is applied universally to categorise loans, the most sizeable asset on banks' balance sheets. As a corollary, definitions of non-performing loans (NPLs), despite recent steps towards greater harmonisation, continue to vary between jurisdictions. This paper offers a comprehensive analysis of NPLs and considers variations in the treatment of NPLs across countries, accounting regimes and firms. The paper relies on a multidisciplinary perspective and addresses legal, accounting, economic and strategic aspects of loan loss provisioning and NPLs. A harmonised approach to NPL recognition is particularly desirable, in view of the fact that IFRS 9, the new accounting standard on loan loss provisioning, will be mandatory from January 2018. IFRS 9 changes the relationship between NPLs and provisions, by relying on greater judgement to determine provisions. The potential for divergence makes the need for comparable indicators against which to assess asset quality all the greater.
This is a preview of subscription content, log in to check access.
Access options
Buy single article
Instant access to the full article PDF.
US$ 39.95
Price includes VAT for USA
Subscribe to journal
Immediate online access to all issues from 2019. Subscription will auto renew annually.
US$ 266
This is the net price. Taxes to be calculated in checkout.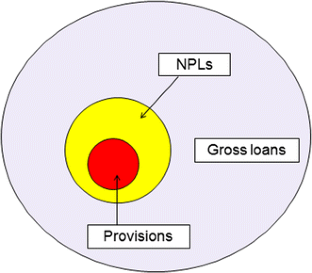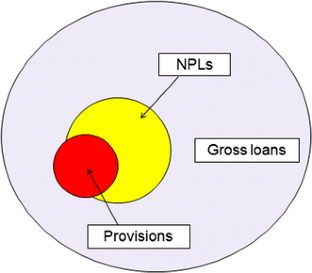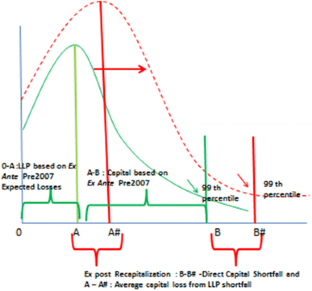 Notes
1.

World Bank, 'World Development Indicators: Financial access, stability and efficiency', http://wdi.worldbank.org/table/5.5. It might also be argued that such a ratio rewards leverage, since a more leveraged bank would show a higher denominator and therefore a lower NPL ratio in situations where it has the same number of NPLs as a bank with lower leverage, even though overall risk of failure may be higher in a highly leveraged bank, since by definition it would have a lower capital buffer.

2.

3.

4.

5.

Basel Committee on Banking Supervision [11], Bates [12]. European Union Directive 2014/59/EU and Regulation (EU) No. 806/2014 [13]. Recently, there also has been progress towards a common international understanding of liabilities as a by-product of resolvability assessments, recovery planning and 'bail in' regulation because it has been necessary to establish a hierarchy of debt instruments.

6.

The heterogeneous valuation of NPLs has analogies in other areas of accounting. For example, fair values of illiquid assets and liabilities are calculated using models where the objective of the valuation is set out in accounting standards, but firms have discretion in practice. Differences in assumptions mean that firms otherwise equal in performance may diverge in terms of their income in a given reporting period.

7.

This paper is concerned with banks' treatment of asset quality, and particularly the concept of NPL, rather than accounting rules per se. However, the application of accounting provisions provides vital context: provisioning rules, for example, are key both in firms' approach to identifying problem loans; the disclosures they make around those problem loans and their incentives in dealing with them.

8.

International Financial Reporting Standard (IFRS) 9 becomes effective in jurisdictions under IFRS accounting standards in 2018, and Accounting Standards Update (ASU) 2016-13 for financial years ending in 2020 under US accounting standards (US GAAP).

9.

This terminology from the Basel framework (see for instance paragraphs 12, 13 and 17 in the Basel II agreement) holds true regardless of the methodology of computation of LLPs: current accounting under IFRS and US GAAP requires LLPs to reflect incurred losses, that is, losses that a bank estimates it has already suffered on a loan, instead of the future losses it expects to suffer.

10.

11.

12.

13.

14.

Given the importance of the Basel Committee in setting bank regulation worldwide, it is worth quoting this definition at length: default is defined as where an obligor is 90 days past due or is unlikely to pay its credit obligations to the banking group in full, without recourse by the bank to actions such as realising security. Indicators of unlikeliness to pay include the following:

the bank puts the credit obligation on non-accrued status;

the bank makes a charge-off or account-specific provision resulting from a significant perceived decline in credit quality subsequent to the bank taking on the exposure;

the bank sells the credit obligation at a material credit-related economic loss;

the bank consents to a distressed restructuring of the credit obligation where this is likely to result in a diminished financial obligation caused by the material forgiveness, or postponement, of principal, interest or (where relevant) fees;

the bank has filed for the obligor's bankruptcy or a similar order in respect of the obligor's credit obligation to the banking group; or

the obligor has sought or has been placed in bankruptcy or similar protection where this would avoid or delay repayment of the credit obligation to the banking group. In view of the passage of time since this wording was issued, two things are noticeable with regard to these criteria. The first is that it is not very different from later definitions of 'non-performing' issued by the EBA. The second is that the first of the indicators listed above makes reference to an accounting concept (non-accrual loans) that does not exist under the newer international accounting standards (IFRS) used in most jurisdictions but does exist under US Generally Accepted Accounting Principles (US GAAP).

15.

In a further consultative document issued in December 2014 on revisions to the standardised approach for credit risk, the BCBS for the first time suggests a definition of non-performing, whose threshold includes (among other criteria) 90 days past due for loans and 30 days past due for securities. The purpose of these criteria is to calculate a 'non-performing asset' (NPA) ratio when assessing exposures to other banks. At the time of issue, the proposals in this consultation were described by the Basel Committee as "at an early stage of development".

16.

In a similar vein, the Central Bank of Ireland in 2013 produced comprehensive guidance on accounting practice for loans and related disclosure. This document included standardised definitions of terms such as 'performing loan', 'non-performing loan', 'cured loan', 'foreclosed loan' and 'forbearance' [23].

17.

The focus of the EBA document is on non-performing exposures (NPEs) broader than NPLs. Paragraph 149 of the EBA document states that for the purpose of template 18, "exposures" include all debt instruments (loans, advances and debt securities) and off-balance sheet exposures (loan commitments, financial guarantees and other revocable and irrevocable commitments) excluding trading exposures and off-balance sheet exposures except held for trading exposures.

18.

In the south of the European Continent, the European Bank Coordination 'Vienna Initiative'—a private-public sector platform which brings together key international financial institutions, international organisations, public authorities and private banks—has called for an action plan to address NPLs in CESEE countries. The main purpose is to establish a central forum for dialogue to create the right conditions for Western banks to remain engaged in emerging Europe. This means enhancing enforcement measures, improving consistency in the definition of NPLs and removing legal obstacles and execution issues in distressed transactions. In particular, the 'Vienna Initiative' is trying to establish an effective coordination mechanism for dealing with distressed assets. NPLs are considered a serious impediment to recovery from the financial crisis in certain CESEE countries because they impair banks' ability to resume lending and weigh down overextended borrowers [25].

19.

Basel Committee on Banking Supervision [11].

20.

These new definitions are intended to complement existing accounting and regulatory measures, and as reference points to promote comparability. Other concepts such as 'weakened', 'loss' and 'write-off' do not form part of the consultation, as there was less commonality across jurisdictions and "achieving common definitions for these concepts may conflict with jurisdictions' local legal and tax considerations". Basel Committee on Banking Supervision [11].

21.

'Stage 3' represents assets that are determined to have become credit-impaired. The IFRS 9 model is considered further in section 3.2.

22.

This is similar to the definition developed by the EBA in 2014.

23.

Basel Committee on Banking Supervision [11]. The BCBS also notes that non-performing status should be applied at the level of the counterparty in the case of exposures to a non-retail counterparty and at the level of each exposure in the case of exposures to a retail counterparty.

24.

Basel Committee on Banking Supervision [11].

25.

The BCBS recommends banks not to use forbearance practices to avoid classifying loans as non-performing. When forbearance is applied to a non-performing exposure, the exposure should remain non-performing. When forbearance is applied to a performing exposure, the bank then needs to assess whether the exposure meets the non-performing criteria, even if the forbearance resulted in a new exposure [11].

26.

In the USA, the issue of Financial Accounting Standards (FAS) No. 5 Accounting for Contingencies in March 1975 was likely the first formalised accounting standard in this area. Before then, while banks did make provisions against bad loans, neither the extent of bad loans nor the level of provisions was public information. In the UK, for example, banks were, through custom and law, exempt from reporting the true nature of their provisions, profits, capital and NPLs until around 1970 [26]. Over time, the need for accounting standards and enhanced disclosures has increased because the nature of lending has become longer term. For example, in the UK, until the second half of the twentieth century, short-term loans constituted the vast majority of UK bank lending; fewer than 10 percent of banks' loans to businesses between 1910 and 1914 had a contractual term greater than a year, for example. Knott et al (2014) Understanding the fair value of banks' loans. Bank of England Financial Stability Paper 31, p. 9. The development of longer-term lending, where banks assume more credit risk, increases the importance of having accurate and timely data to monitor asset quality through a loan's long life.

27.

As at April 2015, 114 jurisdictions require the use of IFRS by all or most public companies (IASB 2015), including the European Union. However, there are notable exceptions: IFRS is not used by US companies and is not mandatory in Japan.

28.

At the time of writing, these standards are still in force. However, since this section concerns itself with the pre- and immediate post-crisis periods, the past tense is used.

29.

Or at least a test for impairment: if it was determined that the value of the outstanding balance could be fully covered through, for example, the repossession of collateral net of related costs, the amount of provision may actually be zero.

30.

In 2011, the UK Financial Services Authority (FSA) issued a guidance document on loan forbearance, noting that "we have concerns that certain accounting practices can have the effect of concealing the full effect of impairment and forbearance and thus may not present the true nature of credit risk within retail portfolios". Financial Services Authority (2011) Forbearance and Impairment Provisions—Mortgages. FSA Finalised guidance. Similar concerns were raised the same year in the USA when the accounting standard-setter clarified its guidance around the definition of troubled debt restructurings (incidentally a term used only in US accounting), with the aim of developing more consistent standards in determining whether a modification of a loan receivable constitutes a concession to a borrower that is experiencing financial difficulty.

31.

Calomiris and Haber [27]. While forbearance may be inappropriate if the obligor has no real chance of recovery, as this can hamper the reallocation of resources to other sectors of the economy and weigh down long-term productivity, it may be appropriate if an obligor is suffering just from a temporary cash flow problem, or restructuring or strategically reclassifying the loan gives them time to recover and become economically viable [28]. Indeed, in the past regulators have sanctioned loan forbearance at a firm or system-wide level during financial crises as a means to stave off their worst depths [29]. Consider the Latin American debt crisis in the 1980s. In August 1982, "the total risk to the nine money centre banks in New York was estimated at more than three times the capital of those banks. The regulators, analysts say, did not force the banks to value those loans at the fire sale prices of the moment, helping to avert a disaster in the banking system. In other words, the nine biggest banks were all insolvent in the 1980s" [30]. The accounting treatment of NPLs encouraged regulators to effectively delay the recognition of any losses until banks had had the time to build up loan loss reserves [31].

32.

It is also not an explicit accounting requirement under US GAAP, but there is guidance included in regulatory reporting instructions for US banks and the use of non-accrual loans is predominant practice in the USA. IASB Staff Paper (11 April 2011) Non-accrual principle, joint IASB/FASB meeting. It is used for: (a) assets maintained on a cash basis because of deterioration in the financial condition of the borrower; (b) assets for which payment in full of principal or interest is not expected; and (c) assets for which principal or interest has been in default for a period of 90 days or more unless the asset is both well secured and in the process of collection.

33.

Accounting standards, particularly under IFRS, also tend to be written in principle-based terms, requiring firms to disclose risk information, but usually not setting hard or industry-specific criteria around how that disclosure should be made.

34.

In many respects, the current debate about the value of forward-looking provisioning revisits an older difference of opinions between securities regulators and banking regulators about the appropriate allowance for managerial judgement and discretion in the estimation of future losses [32, 33]. Banking regulators often take the view that early provisioning is prudent. By contrast, securities regulators, given their responsibility for ensuring the integrity of equity markets, typically have been concerned with banks using provisions strategically as a means to reduce earnings volatility and therefore volatility in their share price in secondary markets. For example, in the UK, some banks historically overprovisioned for loan losses, creating so-called 'hidden reserves' [26]. By doing so, these banks could deflate current period income in order to inflate it in a future period, offsetting other losses by writing the provision back to income as a means of smoothing returns to their shareholders. More recently, some commentators have suggested that firms, including banks, might overprovision in the first year when top management changes in order to show improved performance in later years [34]. Justifiable concern with these kinds of accounting policies contributed to the adoption of the 'incurred loss' model that dominated until the GFC.

35.

The FSB took over from the 1999-born Financial Stability Forum, with a broader membership.

36.

Although a rebuttable presumption exists in IFRS 9 that a significant increase in credit risk has occurred when a loan is already 30 days past due, the conceptual basis of the standard is based on expectations of future loss, and so is forward-looking.

37.

Other approaches had been considered and rejected by the IASB. One such approach was 'dynamic' or statistical provisioning, aimed to provide an even distribution of losses through the economic cycle by requiring firms to raise more provisions in benign economic environments and release them in less favourable conditions. The IASB concluded that, since the economic cycle rather than the specific attributes of the asset in question would govern provisions, such an approach "would result in an allowance for credit losses that does not reflect the economic characteristics of the financial assets at the measurement date" and therefore was not appropriate for accounting purposes. IFRS Foundation (2009) Basis for Conclusions, Exposure Draft ED 2009/12. Amortised Cost and Impairment. The approach also necessarily involves an estimation of the economic cycle, and where the severity of a crisis is greater than predicted (such as in the years following 2008), can still result in large one-off losses.

38.

Basel Commission on Banking Supervision [21].

39.

This is the case in principle even where loans are assessed on a portfolios basis: the objective of the portfolio assessment is to estimate losses that have already been incurred.

40.

As noted above, the incurred loss model may have in practice given rise to higher provisions in some jurisdictions due to differences in how the accounting rules are applied. The USA affords an example of a jurisdiction where incurred loss methodology has sometimes resulted in higher provisions in practice. The incurred loss model also allows firms to assess losses on a portfolio basis, where it may not be possible to identify in each case the NPLs from which those provisions arise—thus in practice some of the provision can relate to loans outside the NPL population. However, this stylised diagram represents the relationship in theory between incurred loss provisions and NPLs.

41.

42.

The exact mechanism by which this works depends on the interaction of the relevant accounting framework with bank capital rules. The Basel Committee has established a Task Force on Expected Loss Provisioning which is looking further into this area. At a high level, however, it is correct to say that an increase in provisions results in lower capital levels.

43.

One method by which regulators have sought to address the risk that banks may be incentivised not to provision adequately is through the use of dynamic provisioning. To counter the risk that banks might under-provision when credit is expanding and then become overconservative in a downturn, they are required by the regulator to provision in line with estimates of long run, or through-the-cycle expected losses. Sometimes, the regulator provides a model based on its own historical credit loss data for this purpose. The use of dynamic provisioning is set to decline owing to the introduction of IFRS 9, which is explicit that point-in-time estimates are required.

44.

The amount of such an add-back, which usually only applies to 'general' provisions rather than those designated against specific assets, is usually limited to a certain percentage of risk-weighted assets [39].

45.

There are the well-known positions taken at the American Bankers Association meeting on 17 March 2010, by the (then) Comptroller of the Currency John Dugan and the Federal Deposit Insurance Corporation (FDIC) Chairperson Sheila Bair. John Dugan argued for the relaxation of restrictions on the inclusion of loan loss reserves as capital, to encourage banks to report adequate and timely reserves. In contrast, Sheila Bair contested this view, arguing that "letting more reserves count [towards capital] could dramatically, in our view, dilute the quality of capital" [39].

46.

47.

For example, for collateralised lending, provisions under US GAAP and IFRS are net of the recoveries on liquidating collateral. So when the provisions are compared to the gross amount of the non-performing loan, they can be adequate even if less than 100% if there is adequate collateral.

48.

49.

In 2002, the US Federal Deposit Insurance Corporation (FDIC) stated that "while historical loss experience provides a reasonable starting point, historical losses, or even recent trends in losses, are not by themselves, a sufficient basis to determine an adequate level. Management should also consider any factors that are likely to cause estimated losses to differ from historical loss experience" [40].

50.

51.

We follow the well-known convention that losses are converted into positive values and the distribution function for losses is given as a right tailed distribution [41].

52.

Jassaud and Kang also cite a lack of tax rebates on losses in Italy, and also that the current accounting standard in Europe (IAS 39) is not explicit on exactly when and how to write off uncollectible loans [42]. On April 2016, Italian Parliament enacted the Law No 49 of 14.2.2016, converting Law Decree No 18/2016 providing for a State Guarantee for NLPs securitization transactions. The Law No 49/2016 provides for a State guaranty covering, subject to certain conditions, the reimbursement of senior notes issued within securitization transactions of non-performing loans.

53.

54.

The market would also include further discounts for illiquidity and/or uncertainty in a downturn environment. Other market factors such as interest rates could have a positive or negative effect.

55.

Up to now, firms have classified financial instruments as either loans at amortised cost (or securities held to maturity), available for sale, or held for trading. Going forward, under a new international accounting standard IFRS 9, banks will classify financial assets such as loans based on two criteria. The first is the firm's business model for managing the financial asset. The second is the nature of the contractual terms governing the cash flow. If, as is the case with most loans, a bank carries the asset on their balance sheet to collect the contacted cash flow and these specify repayment of principal and interest, then the asset will be measured at amortised cost and changes in value will not be recognised unless the asset is sold or reclassified, with the exception of impairments [46].

56.

57.

58.

A non-accrual loan is a NPL that has not generated its stated interest rate in the 90 days due date, but may not yet be classed as an impaired one for which collateral value has fallen below the value of interest and principal. Further interest income is usually not accrued on these loans.
References
1.

European Commission. 2015. ECB and IMF, statement by the European Commission, the ECB and the IMF on Cyprus, 16 November 2015. http://ec.europa.eu/economy_finance/articles/eu_economic_situation/2015-11-16-statement-cyprus_en.htm. Accessed 17 Nov 2015.

2.

Bloem, A.M., and C.N. Gorter. 2001. The treatment of nonperforming loans in macroeconomic statistics. IMF Working Paper No. 1/209.

3.

King, L., et al. 2012. Making the same mistake again—Or is this time different? Cambridge Journal of Economics 36: 1–15.

4.

Allen, D., et al. 2012. The impact of contagion on non-performing loans: Evidence from Australia and Canada. Journal of Business and Policy Research 7: 13–24.

5.

Markose, S., et al. 2012. Too interconnected to fail, financial network of US CDS market: Topological fragility and systemic risk. Journal of Economic Behavior and Organization 83: 627–646.

6.

International Monetary Fund. April 2009. Global Financial Stability Report: Responding to the Financial Crisis and Measuring Systemic Risks.

7.

Cavalier, D. 2014. Non-performing loans in Southern Europe: Define, measure, compare. BNP Paribas Research, p. 40.

8.

Škarica, B. 2014. Determinants of non-performing loans in Central and Eastern European countries. Financial Theory and Practice 38: 37–59.

9.

Klein, N. 2013. Non-performing loans in CESEE: Determinants and impact on macroeconomic performance. IMF Working Paper No. 13/72.

10.

European Central Bank. 2013. Financial Stability Review. ECB Review, May: 27–28.

11.

Basel Committee on Banking Supervision. July 1988. International Convergence of Capital Measurement and Capital Standards.

12.

Bates, C. 2014. Ending too-big-to-fail in Europe. Lecture delivered at the Centre for Commercial Law Studies. London: Queen Mary University of London.

13.

European Banking Authority. 2014. EBA Final draft Implementing Technical Standards on supervisory reporting on forbearance and non-performing exposures under article 99(4) of Regulation (EU) No 575/2013.

14.

Basel Committee on Banking Supervision. 4 April 2017. Prudential treatment of problem assets—definitions of non-performing exposures and forbearance, Guidelines. http://www.bis.org/bcbs/publ/d403.htm.

15.

Borio, C., et al. 2001. Procyclicality of the financial system and financial stability: Issues and policy options. BIS Papers 1: 1–57.

16.

Laeven, L., and G. Majnoni. 2003. Loan loss provisioning and economic slowdowns: Too much, too late? Journal of Financial Intermediation 12: 178–197.

17.

Barisitz, S. 2011. Nonperforming loans in CESEE–What do they comprise. Focus on European Economic Integration Q4: 46–68.

18.

Barisitz, S. 2013. Nonperforming loans in Western Europe—A selective comparison of countries and national definitions. Focus on European Economic Integration Q1: 28–47.

19.

United Nations System of National Accounts. 2008. Statistical Commission 2009. System of National Accounts, 2008 (2008 SNA). New York.

20.

Basel Committee on Banking Supervision. 2004. International Convergence of Capital Measurement and Capital Standards. Revised Framework.

21.

Basel Commission on Banking Supervision. 2006. Sound credit risk assessment and valuation for loans. Basel Committee on Banking Supervision Paper.

22.

Krueger, R. 2002. International Standards for Impairment and Provisions and their Implications for Financial Soundness Indicators (FSIs). International Monetary Fund.

23.

Central Bank of Ireland. 2013. Impairment Provisioning and Disclosure Guidelines. Financial Regulation.

24.

European Central Bank. September 2016. Draft guidance to bank on non-performing loans. Consultative Document.

25.

Roaf, J. 2014. Non-performing loans in CESEE.IMF WP/13/72.

26.

Billings, M., and F. Capie. 2001. Profitability in English banking in the twentieth century. European Review of Economic History 5: 367–401.

27.

Calomiris, C.W., and S.H. Haber. 2014. Fragile by design: The political origins of banking crises and scarce credit, 366–367. Princeton: Princeton University Press.

28.

Arrowsmith, M., et al. 2013. SME forbearance and its implications for monetary and financial stability. Bank of England Quarterly Bulletin Q4: 6–13.

29.

Kane. 2015. Unpacking and Reorienting the Executive Subcultures of Megabanks and Their Regulators. www2.bc.edu/edward-kane/UNPACKING.pdf.

30.

Lohr, S. 2009. Large U.S. banks on brink of insolvency, experts say. New York Times, 13 February: p1.

31.

Haben, P. 2015. Standardizing the definition of non-performing loans. Case Study: Standardising the definition of non-performing exposure and forbearance. Paper presented at the European Banking Authority; 28 October, London, UK.

32.

Camfferman, K. 2015. The emergence of the 'incurred-loss' model for credit losses in IAS 39. Accounting in Europe 4: 1–35.

33.

Beatty, A., and S. Liao. 2011. Do delays in expected loss recognition affect banks' willingness to lend? Journal of Accounting and Economics 52: 1–20.

34.

Higson, C. 2012. Financial statements: Economic analysis and interpretation. London: Rivington Publishing.

35.

Financial Stability Board. 2009. Improving Financial Regulation. Report of the Financial Stability Board to G20 Leaders.

36.

Bushman, R.M., and C.D. Williams. 2012. Accounting discretion, loan loss provisioning, and discipline of banks' risk-taking. Journal of Accounting and Economics 54 (1): 1–18.

37.

Beck, P.J., and S. Narayanamoorthy. 2013. Did the SEC impact banks' loan loss reserve policies and their informativeness? Journal of Accounting and Economics 56: 42–65.

38.

Hasan, I., and L.D. Wall. 2004. Determinants of the loan loss allowance: Some cross country comparisons. Financial Review 39: 129–152.

39.

Ng, J., and S. Roychowdhury. 2014. Do loan loss reserves behave like capital? Evidence from recent bank failures. Review of Accounting Studies 19: 1234–1235.

40.

Furlong, F., and Z. Knight. 2010. Loss provisions and bank charge-offs in the financial crisis: Lesson learned. FRBSF Economic Letter 16.

41.

Dowd, K. 2002. Measuring market risk. New York: Wiley.

42.

Jaussad, N., and K. Kang. 2015. A Strategy for Developing a Market for Nonperforming Loans in Italy. IMF Working Paper No. 15-24.

43.

Nkusu, M. 2011. Nonperforming loans and macrofinancial vulnerabilities in advanced economies. IMF Working Papers No. 1-27.

44.

Espinoza, R.A., and A. Prasad. 2010. Nonperforming loans in the GCC banking system and their macroeconomic effects. IMF Working Papers No. WP/10/224:1-24.

45.

Bholat, D., and J. Gray. 2013. Organizational form as a source of systemic risk. Economics. https://doi.org/10.5018/economicsejournal.ja.2013-27.

46.

Weil, R.L., et al. 2014. Financial accounting: An introduction to concepts, methods and uses. South-Western: Cengage Learning.

47.

Sunley, E.M. 2003. Corporate income tax treatment of loan-loss reserves. In Taxation of financial intermediation theory and practice for emerging economies, ed. Patrick Honohan, 291–292. Washington, DC: World Bank and Oxford University Press.

48.

Hoshi, T., and A. Kashyap. 2008. Will the US Bank recapitalization succeed? Lessons from Japan. NBER Working Paper 14401.

49.

Caballero, R.J., et al. 2006. Zombie Lending and Depressed Restructuring in Japan. National Bureau of Economic Research Working Paper No. 12129: 1943-1977.

50.

Peek, J., and E. Rosengren. 1995. Bank regulation and the credit crunch. Journal of Banking and Finance 19: 679–692.

51.

Banco Central de la República Argentina. December 2014. Prudential regulations. http://www.bcra.gob.ar/SistemasFinancierosYdePagos/Marco_normativo_i.asp.

52.

Australian Prudential Regulation Authority. January 2015. Prudential Standard APS 220 Credit Quality. http://www.apra.gov.au/CrossIndustry/Documents/141120-APS-220.pdf.

53.

Banco Central do Brasil. 17 August 2015. Personal communication.

54.

Office of the Superintendent of Financial Institutions. December 2014. Financial Statements. http://www.osfi-bsif.gc.ca/Eng/osfi-bsif/rep-rap/qfr-rft/Pages/default.aspx.

55.

China Banking Regulatory Commission. 2014. Supervision Statistics of Q2. http://www.cbrc.gov.cn/chinese/files/2014/A2726BEBE1AA406BB5CAC4ADA3875D35.pdf.

56.

Autorité de contrôle prudentielet de résolution. 14 August 2015. Personal communication.

57.

BundesanstaltfürFinanzdienstleis-tungsaufsicht. 2014. Annual report. http://www.bafin.de/SharedDocs/Downloads/EN/Jahresbericht/dl_jb_2012_en.pdf?__blob=publicationFile; ECB (September 2016) Stocktake of national supervisory practices and legal frameworks related to NPLs, https://www.bankingsupervision.europa.eu/legalframework/publiccons/pdf/npl/stock_taking.en.pdf.

58.

Reserve Bank of India. 1 July 2015. Master Circular—Prudential norms on Income Recognition, Asset Classification and Provisioning pertaining to Advances. https://rbidocs.rbi.org.in/rdocs/notification/PDFs/101MC16B68A0EDCA9434CBC239741F5267329.PDF.

59.

Bank Indonesia. 11 August 2015. Personal communication.

60.

Bank of Italy. July 2013. The recent asset quality review on non-performing loans conducted by the Bank of Italy: Main features and results. http://www.bancaditalia.it/media/approfondimenti/2013/analisi-prestiti-deteriorati/Asset_quality_review.pdf?language_id=1; ECB (September 2016) Stocktake of national supervisory practices and legal frameworks related to NPLs, https://www.bankingsupervision.europa.eu/legalframework/publiccons/pdf/npl/stock_taking.en.pdf.

61.

Financial Services Agency. June 2014. Inspection Manual for Deposit-Taking Institutions. http://www.fsa.go.jp/en/refer/manual/yokin_e/y-all.pdf.

62.

The Bank of Korea. 21 August 2015. Personal communication.

63.

Banco de México. 2014. Financial System Report. http://www.banxico.org.mx/publicaciones-y-discursos/publicaciones/informes-periodicos/anual/index-en.html.

64.

Central Bank of the Russian Federation. 30 September 2015. Personal communication.

65.

Saudi Arabian Monetary Agency. April 2008. Guidance on Application Procedures for Adoption of the IRB Approach by Banks Licensed in Saudi Arabia. http://www.sama.gov.sa/en-US/Laws/Documents/6.%20SAMA%20Circular%20concerning%20Revised%20Guidance%20Document/2.%20SAMA%20Revised%20Basel%20II%20II.5%20and%20III%20regulations%20and%20guidance.pdf.

66.

South African Reserve Bank. 2014. Directive 9/2014 issued in terms of section 6(6) of the Banks Act (Act No. 94 of 1990). https://www.resbank.co.za/Lists/News%20and%20Publications/Attachments/6538/D9%20of%202014.pdf.

67.

Central Bank of the Republic of Turkey. 11 August 2015. Personal communication.

68.

Financial Services Authority. October 2011. Forbearance and Impairment Provisions—Mortgages. https://www.fca.org.uk/publication/finalised-guidance/fg11_15.pdf.

69.

Federal Reserve Bank of New York. 2013. Quarterly Trends for Consolidated U.S. Banking Organizations First Quarter 2013. https://www.newyorkfed.org/research/banking_research/quarterly_trends.html.

70.

European Banking Authority. July 2014. FINAL draft Implementing Technical Standards on Supervisory reporting on forbearance and non-performing exposures under article 99(4) of Regulation (EU) No 575/2013. https://www.eba.europa.eu/documents/10180/449824/EBA-ITS-2013-03+Final+draft+ITS+on+Forbearance+and+Non-performing+exposures.pdf.

71.

Agricultural Bank of China. 24 March 2015. 2014 Annual Results Announcement Report. http://www.abchina.com/en/AboutUs/annual-report/201603/P020160405603491905726.pdf.

72.

Bank of America. 11 March 2015. 2014 Annual report. http://investor.bankofamerica.com/phoenix.zhtml?c=71595&p=irol-reportsannual#fbid=RhTgal6Ri9h.

73.

Bank of China. 25 March 2015. 2014 Annual report. http://pic.bankofchina.com/bocappd/report/201604/P020160427507129146288.pdf.

74.

Bank of New York Mellon. 27 February 2015. 2014 Annual report. https://www.bnymellon.com/_global-assets/pdf/investor-relations/annual-report-2014.pdf.

75.

Barclays. 2 March 2015. Annual report 2014. https://www.home.barclays/annual-report-2014.html.

76.

BBVA. 4 February 2015. Consolidated financial statements, management report and auditors' report 2014. http://shareholdersandinvestors.bbva.com/TLBB/tlbb/bbvair/ing/financials/reports/index.jsp.

77.

BNP Paribas. 6 March 2015. 2014 Registration document and annual financial report. https://invest.bnpparibas.com/sites/default/files/documents/ddr_2014_gb.pdf.

78.

Citigroup Inc. 25 February 2015. 2014 Annual report. http://www.citigroup.com/citi/investor/quarterly/2015/ar14c_en.pdf?ieNocache=156.

79.

Credit Suisse. March 2015. Annual report 2014. https://www.credit-suisse.com/media/assets/corporate/docs/about-us/investor-relations/financial-disclosures/financial-reports/csgag-csag-ar-2014-en.pdf.

80.

Deutsche Bank. March 2015. Annual review 2014. https://www.db.com/ir/en/download/Deutsche_Bank_Annual_Report_2015.pdf.

81.

Goldman Sachs. 20 February 2015. 2014 Annual report. http://www.goldmansachs.com/investor-relations/financials/current/subsidiary-financial-info/gs-bank-financials-2014.pdf.

82.

Groupe BPCE. 18 March 2015. 2014 Registration document and full-year financial report. http://www.groupebpce.fr/en/Investors/Results/Registration-documents.

83.

Group Crédit Agricole. 20 March 2015. Annual financial report 2014. https://www.credit-agricole.com/var/storage/original/application/87d362ebdaad1c81441a050698d30851.pdf.

84.

HSBC. 23 February 2015. Annual report and accounts 2014. http://www.hsbc.com/-/media/hsbc-com/investorrelationsassets/annual-results-2014/hsbc-holdings-plc/a.

85.

Industrial and Commercial Bank of China Limited. 26 March 2015. Annual report 2014. http://v.icbc.com.cn/userfiles/Resources/ICBC/haiwai/Mumbai/download/2015/ICBC_Mumbai_Annual_Report_20142015.pdf.

86.

ING Group. March 2015. Annual report 2014. https://www.ing.com/Investor-relations/Annual-Reports.htm.

87.

JP Morgan Chase & Co. 8 April 2015. Annual report 2014. https://www.jpmorganchase.com/corporate/investor-relations/document/2015-annualreport.pdf.

88.

Mitsubishi UFJ FG. 18 July 2014. Annual report 2014. http://www.mufg.jp/ir/annualreport/2014mufg/pdf/mar/cr_all.pdf.

89.

Mizuho FG. 23 July 2015. Annual report 2014 on Form 20-F. https://www.mizuho-fg.com/investors/financial/sec/form20f.html.

90.

Morgan Stanley. 2 March 2015. 2014 Annual report on Form 10-K. https://www.morganstanley.com/about-us-ir/pdf/2014_MS_10-K_Final_Clean_Bannerless.pdf.

91.

Nordea. 5 February 2015. Annual report 2014. https://www.nordea.com/Images/36-102773/2015-12-31_Annual-Report-2015-Nordea-Bank-AB_EN.pdf.

92.

Royal Bank of Scotland. 25 February 2015. Annual report and accounts 2014. http://investors.rbs.com/~/media/Files/R/RBS-IR/2014-reports/annual-report-2014.pdf.

93.

Santander. March 2015. Annual report 2014. http://www.santanderannualreport.com/2016/sites/default/files/informe_anual_eng_acce.pdf.

94.

Société Générale. 4 March 2015. Annual financial report 2014. https://www.societegenerale.com/en/measuring-our-performance/information-and-publications/financial-results.

95.

Standard Chartered. 4 March 2015. Annual report 2014. https://www.sc.com/in/assets/pws/pdf/Annual-Report-2014-15.pdf.

96.

State Street. 23 March 2015. 2014 Annual report to shareholders. http://investors.statestreet.com/Cache/28828283.PDF?O=PDF&T=&Y=&D=&FID=28828283&iid=100447.

97.

Sumitomo Mitsui FG. August 2015. Annual report 2015. http://www.smfg.co.jp/english/investor/library/annual/cy2015annu_eng_smfg.html.

98.

UBS. 13 March 2015. Annual report 2014. https://www.ubs.com/content/dam/static/global/investor_relations/annual2014/annual-report-group-and-ubs-ag-2014-en.pdf.

99.

Unicredit Group. 12 March 2015. 2014 Consolidated reports and accounts. https://www.unicreditgroup.eu/content/dam/unicreditgroup-eu/documents/en/investors/financial-reports/2014/2014-Consolidated-Reports-and-Accounts.pdf.

100.

Wells Fargo. 1 February 2015. 2014 Annual report. https://www08.wellsfargomedia.com/assets/pdf/about/investor-relations/annual-reports/2014-annual-report.pdf.
Appendices
Appendix 1
Some loan and credit classifications across G20 countries. This list is not intended as exhaustive, but gives a flavour of supervisory practice and defined terms in different jurisdictions.
| Country and source | NPLs/impaired loans definition |
| --- | --- |
| Argentina [51] | Commercial loans are classified as follows: (1) normal; (2) special follow-up; (3) substandard; (4) high insolvency risk; (5) unrecoverable; and (6) unrecoverable based on technical criteria. Special follow-up loans are divided into: (a) under observation, include those debtors up to 90 days past due in situations that if not controlled or corrected in a timely manner, could compromise their repayment capacity; and (b) those under negotiation or with refinancing agreements, which include debtors that although unable to pay their obligations under the agreed conditions, have declared their intention of refinancing their debts no later than 60 days after becoming past due |
| Australia [52] | A facility must be classified as impaired regardless of whether it is 90 days or more past due, when there is doubt as to whether the full amounts due, including interest and other payments due will be achieved in a timely manner. This is the case even if the full extent of the loss cannot be clearly determined. Such a requirement applies particularly to the range of flexible financing facilities common in the Australian financial system, including loans where repayment of principal and interest occurs only as a single payment at maturity |
| Brazil [53] | The Brazilian Central Bank (BCB) does not provide a formal definition of non-performing loans. A proposed definition would include: (1) delinquent loans—more than 90 days overdue; (2) other loans not overdue more than 90 days, but classified by the lending bank as E, F, G or H, according to the regulatory risk classification; and (3) renegotiated loans. Risk classification requires lending banks to classify loans according to a 9-level classification scale (AA, A, B, C, D, E, F, G or H). According to the BCB's Resolution 2.682, loans overdue must be classified on risk levels, as follows: (a) from 15 to 30 days: at least risk level B; (b) from 31 to 60 days: at least risk level C; (c) from 61 to 90 days: at least risk level D; (d) from 91 to 120 days: at least risk level E; (e) from 121 to 150 days: at least risk level F; (f) from 151 to 180 days: at least risk level G; (g) more than 180 days: risk level H |
| Canada [54] | Office of the Superintendent of Financial Institutions considers the below listed conditions to be indicative of non-performing status: (1) a payment on a deposit with a regulated financial institution or a restructured loan is contractually 90 days in arrears; (2) a payment on any other loan (excluding credit card loans) is contractually 90 days in arrears unless the loan is fully secured, the collection of the debt is in process and the collection efforts are reasonably expected to result in repayment of the debt or in restoring it to a current status within 180 days from the date a payment has become contractually in arrears; and (3) a payment on any loan is contractually 180 days in arrears |
| China [55] | According to the supervision rules, commercial banks classify their loans into five categories—pass, special mention, substandard, doubtful and loss. Special mention loan means the borrower has ability to repay the loan currently, but may be affected by some unfavourable factors. The last three categories of loans are referred to as NPLs |
| France [56] | The national accounting framework provides the concept of 'doubtful', whose definition is similar, but non-identical to the 'non-performing' one as provided by the European Banking Authority (EBA). Loans are considered as doubtful when the debtor is considered as "unlikely to pay" or when 90-day past due amounts exist (for some types of exposure, the period could be longer, which explains why the definition of doubtful is similar, but not identical to the EBA one). According to the credit risk and asset quality classification, impaired loans and past due are > 90 days loans to total loans |
| Germany [57] | The German legal framework does not provide specific guidelines for NPL recognition and classification/write-off. The General Banking Act of Germany does not explicitly refer to performing/non-performing loans. NPLs refer to non-performing exposures (NPEs)—as defined by the EBA Implementing Technical Standards on supervisory reporting on forbearance and non-performing exposures (EBA ITS)—excluding debt securities. According to the IMF Country Report 16/189, loan classification and provisioning are considered as an accounting issue. The supervisors do not reclassify loans or request increased provisions and rely on capital add-on. For portfolios of credit exposures with homogeneous characteristics, the exposures are classified when payments are contractually in arrears for a minimum number of days (e.g. 30, 60, 90 days) |
| India [58] | Banks are required to classify non-performing assets (NPAs) further into the following three categories based on the period for which the asset has remained non-performing: (1) sub-standard assets; (2) doubtful assets; and (3) loss assets. A sub-standard asset would be one, which has remained NPA for a period less than or equal to 12 months. An asset would be classified as doubtful if it has remained in the sub-standard category for a period of 12 months. A loss asset is one where loss has been identified by the bank or internal or external auditors or the Reserve Bank of India inspection, but the amount has not been written off wholly. A NPA is a loan where interest and/or instalment of principal remains overdue for a period of more than 90 days in respect of a term loan. According to the IMF Country Report No. 16/76, stressed loans include NPAs and restructured advances (i.e. loans that have been subject to stress and are thus more likely to turn into NPAs) |
| Indonesia [59] | NPLs are loans classified as substandard, doubtful and loss. Debtor has defaulted when: (a) there are arrears in principal and/or interest payments and/or other claims for 90 days although the Earning Assets (Bank fund provisions for gaining revenue, which are in the forms of credits, securities, interbank placements, acceptance claims, claims on securities purchased under resale agreements, derivative claims, equity participations and off-balance sheet items) have not fallen due in the above-mentioned categories; (b) payments on principal and/or interests and/or other claims have not been received at the time the Earning Assets fall due; and (c) other requirements aside from payments of principal and/or interest have not been met, which can cause event of default |
| Italy [60] | According to Circular 272/08, the Bank of Italy adopted the following breakdown of NPLs: (1) past due/overdrawn exposures (past due by 90 days or more, with a further breakdown by days past due band); (2) unlikely to be paid exposures (with a further breakdown by days past due bands); and (3) bad loans (state of insolvency). When applicable, NPL forborne exposures are included in each of these categories. For performing exposures, the Bank of Italy has provided the following classification: performing; performing, but past due by less than 90 days (1–30 days, 30–60 days, etc.); and performing forborne (with a distinction between one concession and more than one concession). With respect to forborne exposures, for regulatory purposes the Italian banks are required to follow the criteria defined by the EBA ITS. Also, Italian banks are legally required to comply with the EBA ITS regarding the definition/classification of NPEs. The Bank of Italy does not provide regulation concerning specific provisioning rules for NPLs, also in terms of how to treat the recovery time estimation. There are no specific national guidelines or rules for NPL write-off |
| Japan [61] | Loans are classified into four categories: (1) bankrupt or de facto bankrupt ("bankrupt or quasi-bankrupt"); (2) doubtful; (3) special attention ("needs attention" or "substandard"); and (4) normal. Bankrupt or de facto bankrupt loans are those extended "to debtors who are legally and formally bankrupt, i.e., in the process of liquidation, reorganization and rehabilitation, or virtually bankrupt with no prospects of resuscitation". Doubtful loans are those extended "to debtors who have not gone bankrupt but are in financial difficulties, and thus whose lenders are unlikely to receive the principal and interest concerned on due dates". Special attention loans are those "whose interest and/or principal payments are in arrears by 3 months or more, and restructured assets with changes in terms and conditions", and the normal loans are "all loans to debtors who have no particular problems with their financial conditions" which are not classified as any of the first three categories. The total amount of NPLs is the sum of loans that are categorised as "bankrupt or de facto bankrupt", "doubtful" and "special attention" |
| Republic of Korea [62] | Under the asset classification rule, there are five classifications applicable to a bank loan: normal, precautionary, substandard, doubtful, and presumed loss. Loans classified as either substandard, doubtful, or presumed loss are collectively referred to as substandard or below loans (SBLs). The SBL classifications are influenced by forward-looking criteria (FLC), so a performing loan that currently generates interest income may be classified as an SBL if it is determined that the borrower's debt-servicing ability has significantly deteriorated and has raised the risk of future default. In contrast, the primary determining factor an NPL classification is whether a loan currently generates interest payment, so a loan would not be classified as an NPL if it continues to generate interest income |
| Mexico [63] | There is no formal definition of NPLs under Mexican legislation. Banco de México does not provide specific rules for NPLs classification. In order to reclassify the loan as non-performing, 90 days must go by after the end of the extension period. The adjusted delinquency rate is the non-performing loan portfolio plus write-offs over the previous 12 months divided by total loan portfolio plus write-offs over the previous 12 months |
| Russia [64] | There is no exact definition of "non-performing loan" under the Russian legal framework. The Bank of Russia shares an approach used in international practice, considering NPLs as loans with overdue debt over 90 days. The loans quality categories (probability of impairment of a loan) are classified on the basis of professional judgment using combination of two classification criteria (the borrower's financial position and the debt service quality). Loans are classified (except for loans grouped in a portfolio of homogeneous loans) into one of five quality categories: (1) standard loans—no credit risk; (2) non-standard loans—moderate credit risk; (3) doubtful loans—considerable credit risk; (4) problem loans—high credit risk; and (5) loss loans—no possibility of loan repayment due to the borrower's inability or refusal to meet loan commitments, which stipulates complete (100%) impairment of the loan. Loans classified as non-standard loans and loss loans are impaired |
| Saudi Arabia [65] | Credit risk comprises the following loan classification: (1) impaired loans; (2) defaulted loans; (3) past due loans (less than 90 days, 90–100 days, 180–360 days, over 360 days); and (4) allowances (specific allowances and general allowances). While past due loan simply means a loan which has not been paid on time and is now overdue by certain days (which after 90 days falls in the definition of default). Non-performing loans are considered to be loans that are more than 90 days past due |
| South Africa [66] | According to the South African Reserve Bank, the loan should be classified as non-performing in line with the bank's credit and write-off policy. Loans which are in arrears (but not in default) and which are restructured should not be classified as performing until such time as the obligor's ability to meet the requirements of the revised terms and conditions has been established. Credit risk exposures are classified as either "standard", "special mention", "substandard", "doubtful" or "loss" by South African banks and reported on a quarterly basis |
| Turkey [67] | The Regulation on Procedures and Principles for Determination of Qualifications of Loans and other Receivables by Banks and Provisions to be Set Aside (Article 5) requires banks to categorise loans and receivables under five groups. Loans categorised in "Group 1—Standard" and "Group 2—Special mention" are performing loans. Loans classified in the remaining 3 categories are considered non-performing loans. Following are the criteria for those non-performing categories. Group 3—Limited recovery: past due between 91 and 180 days or limited recovery expectation due to financing and liquidity problems of the debtor. Group 4—Suspicious recovery (doubtful): past due between 181 and 365 days or substantial deterioration in the creditworthiness of debtor, but not considered loss because of the partial recovery expectation. Group 5—Loss: past due for over 365 days or no recovery expectation due to the significant deterioration in the creditworthiness of the debtor |
| UK[68] | NPLs are not formally defined at UK level for supervisory purposes. The EBA definition is used for regulatory reporting. The definition for forbearance should be taken from either: (1) the EBA consultation paper on Implementing Technical Standards on Supervisory Standards and (2) the definition of forbearance as detailed in the guidance published by FSA (now FCA) in 2011 |
| USA [69] | Non-performing loans include loans that are: (1) 90 days or more past due and still accruing or (2) non-accrual (i.e. loans on which a bank has ceased to accrue interest) |
| European Union [70] | A loan is classified as a non-performing exposure where the loan is 90 days past due or if there is a risk of unlikely repayment without realisation of collateral. The definition applies regardless of the classification of a loan or debt security as impaired or defaulted, but a loan or a debt security that has been classified as impaired in the financial statements or that has been classified as defaulted in capital adequacy shall always be classified as a non-performing exposure according to EBA's definition. This definition applies in parallel to the definitions reported in this table for those jurisdictions that are members of the European Union (France, Germany and Italy) |
Appendix 2
Table: NPL Classification by Global Systemically Important Banks (GSIBs) (Source 2014/2015 Financial Statements)
For all GSIBs, 90 days past due is not a sufficient condition for a loan to be considered to be an NPL. Qualifications on the 90 days past due criterion for NPLs are given below. This information is primarily obtained from the 2014/2015 Financial Statements of the GSIBs. Column 1 gives the overriding criteria of NPL/impairment status which can include, but may be independent of the 90 days past due criterion. The purpose of Column 2 is to ascertain if credit card loans and non-secured loans are treated differently from the general criteria used. Column 3 lists any exceptions to the treatment of Home Equity Loans. Column 4 gives the cases when a non-accrual status is usedFootnote 58 with the latter needing specific material evidence for problems of non-payment. Here we note that 'non-accrual' is widely used in the USA, but does not exist as a concept under IFRS; hence, US banks will have a yes in Column (4) and typically non-US banks do not. 'No Disclosure' (ND) is inserted when there is no specific information given in the Financial Statements of GSIBs and 'Not Applicable' (NA) where a practice (non-accrual of interest) is not permitted by the accounting framework used by the bank.
Name of GSIBs (source)
Col (1)
Internal system used showing degrees of credit deterioration?a
Col (2)
Separate criteria for credit card loans or other non-secured consumer loans?
Col (3)
Separate criteria for Home Equity Loans?
Col (4)
Separate 'non-accrual' status?
Col (5)
Other criteria or exceptions to NPL status not given in Cols 1–4
Agricultural Bank of China [71]
✓
General criteria apply
General criteria apply
NA
ND
Bank of America [72]
✓
Charged off 1 month after 180 days past due
Junior Lien is considered NPL if first lien is 90 days due past, even if junior lien is performing
✓
Purchased credit—impaired loan portfolios or loans accounted under fair value option excluded
Bank of China [73]
✓
ND
ND
NA
ND
Bank of New York Mellon [74]
✓
General criteria apply
At 270 (90) days past due all first (second) lien mortgages placed on non-accrual
✓
ND
Barclays [75]
✓
See Col 5
General criteria apply
ND
NA
Past due determined by contract
BBVA [76]
✓
As stipulated in Section II of Annexe IX of Bank of Spain Circular 04/2004
General criteria apply
General criteria apply
NA
See Col 1
BNP Paribas [77]
✓
When 1 loan to a debtor is deemed doubtful, all other loans to the debtor classified similarly
General criteria apply
See Col 5
NA
6 months due past rather than 3 months for loans to real estate and local authorities
Citigroup Inc. [78]
✓
NPL status at 180 days due past
ND
✓
Non-accrual status automatic at 90 days due past
ND
Credit Suisse [79]
✓
ND
ND
NA
Subprime has NPL status at 120 days past due
Deutsche Bank [80]
✓
ND
ND
NA
ND
Goldman Sachs [81]
✓
ND
ND
✓
ND
Groupe BPCE [82]
✓
As stipulated in French Accounting Standards Authority Reg. No. 2014-07
ND
ND
NA
Col 1 status at 6 (9) months past due for real estate (local authorities)
Group CréditAgricole [83]
✓
General criteria apply
General criteria apply
NA
ND
HSBC [84]
✓
General criteria apply
General criteria apply
NA
ND
Industrial and Commercial Bank of China Limited [85]
✓
Overall most loans graded using these criteria
General criteria apply
General criteria apply
NA
Uses 12 category internal classification for corporate loans
ING Group [86]
✓
General criteria apply
General criteria apply
NA
ND
JP Morgan Chase & Co. [87]
✓
Excluded from 90 day past due unless Col 1 applies
30 day past due applies or as per contract
✓
Loans insured by US Govt. agencies excluded from 90 days past due unless Col 1 applies
Mitsubishi UFJ FG [88]
✓
General criteria apply
ND
✓
ND
Mizuho FG [89]
✓
General criteria apply
General criteria apply
All impaired loans also designated as non-accrual
Troubled debt restructuring uses ASC310 issued by US FASB
Morgan Stanley [90]
NPL at 90 days past due, or through other grading criteria
General criteria apply
General criteria apply
✓
ND
Nordea [91]
✓
General criteria apply
General criteria apply
NA
ND
Royal Bank of Scotland [92]
✓
NPL classified as 'risk' element has 100% default probability
General criteria apply
General criteria apply
Concept of 'accruing loans' is used for classification, but interest accrued under IFRS
For collectively assessed loans, loss provisions not allocated to individual loans and entire portfolio can be classified as impaired
Santander [93]
✓
Past due varies between 30 and 90 days triggers NPL status
General criteria apply
General criteria apply
NA
ND
Société Générale [94]
✓
3 months past due for doubtful status and NPL status after 1 year of this if loan not terminated
General criteria apply
General criteria apply
NA
Six months (9 months) past due for mortgages (local authority loans) with doubtful status
Standard chartered [95]
✓
General criteria apply
General criteria apply
NA
Restructured loans excluded from 90 day past due NPL status for which no default occurs for up to 180 days
State Street [96]
✓
See Col 4
General criteria apply
ND
✓
60 days past due non-accruing loans have NPL status
ND
Sumitomo Mitsui FG [97]
✓
General criteria apply
ND
No
90 days past due loans given NPL status excludes so-called bankrupt loans in order to support borrowers' recovery from financial difficulties
UBS [98]
✓
General criteria apply
General criteria apply
NA
ND
Unicredit Group [99]
✓
General criteria apply
General criteria apply
NA
ND
Wells Fargo [100]
✓
General criteria apply
General criteria apply
Loans have non-accrual status if general criteria apply with Col 5 exemptions
120 days past due for real estate 1–4 family and first and junior lien mortgages which are not mortgage loans and some consumer loans
About this article
Cite this article
Bholat, D., Lastra, R.M., Markose, S.M. et al. Non-performing loans at the dawn of IFRS 9: regulatory and accounting treatment of asset quality. J Bank Regul 19, 33–54 (2018). https://doi.org/10.1057/s41261-017-0058-8
Keywords
Non-performing loans

Asset quality

IFRS 9

Impairment

Loan loss provisions

Bank capital

Data standards

Credit risk
JEL Classification