Abstract
All displaced people, be it refugees, migrants, or expatriates, experience a sense of loss and trauma. Ukrainians crossing the border to take refuge across Europe carry with them this emotional luggage that shapes their identity and influences their integration in their new host places. Yet, the consequences of this invisible luggage have been rarely scrutinized in depth in public diplomacy and even in diaspora diplomacy scholarship. I draw on the psychoanalytical work of Vamik Volkan to shed some light on the psychology of Ukrainian refugees and the reactions of Romanians as host population. I argue a greater engagement with studies of emotions in international relations and political psychology could shape a research agenda that addresses the role of emotions and trauma in a world shaken by many crises.
Access options
Buy single article
Instant access to the full article PDF.
USD 39.95
Price excludes VAT (USA)
Tax calculation will be finalised during checkout.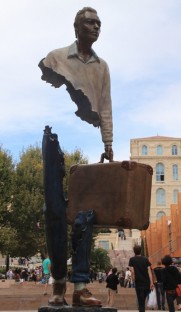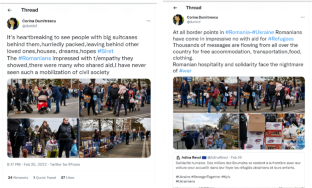 Notes
Political psychology is an interdisciplinary field of study that looks at psychological processes applied to politics and includes cognitive approaches, behavioural approaches, psychosocial/ psychoanalytical perspectives, evolutionary psychology and neuropsychology.

Vamik Volkan has written extensively on what psychoanalytical concepts can bring to the field of diplomacy, especially in ethnic group conflicts, ethnic terrorism, unofficial diplomatic dialogue and negotiations, emphasizing the value of psychoanalytically informed diplomatic strategies to reduce ethnic tension. His work is part of psychosocial studies on emotions that bring to the fore the inner world of individuals (their emotional and unconscious experiences) connected with external political, social and cultural contexts.

This section offers a brief snapshot and collage of tropes that emerged in Romania to illustrate some of the hosts' reactions. These discourses should be studied further in a more systematic way.
References
Anghel, R. G., Trandafoiu, R. 2022, March 8. A glimpse of humanity: How Romanians have mobilised to help Ukrainian refugees. LSE Blog. https://blogs.lse.ac.uk/europpblog/2022/03/08/a-glimpse-of-humanity-how-romanians-have-mobilised-to-help-ukrainian-refugees.

Bleiker, R., and E. Hutchison. 2014. Forum: Emotions and world politics. International Theory 6 (3): 490–594.

Di Martino, L. 2021. Fear and empathy in international relations: Diplomacy, cyber engagement and Australian foreign policy. Place Brand Public Diplomacy. https://doi.org/10.1057/s41254-021-00211-9.

Dolea, A. 2022. Transnational diaspora diplomacy, emotions and COVID-19: The Romanian diaspora in the UK. Place Branding and Public Diplomacy 18: 12–14.

Duncombe, C. 2019. Digital diplomacy: Emotion and identity in the public realm. The Hague Journal of Diplomacy 14 (1–2): 102–116. https://doi.org/10.1163/1871191X-14101016.

Government of Romania. October 2022. Status report. Romania's response to the Ukrainian Refugee Crisis. Prime Minister Chancellery.

Graham, S.E. 2014. Emotion and public diplomacy: Dispositions in international communications, dialogue, and persuasion. International Studies Review 16 (4): 522–539.

Hutchison, E., and R. Bleiker. 2014. Theorizing emotions in world politics. International Theory 6 (3): 491–514.

Koschut, S., T.H. Hall, R. Wolf, T. Solomon, E. Hutchison, and R. Bleiker. 2017. Discourse and emotions in international relations. International Studies Review 19: 481–508.

Manor, I. 2021. The Russians are laughing! The Russians are laughing! How Russian diplomats employ humour in online public diplomacy, Global Society 35 (1): 61–83. https://doi.org/10.1080/13600826.2020.1828299.

UNHCR Regional Bureau for Europe. September 2022. Lives on hold: Intentions and perspectives of refugees from Ukraine. Regional Intentions Report #2. https://data.unhcr.org/en/documents/details/95767

Volkan, V.D. 2018. Refugees as the other: Large-group identity, terrorism and border psychology. Group Analysis 51 (3): 343–358. https://doi.org/10.1177/0533316418784714.

Volkan, V.D. 2017. Immigrants and refugees: Trauma, perennial mourning, and border psychology. London: Karnac.

Volkan, V.D. 1999. Psychoanalysis and diplomacy part I: Individual and large group identity. Journal of Applied Psychoanalytic Studies 1: 29–55.

World Vision International. August 2022. Warm welcomes, lurking tensions. https://www.wvi.org/sites/default/files/2022a-08/Host%20tensions_final.pdf.
Additional information
Publisher's Note
Springer Nature remains neutral with regard to jurisdictional claims in published maps and institutional affiliations.
Rights and permissions
Springer Nature or its licensor (e.g. a society or other partner) holds exclusive rights to this article under a publishing agreement with the author(s) or other rightsholder(s); author self-archiving of the accepted manuscript version of this article is solely governed by the terms of such publishing agreement and applicable law.
About this article
Cite this article
Dolea, A. The invisible luggage of the displaced: emotions, trauma and public diplomacy. Place Brand Public Dipl (2022). https://doi.org/10.1057/s41254-022-00285-z
Revised:

Accepted:

Published:

DOI: https://doi.org/10.1057/s41254-022-00285-z
Keywords
Emotions

Trauma

Diaspora diplomacy

Russia–Ukraine war

Ukraine

Romania

Refugees

Migrants