Abstract
Few studies have looked at the interaction of place branding practices of geographically linked places. Moreover, the different administrative contexts of the linked places and the resulting different place branding approaches have not been taken into consideration. This study provides insight on the interactions of the brands and branding initiatives of higher-level administrative rural places and lower-level places within their territory. A qualitative study was conducted based on the cases of three Danish municipalities and eight smaller places within them. Although none of the vertically linked places under investigation had applied a strategic approach to manage place brand architecture, four archetypes of interaction between the place brands at the different vertical levels are identified. The findings provide guidance for place branding officials and others involved in the initiatives regarding the role the higher-level place brand can play in the lower level's place branding, while making the lower level aware that their place branding should also focus on building good reputation towards the higher-level place. The study further reveals challenges regarding the strategic implementation of place brand architecture and highlights important areas for future research on the topic.
Access options
Buy single article
Instant access to the full article PDF.
US$ 39.95
Tax calculation will be finalised during checkout.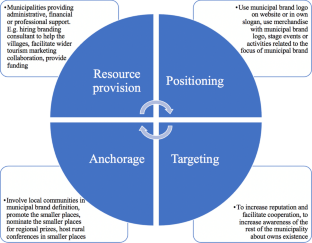 References
Aaker, David A., and Erich Joachimsthaler. 2000. The brand relationships spectrum: The key to the brand architecture challenge. California Management Review 42 (4): 8–23.

Andersen, Asbjørn. 2015. Flere landsbyer får brands. Retrieved 12 October from https://www.dr.dk/nyheder/regionale/trekanten/flere-landsbyer-faar-brands.

Anholt, Simon. 2010. Places: Identity, image and Reputation. Basingstoke: Palgrave Macmillan.

Ashworth, G.J., and M. Kavaratzis. 2018. The roles of branding in public administration and place management: Possibilities and pitfalls. In The Palgrave handbook of public administration and management in Europe, 425–439. Berlin: Springer.

Blichfeldt, B.S., and H. Halkier. 2014. Mussels, tourism and community development: A case study of place branding through food festivals in rural North Jutland, Denmark. European Planning Studies 22 (8): 1587–1603. https://doi.org/10.1080/09654313.2013.784594.

Boisen, Martin. 2015. Place branding and nonstandard regionalization in Europe. In Inter-regional place branding: Best practices, challenges and solution, 13–23. Berlin: Springer.

Boisen, Martin, Kees Terlouw, and Bouke van Gorp. 2011. The selective nature of place branding and the layering of spatial identities. Journal of Place Management and Development 4 (2): 135–147.

Braun, Erik. 2012. Putting city branding into practice. Journal of Brand Management 19 (4): 257–267. https://doi.org/10.1057/bm.2011.55.

Business Esbjerg. 2020. Vi skaber de bedst mulige betingelser for at drive virksomhed, bo og studere i Esbjerg og Fanø Kommuner. Retreived 16 December from https://www.businessesbjerg.com/da/.

Center for Landdistriktsforsking, Syddansk Universitet. 2018. Nyhedsbrev September 2018 - nr. 63. Retrieved 21 December from https://www.syddanskuniversitet.eu/-/media/files/om_sdu/institutter/iful/nyhedsbreve/clf_nyhedsbrev_63.pdf.

Cresswell, Tim. 2015. Place. An introduction, 2nd ed. New York: Wiley.

Datzira-Masip, Jordi, and Alessio Poluzzi. 2014. Brand architecture management: The case of four tourist destinations in Catalonia. Journal of Destination Marketing & Management 3 (1): 48–58. https://doi.org/10.1016/j.jdmm.2013.12.006.

DenOffentlige. 2017. Eksperter dumper kommuners branding. Retreived 19 June from https://www.denoffentlige.dk/eksperter-dumper-kommuners-branding.

Dooley, Gregory, and David Bowie. 2005. Place brand architecture: Strategic management of the brand portfolio. Place Branding 1 (4): 402–419.

Esbjerg Kommune. 2020a. Esbjerg - Danmarks EnergiMetropol. Retrieved 16 December from https://www.esbjerg.dk/erhverv/energimetropol.

Esbjerg Kommune. 2020b. Lokalråd. Retrieved 7 December from https://www.esbjerg.dk/politik-og-demokrati/naerdemokrati/lokalraad/kontaktoplysninger-for-de-20-lokalraad.

Eupen, M. van, M.J. Metzger, M. Pérez-Soba, P.H. Verburg, A. van Doorn, and R.G.H. Bunde. 2012. A rural typology for strategic European policies. Land Use Policy 473–482.

Giovanardi, Massimo. 2015. A multi-scalar approach to place branding: The 150th anniversary of Italian Unification in Turin. European Planning Studies 23 (3): 597–615. https://doi.org/10.1080/09654313.2013.879851.

Giovanardi, Massimo, Andrea Lucarelli, and Cecilia Pasquinelli. 2013. Towards brand ecology: An analytical semiotic framework for interpreting the emergence of place brands. Marketing Theory 13 (3): 365–383.

Gobo, Giampietro. 2008. Re-conceptualizing generalization: Old issues in a new frame. In Sage handbook of social research methods, ed. Pertti Alasuutari, Leonard Bickman, and Julia Brannen, 193–227. London: Sage.

Greenop, Kelly, and Sébastien. Darchen. 2015. Identifying 'place' in place branding: Core and periphery in Brisbane's "New World City." GeoJournal 81 (3): 379–394. https://doi.org/10.1007/s10708-015-9625-7.

Gulisova, Barbora. 2020. Rural place branding processes: A meta-synthesis. Place Branding and Public Diplomacy. https://doi.org/10.1057/s41254-020-00187-y.

Halfacree, Keith H. 1993. Locality and social representation: Space, discourse and alternative definitions of the rural. Journal of Rural Studies 9 (1): 23–37.

Hankinson, Graham. 2007. The management of destination brands: Five guiding principles based on recent developments in corporate branding theory. Journal of Brand Management 14 (3): 240–254. https://doi.org/10.1057/palgrave.bm.2550065.

Hankinson, Graham. 2009. Managing destination brands: Establishing a theoretical foundation. Journal of Marketing Management 25 (1–2): 97–115. https://doi.org/10.1362/026725709x410052.

Hanna, Sonya, and Jennifer Rowley. 2015. Towards a model of the Place Brand Web. Tourism Management 48: 100–112. https://doi.org/10.1016/j.tourman.2014.10.012.

Harish, R., and Lubna Nafees. 2010. Brand architecture in tourism branding: The way forward for India. Journal of Indian Business Research 2 (3): 153–165. https://doi.org/10.1108/17554191011069442.

Harvey, David. 1996. Justice, nature and the geography of difference. Cambridge, MA: Blackwell Publishers.

Horlings, L.G., and T.K. Marsden. 2014. Exploring the 'New Rural Paradigm' in Europe: Eco-economic strategies as a counterforce to the global competitiveness agenda. European Urban and Regional Studies 21 (1): 4–20. https://doi.org/10.1177/0969776412441934.

Jennings, Gayle. 2010. Tourism research. Milton, Queensland: Wiley & Sons Australia Ltd.

JydskeVestkysten. 2019. Varde Kommune har lige efter København landets flest overnattende gæster. Retrieved 16 December from https://jv.dk/artikel/varde-kommune-har-lige-efter-københavn-landetes-fleste-overnattende-gæster.

Kahuni, Abel Tasiyana, and Jennifer Rowley. 2013. Corporate brand relationships: The case of TOYOTA F1 Racing Team. Sport, Business and Management: An International Journal 3 (1): 8–18. https://doi.org/10.1108/20426781311316870.

Kavaratzis, Mihalis. 2012. From "necessary evil" to necessity: Stakeholders' involvement in place branding. Journal of Place Management and Development 5 (1): 7–19. https://doi.org/10.1108/17538331211209013.

Kerr, Greg, and Melodena Stephens Balakrishnan. 2012. Challenges in managing place brands: The case of Sydney. Place Branding and Public Diplomacy 8 (1): 6–16. https://doi.org/10.1057/pb.2011.32.

Lee, Anne H. J., Geoffrey Wall, and Jason F. Kovacs. 2015. Creative food clusters and rural development through place branding: Culinary tourism initiatives in Stratford and Muskoka, Ontario, Canada. Journal of Rural Studies 39: 133–144. https://doi.org/10.1016/j.jrurstud.2015.05.001.

Lee, Bill, and Usman Aslam. 2018. Towards the wholesome interview: Technical, social and political dimensions, 102–116. The SAGE Handbook of Qualitative Business and Management Research Methods: Methods and Challenges.

Lincoln, Yvonna S., and Egon G. Guba. 1985. Naturalistic inquiry. Newbury Park, CA: Sage.

Malpas, Jeff. 2017. Thinking topographically: Place, space, and geography. Retrieved 10 February from https://jeffmalpas.com/wp-content/uploads/Thinking-Topographically-Place-Space-and-Geogr.pdf.

Mettepenningen, E., V. Vandermeulen, G. Van Huylenbroeck, N. Schuermans, E. Van Hecke, L. Messely, J. Dessein, and M. Bourgeois. 2012. Exploring synergies between place branding and agricultural landscape management as a rural development practice. Sociologia Ruralis 52 (4): 432–452. https://doi.org/10.1111/j.1467-9523.2012.00575.x.

Ministry of Social Affairs and the Interior. 2020. About municipalities and regions. Retrieved 4 December from https://english.sim.dk/responsibilities-of-the-ministry/governance-of-municipalities-and-regions/about-municipalities-and-regions/.

Rebelo, Cátia., Abid Mehmood, and Terry Marsden. 2019. Co-created visual narratives and inclusive place branding: A socially responsible approach to residents' participation and engagement. Sustainability Science. https://doi.org/10.1007/s11625-019-00760-2.

Sack, Robert David. 1997. Homo Geographicus. Baltimore: Johns Hopkins University Press.

Sarabia-Sanchez, Francisco J., and Maria J. Cerda-Bertomeu. 2016. Place brand developers' perceptions of brand identity, brand architecture and neutrality in place brand development. Place Branding and Public Diplomacy 13 (1): 51–64. https://doi.org/10.1057/s41254-016-0017-7.

Skive Kommune. 2020. Grøn handling i fællesskaber og for en egn i balance. Retrived December 16, from https://rentliv.skive.dk.

Stevens, Vidar. 2019. A concept in search of a stronger foundation: Three ideal types of place brand architecture. The Marketing Review 19 (3–4): 279–292.

Syssner, J. 2010. Place branding from a multi-level perspective. Place Branding and Public Diplomacy 6 (1): 36–48. https://doi.org/10.1057/pb.2010.1.

Søgaard, Villy. 2011. Operationalisering af landdistriktsbegrebet. Esbjerg: Center for Landdistriktsforskning, Syddansk Universitet.

Sørensen, Jens Fyhn Lykke, and Gunnar Lind Haase Svendsen. 2014. Borgernes holdning til landdistrikternes image og udvikling. Syddansk Universitet, Esbjerg: Center for Landdistriktsforskning.

Tracy, Sarah J. 2013. Qualitative research methods: Collecting evidence, crafting analysis, communicating impact. Chichester, West Sussex: Wiley-Blackwell.

Ugeavisen. 2019. Formand for Landdistrikternes Fællesråd: Fælles identitet kan brande og synliggøre en landsby. Retrieved 16 December from https://ugeavisen.dk/oelgod/artikel/formand-for-landdistrikternes-fællesråd-fælles-identitet-kan-brande-og-synliggøre-en-landsby.

Varde Kommune. 2018. "Danmarks næststørste turismekommune vækster mere end dobbelt så meget som landsgennemsnittet." Retrieved 16 December from https://www.vardekommune.dk/content/danmarks-naeststorste-turismekommune-vaekster-mere-end-dobbelt-sa-meget-som.

Vik, J., and M. Villa. 2010. Books, branding and boundary objects: On the use of image in rural development. Sociologia Ruralis 50 (2): 156–170. https://doi.org/10.1111/j.1467-9523.2010.00506.x.

Vuorinen, Maarit, and Marita Vos. 2013. Challenges in joint place branding in rural regions. Place Branding and Public Diplomacy 9 (3): 154–163. https://doi.org/10.1057/pb.2013.18.

Wheeler, Fiona, Warwick Frost, and Betty Weiler. 2011. Destination brand identity, values, and community: A case study from rural Victoria, Australia. Journal of Travel & Tourism Marketing 28 (1): 13–26. https://doi.org/10.1080/10548408.2011.535441.

Wæraas, A., H. Bjørnå, and T. Moldenæs. 2015. Place, organization, democracy: Three strategies for municipal branding. Public Management Review 17 (9): 1282–1304. https://doi.org/10.1080/14719037.2014.906965.

Zenker, Sebastian, and Erik Braun. 2017. Questioning a "one size fits all" city brand. Journal of Place Management and Development 10 (3): 270–287. https://doi.org/10.1108/jpmd-04-2016-0018.
Ethics declarations
Conflict of interest
On behalf of all authors, the corresponding author states that there is no conflict of interest.
Additional information
Publisher's Note
Springer Nature remains neutral with regard to jurisdictional claims in published maps and institutional affiliations.
Supplementary Information
Below is the link to the Supplementary Information.
Appendices
Appendix 1. Overview of the places included in the study
|   | Population | Area (km2) | Description |
| --- | --- | --- | --- |
| Esbjerg Municipality | 115,483 | 795.3 | Esbjerg Municipality is located on the west coast of Denmark. The main city is Esbjerg, a port city, with a position as capital of the country's offshore sector. In a number of focus groups/workshops, different stakeholders representing different sectors (education, culture, business, etc., but not residents) agreed on focusing on 'energy' for the municipality's brand. The process started in 2010, and the definition phase was led by external branding consultants, while the graphical expression was done by a local design bureau. The EnergiMetropol is still the main brand but realizing that people mainly associate it with the energy sector, the municipality has begun to focus more on the main city with this brand and tries to find alternatives that more people could support. It is the municipal communication department, and a public–private business organization that control the brand |
| Ribe | 8,317 | 7.3 | Ribe is located 32 km from Esbjerg. It is the oldest town in Denmark, with a well-preserved medieval center. A lot of cultural attractions and events are based in the town, which is a popular tourism destination. Here the branding is done by an association created by the main attractions, accommodation places, restaurants and other visitor businesses. The local trade organization is also involved, as is the municipal business organization (incl. the tourism office). There are many community-based events taking place throughout the year, many building upon and contributing to the brand of the town. The special marketing organization has been created in 2007 |
| Gørding | 1,736 | 1.5 | Gørding is a residential town 30 km from Esbjerg. There are some businesses, it is located near a highway with easy access to bigger towns in the area and has a good school. The focus of their branding is its attractiveness due to an active association life and having nature close by. Their branding started with a professionalized website in 2012–13, and a slogan 'En grøn by i bevægelse' (EN: 'a green town in movement'). The branding here is done by the volunteer residents involved in the local citizen council and its working group focused on branding |
| Darum | 896 | 1.1 | Darum is a residential town 16 km from Esbjerg. There are some businesses, a school that implemented an innovative organizational structure, and it is located at the border to the Wadden Sea National Park (UNESCO World Heritage Site). Their slogan is 'Byen bag diget' (EN: 'the town behind the dike'), they organize a 'Vadehavsdag' (EN: 'Wadden Sea day') event, and the branding is very much based on the surrounding nature and the community. The slogan has been around for many years, while the event was started in 2018. The branding here is done by few of those involved in the local citizen council |
| Skive Municipality | 45,851 | 683.5 | Skive municipality is located on a peninsula in Mid-Jutland region, in northwest Denmark, with Skive being the main town. The branding here started in 2011, based again on a number of workshops with different sectors of the community (education, culture, industry, business, local communities). The initial phase was, also here, led by external branding consultants, while the graphical expression was done by a local design bureau. The brand, 'Rent Liv' (EN: 'Clean Life') has been controlled by the municipal communication department and has been revitalized in 2019 to sharpen its focus, which now is mostly related to sustainability, including green energy |
| Rødding | 895 | 0.8 | Rødding is a village located 17 km from Skive. There has been an organization working with local development since 2004, while in 2008 a project started on branding the village as 'Rødding – Æblets By' (EN: 'Rødding—the town of the apple'). In 2016 the latter changed to be an organization too, and a working group on marketing was established to serve both organizations. The apple organization, as well as the development organization, are voluntary based. There's a yearly apple festival attracting visitors from afar, while the whole village is implicated with apples in one way or another (having apple trees, making apple must, cooking with apples, apple decorations, etc.) |
| Fur | 767 | 22 | Fur is a small island in the northern part of Skive municipality, 3 min sailing away from the peninsula. Tourism is an important industry on the island, and most people know it through their vacation experiences. The branding is part of the local development here too, and it started through a project in 2009. As a result of this, a new local development association was established, that continues to brand the island |
| Selde | 270 | 0.4 | Selde is a village located 27 km from Skive. Their branding initiative began with an art project in 2012. The project was a result of discussions about ideas for area renewal, where some local citizens expressed a wish to get more art into the village. It developed very much in relation to a local gallery, which continues to be the focal point. After the initial project ended in 2014, the 'Skulpturlandsby' (EN: 'Sculpture Village') was established, with recurrent events where the sculptors create and install their pieces in the village |
| Varde Municipality | 49,961 | 1,240.1 | Varde municipality is located just north of Esbjerg municipality, on the western coast of Denmark. Varde is the main town, and while there is a number of bigger companies in different industries, the municipality is home to a number of popular tourist destinations along the coast. The current branding started in 2014, after a series of workshops with citizens and other local stakeholders. This was again led by an external consultancy, and a local design bureau created the visual identity for the brand. 'Vi i Naturen' (EN: 'we in the nature') combines the richness of nature in the municipality, and the cooperative spirit |
| Oksbøl | 2,837 | 2.3 | Oksbøl is a town 14 km from Varde, close to many of the most popular beaches in the area. Many people associate it with the military barracks located there, while it was also a location of the biggest German refugee camp after WWII in Denmark, which sets the background for an upcoming museum on refugees. The branding here is very much focused on the residential life– the community, safety, and active association life. Some ad-hoc initiatives have started to highlight the local history as part of the branding initiatives. The work is mainly done by the volunteer-based local citizen and trade association, and some highly engaged citizens. There is a logo with the slogan 'Oksbølby – Tryghed midt i naturen!' (EN: 'Oksbøl town – safety in the middle of nature') |
| Billum | 578 | 0.6 | Billum is a small town located 11 km from Varde. There is a number of small entrepreneurs or small businesses, who put an effort into the development and branding of the town. Among the most important initiatives the town is proud of is an independent school. Otherwise, much is done on an ad-hoc basis, with some things undertaken by the parish association, and some by the local business and investment association. Similar to the other small towns and villages, also here the focus is on the nature-rich location, and the active and friendly community. A slogan on the webpage says 'Billum – Landsbyen på toppen af Ho Bugt' (EN: 'the village at the top of the bay Ho') |
Appendix 2: Interview guide
Purpose with the interview, and the use of data
This interview is one of several interviews for a study on the different branding processes taking place in rural places. The study forms part of a PhD project at the Department of Sociology, Environmental and Business Economics and the Danish Centre for Rural Research at the University of Southern Denmark, Esbjerg. The data will together with the other interviews be used to analyse and define the branding process in the specific case. Followingly, the different cases will be compared in order to see which kind of different processes are taking place and which factors determine what kind of process is applied in each of the cases.
What can you expect to get in return?
Once the data have been analysed, we will organise a seminar for the participating municipalities, villages and parishes, in order to share the results and experiences with you.
The interview
There are 6 main question topics that I will like to cover in this interview. These are: you (the interviewee), the place brand, the other actors, the collaboration, brand communication, and the attained value (evaluation).
The concepts: ask first how they understand brand and branding
Branding: includes all the initiatives that the place does to create a joint narrative, identity, become more attractive.
Brand: the narrative or identity that the place tries to build and live. That what characterises the place and is contributing to differentiate it from other places. That, what infuses the place with an emotional aspect.
In this project, the focus is NOT on tourism, but rather on the 'everyday' place brand. It is, though, clear that in many places, a tourism brand and branding will be natural part of the overall brand and the overall perception of the place.
Actors: all the people and organisations (private as well as public) who are participating in the branding process, or who contribute by doing something to create the place brand or to brand the place.
Stakeholders: all those whom the brand and branding process impacts, without them necessarily being actively involved in the process.
Value: here it is not necessarily only the economic value, but on the contrary value in the wider sense.
The interviewee
1.

Tell me about yourself (also in relation to the brand, the place…)

2.

How would you describe your role in the branding process?

3.

What motivates you to participate in the branding process? To work with/develop the brand…

4.

What would you say is your contribution to the brand? And to the branding process?
Place brand
1.

How would you describe you branding? Can you start by telling a little about what started this branding process and where you are now in the process? Here also whose initiative it was to start this branding process; which phase the brand is in now (beginning, ongoing development/work, done and only promoting the brand now, …), how much does the brand change or develop? Is it an ongoing process?

2.

With the starting point in the current status, how would you describe the brand? What is the brand? What are the current results of the brand and the process?

3.

How much does the brand cover? E.g., who (besides of those who actively contribute to the branding process) does the brand have an impact on? Who is not covered by the brand?

4.

How general (holistic, meaning embracing the whole area) is the brand? Or, does it rather focus on a specific sector or part of your area (municipality/village)?

5.

Which target group is the brand aiming at? (if any…)

6.

How big support do you perceive there to be for the brand (among the actors, the local community, the local administration, etc.)? Who, or which part of the local community supports the brand the most?

7.

What is the brand based on? Is it based on the place-specific resources, or is it developed as a reaction to an external demand?

8.

How big a role do the local/place-based resources play for the brand? Resources that are closely related to your place.

9.

What is the aim/purpose with the brand?

10.

Which other ways to reach the aim have you considered?

11.

Have you considered a different focus for the brand than the current one? Explain …

12.

Which relation is there between the general development in the area and your brand or branding process?

13.

Are there other similar projects in your area, and are they done in the same way as yours?

14.

Is there, in general, a good collaboration between associations and the municipality in your area?

15.

How is the relationship between your and other branding projects? Brands of other smaller or bigger or similar places? And what about local or other company brands?

16.

Has the branding process contributed to strengthen the identity of your place, internally and externally?

17.

How is your place's identity reflected or represented in the brand?
Other actors
1.

Who else is involved in the branding process and how?

2.

When have the different actors been part of the branding process? In which phase(s)?

3.

What motivates the other actors to participate in the process?

4.

How do you perceive the other actors' contribution to the process?
Collaboration
1.

How do you organise your collaboration?

2.

How did you get together?

3.

How long have you been discussing?

4.

Who, if anybody, is in control of the process? Who has more or less responsibility and influence?

5.

Who makes sure that all the actors get together around the purpose?

6.

How structured is the process – don't ask directly, but see if they will come with a story that could answer the question

7.

How often do you meet? Or how often do you communicate?

8.

How do you communicate?

9.

How do you think that your collaboration in regards of branding process has worked?

10.

Which challenges have there been with the collaboration in the branding process?

11.

Which benefits have there been in the collaboration?

12.

Regarding strong network with stable relations that brands the place (don't ask directly, but if it won't be clear from the rest, then ask)

13.

Would you say the actors trust each other? That they have trust in each other and the brand?
Brand use/adoption/expression
1.

How is the brand communicated?

2.

How do you communicate or use the brand?

3.

How do the other actors communicate or use the brand?

4.

How has the communication changed throughout the different phases in the branding process?

5.

How is the brand communication or use related to your purpose with the brand?
Evaluation: Value/benefits
1.

Who, in your perception, gets any value of the brand? And from the branding process?

2.

Which value do you get out of being involved in the process?

3.

Which value do you think other stakeholders get from the brand and the branding process?

4.

Which value do you think the place/your area in general gets from the brand and the branding process?
About this article
Cite this article
Gulisova, B., Horbel, C. & Noe, E. Rural place branding from a multi-level perspective: a Danish example. Place Brand Public Dipl 17, 231–248 (2021). https://doi.org/10.1057/s41254-021-00204-8
Revised:

Accepted:

Published:

Issue Date:
Keywords
Place branding

Rural places

Place brand architecture

Vertical levels

Reputation