Abstract
Media blackouts or election silence periods feature in several European democracies. However, this article argues that they have become democratic vulnerabilities in the context of increased Internet-based electoral meddling such as during #MacronLeaks. Using both discourse and social network analyses, this study shows that the vacuum created by the inability of politicians and established media outlets to comment on the leaks empowered unregulated and unreliable sources which sought to drag the direction of the election away from the centre and towards the far right. Our findings have broad implications for understanding how social media activity is structured under the conditions of information leaks. The findings of this study may be relevant to other political events which involve the release of sensitive information via social media.
This is a preview of subscription content, log in to check access.
Access options
Buy single article
Instant access to the full article PDF.
US$ 39.95
Price includes VAT for USA
Subscribe to journal
Immediate online access to all issues from 2019. Subscription will auto renew annually.
US$ 131
This is the net price. Taxes to be calculated in checkout.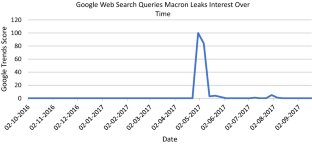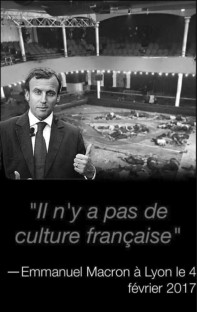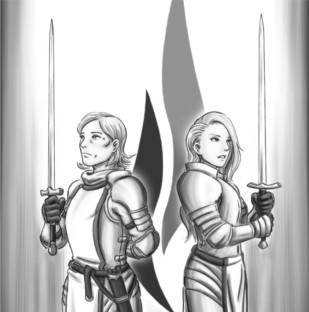 Notes
1.

Two categories did not contain any narratives important to understanding the political discourses about Macronleaks. One was neutral and retweets which contains no important discursive statements, the other was 'humour' which made jokes and parodies about macron leaks. A further 4 categories were not frequent enough to warrant further discussion as they each represented under 5% of the total discussion.
References
About Twitter. n.d.. Twitter Usage/Company Facts. https://about.Twitter.com/company. Last Accessed 19 June 2017.

Almasy, S. 2017. Emmanuel Macron's French presidential campaign hacked [online]. https://edition.cnn.com/2017/05/05/europe/france-election-macron-hack-allegation/index.html. Accessed 8 June 2019.

Aragón, P., K.E. Kappler, A. Kaltenbrunner, D. Laniado, and Y. Volkovich. 2013. Communication dynamics in twitter during political campaigns: The case of the 2011 Spanish National election. Policy and Internet 5(2): 1–24. https://doi.org/10.1002/1944-2866.POI327.

Ahmed, W. 2017. Amplified messages: How hashtag activism and Twitter diplomacy converged at #ThisIsACoup – and won. In Politics, protest, emotion: Interdisciplinary perspectives. A book of blogs, 109–114. Sheffield: United Kingdom.

Ahmed, W., and S. Lugovic. 2019. Social media analytics: Analysis and visualisation of news diffusion using NodeXL. Online Information Review 43: 149–160.

Ahmed, W., P. Bath, and G. Demartini. 2017. Using Twitter as a data source: An overview of ethical, legal, and methodological challenges. In The ethics of online research. Advances in research ethics and integrity, vol. 2, ed. K. Woodfield, 79–107. Bingley: Emerald.

Allcott, H., and M. Gentzkow. 2017. Social media and fake news in the 2016 election. Journal of Economic Perspectives 31(2): 211–236. https://doi.org/10.1257/jep.31.2.211.

Bennett, L. 2006. Communicating global activism: Strength and vulnerabilities of networked politics. In Cyberprotest: New media, citizens and social movements, ed. W. van de Donk, B.D. Loader, P.G. Nixon, and D. Rucht. London: Routledge.

Bennett, W.L. 2012. The personalization of politics: Political identity, social media, and changing patterns of participation. The Annals of the American Academy of Political and Social Science 644(1): 20–39.

Borger, J. 2017. As France becomes latest target, are election hacks the new normal? The Guardian. https://www.theguardian.com/world/2017/may/05/french-election-hack-emmanuel-macron. Accessed 10 July 2017.

Braun, V. 2006. Using thematic analysis in psychology. Qualitative Research in Psychology 32: 77–101.

Brown, G., B. Gillian, and G. Yule. 1983. Discourse analysis. Cambridge, UK: Cambridge University Press.

Bruns, A., T. Highfield, and R.A. Lind. 2012. Blogs, Twitter, and breaking news: The produsage of citizen journalism. Produsing Theory in a Digital World: The Intersection of Audiences and Production in Contemporary Theory 80(2012): 15–32.

Conover, M., J. Ratkiewicz, M.R. Francisco, B. Gonçalves, F. Menczer, and A. Flammini. 2011. Political polarization on Twitter. ICWSM 133: 89–96.

Conseil Constitutionnel. 2017. Élection Présidentielle 2017. https://presidentielle2017.conseil-constitutionnel.fr/tout-savoir/en-resume/textes-de-reference/dispositions-code-electoral-rendues-applicables/dispositions-penales-partie-legislative-vigueur/index.html. Accessed 25 May 2019.

Davies, R. 2009. The use of social network analysis tools in the evaluation of social change communications. Communication for social change consortium.

De Nooy, W., A. Mrvar, and V. Batagelj. 2018. Exploratory social network analysis with Pajek. Cambridge: Cambridge University Press.

Downing, J. 2019. Blurring European and Islamic values or brightening the good – bad Muslim dichotomy? A critical analysis of French Muslim victims of Jihadi terror online on twitter and in Le Monde newspaper. Critical Studies on Terrorism 12(2): 250–272. https://doi.org/10.1080/17539153.2019.1573038.

Fairclough, N. 2010. Critical discourse analysis: The critical study of language. London: Taylor and Francis.

Fereday, J., and E. Muir-Cochrane. 2006. Demonstrating Rigor using thematic analysis: A hybrid approach of inductive and deductive coding and theme development. International Journal of Qualitative Methods 5(1): 80–92.

Freedom House. 2017. Freedom on the Net 2017: Country profile France. https://freedomhouse.org/report/freedom-net/2017/france. Accessed 20 May 2019.

Gardy, J., et al. 2011. Whole-genome sequencing and social-network analysis of a tuberculoisis outbreak. The New England Journal of Medicine 364: 730–739.

Gee, J.P. 2004. An introduction to discourse analysis: Theory and method. London: Routledge.

Gerbaudo, P. 2012. Tweets and the streets: Social media and contemporary activism. London: Pluto Press.

Himelboim, I., M.A. Smith, L. Rainie, B. Shneiderman, and C. Espina. 2017. Classifying Twitter topic-networks using social network analysis. Social Media + Society 3(1): 2056305117691545.

Jégo, Y. 2017. Emmanuel Macron et la reniement de la culture française. http://www.lefigaro.fr/vox/politique/2017/02/06/31001-20170206ARTFIG00209-emmanuel-macron-et-le-reniement-de-la-culture-francaise.php. Accessed 12 Jan 2018.

Kaplan, A.M., and M. Haenlein. 2010. Users of the world, unite! The challenges and opportunities of Social Media. Business Horizons 53: 59–68.

Kress, G. 2012. Multimodal discourse analysis. In The Routledge handbook of discourse analysis, ed. J.P. Gee, and M. Handford, 34–49. London: Routledge.

Kwak, H., C. Lee, H. Park, and S. Moon. 2010. What is Twitter, a social network or a news media?. In Proceedings of the 19th international conference on World wide web, 591–600. ACM.

Loader, B.D., and D. Mercea. 2011. Networking democracy? Social media innovations and participatory politics. Information, Communication & Society 14(6): 757–769.

Laurinavičius, M. 2018. A guide to the Russian tool box of election meddling: a platform to analyse the long term comprehensive strategy of malign influence. http://iesc.lt/app/uploads/2018/10/IESC_Guide_ToolBox_2018_FINAL.pdf. Accessed 23 May 2019.

McCormick, T.H., H. Lee, N. Cesare, A. Shojaie, and E.S. Spiro. 2017. Using Twitter for demographic and social science research: Tools for data collection and processing. Social Media Research 46(3): 390–421.

Nussbaum, E. 2017. How jokes won the election. The New Yorker, January 17 2017. https://www.newyorker.com/magazine/2017/01/23/how-jokes-won-the-election.

Papacharissi, Z. 2016. Affective publics and structures of storytelling: Sentiment, events and mediality. Information, Communication & Society 19(3): 307–324.

Pierron, M. 2017. MacronLeaks: En Marche! piraté, dénonce une "operation de destabilisation" l'express. https://www.lexpress.fr/actualite/politique/elections/macronleaks-des-milliers-d-emails-de-l-equipe-de-campagne-de-macron-pirates_1905721.html. Accessed 24 May 2019.

Reisigl, M., and R. Wodak. 2001. Discourse and discrimination: Rhetorics of racism and anti-semitism. London: Routledge.

Roberts, A. 2012. WikiLeaks: The illusion of transparency. International Review of Administrative Sciences 78(1): 116–133.

Scott, J. 2017. Social network analysis. Thousand Oaks: SAGE.

Segerberg, A., and W.L. Bennett. 2011. Social media and the organization of collective action: Using Twitter to explore the ecologies of two climate change protests. The Communication Review 14(3): 197–215.

Satter, R. 2017. Social media timeout as French election reaches final state, Associated Press. https://apnews.com/40196d9f917840aeb6efaf06b3300c78. Accessed 24 May 2019.

Sifry, M. 2011. WikiLeaks and the age of transparency. United States of America: Counterpoint Publishing.

Smith, M.A., L. Rainie, B. Shneiderman, and I. Himelboim. 2014. Mapping Twitter topic networks: From polarized crowds to community clusters. Pew Research Center 20: 1–56.

Stockdale, R., Ahmed, A., and Scheepers, H. 2012. Identifying business value from the use of social media: An Sme perspective. In PACIS 2012 Proceedings. Paper 169. http://aisel.aisnet.org/pacis2012/169.

Tual, M., and D. Leloup. 2017. ≪MacronLeaks≫: Les questions qui se posent après le piratage d'En marche! http://www.lemonde.fr/pixels/article/2017/05/06/piratage-d-en-marche-les-questions-qui-se-posent_5123507_4408996.html. Accessed 10 July 2017.

Vie Publique. 2017. Les règles de la compagne électorale audiovisuelle et sur internet. https://www.vie-publique.fr/actualite/dossier/presidentielle-2017/regles-campagne-electorale-audiovisuelle-internet.html. Accessed 24 May 2019.

Wolfsfeld, G., E. Segev, and T. Sheafer. 2013. Social media and the Arab Spring: Politics comes first. The International Journal of Press/Politics 18(2): 115–137.

Zappavigna, M. 2012. Discourse of Twitter and Social Media: How We Use Language to Create Affiliation on the Web, Digital ed. London: Bloomsbury.
Additional information
Publisher's Note
Springer Nature remains neutral with regard to jurisdictional claims in published maps and institutional affiliations.
About this article
Cite this article
Downing, J., Ahmed, W. #MacronLeaks as a "warning shot" for European democracies: challenges to election blackouts presented by social media and election meddling during the 2017 French presidential election. Fr Polit 17, 257–278 (2019). https://doi.org/10.1057/s41253-019-00090-w
Keywords
Election meddling

Election silence

Twitter

Politics

Social media

Leaks

Hashtags