Abstract
The resurgence of separatist movements in Scotland and Catalonia illuminate the ebb and flow of such movements over time. The catalysts of separatism in post-industrial democracies are largely treated as circumstantial, but intergenerational data on attitudes towards independence might assist the development of a general theory of support for separatism. This replace draws on the case of Quebec, leveraging a half-century worth of public opinion data to investigate intergenerational shifts in attitudes towards separatism. Historical data from the Canadian Election Study (CES 1968–2011) allow us to test the relationship between attitudes towards independence among youth in Quebec and general levels of support for separatism. Coupled with this are the more than 1 million observations from the 2011 Canadian federal as well as the 2012 and 2014 Quebec provincial editions of Vote Compass. This last dataset allows us to estimate the variation in support for Quebec independence for very precise age groups defined at the year-of-birth level. The results show a clear generational cycle variation that appears correlated with specific series of historical events.
Access options
Buy single article
Instant access to the full article PDF.
US$ 39.95
Tax calculation will be finalised during checkout.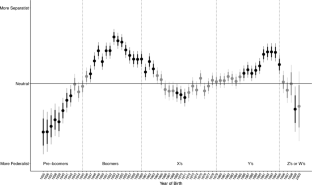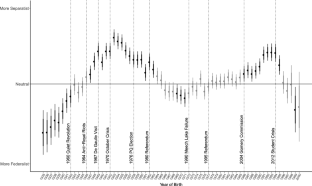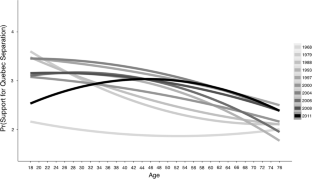 Notes
1.

A confusion persists in the literature about the definition of generation, and its distinction from other concepts such as cohorts (see Alwin and McCammon 2003). For the purpose of this replace, we use the terms generation and cohort interchangeably.

2.

The purpose of Vote Compass' is to help voters position themselves in the political landscape during electoral campaigns. To achieve this, users are prompted to give their opinions regarding 30 policy statements. The application then compares the users' answers with those provided by political parties to create a graphical representation of users on a two-axis political landscape. In addition to its civic engagement purpose, the data generated by the tool is also useful to researchers, given all users' answers are recorded into a database. Vote Compass usually runs for the duration of the campaign period. For more information, see http://www.votecompass.com.

3.

Potential pooling-induced bias is minimized by temporal proximity of the elections and constant levels of attitudes towards Quebec independence. Further analyses also show stability among covariate patterns.

4.

The first CES waves used face-to-face interviews. Also, most CES waves reinterview respondents after the campaign survey using a post-election phone survey and a mailed questionnaire.

5.

The CES question wordings for measuring attitudes towards Quebec separation are as follow: Are you in favour of separation or opposed to it? (1968, 1979); What is your opinion on Quebec independence? (1988); What is your opinion on Quebec sovereignty, that is, Quebec is no longer a part of Canada? (1993); Are you very favourable, somewhat favourable, somewhat opposed, or very opposed to Quebec sovereignty, that is Quebec is no longer a part of Canada? (1997, 2000, 2004, 2006, 2008, 2011).
References
Alvarez, M., M. Franklin, L. de Sio, and A. Trechsel. 2011. Weighting and Matching as Methods for Combining Disparate Survey Data: The European Election Study 2009 and EU Profiler. Presented at the 2011 Midwest Political Science Association Annual Meeting.

Alwin, D.F., and R. McCammon. 2003. Generations, Cohorts, and Social Change. In Handbook of the Life Course, ed. Jeylan T. Mortimer and Michael J. Shanahan, 23–49. New York: Kluwer Academic/Plenum Publishers.

Andersen, R. 2001. National Identity and Independence Attitudes: Minority Nationalism in Scotland and Wales. Centre for Research into Elections and Social Trends Working Paper Number 86.

Asselin, P. 2014. Le parti aveugle. Le Soleil 10th June 2014:17.

Balthazar, L. 2013. Nouveau bilan du nationalisme au Québec. Montréal: VLB Editeur.

Cloutier, Edouard, J.-H. Guay, and D. Latouche. 1992. Le virage: comment le Québec est devenu souverainiste. Montréal: Québec/Amérique.

Crête, J. (ed.). 1984. Comportement électoral au Québec. Chicoutimi: Gaëtan Morin éditeur.

Daoust, J.-F. 2017. Le mystère Québec. Politique et Sociétés 36(2): 143–158.

Dinas, E., and L. Stoker. 2014. Age-Period-Cohort Analysis: A Design-Based Approach. Electoral Studies 33: 28–40.

Erikson, R.S., M.B. MacKuen, and J.A. Stimson. 2002. The Macro Polity. Cambridge: Cambridge University Press.

Fournier, P., F. Gélineau, and A. Harell. 2014. Are Voting Advice Applications" Working Paper. Useful for the Study of Elections? Working Paper.

Fournier, P., F. Gélineau, and A. Harell. 2015. Les systèmes d'aide au vote peuvent-ils être utiles pour l'étude des élections? Revue internationale de politique comparée 22(2):269–296.

Gagné, G., and S. Langlois. 2002. Les raisons fortes. Nature et signification de l'appui à la souveraineté du Québec. Montréal: Les Presses de l'Université de Montréal.

Gagnon, K. 2014a. Le projet de deux générations. La Presse June 3rd 2014:4–5.

Gagnon, K. 2014b. Radiographie politique d'une génération. Le Droit June 2nd:15.

Ghitza, Y., and A. Gelman. 2014. The Great Society, Reagan's Revolution, and Generations of Presidential Voting. Working Paper.

Grégoire, M., E. Montigny, and Y. Rivest. 2016. Le cœur des Québécois: Évolution du Québec depuis 1976. Québec: Presses de l'Université Laval.

Guibernau, M. 2014. Radiographie politique d'une génération. The International Spectator 49(3): 106–117.

Henderson, A. 2005. Identity Measurement in Scotland and Québec: The Meaning and Salience of Identity Markers. British Journal of Canadian Studies 18(2): 269–291.

Henderson, A., and C. Coates. 2005. Introduction: Scotland and Québec: An Evolving Comparison. British Journal of Canadian Studies 18(2): 207–2013.

Langlois, S. 2017. Le Québec change. Montréal: DelBusso.

Lewis-Beck, M.S., W.J. Jacoby, H. Norpoth, and H.F. Weisberg. 2008. The American Voter Revisited. Ann Arbor: The University of Michigan Press.

Mahéo, V., and É. Bélanger. 2018. Is the Parti Québécois Bound to Disappear? A Study of the Current Generational Dynamics of Electoral Behaviour in Quebec. Canadian Journal of Political Science 51(2): 335–356.

Martin, P. 1994. Générations politiques, rationalité économique et appui à la souveraineté au Québec. Canadian Journal of Political Science 27(2): 345–359.

Martin, P., and R. Nadeau. 2002. Understanding Opinion Formation on Quebec Sovereignty. In Citizen Politics: Research and Theory in Canadian Political Behaviour, ed. Joanna Everitt and Brenda O'Neill, 142–159. Don Mills, ON: Oxford University Press.

McRoberts, K. 1999. Quebec: Social Change and Political Crisis. Toronto: Oxford University Press.

Monière, D., and J.H. Guay (eds.). 1996. La bataille du Québec -Troisième épisode: 30 jours qui ébranlèrent le Canada. Boucherville: Fides.

Montigny, E. 2018. Un bilan de l'expérience référendaire québécoise. In La démocratie référendaire dans les ensembles plurinationaux, ed. Amélie Binette and Patrick Taillon, 505–525. Québec: PUL.

Nadeau, R. 1992. Le virage souverainiste des Québécois, 1980–1990. Recherches sociographiques. 33(1): 9–28.

Nadeau, R., and E. Bélanger. 2013. Un modèle général d'explication du vote des Québécois. In Les Québécois aux urnes, ed. Frédérick Bastien, Eric Bélanger, and François Gélineau, 191–208. Montréal: Les Presses de l'Université de Montréal.

Paterson, L. 2006. Sources of Support for the SNP. In Has Devolution Delivered?, ed. Catherine Bromley, 46–68. Edinburgh: Edinburgh University Press.

Pianzola, J. 2014. Selection Biases in Voting Advice Application Research. Electoral Studies 36: 272–280.

Pinard, M., R. Bernier, and V. Lemieux. 1997. Un combat inachevé. Sainte-Foy: Les Presses de l'Université du Québec.

Schneider, A. 2014. Age and Variations in the Attitude towards Scottish Independence—An Exploration of Cohort and Lifecycle Explanations. Scottish Affairs 23(1): 55–78.

Serrano, I. 2013. Just a Matter of Identity? Support for Independence in Catalonia. Regional & Federal Studies 23(5): 523–545.

Soerensen, R.J. 2013. Does Aging Affect Preferences for Welfare Spending? A Study of Peoples' Spending Preferences in 22 Countries, 1985–2006. European Journal of Political Economy 29: 259–271.

Studlar, D.T., and I. McAllister. 1988. Nationalism in Scotland and Wales: A PostIndustrial Phenomenon? Ethnic & Racial Studies 11(1): 48–62.

Tesler, M. 2015. Priming Predispositions and Changing Policy Positions: An Account of When Mass Opinion Is Primed or Changed. American Journal of Political Science 59(4): 806–824.

Tilley, J. 2002. Political Generations and Partisanship in the UK, 1964–1997. Journal of the Royal Statistical Society: Series A 165(1): 121–135.

Vallée-Dubois, F., R. Dassonville, and J.F. Godbout. 2017. About Time: Age, Period, and Cohort Effects on Support for Quebec Sovereignty. Nation and Nationalism 1–22.

Vries, M.S.D. 2005. Changing Policy Views at the Local Level: The Effect of Age, Generations and Policy-Periods in five European Countries. European Journal of Political Research 44(1): 1–15.

Wang, W., D. Rothschild, S. Goel, and A. Gelman. 2015. Forecasting Elections with Non-representative Polls. International Journal of Forecasting 3(3): 980–999.
Additional information
Publisher's Note
Springer Nature remains neutral with regard to jurisdictional claims in published maps and institutional affiliations.
About this article
Cite this article
Dufresne, Y., Tessier, C. & Montigny, E. Generational and life-cycle effects on support for Quebec independence. Fr Polit 17, 50–63 (2019). https://doi.org/10.1057/s41253-019-00083-9
Keywords
Quebec separatism

Generations effects

Public opinion

Political socialization

Canada

Electoral behaviour