Abstract
Much is known about the domestic politics of globalization, but political scientists have largely ignored one critical link between the international economy and many individuals around the world: mass media. Considering the likely effects of mass media on public perceptions of responsibility, this article develops an argument about the effects of mass media on individuals' blame attributions for the adjustment costs of economic globalization. The theory is tested on survey data from France in 1992–1993. The evidence suggests that mass media may shift the public's blame attributions away from the government and toward external, international forces.
This is a preview of subscription content, log in to check access.
Access options
Buy single article
Instant access to the full article PDF.
US$ 39.95
Price includes VAT for USA
Subscribe to journal
Immediate online access to all issues from 2019. Subscription will auto renew annually.
US$ 131
This is the net price. Taxes to be calculated in checkout.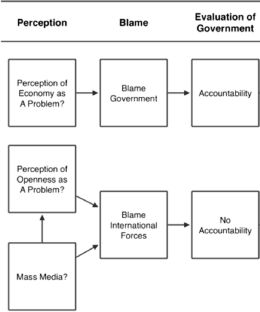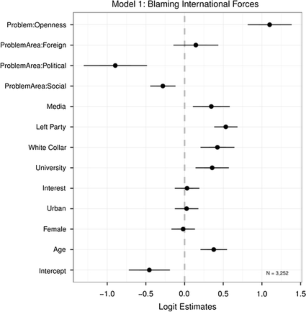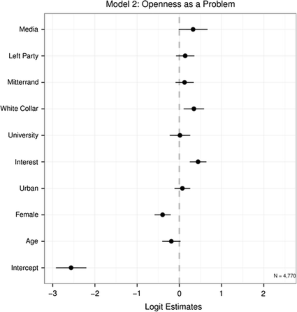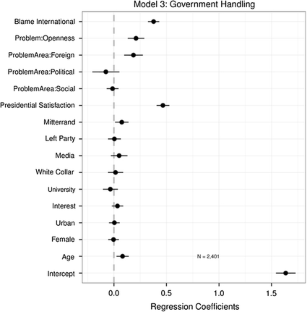 Notes
1.

See Supplementary Information for the text of the survey questions and summary statistics.

2.

Respondents were asked to identify national problems in an open-ended fashion; their answers were then coded by the interviewer and into the general problem types listed here. To create the binary variable which measures whether the respondent sees some aspect of international economic openness as a top problem, I coded respondents as 1 if they identified one of the following issues as one of the "second most important problems": "Intl economic competition," "EC-92, economic integration," "Foreign trade," "Ratification of Maastricht," and "Maastricht Treaty." All other respondents were coded as 0 for the variable OpennessProblem.

3.

Because of space constraints and for ease of interpretation in light of the hypotheses under consideration, I consider here only the difference between blaming the government and blaming international forces, omitting respondents who placed the blame on "society" or "people like you and me." However, the results obtained here are robust to alternative specifications in which the dependent variable takes a value of 1 for respondents who blame international forces and 0 for respondents who select any of the other possible targets of blame. See Supplementary Information for results from alternative specifications.

4.

In the first wave of the survey, so many respondents identified unemployment as the top problem facing France that a question was added to measure what respondents identified as the "second most important problem facing France today." All the analyses here, including the variables measuring blame attributions and evaluations of government handling, refer to this second most important problem.

5.

Numerical model results are included in Supplementary Information. All models were estimated with the Zelig package in R (Imai et al. 2009).

6.

"Typical" refers to mean values on the numerical independent variables and the reference levels for categorical variables, i.e., in this case, a non-urban, non-university-educated, non-white-collar, non-left-party male at the mean age and with mean levels of political interest, who identifies the second top problem as "Economic" and not related to economic openness.

7.

It could be the case that individuals with cosmopolitan outlooks are more interested in mass media because of their greater interest in global issues, in which case mass media exposure could be endogenous to knowledge of issues surrounding economic globalization. Although the survey data used in this paper provide no measure of overall interest in international affairs, the analyses below control for the best predictors of cosmopolitanism: education, class, and general interest in politics. Because these are the best predictors of cosmopolitanism, it seems unlikely that observing an independent effect of mass media exposure would be spurious due to this particular risk of endogeneity.

8.

See Supplementary Information.

9.

See Supplementary Information.
References
Adserà, Alícia, and Carles Boix. 2002. Trade, democracy, and the size of the public sector: The political underpinnings of openness. International Organization 56 (2): 229–262.

Alcañiz, Isabella, and Timothy Hellwig. 2010. Who's to blame? The distribution of responsibility in developing democracies. British Journal of Political Science 41 (2): 389–411.

Ancelovici, Marcos. 2002. Organizing against globalization: The case of ATTAC in France. Politics & Society 30 (3): 427–463.

Arceneaux, Kevin. 2003. The conditional impact of blame attribution on the relationship between economic adversity and turnout. Political Research Quarterly 56 (1): 67–75.

Baker, Andy. 2003. Why is trade reform so popular in Latin America? A consumption-based theory of trade policy preferences. World Politics 55 (3): 423–455.

Baker, Andy. 2005. Who wants to globalize? Consumer tastes and labor markets in a theory of trade policy beliefs. American Journal of Political Science 49 (4): 924–938.

Baker, Andy. 2009. The market and the masses in Latin America: Policy reform and consumption in liberalizing economies. Cambridge: Cambridge University Press.

Bennett, W. Lance. 1990. Toward a theory of press-state relations in the United States. International Studies Quarterly 40 (2): 103–127.

Bennett, W. Lance, Regina G. Lawrence, and Steven Livingston. 2006. None dare call it torture: Indexing and the limits of press independence in the Abu Ghraib Scandal. International Studies Quarterly 56 (3): 467–485.

Benson, Rodney. 2009. What makes news more multiperspectival? A field analysis. Poetics 37 (5–6): 402–418.

Benson, Rodney, and Daniel C. Hallin. 2007. How states, markets and globalization shape the news. European Journal of Communication 22 (1): 27–48.

Berger, Suzanne. 2000. Globalization and politics. Annual Review of Political Science 3 (1): 43–62.

Chrique, Philippe. 1997. Legidoscope: Trend surveys of french public opinion and media usage, September 1992–May 1993. Inter-university Consortium for Political and Social Research (ICPSR) [distributor]. doi:10.3886/ICPSR06826.v1.

Desbos, Clément, and Frédéric Royall. 2011. Globalization and political posturing on the left in France in the 1990s. French Politics 9 (2): 139–157.

Garrett, Geoffrey. 1995. Capital mobility, trade, and the domestic politics of economic policy. International Organization 49 (4): 657–687.

Gourevitch, Peter. 1978. The second image reversed: The international sources of domestic politics. International Organization 32 (4): 881–912.

Guisinger, Alexandra. 2009. Determining trade policy: Do voters hold politicians accountable? International Organization 63 (3): 533–557.

Hay, Colin. 2002. Globalisation as a problem of political analysis: Restoring agents to a 'process without a subject' and politics to a logic of economic compulsion. Cambridge Review of International Affairs 15 (3): 379–392.

Hay, Colin, and Ben Rosamond. 2002. Globalization, European integration and the discursive construction of economic imperatives. Journal of European Public Policy 9 (2): 147–167.

Hay, Colin, and Nicola Smith. 2005. Horses for courses? The political discourse of globalisation and European integration in the UK and Ireland. West European Politics 28 (1): 124–158.

Hays, Jude C., Sean D. Ehrlich, and Clint Peinhardt. 2005. Government spending and public support for trade in the OECD: An empirical test of the embedded liberalism thesis. International Organization 59 (2): 473–494.

Hellwig, T., and D. Samuels. 2007. Voting in open economies: The electoral consequences of globalization. Comparative Political Studies 40 (3): 283–306.

Hellwig, Timothy. 2007. Globalization and perceptions of policy maker competence: Evidence from France. Political Research Quarterly 60 (1): 146–158.

Hellwig, Timothy. 2008. Globalization, policy constraints, and vote choice. The Journal of Politics 70 (4): 1128–1141.

Hellwig, Timothy. 2014. Globalization and mass politics: Retaining the room to maneuver. Cambridge: Cambridge University Press.

Hellwig, Timothy, and Eva Coffey. 2011. Public opinion, party messages, and responsibility for the financial crisis in Britain. Electoral Studies 30 (3): 417–426.

Hood, Christopher. 2002. The risk game and the blame game. Government and Opposition 37 (1): 15–37.

Imai, Kosuke, Gary King, and Olivia Lau. 2009. Zelig: Everyone's Statistical Software. http://gking.harvard.edu/zelig.

Iyengar, Shanto. 1987. Television news and citizens' explanations of national affairs. The American Political Science Review 81 (3): 815–831.

Iyengar, Shanto. 1991. Is anyone responsible? How television frames political issues. Chicago: University of Chicago Press.

Jacobson, Gary C., and Samuel Kernell. 1983. Strategy and choice in congressional elections, 2nd ed. New Haven: Yale University Press.

Katzenstein, Peter J. 1985. Small states in world markets: Industrial policy in Europe. Ithaca, NY: Cornell University Press.

Kayser, Mark Andreas. 2007. How domestic is domestic politics? Globalization and elections. Annual Review of Political Science 10 (1): 341–362.

McGraw, Kathleen M. 1990. Avoiding blame: An experimental investigation of political excuses and justifications. British Journal of Political Science 20 (1): 119–142.

McGraw, Kathleen M. 1991. Managing blame: An experimental test of the effects of political accounts. American Political Science Review 85 (4): 1133–1157.

McGraw, Kathleen M., Samuel Best, and Richard Timpone. 1995. 'What they say or what they do?' The impact of elite explanation and policy outcomes on public opinion. American Journal of Political Science 39 (1): 53–74.

Mutz, Diana C. 1992. Mass media and the depoliticization of personal experience. American Journal of Political Science 36 (2): 483–508.

Mutz, Diana C. 1994. Contextualizing personal experience: The role of mass media. The Journal of Politics 56 (3): 689–714.

Norris, Pippa. 2000. Virtuous circle. Political communications in postindustrial societies. Cambridge: Cambridge University Press.

Oatley, Thomas. 2011. The reductionist gamble: Open economy politics in the global economy. International Organization 65 (2): 311–341.

Polanyi, Karl. 1944. The great transformation: The political and economic origins of our time, 2nd ed. Boston: Beacon Press.

Putnam, Robert D. 1995. Tuning in, tuning out: The strange disappearance of social capital in America. PS: Political Science & Politics 28 (4): 664–683.

Rodrik, Dani. 1998. Why do more open economies have bigger governments? Journal of Political Economy 106 (5): 997–1032.

Ruggie, John Gerard. 1982. International regimes, transactions, and change: embedded liberalism in the postwar economic order. International Organization 36 (2): 379–415.

Sattler, Thomas, John R. Freeman, and Patrick T. Brandt. 2008. Political accountability and the room to maneuver: A search for a causal chain. Comparative Political Studies 41 (9): 1212–1239.

Sattler, Thomas, Patrick T. Brandt, and John R. Freeman. 2010. Democratic accountability in open economies. Quarterly Journal of Political Science 5 (1): 71–97.

Schmidt, Vivien A. 2007. Trapped by their ideas: French Élites' discourses of European integration and globalization. Journal of European Public Policy 14 (7): 992–1009.

Walter, Stefanie. 2010. Globalization and the welfare state: Testing the microfoundations of the compensation hypothesis. International Studies Quarterly 54 (2): 403–426.

Weaver, R. Kent. 1986. The politics of blame avoidance. Journal of Public Policy 6 (4): 371–398.

Zaller, John, and Dennis Chiu. 1996. Government's little helper: U.S. Press Coverage of Foreign Policy Crises, 1945–1991. Political Communication 13 (4): 385–405.
Electronic supplementary material
Below is the link to the electronic supplementary material.
About this article
Cite this article
Murphy, J. Mass media and the attribution of blame for globalization. Fr Polit 15, 443–459 (2017). https://doi.org/10.1057/s41253-017-0032-y
Keywords
Media

Globalization

Blame

Public opinion