Abstract
China's growing outward investment in Asia-Pacific is motivated by the potential for economic gains, but could also affect regional geopolitical risk. Using survey data from 2005 to 2016, we show that an increase in Chinese FDI in a country improves respondents' perceptions of Chinese influence on their country. We also show that perceptions of China are correlated with future business confidence in Asia-Pacific countries. With China advancing plans for further regional investment, notably through the Belt and Road Initiative, the economic and business outlook for Asia-Pacific could improve significantly, adding to existing advantages from regional economic and demographic trends.
This is a preview of subscription content, log in to check access.
Access options
Buy single article
Instant access to the full article PDF.
US$ 39.95
Price includes VAT for USA
Subscribe to journal
Immediate online access to all issues from 2019. Subscription will auto renew annually.
US$ 99
This is the net price. Taxes to be calculated in checkout.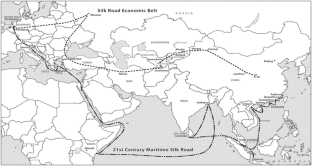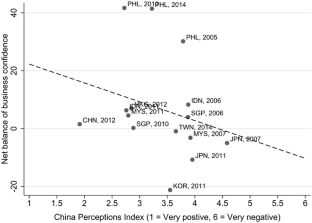 Notes
1.

The China Global Investment Tracker database categorizes transactions as "troubled" if the commercial terms of a deal are altered after the deal is finalized, or if the deal is canceled for non-commercial reasons. In this study, we exclude troubled transactions from our measure of aggregate (country-level) investment.

2.
References
American Enterprise Institute and Heritage Foundation. 2017. China Global Investment Tracker. Washington, DC, USA: American Enterprise Institute.

Haenle, P. 2017. Xi's Vision for China's Belt and Road Initiative. Carnegie-Tsinghua Center for Global Policy.

Hornby, L. 2016. China seeks foreign investors for One Belt, One Road push.  Financial Times. https://www.ft.com/content/b04c0800-2246-11e6-aa98-db1e01fabc0c.

Hu, F., and Y.-H. Chu. 2016. Asian Barometer Survey. Taipei, Taiwan.

Liao, T. X., L.-G. Liu, E. L. Morse, J. Su, and X. Jin. 2017. China's One Belt One Road Initiative: Will it boost global commodities demand? China Commodities Focus. Citi Research.

Riley, C. 2012. Will China's auto boycott backfire? CNN Money. http://money.cnn.com/2012/10/11/news/economy/japan-china-autos/index.html.

Rolland, N. 2017. China's Eurasian Century? Political and Strategic Implications of the Belt and Road Initiative. Washington, D.C.: The National Bureau of Asian Research.

Song, J.-A. 2017. South Korean carmakers feel impact of China anti-THAAD sentiment. Financial Times. https://www.ft.com/content/ab64d6f0-18fe-11e7-a53d-df09f373be87.
Additional information
Data analyzed in this article were collected by the Asian Barometer Project (2005–2016), which was co-directed by Professors Fu Hu and Yun-han Chu and received major funding support from Taiwan's Ministry of Education, Academia Sinica and National Taiwan University. The Asian Barometer Project Office (www.asianbarometer.org) is solely responsible for the data distribution. The author(s) appreciate the assistance in providing data by the institutes and individuals aforementioned. The views expressed herein are the author's own.
About this article
Cite this article
O'Trakoun, J. China's belt and road initiative and regional perceptions of China. Bus Econ 53, 17–24 (2018). https://doi.org/10.1057/s11369-017-0062-0
Keywords
China

Belt and road

FDI

Perception

Business risk
JEL Classification