Abstract
In this article we propose a new dynamic pricing approach for the hotel revenue management problem. The proposed approach is based on having 'price multipliers' that vary around '1' and provide a varying discount/premium over some seasonal reference price. The price multipliers are a function of certain influencing variables (for example, hotel occupancy, time until arrival). We apply an optimization algorithm for determining the parameters of these multipliers, the goal being to maximize the revenue, taking into account current demand, and the demand-price sensitivity of the hotel's guest. The optimization algorithm makes use of a Monte Carlo simulator that simulates all the hotel's processes, such as reservations arrivals, cancellations, duration of stay, no shows, group reservations, seasonality and trend, as faithfully as possible. We have tested the proposed approach by successfully applying it to the revenue management problem of Plaza Hotel, Alexandria, Egypt, as a case study.
Access options
Buy single article
Instant access to the full article PDF.
US$ 39.95
Tax calculation will be finalised during checkout.
Subscribe to journal
Immediate online access to all issues from 2019. Subscription will auto renew annually.
US$ 259
Tax calculation will be finalised during checkout.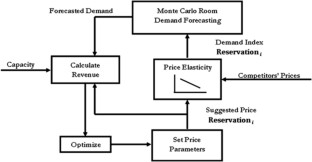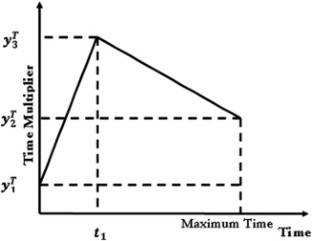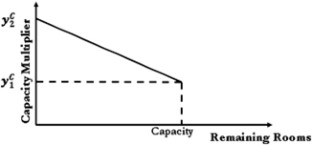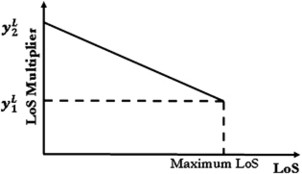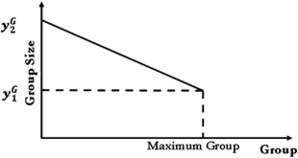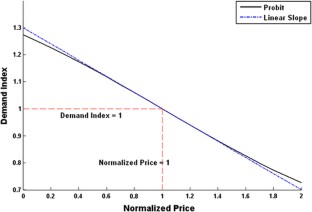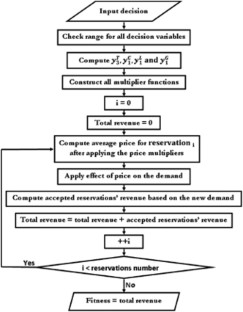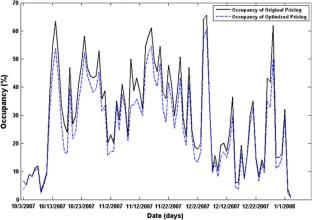 References
Abdel Aziz, H., Saleh, M., Rasmy, M. and El-Shishiny, H. (2011) Dynamic room pricing model for hotel revenue management systems. Egyptian Informatics Journal 12 (3): 177–183.

Akçay, Y., Natarajan, H.P. and Xu, S.H. (2010) Joint dynamic pricing of multiple perishable products under consumer choice. Management Science 56 (8): 1345.

Andrawis, R. and Atiya, A. (2009) A new bayesian formulation for holt's exponential smoothing. Journal of Forecasting 28 (3): 218–234.

Auger, A. and Hansen, N. (2005) A restart CMA evolution strategy with increasing population size. In: Evolutionary Computation, 2005 The 2005 IEEE Congress On, IEEE, pp. 1769–1776.

Badinelli, R.D. (2000) An optimal, dynamic policy for hotel yield management. European Journal of Operational Research 121 (3): 476–503.

Baker, T., Murthy, N.N. and Jayaraman, V. (2002) Service package switching in hotel revenue management systems. Decision Sciences 33 (1): 109–132.

Baker, T.K. and Collier, D.A. (1999) A comparative revenue analysis of hotel yield management heuristics. Decision Sciences 30 (1): 239–263.

Bitran, G.R. and Gilbert, S.M. (1996) Managing hotel reservations with uncertain arrivals. Operations Research 44 (1): 35–49.

Bitran, G.R. and Mondschein, S.V. (1995) An application of yield management to the hotel industry considering multiple day stays. Operations Research 43 (3): 427–443.

Chatwin, R.E. (2000) Optimal dynamic pricing of perishable products with stochastic demand and a finite set of prices. European Journal of Operational Research 125 (1): 149–174.

Choi, T.Y. and Cho, V. (2000) Towards a knowledge discovery framework for yield management in the Hong Kong hotel industry. International Journal of Hospitality Management 19 (1): 17–31.

El Gayar, N.F., Saleh, M., Atiya, A., El-Shishiny, H., Zakhary, A. and Habib, H. (2011) An integrated framework for advanced hotel revenue management. International Journal of Contemporary Hospitality Management 23 (1): 84–98.

Feng, Y. and Xiao, B. (2000) Optimal policies of yield management with multiple predetermined prices. Operations Research 48 (2): 332–343.

Fibich, G., Gavious, A. and Lowengart, O. (2005) The dynamics of price elasticity of demand in the presence of reference price effects. Journal of the Academy of Marketing Science 33 (1): 66–78.

Gallego, G. and Van Ryzin, G. (1994) Optimal dynamic pricing of inventories with stochastic demand over finite horizons. Management science 40 (8): 999–1020.

Goldman, P., Freling, R., Pak, K. and Piersma, N. (2002) Models and techniques for hotel revenue management using a rolling horizon. Journal of Revenue and Pricing Management 1 (3): 207–219.

Guadix, J., Cortés, P., Onieva, L. and Muñuzuri, J. (2010) Technology revenue management system for customer groups in hotels. Journal of Business Research 63 (5): 519–527.

Gu, Z. and Caneen, J.M. (1998) Quadratic models for yield management in hotel rooms operation. Progress in Tourism and Hospitality Research 4 (3): 245–253.

Hansen, N. (2009) Benchmarking a BI-population CMA-ES on the BBOB-2009 function testbed. In: GECCO Genetic and Evolutionary Computation Conference, NY, USA: ACM, pp. 2389–2395.

Hansen, N. and Kern, S. (2004) Evaluating the CMA evolution strategy on multimodal test functions. In: X. and others YAO (ed.) Parallel Problem Solving from Nature PPSN VIII. Berlin-Heidelberg, Germany: Springer, pp. 282–291.

Ingold, A., McMahon-Beattie, U. and Yeoman, I. (2000) Yield Management: Strategies for the Service Industries. London: Continuum.

Ivanov, S. and Zhechev, V.S. (2011) Hotel Revenue Management – A Critical Literature Review, Zagreb, Croatia: Institute for Tourism.

Koide, T. and Ishii, H. (2005) The hotel yield management with two types of room prices, overbooking and cancellations. International Journal of Production Economics 93–94 (0): 417–428.

Lai, K.K. and Ng, W.L. (2005) A stochastic approach to hotel revenue optimization. Computers & Operations Research 32 (5): 1059–1072.

McGill, J.I. (1989) Optimization and estimation problems in airline yield management. PhD thesis, University of British Columbia, Canada.

McGill, J.I. and Van Ryzin, G.J. (1999) Revenue management: Research overview and prospects. Transportation Science 33 (2): 233–257.

Nagrath, I.J. and Gopal, M. (2005) Control Systems Engineering. New Delhi, India: New Age International.

Open Curve Fitting Tool. (2012) MATLAB Help, http://www.mathworks.com/help/toolbox/curvefit/cftool.html, accessed 9 March 2012.

Perakis, G. and Sood, A. (2004) Competitive Multi-period Pricing with Fixed Inventories: High Performance Computation for Engineered Systems (HPCES) Series. MA, USA: Massachusetts Institute of Technology. MIT Research Report.

Pullman, M. and Rodgers, S. (2010) Capacity management for hospitality and tourism: A review of current approaches. International Journal of Hospitality Management 29 (1): 177–187.

Talluri, K.T. and Van Ryzin, G. (2005) The Theory and Practice of Revenue Management. NY, USA: Springer-Verlag.

Vinod, B. (2004) Unlocking the value of revenue management in the hotel industry. Journal of Revenue and Pricing Management 3 (2): 178–190.

Zakhary, A., Atiya, A., El-Shishiny, H. and El-Gayar, N. (2009) Forecasting hotel arrivals and occupancy using monte carlo simulation. Journal of Revenue & Pricing Management 10 (4): 344–366.

Zhao, W. and Zheng, Y.S. (2000) Optimal dynamic pricing for perishable assets with nonhomogeneous demand. Management Science 46 (3): 375–388.
Acknowledgements
We acknowledge Professor Hanan Kattara of Alexandria University (and the owner of Plaza Hotel) for her generous help and willingness to supply all Plaza Hotel's data. We also thank Emad Mourad, the manager of Plaza Hotel, for his assistance.
Additional information
3received his BS from Cairo University, Egypt, and an MS and PhD from Caltech, Pasadena, CA, all in electrical engineering. Dr Atiya is currently a professor in the Department of Computer Engineering, Cairo University. He has recently held several visiting appointments, such as at Caltech and at Chonbuk National University, South Korea. His research interests are in the areas of machine learning, theory of forecasting, computational finance and Monte Carlo methods, and business application of these fields. He has received several awards, such as the Kuwait Prize in 2005. He was an associate editor for IEEE Transactions on Neural Networks from 1998 to 2008, and is currently an associate editor for the International Journal of Forecasting.
About this article
Cite this article
Bayoumi, AM., Saleh, M., Atiya, A. et al. Dynamic pricing for hotel revenue management using price multipliers. J Revenue Pricing Manag 12, 271–285 (2013). https://doi.org/10.1057/rpm.2012.44
Received:

Revised:

Published:

Issue Date:
Keywords
revenue management system

dynamic pricing

price elasticity

Monte Carlo simulation

hotel room forecasting