Abstract
Hotel companies are struggling to keep up with the rapid consumer adoption of social media. Although many companies have begun to develop social media programs, the industry has yet to fully explore the potential of this emerging data and communication resource. The revenue management department, as it evolves from tactical inventory management to a more expansive role across the organization, is poised to be an early adopter of the opportunities afforded by social media. We propose a framework for evaluating social media-related revenue management opportunities, discuss the issues associated with leveraging these opportunities and propose a roadmap for future research in this area.
Access options
Buy single article
Instant access to the full article PDF.
USD 39.95
Price excludes VAT (USA)
Tax calculation will be finalised during checkout.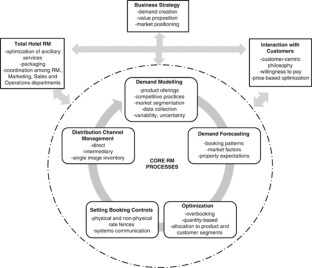 Notes
The validity of customer reviews is a legitimate concern for hotel organizations. On the one hand, it could be argued that, unless some means is employed to identify false reviews and discount them from a sentiment analysis, this analysis will yield erroneous results. However, it could also be argued that it is what consumers believe, their 'reality' (whether based on false reviews or not), that really counts. If consumers regard false reviews as credible, then management needs to understand the content of those reviews such that appropriate strategies can be deployed to offset any negative consumer reaction they may engender.
References
Aggarwal, A. (2010) Integrating social media with Internet marketing. Paper presented at the Eye for Travel, Travel Distribution Summit; 14 October, Chicago.

Anderson, C.K. and Carroll, B. (2007) Demand management, beyond revenue management. Journal of Pricing and Revenue Management 6 (4): 260–263.

Anonymous. (2010a) Owner Henry Kallan leverages social media for four New York City hotels. Hotel Online, 15 January, http://www.hotelonline.com/News/PR2010_1st/Jan10_HKSocialMedia.html, accessed 10 July 2010.

Anonymous. (2010b) High Peaks Resort's highly effective social media promotion. 30 August, http://www.e-marketingassociates.com/enewsletter-blog/index.php?p=382, accessed 2 July 2010.

Anonymous. (2010c) Best Western Hotel launches online booking widget to reach customers via desktops, Facebook and the web with WorkLight. 10 March, http://www.pitango.com/news_item.asp?ID=966, accessed 14 July 2010.

Bodnar, K. (2010) The ultimate list: 300+ social media statistics. 13 May, http://blog.hubspot.com/blog/tabid/6307/bid/5965/The-Ultimate-List-300-Social-Media-Statistics.aspx?source=Webbiquity, accessed 21 September 2010.

Callari, R. (2010) Hotel bookings migrate from web sites to Facebook & iPhones. 26 May, http://inventorspot.com/articles/hotel_bookings_migrate_web_sites_facebook_iphones_42479, accessed 10 August 2010.

Cross, R.G., Higbie, J.A. and Cross, D.Q. (2009) Revenue management's renaissance: A rebirth of the art and science of profitable revenue generation. Cornell Hospitality Quarterly 50 (1): 56–81.

Evans, M. (2010) 10 Reasons why social media fails. 5 November, http://blog.sysomos.com/category/social-media/, accessed 5 November 2010.

Garbarino, E. and Johnson, M.S. (1999) The different roles of satisfaction, trust and commitment in customer relationships. Journal of Marketing 63 (2): 70–87.

Goldberg, S. (2010) YouTube exceeds 2 billion views a day. 17 May, http://scitech.blogs.cnn.com/2010/05/17/youtube-exceeds-2-billion-views-a-day/, accessed 2 August 2010.

Jones, R. (2009) Social media marketing 101, Part 1. 16 February, http://searchenginewatch.com/3632809, accessed 23 July 2010.

Kaplan, A.M. and Haenlein, M. (2010) Users of the world, unite! The challenges and opportunities of social media. Business Horizons 53 (1): 59–68.

Kimes, S.E. (2000) Revenue management on the links. Cornell Hotel and Restaurant Administration Quarterly 41 (1): 120–127.

Kimes, S.E. and McGuire, K.A. (2001) Function-space revenue management: A case study from Singapore. Cornell Hotel and Restaurant Administration Quarterly 42 (6): 33–46.

Kimes, S.E. and Schruben, L.W. (2002) Golf course revenue management: A study of tee time intervals. Journal of Revenue and Pricing Management 1 (2): 111–120.

Kimes, S.E., Chase, R.B., Choi, S., Lee, P.Y. and Ngonzi, E.N. (1998) Restaurant revenue management: Applying yield management to the restaurant industry. Cornell Hotel and Restaurant Administration Quarterly 39 (3): 32–39.

Lanz, L., Fischhof, B. and Lee, R. (2010) How are Hotels Embracing Social Media in 2010? Examples of How to Start Engaging. New York: HVS Sales and Marketing Services.

Leo, J. (2009) Q&A with Ritz-Carlton President Simon Cooper about joining Twitter. 2 June, http://travel.latimes.com/daily-deal-blog/index.php/qa-with-ritz-carlton-4567/, accessed 15 August 2010.

Morgan, R.M. and Hunt, S.D. (1994) The commitment-trust theory of relationship marketing. Journal of Marketing 56 (July): 20–38.

Noone, B., Kimes, S., Mattila, A. and Wirtz, J. (2009) Perceived service encounter pace and customer satisfaction: An empirical study of restaurant experiences. Journal of Service Management 20 (4): 380–403.

Torres, R. (2010) Today's traveler online: 5 consumer trends to guide your marketing strategy. Paper presented at the Eye for Travel, Travel Distribution Summit; 14 October, Chicago.

Zibreg, C. (2010) Google says a day's worth of videos is now being uploaded to YouTube each minute. 18 March, http://www.geek.com/articles/google/google-says-a-days-worth-of-videos-is-now-being-uploaded-to-youtube-each-minute-20100318/comment-page-1/, accessed 10 July 2010.
Additional information
eleads the hospitality and travel global practice at SAS. She holds a PhD from Cornell University. Her team is responsible for designing analytic software solutions for the hospitality and travel industries. Her work focuses in particular on the integration of revenue management with marketing, sales and social media.
About this article
Cite this article
Noone, B., McGuire, K. & Rohlfs, K. Social media meets hotel revenue management: Opportunities, issues and unanswered questions. J Revenue Pricing Manag 10, 293–305 (2011). https://doi.org/10.1057/rpm.2011.12
Received:

Revised:

Published:

Issue Date:

DOI: https://doi.org/10.1057/rpm.2011.12
Keywords
revenue management

social media

hotels

marketing

pricing

consumer behavior