Abstract
We analyse the choice of pay-per-view (PPV) and pay-per-click (PPC) when a web publisher is a price taker in the market for advertising banners, and the number of visits is decreasing in advertising. Several pricing recommendations are developed. First, the web publisher should always choose either PPV or PPC. Specifically, if the click-through rate is less than the ratio of PPV to PPC prices, then PPV should be chosen, and vice versa. Furthermore, if the click-through rate is exogenous, then the optimal amount of advertising is the same for both pricing methods. Finally, if the click-through rate is endogenous, the amount of advertising will be different under PPV and PPC.
Access options
Buy single article
Instant access to the full article PDF.
US$ 39.95
Tax calculation will be finalised during checkout.
Subscribe to journal
Immediate online access to all issues from 2019. Subscription will auto renew annually.
US$ 259
Tax calculation will be finalised during checkout.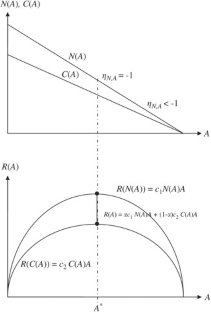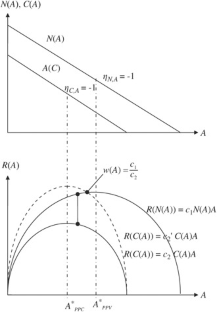 Notes
1.

The number of clicks is related to the number of views through the click-through rate, that is, the rate of views that turn into clicks.

2.

For a more extensive discussion of the web publisher market, see Mangani (2004).

3.

They use the term 'pay-per-view' about subscribers' payment for content such as video on demand (as opposed to advertising sponsored access to web content).

4.

5.

Like Mangani (2004), we do not explicitly include this indirect effect in (1), as doing so would reduce tractability without altering our conclusions.

6.

The click-through rate is sometimes also thought to be related to position on the website. A position high up (or near the result from a query) is assumed to have a higher click-through rate than a position lower on the screen (eg Edelman et al., 2007). We do not consider that dimension.

7.

The objective function could also have been written as R(A N , A C )=c1N(A)A N +c2w(A)N(A)A C where A=A N +A C , and solved explicitly for amount of advertising sold as PPV, A N , and amount sold as PPC, A C . However, our form follows previous literature where A N =αA and A C =(1−α)A that more clearly shows the detachment between price regime and consumer behaviour in response to total advertising, A.

8.

The respective second-order conditions are

and

.

9.

Another sufficient condition to exclude a price regime would be that it is intercepted at its maximum by the revenue function of the other price regime that has nonzero slope. That is, that (3c) holds at the optimal output (6) of the inferior price regime, and at that advertising level, the preferred price regime has nonzero slope.

10.

Here, we assume that revenue functions are strictly concave under pure PPV and pure PPC, respectively.

11.

According to Shy (2008, p xi), 'the most efficient way of learning about customers is by trial and error'. If the click-through rate is increasing (decreasing) in advertising, levels sufficiently above (below) the optimal advertising amount found for PPV must be searched.
References
Edelman, B., Ostrovsky, M. and Schwarz, M. (2007) 'Internet advertising and the generalized second-price auction: selling billions of dollars worth of keywords', American Economic Review, 97, 1, 242–259.

Mangani, A. (2004) 'Online advertising: pay-per-view versus pay-per-click', Journal of Revenue and Pricing Management, 2, 4, 295–302.

Prasad, A., Mahajan, V. and Bronnenberg, B. (2003) 'Advertising versus pay-per-view in electronic media', International Journal of Research in Marketing, 20, 13–30.

Shy, O. (2008) How to price: a guide to pricing techniques and yield management, New York: Cambridge University Press.

Talluri, K. T. and van Ryzin, G. J. (2005) The Theory and Practice of Revenue Management, New York: Springer.
Acknowledgements
I am grateful to Øystein Foros, Hans Jarle Kind, Eivind Stensholt and participants at a Telenor Tele-Media Workshop, the editor and two anonymous referees for valuable comments. I acknowledge the Institute for Research in Economics and Business Administration and the Research Council of Norway (KIM) for funding.
Additional information
1 Kenneth Fjell holds a PhD in Economics from the University of Wisconsin-Milwaukee. For several years he coordinated a research programme in telecommunication economics at the Institute for Research in Economics and Business Administration. Since 2002 he has been an associate professor at the Department of Accounting, Auditing, and Law at the Norwegian School of Economics and Business Administration. In 2006 he spent one year as senior advisor for the Norwegian Competition Authority. He has been a consultant to among others, the Norwegian Competition Authority, ESA, Telenor ASA, and Hafslund ASA. His research interests are management accounting, pricing, competition law, and industrial organisation.
About this article
Cite this article
Fjell, K. Online advertising: Pay-per-view versus pay-per-click — A comment. J Revenue Pricing Manag 8, 200–206 (2009). https://doi.org/10.1057/rpm.2008.39
Received:

Revised:

Published:

Issue Date:
Keywords
internet advertising

pricing models

click-rate

click-through

banners

web publishers