Abstract
A medieval manuscript or document was crafted from the scraped and prepared skin of an animal, written upon with inks made from oak gall or crushed insects by the hand of a scribe who sometimes found the task spiritually inspiring, though physically arduous. The manuscripts were bound together with linen threads, often meticulously constructed and executed, but are now metaphorically dismembered for critical editions and academic studies, or literally broken up for digitization by expert scholarly teams, or for resale by unscrupulous booksellers. The textual object, though – the codex, document or remnants of codices – represents in its actual, real-world embodiment one of the most corporeal, fleshy and intimate links to peoples and cultures from centuries past. This article will seek to consider the bodies of books, their fleshy wholeness (even as fragments or single-leaf documents), and the ways in which their heft, their voluminousness and their textual potential are elided by modern scholarly techniques and representations.
This is a preview of subscription content, log in to check access.
Access options
Buy single article
Instant access to the full article PDF.
US$ 39.95
Price includes VAT for USA
Subscribe to journal
Immediate online access to all issues from 2019. Subscription will auto renew annually.
US$ 103
This is the net price. Taxes to be calculated in checkout.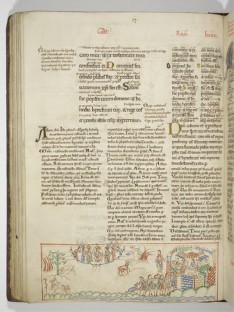 Notes
1.

TEXT with small capitals here consistently represents the superordinate of a notional semantic field that includes specific instantiations of 'text' – as the written words on a page, 'paratext,' 'epitext,' 'context' (Barry, 2007). It is effectively synonymous with the term I neologize here – 'plenitext.'

2.

Thanks to Peter Stokes for this reference.
References
Barry, P. 2007. Literature in Contexts. Manchester, UK: Manchester University Press.

British Library Digitised Manuscripts. 2013. http://www.bl.uk/manuscripts/.

Codex Sinaiticus. 2009. http://codexsinaiticus.org/en/.

Carriere, J. and U. Eco . 2012. This is Not the End of the Book. Chicago, IL: Northwestern University Press.

Clark, C. 1954. Appendix. In The Peterborough Chronicle. The Bodleian Manuscript Laud Misc. 636, ed. D. Whitelock, Early English Manuscripts in Facsimile. Copenhagen, Denmark: Rosenkilde and Bagger.

Cook, E.T. and A. Wedderburn, eds. 1904. The Works of John Ruskin, Vol. 39. London: George Allen.

Da Rold, O., T. Kato, M. Swan and E. Treharne . 2010. The Production and Use of English Manuscripts, 1020 to 1220. Leicester, UK: University of Leicester.

Endres, B. 2012. 3D Lichfield [St Chad's or Llandeilo] Gospels. http://www.youtube.com/watch?v=MILnCIZCuGw.

Functional Requirements for Bibliographic Records (FRBR). 2009. International Federation of Library Associations and Institutions (IFLA), http://www.ifla.org/publications/functional-requirements-for-bibliographic-records.

Geddes, J. ed. 2003. The St Albans Psalter. Aberdeen, UK: University of Aberdeen.

Gibson, M., T.A. Heslop and R. Pfaff, eds. 1992. The Eadwine Psalter. Philadelphia, PA: University of Pennsylvania Press.

Gill, E. 1942. Last Essays. Oxford, UK: Alden Press.

Green, M. 2013. Seeing with New Eyes: Rediscovering Medieval Manuscripts in a Digital Age, http://nyamcenterforhistory.org/2013/08/07/seeing-with-new-eyes-rediscovering-medieval-manuscripts-in-a-digital-age/.

Harsley, F., ed. 1889. The Eadwine Psalter. Early English Text Society o.s. 92. London: Oxford University Press.

Homes Dudden, F., trans. 1905. Gregory the Great: His Place in History and Thought, Vol. 2. New York: Longman.

James, M.R, ed. 1935. The Canterbury Psalter. Cambridge, UK: Cambridge University Press.

James, W. 1890. The Principles of Psychology, Vol. 2. Cambridge: Harvard University Press.

Kirschenbaum, M. 2008. Mechanisms: New Media and the Forensic Imagination. Cambridge, MA: MIT Press.

McKenzie, D.F. 1999. Bibliography and Sociology of the Text. Cambridge, UK: Cambridge University Press.

Merleau-Ponty, M. 2002. The Phenomenology of Perception. London: Routledge.

Nichols, S. 1990. Introduction: Philology in a Manuscript Culture. Speculum 65: 1–10.

Onians, J. 1992. Architecture, Metaphor and the Mind. Architectural History 35: 192–207.

Oxford English Dictionary (OED). 1989. http://www.oed.com.

Parker on the Web. 2013. http://parkerweb.stanford.edu/parker.

St. Louis Art Museum. 2013. http://www.slam.org/emuseum/code/emuseum.asp?style=Browse&currentrecord=1&page=search&profile=objects&searchdesc=23:1989&quicksearch=23:1989&newvalues=1&newstyle=single&newcurrentrecord=1.

Treharne, E. 2012. Living Through Conquest: The Politics of Early English, 1020 to 1220. Oxford, UK: Oxford University Press.

Venice Iliad Project. 2011. http://www.homermultitext.org.

Zumthor, P. 1992. Toward a Medieval Poetics, trans. P. Bennett. Minneapolis, MN: University of Minnesota Press.
About this article
Cite this article
Treharne, E. Fleshing out the text: The transcendent manuscript in the digital age. Postmedieval 4, 465–478 (2013). https://doi.org/10.1057/pmed.2013.36