Abstract
Medieval death poetry revels in the appetites that proliferate around corpses. Death may be an end for a subject, but the subject is also an object for the appetites of others, which will themselves eventually be food objects for others. Few medieval works show this so clearly as the Disputation Between the Body and the Worms, a debate poem in which a body finds itself at odds with its own edibility and the competing interests of its own biome. A crowd of worms finally convinces the body to give up her self-possession, and to realize that nothing, not humanity, not wealth, not beauty, will let vulnerability be 'outsourced,' for all appetites, bodies, and desires, human and otherwise, will be humbled by the appetites and desires of others.
Access options
Buy single article
Instant access to the full article PDF.
USD 39.95
Price excludes VAT (USA)
Tax calculation will be finalised during checkout.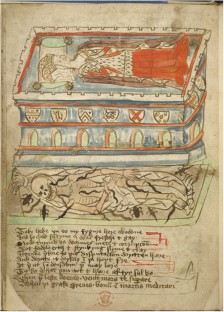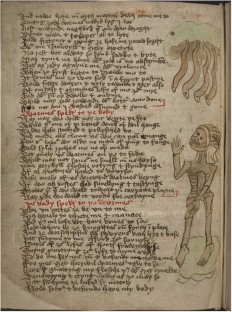 Notes
My title comes from Henry Nilson's song 'Food, Food, Food,' from the soundtrack to Popeye. Gratitude to the following for conversations, corrections, bibliographic suggestions, and proddings, and for emailing articles to a temporarily stranded scholar: Jeffrey J. Cohen, Patricia Clare Ingham, Eileen A. Joy, Ashby Kinch, Virginia Langum, Steve Mentz, Allan Mitchell, Nicola Masciandaro, E. R. Truitt, and Will Youngman.

All translations are the author's, unless otherwise indicated.

Bogost (2012, 80): 'If anticorrelationism amounts to a rejection of only one correlation and an embrace of multiple correlations, then centrism is inevitable – whether it be anthropocentrism, petrocentrism, photocentrism, skylocentrism, or any other.'

See Morton (2010, 31) on Tibetan 'sky burial,' or Jerome, Adversus Jovinianum 2.7, on the similar practices of the Caspians. See Roach (2004) for more varied practices.

For an allied project, see Rudd, (2007, 21–27) on the lyric 'erþe toc of erþe' (DIMEV #6292).

See Joy (2012, 157). Apropos the frustrated efforts of a J.G. Ballard character to erase himself, Joy remarks that 'even when you are dead, you are still here.'

The classic study, focused on continental examples, is Cohen (1973). For the British fashion for these monuments, and an argument against the notion that they had anything to do with the plague or the promotion of heterodoxy, see King (1990) and King (2003).

Remember you must die/live/eat/be eaten.
References
Acampora, R . 2006. Corporal Compassion: Animal Ethics and Philosophy of Body. Pittsburgh, PA: University of Pittsburgh Press.

Bataille, G . 1986. Erotism: Death & Sensuality, trans. G. Dalwood. San Francisco, CA: City Lights Books.

Bennett, J . 2010. Vibrant Matter: A Political Ecology of Things. Durham, NC: Duke University Press.

Bloch, M. and J.P. Parry, eds. 1982. Death and the Regeneration of Life. New York: Cambridge University Press.

Bogost, I . 2012. Alien Phenomenology, Or What It′s Like to be a Thing. Minneapolis, MN: University of Minnesota Press.

Brantley, J . 2007. Reading in the Wilderness: Private Devotion and Public Performance in Late Medieval England. Chicago, IL: University of Chicago Press.

Cerquiglini-Toulet, J . 1999. Les vers comme heritiers: aspects de la poétique du testament aux XIVe et XVe siècles. Micrologus 7: 345–357.

Cohen, K . 1973. Metamorphosis of a Death Symbol: The Transi Tomb in the Late Middle Ages and the Renaissance. Berkeley, CA: University of California Press.

Conlee, J.W, ed. 1991. Middle English Debate Poetry: A Critical Anthology. East Lansing, MI: Colleagues Press.

de Quincey, T . 1855. Note Book of an English Opium-Eater. Boston, MA: Ticknor and Fields.

Derrida, J . 2008. The Animal That Therefore I Am, trans. D. Wills. New York: Fordham University Press.

Donatelli, J.M, ed. 1989. Death and Liffe. Cambridge, MA: Medieval Academy of America.

Felski, R . 2011. Context Stinks! New Literary History 42 (4): 573–591.

Furnivall, F.J, ed. 1901. The Minor Poems of the Vernon MS, Vol. 2. London: Kegan Paul, Trench, Trübner & Co.

Gide, A . 2000. Journals: 1889-1913, trans. J. O'Brien. Urbana, IL: University of Illinois Press.

Gray, D . 1972. Themes and Images in the Medieval English Religious Lyric. London: Routledge and Kegan Paul.

Gray, D . 2005. London, British Library, Additional MS 37049–A Spiritual Encyclopedia. In Text and Controversy from Wyclif to Bale: Essays in Honour of Anne Hudson, eds. H. Barr and A.M. Hutchinson, 99–116. Turnhout, Belgium: Brepols.

Harris, J.G . 2011. Four Exoskeletons and No Funeral. New Literary History 42 (4): 615–639.

Hahn, T, ed. 1995. The Awntyrs off Arthur. In Sir Gawain: Eleven Romances and Tales. Kalamazoo, MI: Medieval Institute Publications.

Hennessy, M.V . 2002. The Remains of the Royal Dead in an English Carthusian Manuscript, London, British Library, MS Additional 37049. Viator 33: 310–354.

Isidore of Seville. 2007. The Etymologies of Isidore of Seville, trans. S.A Barney, W.J Lewis, O. Berghof, and J.A Beach. New York: Cambridge University Press.

Joy, E.A . 2012. You Are Here: A Manifesto. In Animal, Vegetable, Mineral: Ethics and Objects, ed. J.J. Cohen, 153–172. Washington DC: Oliphaunt Books.

King, P.M . 1990. The Cadaver Tomb in England: Novel Manifestations of an Old Idea. Church Monuments 5: 26–38.

King, P.M . 2003. My Image to be Made All Naked: Cadaver Tombs and the Commemoration of Women in Fifteenth-Century England. The Ricardian 13: 294–314.

Meillassoux, Q . 2010. After Finitude: An Essay on the Necessity of Contingency, trans. R. Brassier. New York: Continuum.

Mooney, L.R., D.W. Mosser and E. Solopova Digital Index of Middle English Verse [DIMEV], http://www.cddc.vt.edu/host/imev/.

Morton, T . 2010. The Ecological Thought. Cambridge, MA: Harvard University Press.

Roach, M . 2004. Stiff: The Curious Lives of Human Cadavers. New York: W. W. Norton & Company.

Rudd, G . 2007. Greenery: Ecocritical Readings of Late Medieval English Literature. Manchester, UK: Manchester University Press.

Shakespeare, W . 2006. Hamlet, eds. N. Taylor and A. Thompson, 3rd edn. London: Arden Shakespeare.

Westerhof, D . 2008. Death and the Noble Body in Medieval England. Woodbrige, UK: Boydell Press.

Wolfe, C . 2012. Before the Law: Humans and Other Animals in a Biopolitical Frame. Chicago, IL: University of Chicago Press.

Woolf, R . 1968. The English Religious Lyric in the Middle Ages. Oxford, UK: Clarendon Press.
About this article
Cite this article
Steel, K. Abyss: Everything is food. Postmedieval 4, 93–104 (2013). https://doi.org/10.1057/pmed.2012.45
Published:

Issue Date:

DOI: https://doi.org/10.1057/pmed.2012.45