Access options
Buy single article
Instant access to the full article PDF.
USD 39.95
Price excludes VAT (USA)
Tax calculation will be finalised during checkout.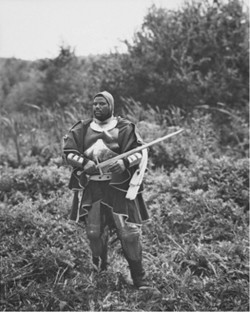 Notes
My thinking about the space created in these photographs has been prompted by Pinney (2003), though my analysis here departs from his. Thanks to Marget Long for expert help with all things photographic.
References
Aronstein, S . 2005. Hollywood Knights: Arthurian Cinema and the Politics of Nostalgia. New York: Palgrave Macmillan.

Boym, S . 2001. The Future of Nostalgia. New York: Basic Books.

Chakrabarty, D . 2000. Provincializing Europe: Postcolonial Thought and Historical Difference. Princeton, NJ: Princeton University Press.

Gopinath, G . 1997. Nostalgia, Desire, Diaspora: South Asian Sexualities in Motion. Positions: East Asia Cultures Critique 5 (2): 467–489.

Gopinath, G . 2010. Archive, Affect and the Everyday: Queer Diasporic Re-visions. In Political Emotions, eds. J. Staiger, A. Cvetkovich and A. Reynolds, 165–192. New York: Routledge.

Howie, C . 2009. Superficial Medievalism and the Queer Futures of Film. In Queer Movie Medievalisms, eds. K.C. Kelly and T. Pugh, 221–236. Burlington, VT: Ashgate.

Juhasz, A . 2006. Video Remains: Nostalgia, Technology, and Queer Archive Activism. GLQ 12 (2): 319–328.

Kitchen, E.F . n.d. Video Preview. Suburban Knights: A Return to the Middle Ages, http://www.suburbanknightsbook.com/video.html, accessed 23 March 2011.

Kristeva, J . 1982. Powers of Horror: An Essay on Abjection, trans. L.S. Roudiez. New York: Columbia University Press.

Pinney, C . 2003. Notes from the Surface of the Image: Photography, Postcolonialism, and Vernacular Modernism. In Photography's Other Histories, eds. C. Pinney and N. Peterson, 202–220. Durham, NC: Duke University Press.

Seremetakis, C.N . 1996. The Memory of the Senses, Part I: Marks of the Transitory. In The Senses Still: Perception and Memory as Material Culture in Modernity, ed. C.N. Seremetakis, 1–18. Chicago, IL: University of Chicago Press.
About this article
Cite this article
Dinshaw, C. Nostalgia on my mind. Postmedieval 2, 225–238 (2011). https://doi.org/10.1057/pmed.2011.8
Published:

Issue Date:

DOI: https://doi.org/10.1057/pmed.2011.8