Abstract
This paper focuses on the monthly relationship between the bunker adjustment factor (BAF) and bunker price and between the freight rate and charter rate on the Europe/Far East container trade. It investigates whether a causality relationship can be found between these variables in order to know whether tariffs are mainly driven by cost considerations, as claimed by shipping lines during the last 5 years. Results from VAR and VECR models suggest that a Granger causality does exist. This paper calls for a new way to look at pricing elements in liner shipping and more particularly for shipping conferences, that should focus more for instance on justified/unjustified BAF or rate restoration announcements rather than on a general debate on exemption/abolishment of collective pricing.
Access options
Buy single article
Instant access to the full article PDF.
USD 39.95
Price excludes VAT (USA)
Tax calculation will be finalised during checkout.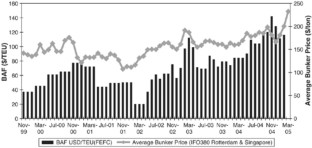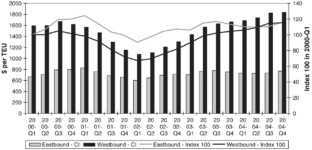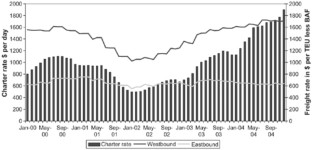 Notes
Drewry Monthly Report, Various issues June 1999–April 2005, Drewry Shipping Consultant.

The same could apply to THC, container imbalanced etc.

The same research could have been done considering all surcharges announced by the FEFC.
References
Clydes, PS and Reitzes, JD . 1995: The effectiveness of collusion under anti-trust immunity: The case of liner shipping conferences. Bureau of Economics Staff Report, Federal Trade Commission, Washington, DC.

Damas, P . 2004: AC weighs conference 'benefits'. American Shippers January: 74–78.

Davies, JE . 1983: Pricing in liner shipping industry: A survey of conceptual models, Canadian Transport Commission, Research Branch, No 1983/04 E, 85pp.

ELAA. 2004: Post hearing submission, 20 February, 19pp.

Engle, RF and Granger, CWJ . 1987: Cointegration and error-correction: representation, estimation and testing. Econometrica 55: 251–276.

Farthing, B . 1993: International Shipping. Lloyd's of London Press Limited: London.

Granger, C . 1969: Investing causal relations by econometric models and cross spectral methods. Econometrica 37: 424–438.

Haralambides, HE, Veenstra, AW, Fusillo, M, Sjostrom, W and Hautau, U . 2003: Contract of services for the assistance in processing public submissions to be received in response to the 'consultation paper' on the review of Council Regulation 4056/86. Final Report prepared for the European Commission, Erasmus University of Rotterdam, November 12, 106 pp.

Hinten-Reed, N, Chipty, T and Morton, FS . 2004: Shipping conferences: a study of the impact of FEFC Activity on Prices in the North Europe-Asia Trade. Charles River Associates June 4, 29 pp.

OECD. 2002: Competition policy in liner shipping, Final Report, April 16, 87pp.

Riseborough, R . 2005: Conferences and consortia. Seminar for World Maritime University from FEFC secretariat, 20 April, Bridge House, London.

Tirole, J . 2003: The Theory of Industrial Organization. The MIT Press: 480 pp.

Wajilda, JA . 2002: Liner Shipping Freight. Fobalyn Nigeria Limited, March, 110 pp.
Appendices
Appendix 1. Reported rate restoration by FEFC in Eastbound and Westbound Europe/Far East trade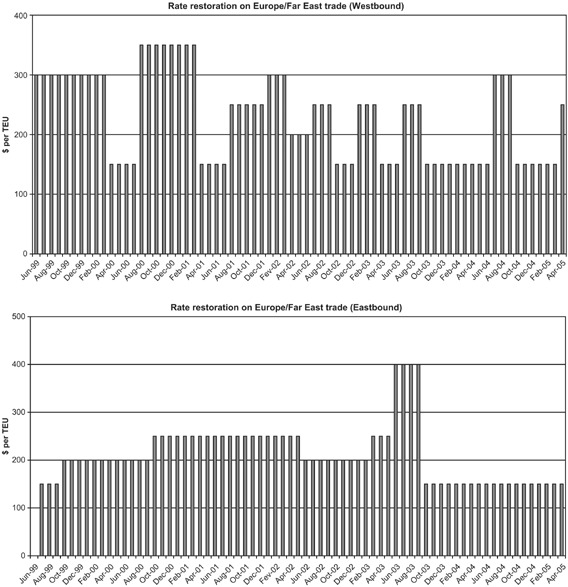 Appendix 2. Reported BAF by FEFC in Europe/Far East trade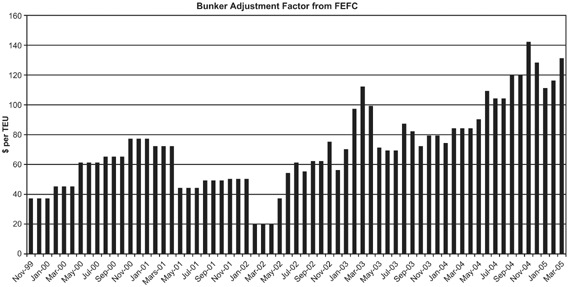 About this article
Cite this article
Cariou, P., Wolff, FC. An Analysis of Bunker Adjustment Factors and Freight Rates in the Europe/Far East Market (2000–2004). Marit Econ Logist 8, 187–201 (2006). https://doi.org/10.1057/palgrave.mel.9100156
Published:

Issue Date:

DOI: https://doi.org/10.1057/palgrave.mel.9100156
Keywords
Liner shipping conferences

containers

BAF

pricing

Granger causality

regulation

FEFC