Abstract
Today, the container shipping industry faces a threat from terrorism that could not be envisaged before 9/11. While the public sector has already initiated a variety of aggressive programs to tackle such threats, the private industry also needs to prove its ability to share the burden. An imminent challenge is to deter and prevent the use of ocean containers as weapons of mass destruction. This paper specifically focuses on an effective use of information technology to assist the fight against terrorism. It proposes a new idea to the container shipping industry, namely that the container shipping industry must approach security issues through the use of interconnected standardised databases within a common information system. The industry was born in the late 1960s, when technology was not readily available to accommodate an information system at this level. The dramatic progress of information technology, however, permits the industry today to embrace new business solutions in order to strengthen security. Many years ago, this was just a concept and a theory, but today it can be put into actual practice. These solutions would ensure the authorities' fast and timely response against terrorism. Immediate action by the industry is now necessary to prevent any ocean container from being used as a weapon of mass destruction.
Access options
Buy single article
Instant access to the full article PDF.
US$ 39.95
Tax calculation will be finalised during checkout.
Subscribe to journal
Immediate online access to all issues from 2019. Subscription will auto renew annually.
US$ 399
Tax calculation will be finalised during checkout.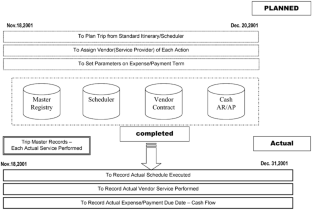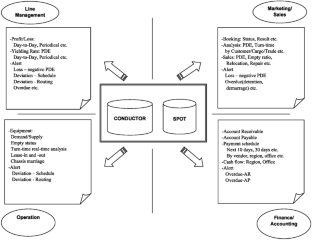 Notes
1.

An example of information tools and devices – RFID: Savi Asset Management System for Intermodal Containers is a full-featured Web application that provides continuous online tracking, security monitoring, and management of cargo containers and other assets. The application provides instant notification when container inventory is low or when containers are lost, misrouted, or damaged. It also allows container managers to identify container locations, plan and audit usage, and redirect unused containers to high-demand locations. The integrated Secure & Control feature function ensures that all cargo moves through approved security procedures and is inspected, sealed, and accepted by authorised personnel. (from http://www.savi.com/solutions/index.html).

2.

Point of Sale (POS) is capturing data at the time and place of sale. Point of sale systems use personal computers or specialised terminals that are combined with cash registers, bar code readers, optical scanners and magnetic stripe readers for accurately and instantly capturing the transaction.

3.

The Internet SOCiety (ISOC) is a professional membership society with more than 150 organisations and 11,000 individual members in over 182 countries. It provides leadership in addressing issues that confront the future of the Internet, and is home to the groups responsible for Internet infrastructure standards, including the Internet Engineering Task Force (IETF) and the Internet Architecture Board (IAB). (from http://www.isoc.org/internet/history/Introduction).

4.

UN/CEFACT: United Nations Centre for Trade Facilitation and Electronic Business. It is open to participation for Member States, intergovernmental organisations, and sectoral and industry associations recognised by the Economic and Social Council of the United Nations (ECOSOC). The Center's objective is to be inclusive and it actively encourages organisations to contribute and help develop its recommendations and standards. SMDG: it develops and promotes UN/EDIFACT EDI-messages for the Maritime Industry and is an official Pan European User Group, recognised by the UN/EDIFACT Board.

5.

C-TPAT: a joint government-business initiative to build co-operative relationships that strengthen overall supply chain and border security. C-TPAT recognises that Customs can provide the highest level of security only through close cooperation with the ultimate owners of the supply chain, importers, carriers, brokers, warehouse operators and manufacturers. Through this initiative, Customs is asking businesses to ensure the integrity of their security practices and communicate their security guidelines to their business partners within the supply chain.

6.

The World Shipping Council is a Washington, D.C.-based trade association representing more than 40 liner shipping companies serving America's international trade. Council members include the largest container lines in the world as well as smaller niche carriers, and carriers providing roll-on/roll-off and heavy-lift services. In addition to ocean transportation, they provide a wide range of intermodal and logistics services to American importers and exporters. The Council's goal is to provide a coordinated voice for the liner shipping industry in its work with policymakers and other industry groups interested in international transportation issues, including: maritime security, regulatory policy, tax issues, safety, the environment, harbour dredging and upgrading the infrastructure needed to handle America's booming trade (from http://www.worldshipping.org).
References
APL White Paper (PDF). 2003: Stronger Links - Adding Security and Value to the Supply Chain. January.

Brookings Institution Project on Homeland Security. 2002: Protecting the American Homeland. September. http://www.brook.edu/fp/projects/homeland/chapter1.pdf.

CSI (Container Security Initiative) ex U.S. Customs web site. 2003: http://www.customs.ustreas.gov/xp/cgov/import/cargo_control/csi/.

Damas, P and Gillis, C . 2002: Managing with Manifests, American Shipper.

de Voort, M and O'Brien, K . October 2002 of Rand Europe, 'Seacurity' Improving the Security of the Global Sea-Container Shipping System. http://www.rand.org/publications/MR/MR1695/ations/MR/MR1695/MR1695.pdf.

Gillis, C . 2003: Authorized' supply chains – WCO takes step closer to finalizing guidelines for advanced cargo information. American Shipper Online, 18 June.

ISOC (Internet Society) web site. 2003: http://www.isoc.org/internet/history/brief.shtml#Introduction.

Koch, C . 2002: World Shipping Council. Changing Attitude. Corporate Responsibility Safety, Security, and Environment. 15 October. http://www.worldshipping.org/ny_speech.pdf.

MOL (America), Inc. 2002: Security Announcements. Executive Summary on Security in Container Transport. 16 September.

National Academies of Science, Transportation Security. 2003: A Summary of TRB Activities/Making the Nation Safer: The Role of Science and Technology in Countering Terrorism. August. http://books.nap.edu/books/0309084814/html/210.html#pagetop.

NCBFAA (National Customs Brokers & Forwarders Association of America, Inc.). 2002: Cargo Security White Paper. http://www.ncbfaa.org/body/testimony/cswhitepaper.htm.

Savi Solutions. 2002: Savi Technology Receives 'IT Award of Excellence' from The European Institute of Transport Management. 4 November. http://www.savi.com/solutions/index.html.

Sentaku (Choice). 2002: Monthly Magazine. September: 76–78. The Most Inexpensive Way to Make Weapons of Mass Destruction (in Japanese).

TechEncyclopedia. Results found for internet. http://www.techweb.com/encyclopedia/defineterm?term=internet&x=28&y=8.

The Nikkei Sunday. 2003: Government To Toughen Terrorist Measures At Ports. 26 January (in Japanese).

UN/CEFACT web site. 2003: Electronic Data Interchange (EDI) Standardization. http://www.unece.org/cefact/.

Verton, D . 2002: IT is key to terror defenses at U.S. seaports. 17 January. http://www.cnn.com/2002/TECH/industry/01/17/seaport.defense.idg/index.html.

WCO (the World Customs Organization). 2003: WCO Council approves several initiatives to improve the security and facilitation of the international Trade Supply Chain. 4 July. http://www.wcoomd.org/ie/En/Press/press.html.

Wilson, P . (Reuters). 2003: Ridge Launches New Homeland Security Dept. 24 January.

Willems, I, Kay Pirk and Bernd Eulitz of A T Kearney May (2002: Containerization International, 46.

World Shipping Council Paper. 2002: Improving Security for International Liner Shipping. 17 January. http://www.worldshipping.org/improving_security.pdf.

World Shipping Council Paper. 2003: Operation Safe Commerce Docket Number TSA-2002–13827. 5 December. http://www.worldshipping.org/operation_safe_commerce.pdf.

Yuasa, M . 1996: Japan Maritime Research Institute Bulletin No. 356. The latest information technology enables a new management of container shipping. February (in Japanese).

Yuasa, M . 1997: Internet may bring a dramatic impact on Container Service. Japan Maritime Research Institute Bulletin No. 375, September (in Japanese).
About this article
Cite this article
Noda, S. Container Shipping and Security Issues: the Carriers' Responsibility in the Fight Against Terrorism. Marit Econ Logist 6, 157–186 (2004). https://doi.org/10.1057/palgrave.mel.9100101
Keywords
Information technology

terrorism

container as WMD

container unit-based management

database standards

cargo visibility