Abstract
Using tools from operations research, airlines have, for many years, taken a strategic approach to pricing the seats available on a particular flight based on demand forecasts and information. The result of this approach is that the same seat on the same flight is often offered at different fares at different times. Setting of these prices using yield-management approaches is a major activity for many airlines and is well studied in the literature. However, consumers are becoming increasingly aware of the existence of pricing strategies used by airlines. In addition, the availability of airline travel pricing on the Internet affords consumers the opportunity to behave more strategically when making purchase decisions. The onset of the information age makes it possible for an informed consumer or a third party, such as a travel agent, to obtain demand information similar to that used by the airlines. In particular, it is possible for consumers or travel agents to purchase historical data or to obtain it by monitoring the seats that are available at various prices for a given flight. If a consumer understands the pricing strategy and has access to demand information, he/she may decide to defer purchase of a ticket because they believe that a cheaper seat may yet become available. If consumers were to make use of this information to make such strategic purchasing decisions, what would be the impact on airline revenues? The purpose of this paper is to investigate these impacts. This work indicates that use of standard yield management approaches to pricing by airlines can result in significantly reduced revenues when buyers are using an informed and strategic approach to purchasing. Therefore, when airlines are setting or presenting prices, they should investigate the effect of strategic purchasing on their decisions.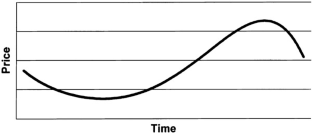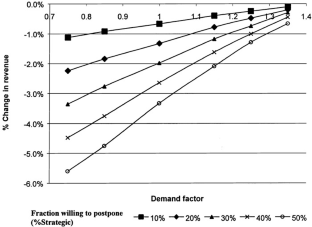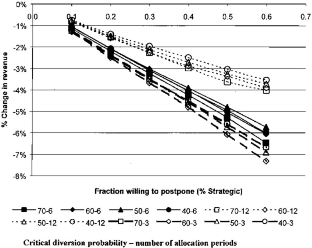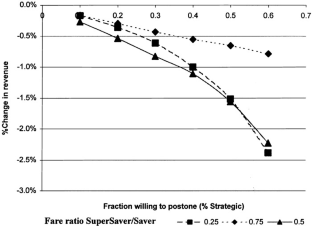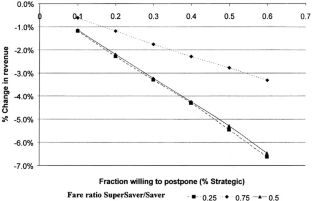 References
Miller WH (1999). Airlines take to the Internet. Industry Week 248(15): 130–134.

Kalehoff M (2002). Online travel bookings up, despite events of September 11. Jupiter Media Metrix.

McGill JI and van Ryzin GJ (1999). Revenue management: research overview and prospects. Transport Sci 33: 233–256.

Smith B, Leimkuhler J and Darrow R (1992). Yield management at American Airlines. Interfaces 22(1): 8–31.

Anthes GH (1998). The price had better be right. Computerworld, December 21, pp 65–66.

Harris F and Peacock P (1995). Hold my place, please. Marketing Mngt 4: 34–44.

Coulter KS (1999). The application of airline yield management to a holiday retail shopping setting. J Prod Brand Mngt 8: 61–72.

Kimes S (1989). Yield management: a tool for capacity-constrained service firms. J Opns Mngt 8: 348–363.

Subrahmanyan S (2000). Using quantitative models for setting retail prices. J Prod Brand Mngt 9: 304–315.

Stokey N (1979). Intertemporal price discrimination. Q J Econ 93(3): 355–371.

Landsberger M and Meilijson I (1985). Intertemporal price discrimination and sales strategy under incomplete information. Rand J Econ 16: 424–430.

Besanko DA and Winston WL (1990). Optimal price skimming by a monopolist facing rational consumers. Mngt Sci 36: 555–567.

Lazear EP (1986). Retail pricing and clearance sales. Am Econ Rev 76: 14–32.

Elmaghraby W, Gulcu A and Keskinocak P (2001). Analysis of a price markdown mechanism. Proceedings of Third International Workshop on Advanced Issues of E-Commerce and Web-Based Information Systems, San Juan, CA.

Gallego G and van Ryzin GJ (1994). Optimal dynamic pricing of inventories with stochastic demand over finite horizons. Mngt Sci 40: 999–1020.

Littlewood K (1972). Forecasting and control of passenger bookings. AGIFORS Symposium Proceedings 12., Nathanya, Israel.

Belobaba PP (1989). Application of a probabilistic decision model to airline seat inventory control. Opns Res 37: 183–197.

Bhatia A and Parekh S (1973) Optimal allocation of seats by fare. Presentation to AGIFORS Reservations Study Group, Trans World Airlines.

Richter H (1982). The differential revenue method to determine optimal seat allotments by fare type. AGIFORS Symposium Proceedings 22., Lagonissi, Greece.

Titze B and Greisshaber R (1983). Realistic passenger booking behaviors and the simple low-fare/high-fare seat allotment model. AGIFORS Symposium Proceedings, p 23., Memphis, TN, USA.

Mayer M (1976). Seat allocation, or a simple model of seat allocation via sophisticated ones. AGIFORS Symposium Proceedings 16., Key Biscayne, FL, USA.

Pfeifer P . (1989). The airline discount fare allocation problem. Dec Sci 20: 149–157.

Feldman J (1998). Chasing the rational marketplace. Air Transport World 12: 32–34.
Acknowledgements
This research was supported by the Natural Sciences and Engineering Research Council of Canada.
About this article
Cite this article
Anderson, C., Wilson, J. Wait or buy? The strategic consumer: Pricing and profit implications. J Oper Res Soc 54, 299–306 (2003). https://doi.org/10.1057/palgrave.jors.2601497
Received:

Accepted:

Published:

Issue Date:
Keywords
air transport

revenue management