Abstract
There has been much academic work outlining the complex links between women and the nation. Women provide legitimacy to the political projects of the nation in particular social and historical contexts. This article focuses on the gendered symbolization of the nation through the rhetoric of the 'motherland' and the manipulation of this rhetoric in the context of national struggle in Bangladesh. I show the ways in which the visual representation of this 'motherland' as fertile countryside, and its idealization primarily through rural landscapes has enabled a crystallization of essentialist gender roles for women. This article is particularly interested in how these images had to be reconciled with the subjectivities of women raped during the Bangladesh Liberation War (Muktijuddho) and the role of the aestheticizing sensibilities of Bangladesh's middle class in that process.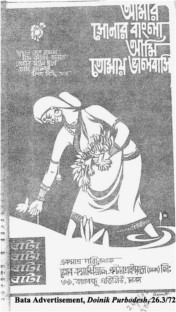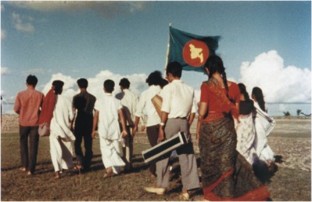 Notes
1.

2.

Werbner (1999) uses the terms 'motherhood' or 'woman' and yet does not probe why different issues are prioritized in struggles among different classes of women in the examples she cites (1999: 220). Her example of the women's movement in Bangladesh also does not take into account the history of the social classes of the women involved in the democratization and anti-Islamization programme and the discourses of modernity embedded in it.

3.

By embodiment I refer to an individual's field defined by perceptual experience and mode of presence and engagement with the world, experiences that are primarily rooted in the body.

4.

Similar arguments can also be found in accounts of rape in former Yugoslavia and Rwanda.

5.

6.

Purshottam Agarwal here talks about sexual violence in Surat, in the context of nation-wide riots, following the destruction of the Babri Masjid in Ayodhya in 1992.

7.

Agarwal (1995: 39) has shown how the disrobing of Draupadi, in the Hindu epic Mahabharata, is an instance of how political discourses constructed by collectivities have consciously contextualized rape exclusively in the problematic of the contest between two nations or communities, thus transforming it into a morally defendable act, in fact into a much-needed political strategy.

8.

This song was banned from East Pakistani radio before 1971 by the Pakistani authorities as it was considered to connote resistance and patriotism.

9.

The combination of sacredness with the secular beauty of nature (Chakravarty, 1995: 117) means that acts of violation and defilement amount to a breakdown of one's understanding of home. During interviews with people about the experiences after the war, one of the oft-cited accounts would be that of returning to Dhaka from India. Individuals would talk of the long trek by foot that they had to make from Calcutta to reach Dhaka, seeing the images of their country with a 'lump in their throat'. They would talk at length of their pain when they passed burnt down villages, empty fields, broken bridges and the sight of a war-ravaged nation. 'As I cried while sitting on a boat crossing the river, a feeling surged in my heart that I was back in the nature of my country, I could be on the river in a boat again, I could enjoy the winter sunshine. I couldn't see the mustard fields this year, but I thought next year we would again have the mustard fields in winter, the sugarcane harvest in autumn. It was a very peaceful feeling tinged with pain and I had a feeling of enormous love for my country' (Fatema Rumi, head of an NGO in an interview on 28th October 1997). It is this shared nostalgia of the suburb/urban, middle class that places the idyllic village squarely in the middle of the city-country question.

10.

Teep are decorative spots on the forehead worn traditionally by Hindu women to denote marital status. In Bangladesh the wearing of teep is very common. It connotes clothing and stylistic practises but also political practice, emphasizing a Bengali identity that exists alongside a Muslim identity.

11.

Pasha, who wrote this in 1971, was one of the fifty intellectuals who were picked up by the Pakistani army and killed in December 1971.

12.

Ardener and Holden (1987) talk about the symbolic use of body by those lacking an effective political voice. Mahashweta Devi's story: Draupadi (cooke and Rustomji-Kerns, 1994: 136–146) gives a traumatic account of rape of a low caste woman who refused to be dressed after being gang raped. Similarly, when the women of Greenham smeared their naked bodies with ashes on Nagasaki Day 1984, their actions challenged the invisibility of the bodies of victims of 'the nuclear disaster' but also 'men's stereotypes of naked women' (Jones, 1987).

13.

My experience of Bengali New Year's Day in Dhaka during my fieldwork surpassed any celebration that I had seen in West Bengal, India, which showed how much this is part of one's identity politics in Bangladesh.

14.

In the writings of social reformists in India in the early twentieth century, women were similarly objectified as bodies and divided into the familiar dichotomy of mothers and prostitutes. See Parker et al. (1992: 1–20) for a discussion of competitive claims of subjectivities of women in nationalism; see Whitehead (1995) for the role of motherhood in the nationalist discourse of India, and Gupta (1991) for that in Nazi Germany (1991).

15.

For a discussion of the iconic figure of the sacrificial and revolutionary mother in Afrikaner and African nationalism, see McClintock (1995).

16.

The footage for film was shot in 1971 by Lear Levin, an American photographer.

17.

The documentary film Muktir Katha made by Tareque and Catherine Masud (makers of Muktir Gaan) is based on the responses and narratives of people throughout Bangladesh to the screening of Muktir Gaan.

18.

On returning to their house after the war, Sharmeen had commented 'How come nothing has happened to our house? I thought it would be totally in rubbles. It doesn't feel as if there has been a war.' (Interview given by Noorjahan Murshid, Sharmeen's mother, who became the Minister for Relief and Rehabilitation under Sheikh Mujib's government, Oxford, October 1998.)

19.

The map was removed in 1972, as it was felt that it would be difficult for young children to draw the map when drawing the flag. The current flag only retains the red sun against the green background.

20.

Parallels to this argument may be found in June Nash's (1994) exploration of the problematic relationship of the map and the body whereby she highlights the links between the gendered body and the national landscape in Ireland. However, Nash does not adequately explore the class of the gendered body.

21.

See Chatterjee (1994: 151) for a discussion of Binodini (1863–1941), who was a celebrated actress on Calcutta stage in the late 19th century and became the icon of modernist literati against the backdrop of Bengal Renaissance. Recruited from among the city's prostitutes, in reality she was excluded from respectable social life by the stigma of 'immoral' living and was similarly subject to the contradictions of the new world of middle-class cultural production. Like the birangonas, in this case nationalist emancipation is necessarily a story of betrayal.

22.

This is a notable theme in plays commemorating Independence and Victory Day written for the state-run Bangladesh Television.

23.

Parallels could be found in the act of jwahar as practised by Rajput women who would seem to embrace 'honourable' death instead of 'defilement'. Butalia (1998: 161) also mentions that people talking about partition violence found it more difficult to mention those who had escaped death than those who had died an 'honourable' death.
References
Agarwal, P. (1995) 'Surat, Savarkar and Draupadi: legitimising rape as a political weapon' in Butalia U. and Sarkar T. (1995) editors, Women and Right Wing Movements: Indian Experiences, London: Zed Books.

Annonymous (1972) 'New initials' Doinik Bangla, 4 January 1972.

Ardener, S. and Holden, P. (1987) Images of Women in Peace and War: Cross Cultural and Historical Perspectives, London: Macmillan.

Bata Advertisement (1972) Doinik Purbodesh, 26 March 1972.

Blunt, A. and Rose, G. (1994) editors, Writing Women and Space: Colonial and Postcolonial Geographies, New York, London: The Guildford Press.

Brownmiller, S. (1975) Against Our Will: Men Women and Rape, London: Secker & Warburg.

Butalia, U. (1998) The Other Side of Silence: Voices from the Partition of India, New Delhi: Viking Penguin India.

Butler, J. (1990) Gender Trouble, New York, London: Routledge.

Chakravarty, D. (1995) 'Remembered villages: representations of Hindu-Bengali memories in the aftermath of the partition' South Asia, Vol. XVIII, Special issue, 109–129.

Chatterjee, P. (1994) Nation and its Fragments: Colonial and Postcolonial Histories, Delhi: Oxford University Press.

cooke, m. (1996) Women and the War Story, Berkeley and Los Angeles: University of California Press Limited.

cooke, m. and Rustomji-Kerns (1994) editors, Blood into Ink: South Asian and Middle Eastern women on war, Colorado: Westview Press.

Daniel, E.V. (1997) 'Suffering nation and alienation' in Das V., Kleinman A. and Lock M. (1997) editors, Social Suffering, London, Berkeley, LA: University of California Press.

Das, V. (1995) Critical Events: An Anthropological Perspective on Contemporary India, Delhi: Oxford University Press.

Gupta, C. (1991) 'Politics of gender: women in nazi Germany' Economic and Political Weekly, Vol. XXVI, No. 17: 40–48.

Jasimuddin (1972) Dogdhogram' (Burnt Village) in Bhoyaboho shei Dingulite (Those Terrifying Days), Dhaka: Naoroj Kitabistan.

Jones, L. (1987) 'Greenham common' in Ardener S. and Holden P. (1987) editors, Images of Women in Peace and War: Cross Cultural and Historical perspectives, London: Macmillan.

Kandiyoti, D. (ed) (1991) Women, Islam and the State, Basingstoke: Macmillan.

Kaviraj, S. (1994) 'Abstract affectations: making of a language of patriotism in modern Bengali' Commonwealth History Seminar, Oxford (unpublished paper).

Keno go ma tor dhulai ashon, keno go ma tor molin boshon? (Why mother is your place in the dust, why mother is your appearance soiled?) Genocide Special Issue, Banglar Bani, December 1972.

Masud, T. and Masud, C. (1995) Muktir Gaan (Songs of Freedom). Audiovision.

Masud, T. and Masud, C. (1999) Muktir Katha (Words of Freedom). Audiovision.

McClintock, A. (1995) Imperial Leather: Race, Gender and Sexuality in the Colonial Conquest, London: Routledge.

Menon, R. and Bhasin, K. (1998) Borders and Boundaries: Women in India's Partition, New Delhi: Kali for Women.

Monk, J. and Norwood, V. (1987) editors, The Desert is No Lady: Southwestern Landscapes in Women's Writing and Art, New Haven: Yale University Press.

Mookherjee, N. (forthcoming) Specters and Utopias: Sexual Violence, Public Memories and Bangladesh War of 1971, Durham, NC: Duke University Press.

Nandy, A. (1983) The Intimate Enemy: Loss and Recovery of Self Under Colonialism, Delhi: Oxford University Press.

Nash, J. (1994) 'Remapping the body/land: new cartographies of identity, gender and landscape in Ireland' in Blunt A. and Rose G. (1994) editors, Writing Women and Space: Colonial and Postcolonial Geographies, New York, London: The Guildford Press.

Nordstorm, C. and Robben, A.C.G. (1995) editors, Fieldwork Under Fire: Studies of Survival and Violence, Berkeley: California University Press.

Ortner, S.B. and Whitehead, H. (1981) Sexual Meanings, Cambridge: Cambridge University Press.

Parker, A., Russo, M., Sommer, D. and Yaeger, P. (1992) editors, Nationalism and Sexualities, London, New York: Routledge.

Pasha, A. (1973 1976) Rifle, Roti, Aurat (Rifles, Bread and Women), Translated by Kabir Chowdhury, June 1976, Dhaka: Bangla Academy.

Rose, G. (1993) Feminism and Geography: The Limits of Geographical Knowledge, London: Polity Press.

Sinha, M. (1995) Colonial Masculinity: The 'Manly Englishman' and the 'Effiminate Bengali' in the Late Nineteenth Century, Manchester, New York : Manchester University Press.

Tagore, R. (1905) ''Amar Sonar Bangla, ami tomai bhalobashi'. ('O my golden Bengal, How I do love you'), in Swarabitan, Vol. 46, Calcutta: Visva Bharati University.

Werbner, P. (1999) 'Political motherhood and feminisation of citizenship: women's activisms and transformation of public sphere' in Yuval-Davis N. and Werbner P. (1999) editors Women, Citizenship and Difference, London: Zed Books.

Whitehead, J. (1995) 'Modernising the motherhood archetype: public health models and the child marriage restraint act of 1929' in Contributions to Indian Sociology (n. s.) 29, 1 & 2.

Winkler, C. (1991) 'Rape as social murder' Anthropology Today, Vol. 7, No. 3: 12–14.

Yuval-Davis, N. (1997) Gender and Nation, London: Sage Publications.

Yuval-Davis, N. and Anthias, F.Y. (eds) (1989) Woman–Nation-State, London: Macmillan.

Yuval-Davis, N. and Werbner, P. (1999) editors, Women, Citizenship and Difference, London: Zed Books.
Acknowledgements
This article is an updated version of a chapter published in N. Puwar and P. Raghuram eds. South Asian Women in the Diaspora, (2003: 157–180), Oxford: Berg. I am thankful to them for granting permission. It developed from my doctoral research, which is forthcoming as a book with Duke University Press (Mookherjee, forthcoming). This research was made possible by the Felix Scholarship, Central Research Fund and Emslie Horniman Fieldwork Fund. I am thankful to Dr Christopher Pinney, Dr Caroline Osella, Nirmal Puwar and Parvati Raghuram whose feedback and discussions have helped me enormously to hone my thoughts.
About this article
Cite this article
Mookherjee, N. gendered embodiments: mapping the body-politic of the raped woman and the nation in Bangladesh. Fem Rev 88, 36–53 (2008). https://doi.org/10.1057/palgrave.fr.9400388
Keywords
sexual violence

Bangladesh war

aesthetics

motherhood

landscape