Abstract
This paper challenges the conventional wisdom about New Left parties in Europe. I show that institutional context influences party behavior by analyzing the strategic decisions of the French Green Party, Les Verts, from 1997 to 2002. I demonstrate that in order for the Greens to compete with the larger, more established, parties, they must recognize the demands of the institutional context and act accordingly. In doing so, they have become a Downsian party, whose goal is winning seats in parliament. Two implications of this study are that these decisions have important consequences both for the outcome of the pending election and for the future of the party as a viable competitor in the French political space. Importantly, the findings can be more generally applied to understanding new party behavior across Europe.
Access options
Buy single article
Instant access to the full article PDF.
US$ 39.95
Tax calculation will be finalised during checkout.
Subscribe to journal
Immediate online access to all issues from 2019. Subscription will auto renew annually.
US$ 119
Tax calculation will be finalised during checkout.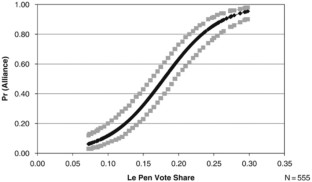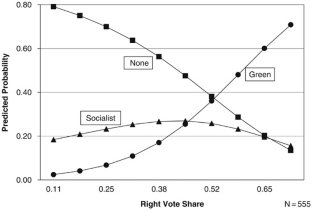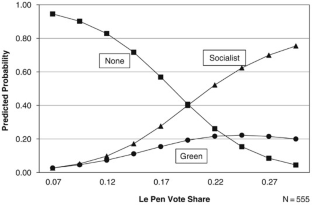 Notes
1.

From interview conducted by the author, 3 June 2003 in Paris.

2.

Since 1976, a candidate must receive 12.5% of the vote based on the number of registered voters. Because of increasingly lower voter turnout rates, candidates in some districts must receive as much as 17% of votes cast to move to the second round.

3.

ENPP=1/Σs i 2, where s i is the seat share of each party.

4.

5.

Metropolitan France is distinguished from France's overseas departments and territories, which also elect members to the National Assembly. Since 1988, the parliament has had 577 members, which represent SMDs. Of these districts, 555 are in metropolitan France and Corsica. All discussions of national election results refer only to metropolitan France.

6.

Letter downloaded from the campaign website of Jean-Charles Kohlhaas, Green candidate in District 69-10 (http://www.kohlhaas.lesverts.fr, accessed 14 March 2003).

7.

Interview conducted by the author, 20 May 2003 in Paris.

8.

In 2002, in seven districts, the pacts included the Greens, Socialists, Communists, and Radicals. In two districts, the Greens entered into an alliance only with the Communists. In these nine districts, the other parties of the left supported the Green candidate. In my analysis, I only use the districts in which both the Greens and the Socialists were part of the alliance, as was the situation in the majority of alliance districts.

9.

Information on the alliance decision-making process is from interviews with Serge Malloreau, Greens' Elections Coordinator, conducted in Paris, 1 October 2002 and 23 June 2003; and Jean-Luc Bennahmias, chief negotiator for the Greens in 1997, conducted in Paris, 6 June 2003. Election results are from CIDSP (2002a).

10.

The variable that measures the strength of the mainstream right includes the vote shares for candidates who ran with the RPR, UDF, or Divers Droite (DVD) labels, as well as those who were dissident candidates of the RPR and UDF. The variable was constructed in this manner because from the perspective of a left voter, a candidate or a representative from any of these parties or affiliations is less preferred than one on the left. Election results are from CIDSP 2002a, 2002b, and van der Eijk et al., 2002.

11.

Nationality on the French census can be understood more broadly as 'citizenship.' A respondent can check one of the three categories: (1) native-born French; (2) naturalized French; or (3) foreign. So, those who claim foreign nationality are not French citizens and are thus immigrants. Respondents are also asked their place of birth. The available census data do not break out by country the birthplace of those who have immigrated to France. The measure I use therefore only groups immigrants from the Maghreb and Turkey, and not those who are naturalized citizens of Magrebin origin, for example (INSEE, 2002).

12.

The correlations between the vote share of the FN candidate in the 1997 legislative election and the percentage of the population who are immigrants and the percentage who are unemployed are 0.53 and 0.38, respectively. All correlations are significant at the 0.01 level.

13.

14.

The pseudo R2 for all four models is fairly low because the majority of values for the dependent variable are 0 (387 of 555). However, of the four models, the pseudo R2 is slightly higher for Model 1.

15.

A Wald test shows that all four of the independent variables are distinct from 0 at the 0.01 significance level.

16.

There were alliances in only six districts in which Le Pen's vote share was less than 10%.

17.

The standard deviations of three variables are as follows: Le Pen — 0.049; right — 0.092; Mamère — 0.014.

18.

This result could be related to the part of the population this variable captures. As discussed earlier, it only includes those individuals who are non-citizens and not those who may be naturalized or native-born French citizens from North Africa or Turkey. If these other groups were included, the numbers would be much greater and it may have a more significant effect on the probability of an alliance as an even stronger proxy for Le Pen support. Importantly, these naturalized citizens of Magrebin decent may also represent a strong counter-vote for Le Pen, which may mean a decreased probability for fusion. Unfortunately, we cannot tell which it may be from these data.

19.

20.

Wald tests for the model show that we cannot reject the null hypothesis that education is not equal to 0 and that unemployment is distinct from 0 only at the 0.1 level. We can, however, reject the null hypothesis that left incumbent is equal to 0 at the 0.01 level of significance.
References
Blais, A. and Indridason, I. (2007) 'Making candidates count: the logic of electoral alliances in two-round legislative elections', Journal of Politics 69: 193–205.

Burchell, J. (2002) The Evolution of Green Politics: Development and Change within European Green Parties, London: Earthscan.

CIDSP (2002a) French Legislative Election Results, 1993–2002 (CIDSP version), Grenoble: CIDSP.

CIDSP (2002b) French Presidential Election Results, 1995 and 2002 (CIDSP version), Grenoble: CIDSP.

CEVIPOF, CIDSP, and CECOP (2003) French Electoral Panel, 2002, (CIDSP version), Grenoble: CIDSP.

Cox, G.W. (1997) Making Votes Count: Strategic Coordination in the World's Electoral Systems, Cambridge: Cambridge University Press.

Cox, G.W. (1999) 'Electoral rules and electoral coordination', Annual Review of Political Science 2: 145–161.

Dalton, R.J. (1990) 'The Challenge of New Movements', in R.J. Dalton and M. Kuechler (eds.) Challenging the Political Order: New Social and Political Movements in Western Democracies, Oxford: Polity Press, pp. 3–21.

Dalton, R.J. (2002) Citizen Politics: Public Opinion and Political Parties in Advanced Industrial Democracies (3rd edn.). New York: Seven Bridges Press.

Downs, A. (1957) An Economic Theory of Democracy, New York: Harper and Row.

Duverger, M. (1954) Political Parties, New York: Wiley.

Gallagher, M., Laver, M. and Mair, P. (2006) Representative Government in Modern Europe (4th edn.). New York: McGraw Hill.

Golder, S.N. (2006) 'Pre-electoral coalition formation in parliamentary democracies', British Journal of Political Science 36: 193–212.

Inglehart, R. (1997) Modernization and Postmodernization: Cultural, Economic, and Political Change in 43 Societies, Princeton: Princeton University Press.

INSEE (2002) Circonscriptions Législatives: Tableaux Analyses du Recensement de la Population 1999 (CD-ROM), Paris: INSEE.

Kitschelt, H. (1989) The Logics of Party Formation: Ecological Politics in Belgium and West Germany, Ithaca: Cornell University Press.

Laakso, M. and Taagepera, R. (1979) 'Effective number of parties: a measure with application to West Europe', Comparative Political Studies 12: 3–27.

Liao, T.F. (1994) Interpreting Probability Models: Logit, Probit, and Other Generalized Linear Models, Thousand Oaks: Sage Publications.

Lijphart, A. (1994) Electoral Systems and Party Systems: A Study of Twenty-Seven Democracies, 1945–1990, Oxford: Oxford University Press.

Long, J.S. and Freese, J. (2003) Regression Models for Categorical Dependent Variables Using Stata, College Station: Stata Press.

Maddala, G.S. (1983) Limited-Dependent Qualitative Variables in Econometrics, New York: Cambridge University Press.

Mayer, N. (2002) Ces Français qui Votent FN, Paris: Flammarion.

Oppenhuis, E., van der Eijk, C. and Franklin, M. (1996) 'The Party Context: Outcomes', in C. van der Eijk and M. Franklin et al. (eds.) Choosing Europe? The European Electorate and National Politics in the Face of Union, Ann Arbor: University of Michigan Press, pp. 287–305.

Perrineau, P. (1998) Le Symptôme Le Pen: Radiographie des Électeurs du Front National, Paris: Fayard.

Pierce, R. (1995) Choosing the Chief: Presidential Elections in France and the United States, Ann Arbor: University of Michigan Press.

Przeworski, A. and Sprague, J. (1986) Paper Stones: A History of Electoral Socialism, Chicago: University of Chicago Press.

Schain, M. (2000) 'The National Front and the Legislative Elections of 1997', in M.S. Lewis-Beck (ed.) How France Votes, New York: Seven Bridges Press, pp. 69–86.

Schlesinger, J.A. (1991) Political Parties and the Winning of Office, Ann Arbor: University of Michigan Press.

Schlesinger, J.A. and Schlesinger, M.S. (1990) 'The reaffirmation of a multiparty system in France', American Political Science Review 84: 1077–1101.

Schlesinger, J.A. and Schlesinger, M.S. (2000) 'The Stability of the French Party System: The Enduring Impact of the Two-Ballot Electoral Rules', in M.S. Lewis Beck (ed.) How France Votes, New York: Seven Bridges Press, pp. 130–152.

Sjöblom, G. (1968) Party Strategies in Multiparty Systems, Lund: Studentlitteratur.

Strøm, K. (1990) 'A behavioral theory of competitive political parties', American Journal of Political Science 34: 565–598.

Strøm, K. and Müller, W.C. (2000) 'Political Parties and Hard Choices', in K. Strøm and W.C. Müller (eds.) Policy, Office, or Votes: How Political Parties in Western Europe Make Hard Decisions, New York: Cambridge University Press, pp. 1–35.

Taagepera, R. and Shugart, M. (1989) Seats and Votes: The Effects and Determinants of Electoral Systems, New Haven: Yale University Press.

Tsebelis, G. (1990) Nested Games: Rational Choice in Comparative Politics, Los Angeles: University of California Press.

van der Eijk, C., Franklin, M. and Marsh, M. (1996) 'What voters teach us about Europe-wide elections: what Europe-wide elections teach us about voters', Electoral Studies 15: 149–166.

van der Eijk, C., Schoenbach, K., Schmitt, H, Semetko H., van der Brug, W., Franklin, M., Holmberg, S., Mannheimer, R., Thomassen, J. and Wessels, B. (2002) 1999 European Election Study (Steinmetz Archive version) Amsterdam: Steinmetz Archive.

Wittman, D.A. (1973) 'Parties as utility maximizers', American Political Science Review 67: 490–498.
About this article
Cite this article
Spoon, JJ. Evolution of New Parties: From Electoral Outsiders to Downsian Players — Evidence from the French Greens. Fr Polit 5, 121–143 (2007). https://doi.org/10.1057/palgrave.fp.8200121
Keywords
electoral systems

pre-election alliances

Les Verts

new parties

party change

party strategy