Abstract
This paper investigates Critical Success Factors (CSFs) in Enterprise Application Integration (EAI). An initial set of CSFs for EAI projects was created based on a review and synthesis of the literature in the general area of integration, including Enterprise Resource Planning (ERP) projects. A case analysis, involving a large financial services provider integrating its consumer banking systems, was used to validate the CSFs. The findings resulted in a more structured and holistic CSF model which identifies three broad groups of CSFs, namely (1) top management support, (2) overall integration strategy, and (3) EAI project planning and execution. Although EAI projects share many of the same CSFs as ERP projects and other information systems projects, issues related to the selection of the right EAI tool and emphasis on technology planning and enterprise architecture are distinguishing features of EAI projects. Some of practical implications of the research are that EAI projects require personnel with specific skills and expertise, business integration should precede technology integration, that availability of adapters is an important criteria in EAI tool selection and that some custom adapter development may be unavoidable if custom applications need to be integrated.
This is a preview of subscription content,
to check access.
Access this article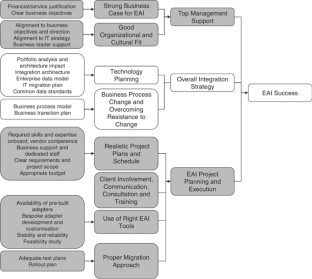 References
Ash CG and Burn JM (2003) Assessing the benefits from e-Business transformation through effective enterprise management. European Journal of Information Systems 12, 297–308.

Bajwa DS, Garcia JE and Mooney T (2004) An integrative framework for the assimilation of enterprise resource planning systems: phases, antecedents, and outcomes. The Journal of Computer Information Systems 44(3), 81–90.

Boehm B (1989) Software Threat Management. IEEE-CS Press, Los Alamitos, CA.

Boynton AC and Zmud RW (1994) An assessment of critical success factors. Sloan Management Review Summer, 17–27.

Brodie M and Stonebraker M (1995) Migrating Legacy Systems. Morgan Kaufmann Publishers, San Francisco, CA.

Chari K and Seshadri S (2004) Demystifying integration. Communications of the ACM 47(7), 59–63.

Cummins F (2002) Enterprise Integration. John Wiley, New York.

Dew JR (1991) In search of the root cause. Quality Progress 24(3), 97–107.

Eisenhardt KM (1989) Building theories form case study research. Academy of Management Review 14, 532–550.

Grimson J, Grimson W and Hasselbring W (2000) The SI challenge in healthcare. Communications of the ACM 43(6), 49–54.

Holland CP and Light B (1999) A critical success factors model for ERP implementation. Communications of the ACM, IEEE Software 16(3), 30–36.

IDC (2002) Enterprise Integration: Market Drivers and Challenges IDC#28549, Available from www.idc.com.

Irani Z, Themistocleous M and Love PED (2003) The impact of enterprise application integration on information system lifecycles. Information and Management 41, 177–187.

Ishikawa K (1985) What is Total Quality Control? The Japanese Way. Prentice-Hall, Englewood Cliffs, NJ.

Jayaram J, Vickery S and Droge C (2000) The effects of information systems infrastructure and the process improvement on supply chain performance. International Journal of Physical Distribution & Logistics Management 30(3–4), 314–330.

Krasner J (2000) Ensuring e-business success by learning from ERP failures. IEEE IT Professional 2(1), 22–27.

Krumbholz M, Galliers J, Coulianos N and Maiden NAM (2000) Implementing enterprise resource planning packages in different corporate and national cultures. Journal of Information Technology 15, 267–279.

Lee J, Siau K and Hong S (2003) Enterprise Integration with ERP and EAI. Communications of the ACM 46(2), 54–60.

Markus ML (2000) Paradigm Shifts – E-Business and Business / Systems Integration. Communications of AIS 4(10), 1–45.

McKeen JD and Smith HA (2002) New developments in practice II: enterprise application integration. Communications of the Association for Information Systems 8, 451–466.

Pan SL and Lee JN (2003) Using e-CRM for a unified view of the customer. Communications of the ACM 46(4), 95–99.

Pinto JK and Covin JG (1989) Critical factors in project implementation: a comparison of construction and R&D projects. Technovation 9(1), 49–62.

Puschmann T and Alt R (2004) Enterprise application integration systems and architecture, the case of the Robert Bosch group. Journal of Enterprise Information Management 17(2), 105–116.

Robertson P (1997) Integrating legacy systems with modern corporate applications. Communications of the ACM 40(5), 39–46.

Rockart JF (1979) Chief executives define their own data needs. Harvard Business Review 52(2), 81–93.

Ross JW (1999) Surprising facts about implementing ERP. IEEE IT Professional 1(4), 65–68.

Sarkis J and Sundarraj RP (2003) Managing large-scale global enterprise resource planning systems: a case study at Texas Instruments. International Journal of Information Management 23, 431–442.

Sawhney M (2001) Don't homogenize, synchronize. Harvard Business Review 79, 101–108.

Sharif AM, Elliman T, Love PED and Badii A (2004) Integrating the IS with the enterprise: key EAI research challenges. The Journal of Enterprise Information Management 17(2), 164–170.

Storey VC, Straub DW, Stewart KA and Welke RJ (2000) A conceptual investigation of the e-Commerce industry. Communications of the ACM 43(7), 117–123.

Sumner M (2000) Risk factors in enterprise-wide / ERP projects. Journal of Information Technology 15(4), 317–327.

Themistocleous M and Irani Z (2001) Benchmarking the benefits and barriers of application integration. Benchmarking 8(4), 317–331.

Themistocleous M, Irani Z and O'Keefe R (2001) ERP and application integration. Business Process Management Journal 7(3), 195–204.

Themistocleous M, Irani Z and Love PED (2004) Evaluating the Integration of Supply Chian Information Systems. European Journal of Operational Research 159, 393–405.

Themistocleous M (2004) Justifying the decisions for EAI implementations: a validated proposition of influential factors. The Journal of Enterprise Information Management 17(2), 85–104.

Whittaker B (1999) What went wrong? unsuccessful information technology projects. Information Management & Computer Security 7(1), 2–3.

Yakovlev IV and Anderson ML (2001) Lessons from an ERP implementation. IEEE IT Professional 3(4), 24–29.

Yang J and Papazoglou M (2000) Interoperation Support for Electronic Business. Communications of the ACM 43(6), 39–47.

Yin RK (1994) Case Study Research: Design and Methods. Sage, Thousand Oaks, CA ISBN 0-8039-5663-0.
About this article
Cite this article
Lam, W. Investigating success factors in enterprise application integration: a case-driven analysis. Eur J Inf Syst 14, 175–187 (2005). https://doi.org/10.1057/palgrave.ejis.3000530
Received:

Revised:

Accepted:

Published:

Issue Date:

DOI: https://doi.org/10.1057/palgrave.ejis.3000530
Keywords