Abstract
Dalton (2004) shows that citizens in many Western democracies are displaying a trend of decreasing trust in political institutions as parliament and the government and in political authorities (Dalton, 2004, 29). In most countries that he studies in detail this decrease is strongest among the younger generations and among the most-educated citizens, so that structural developments such as generational replacement and increasing levels of education will strengthen this downward trend. In this research note, we replicate a part of Dalton's analyses for the Netherlands. The analyses show that the trend in political trust between 1973 and 2001 is upward, not downward. After a dip between 2001 and 2004, trust has been partially restored by 2006. The upward trend and the recent restoration of trust is strongest for the better educated. The results question Dalton's 'rising expectations' hypothesis, but suggest instead that general trends are most pronounced among the better educated, conceivably because they are most politically attentive.
This is a preview of subscription content, log in to check access.
Access options
Buy single article
Instant access to the full article PDF.
US$ 39.95
Price includes VAT for USA
Subscribe to journal
Immediate online access to all issues from 2019. Subscription will auto renew annually.
US$ 124
This is the net price. Taxes to be calculated in checkout.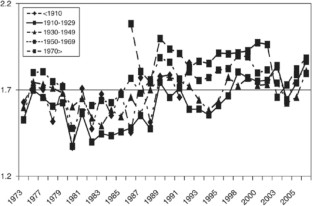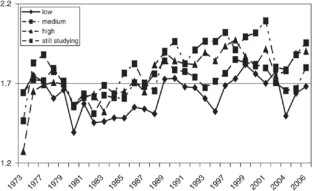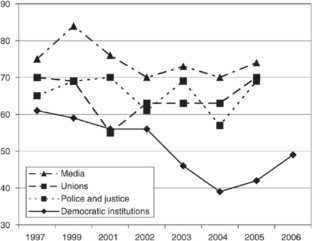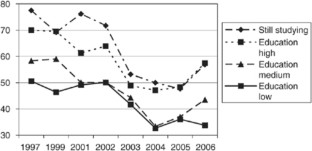 Notes
1.

This research note was received and reviewed before Wouter Van der Brug joined the editorial team as the AP Book Reviews Editor (HK/MH).

2.

These countries are the United States, Australia, Britain, Canada, Finland, Germany, Japan, Norway, Sweden and Switzerland.

3.

Both chapters were published in Citizens and the State, a volume edited by Fuchs and Klingemann (1995). Chapter 9 of that volume by Listhaug (1995) explores trends in trust in politicians. These analyses, showing a similar increasing trend in trust in the Netherlands in the period 1971–1989, are based on items designed to measure political cynicism and political efficacy. We decided to exclude these concepts from our analysis here, because these concepts are theoretically very different from the concept of political support developed by Easton, which formed the theoretical basis for Dalton's (2004) analyses.

4.

One of the largest difficulties when analysing trends over time is that response rates are decreasing, and that the least-interested citizens are less likely to participate in a survey than those who are more politically interested. There is no reason to think that this problem is more severe in Eurobarometers than in other surveys. To some extent this problem is reduced by weighting the data on the basis of a number of variables for which the distribution in the population is known: gender, age, region and population size of the town in which the respondent lives.

5.

This was tested with the Mokken scaling procedure (Mokken, 1971; Van Schuur, 2003). The items form moderately strong or strong scales according to criteria set by Mokken.

6.

Dalton (2004) distinguishes four generations, of which the youngest are those born after 1950. We employ largely the same categorization as Dalton. The only difference is that we divided the youngest generation in Dalton's categorization into two 'groups': those born between 1950 and 1969, and those born in 1970 or later). Averages based on fewer than 10 respondents were judged to be deceptive and were therefore excluded from the graphs (not from the individual-level regression analyses). As a consequence, the time series of the generation born before 1910 ends in 1992, and the time series of the youngest generation begins in 1986.

7.

These differences are statistically significant. In 1973, the group with medium- and low-level education was most satisfied. The difference between these two groups was not significant. Those still studying were significantly less satisfied (p<0.01) than the medium and low educated. The most educated citizens were significantly less satisfied than those still studying (p<0.001). Later in the 1970s, the differences between the four groups are not statistically significant. However, in the 2000s this pattern has reversed considerably. If we take the sub-sample of all respondents interviewed in the period 2000–2006, those still studying are most satisfied, then the highest educated, then the medium educated and then those with the lowest formal education. All differences are significant (at p<0.01 or at p<0.001).

8.

Education is measured in the Eurobarometer by asking respondents how old they were when they finished their last full-time education. This method is best suited for the purpose of comparative research. In our study, we distinguish four categories: low education (up until 16 years old), medium education (17–20), high education (21 years or older) and 'still studying'. To measure left/right ideology, respondents were asked to place themselves on a 10-point left/right scale, where 1 is labelled 'left' and 10 is labelled 'right'. In order to allow for the possibility that citizens at the ideological extremes would be less satisfied, we distinguish three categories: left (positions 1–3), centre (4–7) and right (8–10).

9.

To avoid multicollinearity, the values of the variable 'year' were centred around their mean value, which is 1986.

10.

The values of the dependent variable were transformed to a 100-point scale in order to facilitate the interpretability, because otherwise Table 1 would contain very small coefficients.

11.

Trust in police, trade unions and the media was not measured in Eurobarometer 65.2 (fielded in March–May 2006), which is the last data set available at the time this article was prepared.

12.

One should also note that we tested 88 regression coefficients (11 parameters and 8 moments). Just by chance, we will find a few of them being statistically significant.
References
Becker, J. and Dekker, P. (2005) 'Het beeld van beleid en politiek', in T. Roes (ed.) De Sociale Staat van Nederland, Den Haag: SCP, pp. 328–362.

Dalton, R.J. (2004) Democratic Challenges, Democratic Choices; The Erosion of Political Support in Advanced Industrial Democracies, Oxford: Oxford University Press.

Dalton, R.J. (2005) 'The social transformation of trust in government', International Review of Sociology 15 (1): 133–154.

Easton, D. (1965) A Systems Analysis of Political Life, New York: Wiley.

Fuchs, D., Guidorosso, G. and Svensson, P. (1995) 'Support for the Democratic System', in D. Fuchs and H-D. Klingemann (eds.) Citizens and the State, Oxford: Oxford University Press.

Fuchs, D. and Klingemann, H-D. (eds.) (1995) Citizens and the State, Oxford: Oxford University Press.

Listhaug, O. (1995) 'The Dynamics of Trust in Politicians', in D. Fuchs and H-D. Klingemann (eds.) Citizens and the State, Oxford: Oxford University Press.

Listhaug, O. and Wiberg, M. (1995) 'Confidence in Political and Private Institutions', in D. Fuchs and H-D. Klingemann (eds.) Citizens and the State, Oxford: Oxford University Press.

Mokken, R.J. (1971) A Theory and Procedure of Scale Analysis, The Hague: Mouton.

Pharr, S.J. and Putnam, R.D. (2000) Disaffected Democracies; What's Troubling the Trilateral Countries? Princeton: Princeton University Press.

Van der Brug, W. and van der Eijk, C. (2001) Across the Board: Campaign Effects in the Dutch National Elections of 1998. Paper presented at the Dutch Annual Conference of Communications Science Vrije Universiteit Amsterdam, 22–23 February 2001.

Van der Brug, W. and van der Eijk, C. (2005) 'Welke effecten hadden de campagnes nu eigenlijk?', in K. Brants and P. van Praag (eds.) Politiek en Media in Verwarring. De verkiezingscampagnes in het lange jaar 2002, Amsterdam: Spinhuis.

Van der Eijk, C. (2000) 'The Netherlands: media and politics between segmented pluralism and market forces', in R. Gunther and A. Mughan (eds.) Democracy and the Media: A comparative Perspective, Cambridge: Cambridge University Press, pp. 303–342.

Van Praag, P. (2003) 'The winners and losers in a turbulent political year', Acta Politica 38 (1): 5–22.

Van Praag, P. and van der Eijk, C. (1998) 'News content and effects in a historic campaign', Political Communication 15 (2): 165–183.

Van Schuur, W. (2003) 'Mokken scale analysis: a nonparametric version of Guttman scaling for survey research', Political Analysis 11: 139–163.
Acknowledgements
We thank two anonymous referees for their useful comments, which helped us to improve the manuscript. While working on this study, Wouter van der Brug was a fellow at NIAS. He thanks the institute for its support and particularly the editorial help of Mrs. Petry Kievit-Tyson.
About this article
Cite this article
van der Brug, W., van Praag, P. Erosion of Political Trust in the Netherlands: Structural or Temporarily? A Research Note. Acta Polit 42, 443–458 (2007). https://doi.org/10.1057/palgrave.ap.5500203
Keywords
political trust

political support

democracy

citizens

parties