Abstract
This article examines the extent to which shippers can influence the level of carbon emissions from the deep-sea container supply chain. It uses data collected in an online questionnaire survey of 34 large UK shippers, supplemented by the results of focus group discussions and interviews with a range of key stakeholders, including shipping lines, freight forwarders, logistics companies and port operators. The online sample comprised shippers responsible for inbound and/or outbound deep-sea containers flows. The amount of leverage that they can exert on 'carbon-sensitive' decisions depends partly on the Incoterms that they employ and their use of freight forwarders. Many large shippers still retain significant influence over the choice of carriers used for deep-sea and port feeder services, consignment routing and scheduling and the choice of port. Shippers responsible for inbound flows reported high levels of container fill, though opportunities exist for improving the weight utilisation of outbound containers, possibly by moving to a port-centric logistics model. Around 40 per cent of the shippers consulted currently measure CO2 emissions from their deep-sea container supply chains with only 6 per cent explicitly implementing carbon reduction initiatives. The research shows the importance of adopting a broader supply chain approach to decarbonisation in the maritime sector and emphasises the need for a multi-stakeholder perspective that recognises the important role of the shipper in the process.
Access options
Buy single article
Instant access to the full article PDF.
USD 39.95
Price excludes VAT (USA)
Tax calculation will be finalised during checkout.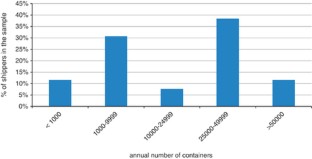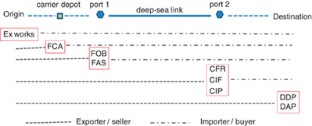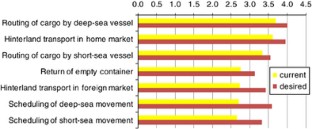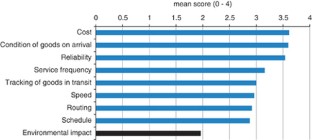 Notes
Under the terms of the Greenhouse Gas Protocol, Scope 3 emissions are defined as 'all indirect emissions that occur in the value chain of the reporting company, including both upstream and downstream emissions'. They include emissions from companies to which activities, such as logistics, have been outsourced. This contrasts with Scope 1 emissions which originate from sources the reporting company directly owns/controls and Scope 2 emissions that arise from the generation of electricity used by the reporting company.

The average carbon intensity of heavy articulated truck (> 33 tonnes gross weight) at mean weight-based loading of 62 per cent=0.084 kg CO2/tonne-km; average carbon intensity of 'diesel/electric' rail freight operations in the UK=0.028 kg CO2/tonne-km (DEFRA/DECC, 2012).
References
Asbjørnslett, B., Lindstad, H. and Mørkve, T. (2010) Energy efficiency and environmental performance of maritime logistics chains: Estimating the current situation – Major challenges and possible pitfalls. Proceedings of the 12th World Conference on Transport Research, Lisbon.

AEA Technology. (2008) Greenhouse Gas Emissions from Shipping: Trends, Projections and Abatement Potential. London: Committee on Climate Change.

Bretzke, W.-R. (2011) Sustainable logistics: in search of solutions for a challenging new problem. Logistics Research 3: 179–189.

British Chamber of Shipping. (2011) Shipping's Carbon Emissions: Design and Implementation of Market-based Measures. Part 1: Cap-And-Trade Emissions Trading System. London: British Chamber of Shipping.

Brooks, M. (1990) Ocean carrier selection criteria in a new environment. Logistics and Transportation Review 26 (4): 339–355.

BSR. (2013) Clean Cargo. http://www.bsr.org/en/our-work/working-groups/clean-cargo, accessed 1 November 2013.

Buhaug, Ø. et al (2009) Prevention of Air Pollution from Ships: Second IMO GHG Study. London: International Maritime Organisation.

Cariou, P. (2011) Is slow steaming a sustainable means of reducing CO2 emissions from container shipping. Transportation Research Part D 16 (3): 260–264.

Committee on Climate Change. (2011) Review of UK Shipping Emissions. London: Committee on Climate Change.

Corbett, J.J., Wang, H. and Winebrake, J.J. (2009) The effectiveness and costs of speed reductions on emissions from international shipping. Transportation Research Part D 14 (8): 593–598.

DEFRA/DECC. (2012) 2012 Guidelines to DEFRA/DECC's GHG Conversion Factors for Company Reporting. London: DEFRA/DECC.

Department for Transport. (2012) Port freight statistics 2011 https://www.gov.uk/government/publications/port-freight-statistics-2011-final-figures, accessed 1 November 2013.

Freight Transport Association. (2013) Logistics Carbon Review 2013. Tunbridge Wells: Freight Transport Association.

Griffis, S.E., Goldsby, T.J. and Cooper, M. (2003) Web-based and mail surveys: A comparison of response, data and cost. Journal of Business Logistics 24 (2): 237–258.

Hein, N., Laporte, G. and Roy, J. (2009) Business environment factors, incoterm selection and export performance. Operations and Supply Chain Management 2 (2): 63–78.

Insight. (2008) How Mature is the Green Supply Chain, 2008 Supply Chain Monitor. Amsterdam: Bearing Point Inc.

International Chamber of Commerce. (2010) ICC Guide to Incoterms 2010. Paris: ICC.

International Council on Clean Transportation. (2011) Reducing Greenhouse Gases from Ships: Cost-Effectiveness of Various Options. Washington, DC: ICCT.

Kageson, P. (2009) Linking CO2 Emissions from International Shipping to the EU Emissions Trading Scheme. Dessau-Rosslau, Germany: Federal Environment Agency.

Maloni, M., Paul, J.A. and Gligor, D.M. (2013) Slow steaming impacts on ocean carriers and shippers. Maritime Economics and Logistics 15 (2): 151–171.

Mangan, J., Lalwani, C. and Fynes, B. (2008) Port-centric logistics. International Journal of Logistics Management 19 (1): 29–41.

McKinnon, A.C. (2013) Decarbonising the deep-sea container supply chain: the contribution of port-centric logistics. Proceedings of the 13th World Conference on Transport Research, Rio de Janiero.

McKinnon, A.C. and Woolford, R. (2011) Possible effects of port-centric logistics on the carbon intensity of the maritime supply chain: A preliminary review. In: O. Turan and A. Incecik (eds.) LCS 2011: International Conference on Technologies, Operations, Logistics and Modelling for Low Carbon Shipping – Proceedings. Glasgow,UK: University of Strathclyde.

Ng, A.S.F. (2012) Container flows and empty container repositioning. In: D.W. Song and P. Panagotis (eds.) Maritime Transport: Contemporary Issues. London: Edward Elgar Publishing Group Ltd.

Radliff, D. (2013) Barriers to improving global supply chain performance by using 'big data'. In: Outlook on the Logistics and Supply Chain Industry 2013. Geneva, Switzerland: World Economic Forum.

Rao, P. and Holt, D. (2005) Do green supply chains lead to competitiveness and economic performance? International Journal of Operations & Production Management 25 (2): 898–916.

Tiwari, P., Itoh, H. and Doi, M. (2003) Shippers' port and carrier selection behaviour in China: A discrete choice analysis. Maritime Economics and Logistics 5 (1): 23–39.

Tongzon, J.L. (2009) Port choice and freight forwarders. Transportation Research, Part E 45 (1): 186–195.

US Environmental Protection Agency. (2013) SmartWay Transport Overview. http://www.epa.gov/smartway/documents/publications/overview-docs/420f13017.pdf, accessed 1 November 2013.

Wolf, C. and Seuring, S. (2010) Environmental impacts as buying criteria for third party logistical services. International Journal of Physical Distribution and Logistics Management 40 (1–2): 84–102.

Woolford, R.E. and McKinnon, A.C. (2011) Decarbonising the maritime supply chain: The role of the shipper. In: T. Notteboom (ed.) Current Issues in Shipping, Ports and Logistics. Brussels, Belgium: Associated Scientific Publishers, pp. 11–24.

World Business Council for Sustainable Development/World Resources Institute. (2011) Corporate Value Chain (Scope 3) Accounting and Reporting Standard. Geneva, Switzerland: WBCSD.
Acknowledgements
The research reported in this article was funded by the UK Engineering and Physical Sciences Research Council as part of its Low Carbon Shipping programme. The support of the Global Shippers' Forum is also gratefully acknowledged.
About this article
Cite this article
McKinnon, A. The possible influence of the shipper on carbon emissions from deep-sea container supply chains: An empirical analysis. Marit Econ Logist 16, 1–19 (2014). https://doi.org/10.1057/mel.2013.25
Published:

Issue Date:

DOI: https://doi.org/10.1057/mel.2013.25
Keywords