Abstract
Cost has a significant impact on shipbuilding competitiveness. In China, low costs have created favourable conditions for domestic shipyards competing in the international market. However, China's shipbuilders have faced rising cost pressures in recent years, which may affect their industrial competitiveness. In this article, we assess shipbuilding costs and their impacts on the competitiveness of China's shipbuilding industry. We compare developments with China's two primary competitors, South Korea and Japan, from 2000 to 2009. First, we analyse primary factors that affect shipbuilding costs. Second, we examine how the shipbuilding costs in China have changed over time. Finally, we use shipbuilding costs and market share to evaluate the competitiveness of China's shipbuilding industry. The results reveal sources and constraints of China's cost advantage, as well as changes in its shipbuilding costs and competitiveness. This article has broad implications for shipbuilding bids, ship production and policy-making.
Access options
Buy single article
Instant access to the full article PDF.
USD 39.95
Price includes VAT (USA)
Tax calculation will be finalised during checkout.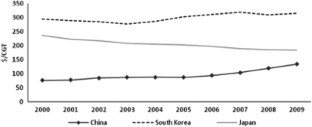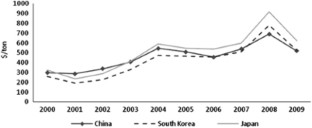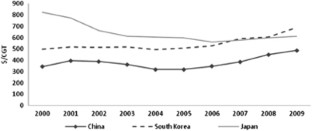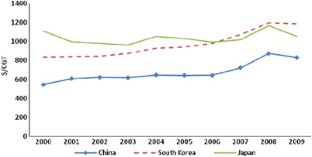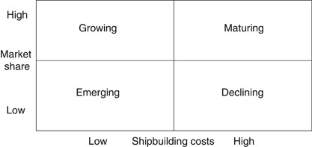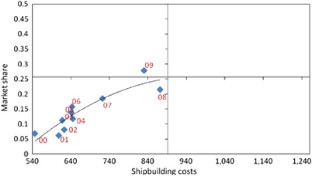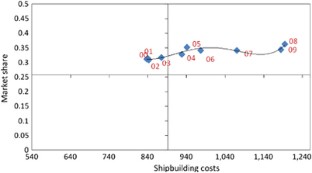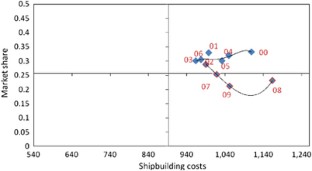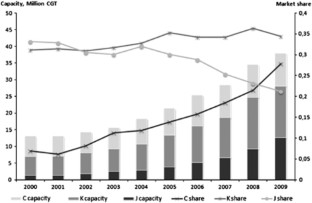 References
Bertram, V. (2003) Strategic control productivity and other competitiveness parameters. Proceedings of the Institution of Mechanical Engineers, Part M: Journal of Engineering for the Maritime Environment 217 (2): 61–70.

Chou, C.C. and Chang, P.L. (2004) Core competence and competitive strategy of the Taiwan shipbuilding. Maritime Policy & Management 31 (2): 125–137.

ECORYS. (2009) Study on competitiveness of the European shipbuilding industry. 8 October, http://ec.europa.eu/enterprise/sectors/maritime/files/fn97616_ecorys_final_report_on_shipbuilding_competitiveness_en.pdf.

Ennis, K., Dougherty, J., Lamb, T., Greenwell, C. and Zimmermann, R. (1997) Product-oriented design and construction cost model. Proceedings of the 1997 Ship Production Symposium, 21–23 April; New Orleans, Louisiana: Society of Naval Architects and Marine Engineers.

First Maritime International. (2005) Findings for the global shipbuilding industry base benchmarking study. Part1: Major shipyards. May 2005, http://www.nsrp.org/Industry_Initiatives/benchmarking/documents/gsibbs.pdf.

Goldan, M. (1995) The Netherland's shipbuilding industry: Own solutions to competitiveness. Proceedings of the 1995 Ship Production Symposium, 25–27 January; Seattle, Washington: Society of Naval Architects and Marine Engineers.

Hengst, S. and Koppies, J. (1996) Analysis of competitiveness in commercial shipbuilding. Journal of Ship Production 12 (2): 73–84.

Hinkelman, E. (2010) Dictionary of International Trade, 9th edn. California: World Trade Press.

Hopeman, J. and Nielnuis, U. (2009) The future of ships and shipbuilding – A look into the crystal ball. In: H. Meersman, E. Voorde and T. Vanelslander (eds.) Future Challenges for the Port and Shipping Sector, Vol. 1. London: Informa, pp. 65–70.

Kaiser, M.J. and Snyder, B. (2010) Mobile offshore drilling rig newbuild and replacement cost functions. Maritime Economics & Logistics 12 (4): 392–429.

Lamb, T. (2002a) Discussion paper on productivity rate. Michigan, US: Department of Naval Architecture and Marine Engineering.

Lamb, T. (2002b) The development of gross tonnage compensation coefficients for naval shipbuilding based on direct productivity calculations, Michigan, US: Department of Naval Architecture and Marine Engineering.

Lamb, T. (2007) Worldwide shipbuilding productivity status and trends. Paper presented at the Pan American Conference of Naval Engineering, Maritime Transport and Port Engineering, 22–26 October.

Mikelis, N. (2007) A statistical overview of ship recycling. International symposium on maritime safety, security and environmental protection. Athens, September 2007 http://www5.imo.org/SharePoint/blastDataHelper.asp/data_id%3D23449/shiprecycling.pdf.

Mitschke, A. (2008) The Influence of National Competition Policy on the International Competitiveness of Nations. Heidelberg, Germany: Physica-Verlag HD.

Mulligan, R.F. (2008) A simple model for estimating newbuilding costs. Maritime Economics & Logistics 10 (3): 310–321.

OECD. (2007) A New Compensated Gross Ton (CGT) System. Paris, France: OECD Directorate for Science, Technology and Industry (STI), Council Working Party on Shipbuilding.

Pires Jr, C. and Lamb, T. (2008) Estimating performance targets for shipbuilding policies. Management Policy & Management 35 (5): 491–502.

Porter, M. (1980) Competitive Strategy. New York: The Free Press.

Porter, M. (1985) Competitive Advantage. New York: The Free Press.

Rashwan, A. and Naguib, A. (2006) Toward improving the cost competitiveness position for shipbuilding yards – Part 1: Impact of technology changes. Alexandria Engineering Journal 45 (5): 537–543.

Stopford, M. (1997) Maritime Economics, 2nd edn. London: Taylor & Francis.

Wergeland, T. (1999) The Future of North European Shipbuilding. Bergen, Norway: Foundation for research in economics and business administration (SNF). SNF Research report 19/99.

Wijnolst, N. and Wergeland, T. (1997) Shipping. Delft, The Netherlands: Delft University Press.
Acknowledgements
This research has been partially supported by the Chinese Scholarship Council and the TORM Foundation. The article was first presented at the ECONSHIP 2011 conference, June 2011, Chios, Greece, but the calculations have since been updated.
Appendices
Appendix A
Appendix B
Appendix C
About this article
Cite this article
Jiang, L., Strandenes, S. Assessing the cost competitiveness of China's shipbuilding industry. Marit Econ Logist 14, 480–497 (2012). https://doi.org/10.1057/mel.2012.17
Keywords
shipbuilding costs

industrial competitiveness

China's shipbuilding industry