Abstract
This article contextualises the rising phenomenon of coworking in the theoretical framework of proximity and knowledge exchange. We present an empirical study through which we were able to assess if the physical co-presence of coworkers in these shared environments stimulates knowledge exchange among them. After identifying two different configurations of coworking spaces from the perspective of the forms of proximity that they involve, we designed a research project aimed at isolating geographical proximity and studying its role in facilitating the transmission of knowledge. The qualitative study of these two configurations of spaces underlined the importance of elements of organisational and social proximity in stimulating collaboration among coworkers and in promoting exchange of other forms of knowledge.
This is a preview of subscription content, log in to check access.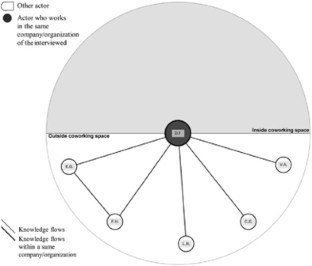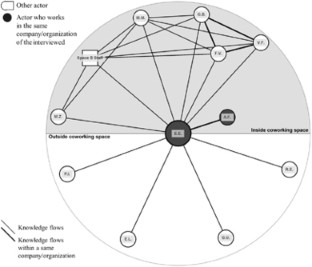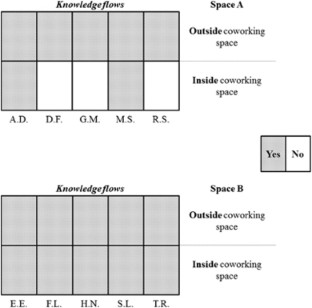 References
Amin A and Cohendet P (2004) Architectures of Knowledge: Firms, Capabilities, and Communities. Oxford University Press, Oxford and New York.

Amin A and Roberts J (2008) Community, Economic Creativity, and Organization. Oxford University Press, Oxford and New York.

Boschma R (2005) Proximity and innovation: a critical assessment. Regional Studies 39 (1), 61–74.

Brown JS and Duguid P (1991) Organizational learning and communities-of-practice: toward a unified view of working, learning, and innovation. Organization Science 2 (1), 40–57.

Brown JS and Duguid P (1998) Organizing knowledge. California Management Review 40 (3), 90–111.

Centre for Social Innovation. (2010) Proof: How Shared Spaces Are Changing the World. Centre for Social Innovation, Toronto.

Chiesi AM (1999) L'analisi Dei Reticoli. FrancoAngeli, Milano.

Cohen D and Prusak L (2001) In Good Company: How Social Capital Makes Organizations Work. Harvard Business School Publishing, Boston, MA.

d'Ovidio M (2010) Network Locali Nell'economia Cognitiva-culturale. Il Caso Di Milano. Rassegna Italiana di Sociologia 51 (3), 459–484.

Eliasson G (1990) The knowledge based information economy. In The Knowledge Based Information Economy (Eliasson G, Fölster S, Lindberg T, Pousette T and Taymaz E, Eds), pp 9–87, Almqvist and Wiksell International, Stockholm.

Flyvbjerg B (2011) Case study. In The Sage Handbook of Qualitative Research (Denzin NK and Lincoln YS, Eds), pp 301–316, Sage, Thousand Oaks, CA.

Foray D (2004) The Economics of Knowledge. The MIT Press, Cambridge, MA.

Forlano L (2011) Building the open source city: changing work environments for collaboration and innovation. In From Social Butterfly to Engaged Citizen: Urban Informatics, Social Media, Ubiquitous Computing, and Mobile Technology to Support Citizen Engagement (Foth M, Forlano L, Satchell C and Gibbs M, Eds.), pp 437–460, The MIT Press, Cambridge, MA.

Gertler MS (1995) 'Being There': proximity, organization, and culture in the development and adoption of advanced manufacturing technologies. Economic Geography 71 (1), 1–26.

Gertler MS (2008) Buzz without being there? Communities of practice in context. In Community, Economic Creativity, and Organization (Amin A and Roberts J, Eds.), pp 203–226, Oxford University Press, Oxford and New York.

Gilly JP and Torre A (2000) Proximity relations: elements for an analytical framework. In Industrial Networks and Proximity (Green MB and McNaughton RB, Eds.), pp 1–17, Ashgate, Aldershot, UK.

Huber F (2011) Do clusters really matter for innovation practices in information technology? questioning the significance of technological knowledge spillovers. Journal of Economic Geography 12 (1), 107–126.

Ichijo K, von Krogh G and Nonaka I (1998) Knowledge enablers. In Knowing in Firms: Understanding, Managing and Measuring Knowledge (von Krogh G, Roos J and Kleine D, Eds), pp 173–203, Sage, London.

Johnson B, Lorenz E and Lundvall BÅ (2002) Why all this fuss about codified and tacit knowledge? Industrial and Corporate Change 11 (2), 245–262.

Jones D, Sundsted T and Bacigalupo T (2009) I'm Outta Here! How Coworking Is Making the Office Obsolete. Not an MBA Press, Austin, TX.

Lave J and Wenger E (1991) Situated Learning: Legitimate Peripheral Participation. Cambridge University Press, Cambridge.

Leamer EE and Storper M (2001) The economic geography of the internet age. Journal of International Business Studies 32 (4), 641–665.

Lorenzen M and Foss NJ (2002) Cognitive coordination, institutions, and clusters: an exploratory discussion. In Cooperation, Networks and Institutions in Regional Innovation Systems (Brenner T and Fornahl D, Eds.), pp 82–104, Edward Elgar, Cheltenham, UK.

Lundvall BÅ (1988) Innovation as an interactive process: from user-producer interaction to the national system of innovation. In Technical Change and economic Theory (Dosi G, Freeman C, Nelson R, Silverberg G and Soete L, Eds.), pp 349–369, Pinter, London.

Malone TW, Laubacher R and Dellarocas C (2009) Harnessing crowds: mapping the genome of collective intelligence. MIT Center for Collective Intelligence Working Paper 2009-001, Cambridge, MA.

Messeni Petruzzelli A, Albino V and Carbonara N (2009) External knowledge sources and proximity. Journal of Knowledge Management 13 (5), 301–318.

Nonaka I and Konno N (1998) The concept of 'Ba': building a foundation for knowledge creation. California Management Review 40 (3), 40–54.

Porter ME (2000) Locations, clusters, and company strategy. In The Oxford Handbook of Economic Geography (Clark GL, Feldman MP and Gertler MS, Eds.), pp 253–274, Oxford University Press, Oxford.

Scott AJ (2008) Social Economy of the Metropolis: Cognitive-cultural Capitalism and the Global Resurgence of Cities. Oxford University Press, Oxford.

Storper M and Venables AJ (2004) Buzz: face-to-face contact and the urban economy. Journal of Economic Geography 4 (4), 351–370.

Torre A (2010) Jalons pour une analyse dynamique des proximités. Revue d'Économie Régionale & Urbaine (3), 409–438.

Townsend A, Forlano L and Simeti A (2011) Breakout! escape from the office: situating knowledge work in sentient public spaces. In Sentient City. Ubiquitous Computing, Architecture, and the Future of Urban Space (Shepard M, Ed.), The MIT Press, Cambridge, MA.

Wellman B (2007) Challenges in collecting personal network data: the nature of personal network analysis. Field Methods 19 (2), 111–115.

Wenger E (1998) Communities of Practice: Learning, Meaning, and Identity. Cambridge University Press, Cambridge.

Wenger E, MacDermott AR and Snyder WM (2002) Cultivating Communities of Practice. A Guide to Managing Knowledge. Harvard Business School Publishing, Boston, MA.
Acknowledgements
The author is grateful to Serena Vicari Haddock, Marianna d'Ovidio, Marisol García Cabeza and Marc Pradel Miquel for their support and advice during the research process. Thanks also to the reviewers and the Editor for their constructive comments and to James Brady for the precious help in the language review of the manuscript.
About this article
Cite this article
Parrino, L. Coworking: assessing the role of proximity in knowledge exchange. Knowl Manage Res Pract 13, 261–271 (2015). https://doi.org/10.1057/kmrp.2013.47
Received:

Revised:

Accepted:

Published:

Issue Date:
Keywords
coworking

proximity

organisational platform

knowledge exchange

knowledge flows