Abstract
The recent increase in research collaboration creates the need to better understand the interaction between individual researchers and the collaborative team. The paper elaborates the conceptualisation of research teams as complex systems which emerge out of the local interactions of individual members operating in their local research groups, and which exhibit different dynamics: the local, the global dynamics, and the contextual dynamics. A model of research teams as complex systems is also introduced. This conceptualisation provides unique insights on management of distributed research teams: (a) the internal operations of some teams are more sensitive to external events than others; (b) conflicts emerge as a mismatch of management structures at the different levels in which a team operates; and (c) teams of high complexity have additional coordination needs, which can be fulfilled by the use of information and communication technologies. Recommendations are drawn for the use of a complex adaptive systems model in the field of knowledge management.
This is a preview of subscription content, log in to check access.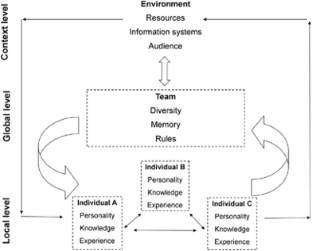 References
Alavi M and Leidner DE (2001) Review: knowledge management and knowledge management systems: conceptual foundations and research issues. Management Information Systems Quarterly 25 (1), 107–136.

Ancona D, Goodman P, Lawrence B and Tushman M (2001) Time: a new research lens. Academy of Management Review 26 (4), 645–663.

Arrow H, McGrath JE and Berdahl J (2000) Small Groups as Complex Systems. Formation, Coordination, Development and Adaptation. Sage, Thousand Oaks.

Auyang SY (1998) Foundations of Complex-System Theories; in Economics, Evolutionary Biology, and Statistical Physics. Cambridge University Press, Cambridge.

Barjak F (2006) Research productivity in the internet era. Scientometrics 68 (3), 343–360.

Box G and Jenkins G (1970) Time Series Analysis. Forecasting and Control. Holden Day, San Francisco.

Bozeman B and Corley E (2004) Scientists' collaboration strategies: implications for scientific and technical human capital. Research Policy 33 (4), 599–616.

Cummings JN and Kiesler S (2005) Collaborative research across disciplinary and organizational boundaries. Social Studies of Science 35 (5), 703–722.

Daft RL and Lengel RH (1984) Information richness: a new approach to managerial behaviour and organization design. In Research in Organizational Behaviour (Cumming LL and Staw BM, Eds), pp 191–233, Jai, Greenwich.

Darr E, Argote L and Epple D (1995) The acquisition, transfer and depreciation of knowledge in service organizations: productivity in franchises. Management Science 41 (11), 1750–1762.

Easterby-Smith M and Lyles MA (Eds.) (2003) Introduction: watersheds of organizational learning and knowledge management. In Handbook of Organizational Learning and Knowledge Management, pp 1–15, Blackwell, Malden, MA.

Edwards JS, Handzic M, Carlsson S and Nissen M (2003) Knowledge management research & practice: visions and directions. Knowledge Management Research & Practice 1 (1), 49–60.

Flood RL and Carson ER (1988) Dealing with Complexity: An Introduction to the Theory and Application of Systems Science. Plenum, New York.

Gao F, Li M and Nakamori Y (2002) Systems thinking on knowledge and its management: systems methodology for knowledge management. Journal of Knowledge Management 6 (1), 7–17.

Gilbert N (2008) Agent-Based Models. Sage Publications, Los Angeles.

Gonzalez RA (2010) Developing a multi-agent system of a crisis response organization. Business Process Management Journal 16 (5), 847–870.

Gottman JM (1981) Time-Series Analysis; A Comprehensive Introduction for Social Scientists. Cambridge University Press, Cambridge.

Grover V and Davenport TH (2001) General perspectives on knowledge management: fostering a research agenda. Journal of Management Information Systems 18 (1), 5–21.

Hansen MT (1999) The search-transfer problem: the role of weak ties in sharing knowledge across organization subunits. Administrative Science Quarterly 44 (1), 82–111.

Heimeriks G and Vasileiadou E (2008) Changes or transition? Analysing the use of ICTs in the sciences. Social Science Information 47 (1), 5–29.

Henderson JC and Matt PC (1980) The influence of decision style on decision making behaviour. Management Science 26 (4), 371–386.

Hollanders D and Vliegenthart R (2008) Telling what yesterday's news might be tomorrow: modeling media dynamics. Communications 33 (1), 47–68.

Katz JS and Martin BR (1997) What is research collaboration? Research Policy 26 (1), 1–18.

Lee S and Bozeman B (2005) The impact of research collaboration on scientific productivity. Social Studies of Science 35 (5), 673–702.

Luukkonen T, Nedeva M and Barré R (2006) Understanding the dynamics of networks of excellence. Science and Public Policy 33 (4), 239–252.

Lyles MA and Schwenk CR (1992) Top management, strategy and organizational knowledge structures. Journal of Management Studies 29 (2), 155–174.

Markus ML (1994) Electronic mail as the medium of managerial choice. Organization Science 5 (4), 502–527.

McCleary R, Hay JRA, Meidinger EE and McDowall D (1980) Applied Time Series Analysis for the Social Sciences. Sage, Beverly Hills.

McElroy MW (2000) Integrating complexity theory, knowledge management and organizational learning. Journal of Knowledge Management 4 (3), 195–203.

Meyer ET and Schroeder R (2009) The world wide web of research and access to knowledge. Knowledge Management Research & Practice 7 (3), 218–233.

Michailova S and Sidorova E (2011) From group-based work to organisational learning: the role of communication forms and knowledge sharing. Knowledge Management Research & Practice 9 (1), 73–83.

Miller JH and Page SE (2007) Complex Adaptive Systems. An Introduction to Computational Models of Social Life. Princeton University Press, Princeton.

Mitchell M (2009) Complexity: A Guided Tour. Oxford University Press, Oxford.

Nonaka I (1994) A dynamic theory of organizational knowledge creation. Organization Science 5 (1), 14–37.

Phelan SE (1999) A note on the correspondence between complexity and systems theory. Systemic Practice and Action Research 12 (3), 237–246.

Roloff KS, Woolley AW and Edmonson AC (2001) The contribution of teams to organizational learning. In Handbook of Organizational Learning and Knowledge Management (Easterby-Smith M and Lyles MA, Eds), pp 249–271, Wiley, Chichester.

Rosen R (1985) Anticipatory Systems: Philosophical, Mathematical and Methodological Foundations. Pergamon Press, Oxford.

Rosendaal B (2009) Sharing knowledge, being different and working as a team. Knowledge Management Research & Practice 7 (1), 4–14.

Safarzynska K and van den Bergh JCJM (2009) Evolutionary modelling in economics: a survey of methods and building blocks. Journal of Evolutionary Economics 20 (3), 329–373.

Salk JE and Simonin BL (2011) Collaborating, learning and leveraging knowledge across borders: a meta-theory of learning. In Handbook of Organizational Learning & Knowledge Management (Easterby-Smith M and Lyles MA, Eds), pp 605–633, Wiley, Chichester.

Schunn C, Crowley K and Okada T (2002) What makes collaborations across a distance succeed? The case of the cognitive science community. In Distributed Work (HInds P and Kiesler S, Eds), pp 407–430, The MIT Press, Cambridge.

Shrum W, Genuth J and Chompalov I (2007) Structures of Scientific Collaboration. The MIT Press, Cambridge.

Sonnenwald DH (2007) Scientific collaboration. In Review of Information Science and Technology (Cronin B, Ed), pp 643–681, Information Today, Medford, NJ.

Vasileiadou E (2009) Stabilisation operationalised: using time series analysis to understand the dynamics of research collaboration. Journal of Informetrics 3 (1), 36–48.

Vasileiadou E (2010) Working Apart Together; Using ICTs in Research Collaboration. LAP Lambert Academic Publishing, Saarbrucken.

Vasileiadou E and Safarzynska K (2010) Transitions: taking complexity seriously. Futures 42 (10), 1176–1186.

Vasileiadou E and Vliegenthart R (2009) Research productivity in the era of the internet revisited. Research Policy 38 (8), 1260–1268.

Wagner C (2008) The New Invisible College: Science for Development. Brookings Institution Press, Washington, DC.

Walsh JP and Maloney NG (2007) Collaboration structure, communication media, and problems in scientific work teams. Journal of Computer-Mediated Communication 12 (2), 712–732.
Acknowledgements
The paper has greatly benefitted from comments by Rafael Gonzalez, Gaston Heimeriks, Diana Lucio-Arias, Karolina Safarzyńska (in alphabetic order), and two anonymous referees.
Additional information
This article is developed from 'Research teams as complex systems and implications for research governance', by Eleftheria Vasileiadou, which appeared in Melkers, J., Monroe-White T. and Cozzens S. (eds.), 2011 Atlanta Conference on Science and Innovation Policy Proceedings, Institute of Electrical and Electronics Engineers. © 2011 IEEE.
One can imagine variable x at the individual level influencing variable y at the team level in an anticipatory mode. That would be described as x(t+1)=ay(t)+b. Path dependence would be formally described as x(t−1)=ay(t)+b.
About this article
Cite this article
Vasileiadou, E. Research teams as complex systems: implications for knowledge management. Knowl Manage Res Pract 10, 118–127 (2012). https://doi.org/10.1057/kmrp.2012.4
Received:

Revised:

Accepted:

Published:

Issue Date:
Keywords
systems thinking

small teams

knowledge teams

complex systems