Abstract
Health policies are specified in documents that contain values, objectives, strategies, and interventions to be implemented. The objective of our study was to analyse health policy documents of six European cities and one county council published around 2010 to determine (i) how cities conceptualize health inequalities, and (ii) what strategies are proposed to reduce them. We performed a qualitative document analysis. We selected Health or Health Inequalities policy documents and analysed the following aspects: general characteristics of the document, inclusion and definition of health inequalities, promotion of good governance and participation, number of objectives, and evaluation. We also described specific objectives. Rotterdam, London, and Stockholm use a conceptual framework. Two of them define health inequalities as a social gradient. Intersectoral action, participation, and evaluation are included in most documents. Interventions focus mainly on the socioeconomic context.
This is a preview of subscription content, log in to check access.
Access options
Buy single article
Instant access to the full article PDF.
US$ 39.95
Price includes VAT for USA
Subscribe to journal
Immediate online access to all issues from 2019. Subscription will auto renew annually.
US$ 90
This is the net price. Taxes to be calculated in checkout.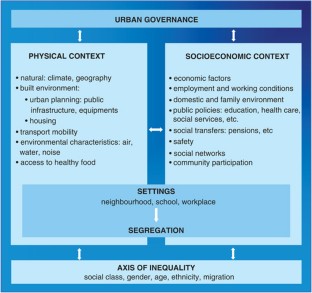 References
Whitehead, M. (1998) Diffusion of ideas on social inequalities in health: A European perspective. Milbank Q 76 (3): 469–492, 306.

Moberg, H. (2008) Comparative studies of policies on health inequalities – A literature review. In: C. Hogstedt, H. Moberg, B. Lundgren and M. Backhans (eds.) Health for All? A Critical Analysis of Public Health Policies in Eight European Countries. Östersund, Sweden: Swedish National Institute of Public Health.

Mackenbach, J.P., Bakker, M.J. and European Network on Interventions and Policies to Reduce Inequalities in Health (2003) Tackling socioeconomic inequalities in health: Analysis of European experiences. Lancet 362 (9393): 1409–1414.

Hogstedt, C., Lundgren, B., Moberg, H., Pettersson, B. and Agren, G. (2004) The Swedish public health policy and the National Institute of Public Health. Scandinavian Journal of Public Health 64 Supplement: 6–64.

Peiró, C. et al (2002) Rapid appraisal methodology for 'health for all' policy formulation analysis. Health Policy 62 (3): 309–328.

WHO. (2000) Using the health for all framework to explore the development of health policy in the European Region of WHO. In: A. Ritsatakis, R. Barnes, E. Dekker, P. Harrington, S. Kokko and P. Makara (eds.) Exploring Health Policy Development in Europe. World Health Organization Regional Publications European Series, no 86, Finland.

Vallgärda, S. (2008) Social inequality in health: Dichotomy or gradient? A comparative study of problematizations in national public health programmes. Health Policy 85 (1): 71–82.

State of the world's cities 2010/2011 – cities for all: bridging the urban divide (2010). United Nations Human Settlements Programme/UN-HABITAT.

WHO/UN-HABITAT. (2010) Hidden Cities: Unmasking and Overcoming Health Inequities in Urban Settings. Geneva, Switzerland: World Health Organization.

Collins, P.A. and Hayes, M.V. (2010) The role of urban municipal governments in reducing health inequities: A meta-narrative mapping analysis. International Journal for Equity in Health 25 (9): 13.

Conceptual framework of INEQ-CITIES project. http://www.ucl.ac.uk/ineqcities/about/conceptual_framework, accessed 20 October 2012.

Creswell, J.W. (2003) Research Design: Qualitative, Quantitative, and Mixed Method Approaches. Thousand Oaks, CA: Sage Publications.

All inhabitants of Amsterdam healthy! Framework Policy Document for Amsterdam's Public Health Policy 2008–2011 (2007). Geemente Amsterdam, http://www.gezond.amsterdam.nl/GetDocument.ashx?DocumentID=2441&name=All-inhabitants-of-Amsterdam-he, accessed 23 March 2012.

Working Together on Good Health. Strengthen health, reduce inequalities. Long-term action plan for Rotterdam Health 2011–2014 (2012). Rotterdam, http://www.instituteofhealthequity.org/projects/actionplan-rotterdam-health, accessed 31 July 2012.

Consorci Sanitari de Barcelona, Agència de Salut Pública de Barcelona. (2008) Pla de salut de Barcelona Ciutat a l'horitzó 2010 (Barcelona Health Plan 2010). Barcelona, http://www10.gencat.cat/catsalut/rsb/arxius/pla_salut_bcn_1.pdf, accessed 23 March 2012.

Instituto de Salud Pública de Madrid. (2010) Plan de intervención en prevención y promoción de la salud de los Centros Madrid Salud 2010–2015 (Intervention plan for health prevention and promotion in the Health Centers of Madrid, 2010–2015). Madrid, http://www.madridsalud.es/prev_prom_saludambiental/pdfs/Plan_intervenciones_prevencion_promocion%20de%20los%20CMS_7_06_2010.pdf, accessed 23 March 2012.

Helsinki Health Centre. (2012–2014) Helsinki Health Centre's strategic plan 2012–2014, http://www.hel.fi/wps/wcm/connect/13a1ef8047cf4c5d8676b715283d9a1a/4_Strategiasuunnitelma12_14.pdf?MOD=AJPERES&lmod=-1466217692, accessed 23 March 2012.

Greater London Authority. (2010) The London Health Inequalities Strategy. London, http://www.london.gov.uk/sites/default/files/HISdeliveryplan.pdf, accessed 23 March 2012.

Stockholm Centre for Public Health. Public Health Policy for Stockholm county council (Greater Stockholm), http://www.folkhalsoguiden.se/upload/folkh%C3%A4lsoarbete/Public%20Health%20Policy.pdf, accessed 23 March 2012.

Peiró, R. et al (2004) Gender sensitivity in the formulation of Spanish health plans: What it could have been but wasn't. Gac Sanit 18 (Supplement 2): 36–46.

Borrell, C. et al (2005) Socioeconomic inequalities and health plans in the Autonomous Communities of Spain. Gac Sanit 19 (4): 277–285.

Dalghren, G. and Whitehead, M. (1991) Policies and strategies to promote social equity in health. Background document to WHO – Strategy paper for Europe. Stockholm: Institute for Future Studies, http://scholar.googleusercontent.com/scholar?q=cache:tfpxXYUL78AJ:scholar.google.com/+%22Policies+and+strategies+to+promote+social+equity+in+health.%22+author:Dahlgren&hl=en&sciui=1&as_sdt=0,5, accessed 27 September 2012.

Comisión Para Reducir Las Desigualdades Sociales En Salud En España. (2012) A proposal of policies and interventions to reduce social inequalities in health in Spain. Gac Sanit 26 (2): 182–189.

Garcia Rada, A. (2011) European financial crisis. Is Spanish public health sinking? BMJ 343: d7445.

Borrell, C., Villalbí, J.R., Díez, E., Brugal, M.T. and Benach, J. (2003) Municipal policies: The example of Barcelona. In: J.P. Mackenbach and M.J. Bakker (eds.) Reducing Inequalities in Health: A European Perspective. New York: Roudledge, pp. 77–84.

Commission on Social Determinants of Health. (2008) Closing the Gap in a Generation: Health Equity through Action on the Social Determinants of Health. Geneva: World Health Organization. Final Report of the Commission on Social Determinants of Health.

Collins, P.A. (2012) Do great local minds think alike? Comparing perceptions of the social determinants of health between non-profit and governmental actors in two Canadian cities. Health Education Research 27 (3): 371–384.

Ståhl, T., Wismar, M., Ollila, E., Lahtinen, E. and Leppo, K. (eds.) (2006) Health in All Policies. Prospects and Potentials. Finland: Ministry of Social Affairs and Health.

Fuertes, C., Pasarín, M.I., Borrell, C., Artazcoz, L. and Díez, E. (2012) Feasibility of a community action model oriented to reduce inequalities in health. Health Policy 107 (2-3): 289–295.

Nebot, M., López, M.J., Ariza, C., Villalbí, J.R. and García-Altés, A. (2011) Effectiveness assessment in public health: Conceptual and methodological foundations. Gac Sanit 25 (Supplement 1): 3–8.

Stuckler, D. and McKee, M. (2012) There is an alternative: Public health professionals must not remain silent at a time of financial crisis. European Journal of Public Health 22 (1): 2–3.
Acknowledgements
This article has been partially funded by the project INEQ-CITIES, 'Socioeconomic inequalities in mortality: evidence and policies of cities of Europe'; project funded by the Executive Agency for Health and Consumers (Commission of the European Union), project no. 2008 12 13.
Additional information
CorrectionAfter removal of a reference from this article the citations were not correctly renumbered in the version of this article originally published 22 November 2012. Please also note the correct shading has been added to Table 2. These corrections have been made in this final version.
Analyzing health policy documents of six European cities and one county council allowed the authors to explore how cities conceptualized health inequalities and strategies proposed to reduce them.
About this article
Cite this article
Borrell, C., Morrison, J., Burstrom, B. et al. Comparison of health policy documents of European cities: Are they oriented to reduce inequalities in health?. J Public Health Pol 34, 100–120 (2013). https://doi.org/10.1057/jphp.2012.57
Keywords
health policy

cities

socioeconomic factors

Europe