Abstract
This paper demonstrates techniques to generate accurate predictions of demand exerted upon the Emergency Medical Services (EMS) using data provided by the Welsh Ambulance Service Trust (WAST). The aim is to explore new methods to produce accurate forecasts that can be subsequently embedded into current OR methodologies to optimise resource allocation of vehicles and staff, and allow rapid response to potentially life-threatening emergencies. Our analysis explores a relatively new non-parametric technique for time series analysis known as Singular Spectrum Analysis (SSA). We explain the theory of SSA and evaluate the performance of this approach by comparing the results with those produced by conventional time series methods. We show that in addition to being more flexible in approach, SSA produces superior longer-term forecasts (which are especially helpful for EMS planning), and comparable shorter-term forecasts to well established methods.
We're sorry, something doesn't seem to be working properly.
Please try refreshing the page. If that doesn't work, please contact support so we can address the problem.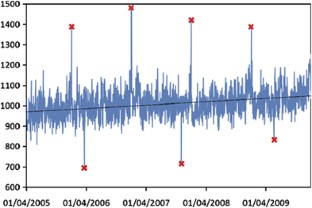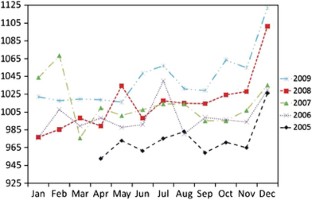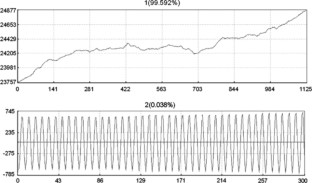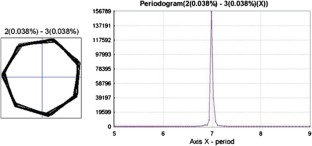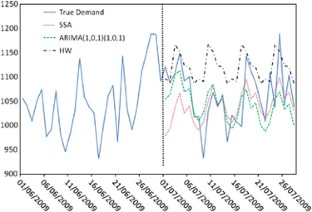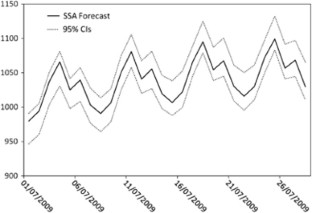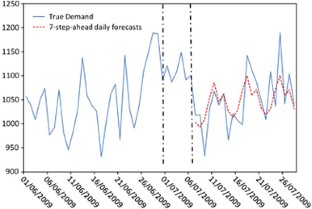 Notes
1.

Category A calls are immediately life-threatening calls.

2.

Categories B and C calls represent all other emergency calls.
References
Aldrich C, Hisserich J and Lave L (1971). An analysis of the demand for emergency ambulance service in an urban area. American Journal of Public Health 61: 1156–1169.

Baker J and Fitzpatrick K (1986). Determination of an optimal forecast model for ambulance demand using goal programming. Journal of the Operational Research Society 37 (11): 1047–1059.

Box G and Jenkins G (1970). Time Series Analysis, Forecasting and Control. Holden-Day Incorporated: San Francisco.

Brockwell P and Davis R (2002). Introduction to Time Series and Forecasting, 2nd edn. Springer-Verlag: New York.

Broomhead D and King G (1986). Extracting qualitative dynamics from experimental data. Physica D: Nonlinear Phenomena 20 (2–3): 217–236.

Broomhead D, Jones R, King G and Pike E (1987). Singular System Analysis with Application to Dynamical Systems. CRC Press: Bristol.

Brotcorne L, Laporte G and Semet F (2003). Ambulance location and relocation models. European Journal of Operational Research 147: 451–463.

Channouf N, L'Ecuyer P, Ingolfsson A and Avramidis A (2007). The application of forecasting techniques to modelling emergency medical system calls in Calgary, Alberta. Health Care Management Science 10 (1): 25–45.

Chatfield C (2001). Time Series Forecasting. CRC Press: Florida.

Colebrook J (1978). Continuous plankton records—Zooplankton and environment, Northeast Atlantic and North Sea, 1948–1975. Oceanologica Acta 1: 9–23.

Efron B and Tibshirani R (1993). An Introduction to the Bootstrap. Chapman & Hall/CRC: New York, London.

Fildes R, Nikolopoulos K, Crone S and Syntetos A (2008). Forecasting and operational research: A review. Journal of the Operational Research Society 59 (9): 1150–1172.

Gardner E (1985). Exponential smoothing: The state of the art. Journal of Forecasting 4 (1): 1–28.

Ghil M, Allen M, Dettinger M, Ide K, Kondrashov D, Mann M, Robertson A, Saunders A, Tian Y, Varadi F and Yiou P (2001). Advanced spectral methods for climatic time series. Reviews of Geophysics 40 (1): 3.1–3.41.

Goldberg J (2004). Operations research models for the deployment of emergency service vehicles. EMS Management Journal 1 (1): 20–39.

Golyandina N, Nekrutkin V and Zhigljavsky A (2001). Analysis of Time Series Structure: SSA and Related Techniques. Chapman & Hall/CRC: New York, London.

Green L and Kolesar P (2004). Improving emergency responsiveness with management science. Management Science 50 (8): 1001–1014.

Green L, Kolesar P and Whitt W (2007). Coping with time-varying demand when setting staffing requirements for a service system. Production and Operations Management 16 (1): 13–39.

Hall W (1971). Management science approaches to the determination of urban ambulance requirements. Socio-economic Planning Sciences 5 (5): 491–499.

Hassani H (2007). Singular spectrum analysis: Methodology and comparison. Journal of Data Science 5: 239–257.

Hassani H, Soofi A and Zhigljavsky A (2010). Predicting daily exchange rate with singular spectrum analysis. Nonlinear Analysis: Real World Applications 11: 2023–2034.

Holcomb J and Sharpe N (2007). Forecasting police calls during peak times for the city of Cleveland. CS-BIGS 1 (1): 47–53.

Hyndman R and Khandakar Y (2008). Automatic time series forecasting: the forecast package for R. Journal of Statistical Software 27 (3): 1–22.

Ingolfsson A, Akhmetshina E, Budge S and Li Y (2007). A survey and experimental comparison of service-level-approximation methods for nonstationary M(t)/M/s(t) queueing systems with exhaustive discipline. INFORMS Journal of Computing 19 (2): 201–214.

Jolliffe I (2008). Principal Component Analysis, 2nd edn. Springer-Verlag: New York.

Kamentzky R, Shuman L and Wolfe H (1982). Estimating need and demand for prehospital care. Operations Research 30 (6): 1148–1167.

Kvålseth T and Deems J (1979). Statistical models of the demand for emergency medical services in an urban area. American Journal of Public Health 69 (3): 250–255.

Li Y and Kozan E (2009). Rostering ambulance services. Asia Pacific Industrial Engineering and Management Systems Conference, Kitakyushu International Conference Center, Kitakyushu, Japan.

Lightfoot Solutions (2009). Efficiency review of the Welsh Ambulance Services NHS Trust, http://www.ambulance.wales.nhs.uk/assets/documents/e7b60166-639f-440f-b715-8922e6b032ef633959717392816442.pdf, accessed 2 June 2010.

Matteson D, McLean M, Woodard D and Henderson S (2011). Forecasting emergency medical service call arrival rates. The Annals of Applied Statistics 5 (2B): 1379–1406.

McConnel C and Wilson R (1998). The demand for prehospital emergency services in an aging society. Social Science and Medicine 46 (8): 1027–1031.

Rodó X, Pascual M, Fuchs G and Faruque A (2002). ENSO and cholera: A nonstationary link related to climate change? PNAS 99 (20): 12901–12906.

Setzler H, Park S and Saydam C (2005). Developing accurate forecasts for ambulance demand via artificial neural networks: a framework. 35th International Conference on Computers and Industrial Engineering, Istanbul, Turkey.

Setzler H, Park S and Saydam C (2009). EMS call volume predictions: A comparative study. Computers & Operations Research 36: 1843–1851.

Siler K (1975). Predicting demand for publicly dispatched ambulances in a metropolitan area. Health Services Research 10 (3): 254–263.

Thomakos D, Wang T and Wille L (2002). Modeling daily realized futures volatility with singular spectrum analysis. Physica A: Statistical Mechanics and its Applications 312 (3–4): 505–519.

Vautard R and Ghil M (1989). Singular spectrum analysis in nonlinear dynamics, with applications to paleoclimatic time series. Physica D: Nonlinear Phenomena 35 (3): 395–424.

Weare B and Nasstrom J (1982). Examples of extended empirical orthogonal function analyses. Monthly Weather Review 110: 481–485.

Welsh Ambulance Services NHS Trust (2007). Time to make a difference: Transforming ambulance services in Wales. A modernisation plan for ambulance services and NHS Direct Wales Final Report, http://www.ambulance.wales.nhs.uk/assets/documents/c4cc0416-9fab-4dea-8753-247a9431c4c7633446359123733750.pdf, accessed 2 June 2010.

Yiou P, Baert E and Loutre M (1996). Spectral analysis of climate data. Surveys in Geophysics 17: 619–663.
Acknowledgements
This research is being funded by EPSRC grant EP/F033338/1 as part of the LANGS initiative. The authors thank the Welsh Ambulance Service Trust for the cooperation in providing the data and particularly Andrew Rees, Senior Information Analyst at the Health Informatics Department, for his helpful comments and advice.
About this article
Cite this article
Vile, J., Gillard, J., Harper, P. et al. Predicting ambulance demand using singular spectrum analysis. J Oper Res Soc 63, 1556–1565 (2012). https://doi.org/10.1057/jors.2011.160
Received:

Accepted:

Published:

Issue Date:
Keywords
health service

emergency medical services

forecasting

singular spectrum analysis