Abstract
Valuing territorial exclusivity in franchising is difficult because of the uncertainty associated with variables such as future franchise sales and brand strength. We present a stochastic dynamic programming model to value the exclusivity option from the perspective of both the franchisor and the franchisee. When there is positive value to the franchisor of including the exclusivity option in the contract, and to the franchisee of purchasing this option, the likelihood of franchisor-franchisee encroachment-related conflict is reduced. We also discuss structural results and explain our results using a numerical example.
This is a preview of subscription content, log in to check access.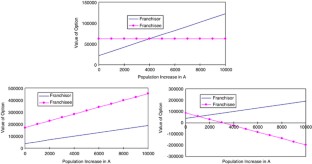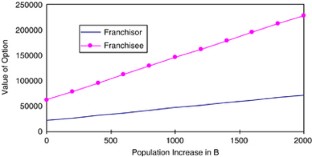 References
Bellman R (1957). Dynamic Programming. Princeton University Press: Princeton, NJ.

Bertsekas D (1976). Dynamic Programming and Stochastic Control. Academic Press: New York.

Hall W (2004). What to do when you have a franchise dispute. Fran World 36: 19–20.

Lilien GL, Kotler P and Moorthy KS (1992). Marketing Models. Prentice Hall: Englewood Cliffs, NJ.

Nair S, Tikoo S and Liu S (2009). Valuing exclusivity from encroachment in franchising. J Retailing 85: 206–210.

Roy R, Chintagunta PK and Haldar S (1996). A framework for investigating habits, 'the hand of the past,' and heterogeneity in dynamic brand choice. Market Sci 15: 280–299.

Schneider K, Johnson J, Sleeper B and Rodgers W (1998). A note on applying retail location models in franchise systems: A view from the trenches. J Consum Market 15: 290–296.

Vilcassim NJ and Jain DC (1991). Modeling purchase-timing and brand-switching behavior incorporating explanatory variables and unobserved heterogeneity. J Marketing Res 28: 29–41.
Appendix
Appendix
Notations
A:

the primary location being considered

B:

a potential future site

I :

the initial upfront fee that the franchisor charges the franchisee

D :

the development costs borne by the franchisor for each location

F :

the per period fixed cost for running an outlet for the franchisee

V :

the variable cost per 1000 customers

ρ :

the royalty fee charged by the franchisor as a % of the total sales

β :

the one period discount factor

O r :

the cost to franchsior of the exclusive rights option offered to the franchisee

O e :

the value to the franchisee of exclusivity

n t A (n t B):

the population in the location A (B) in period t

sA (sB):

the number of discrete states of the population in A (B)

p ij A (p ij B):

the transition probablity that the population in location A (B) is in state j in period t+1 given that it was in state i in period t, where 1⩽i, j⩽sA(B)

φA (φB):

the function that converts the state to actual head count of population for location A (B) in state i in period t, n t A=φA(i)

b t :

the brand strength in a particular period t,

B :

the number of discrete states of brand strengh

q ij :

the transition probablity that the brand strength is in state j in period t+1 given that it was in state i in period t, 1⩽i, j⩽B

s(i):

the expected sales in dollars in a time period per 1000 population in either location depending on the brand strength i

u(i):

the purchase preference of potential customers living in and around location i to purchase at an outlet in location A when only location A is open, where i∈{A, B}.

v(i, j):

the purchase preference of potential customers living in and around location i to purchase at an outlet in location j when both locations A and B are open, where i, j∈{A, B}
About this article
Cite this article
Tikoo, S., Liu, S. & Nair, S. A stochastic dynamic programming model for valuing exclusivity from encroachment in franchising. J Oper Res Soc 63, 151–159 (2012). https://doi.org/10.1057/jors.2010.184
Received:

Accepted:

Published:

Issue Date:
Keywords
franchising

territorial encroachment

exclusivity

stochastic dynamic programming