Abstract
For more than a decade, professional sports teams have mainly used their own websites as online vehicles in support of marketing efforts in services, communications, research and sales. Meanwhile, social media and mobile computing have been added to the mix of online as a response to raised service expectations and changing functional requirements for digital online presence and interaction, which has important implications for the marketing success of any professional team. We studied the cyberspace presence and appearance of four leading soccer teams in Europe and particularly looked at the mix of official team websites, social media and mobile applications. Following the methodology of previous studies on the subject, we used the TEDS framework for information artifact evaluation from a 'human agent-centric' perspective and extended this analytical approach to also include social media and mobile channels. Our results suggest that the new channels of social and mobile media have seemingly gained in importance putting the traditional websites to the backseat in the mix. However, in all four cases the integration of cyberspace channels appears to be in its infancy leaving much room for improvement from both a marketing perspective and an information artifact standpoint.
This is a preview of subscription content, log in to check access.
Access options
Buy single article
Instant access to the full article PDF.
US$ 39.95
Price includes VAT for USA
Subscribe to journal
Immediate online access to all issues from 2019. Subscription will auto renew annually.
US$ 274
This is the net price. Taxes to be calculated in checkout.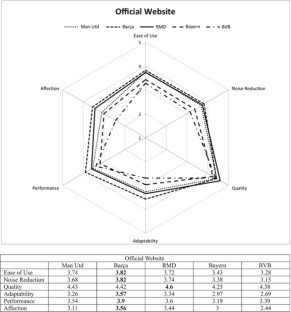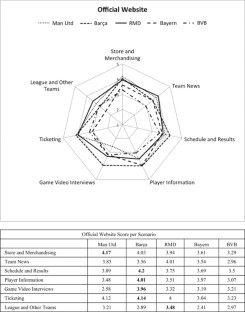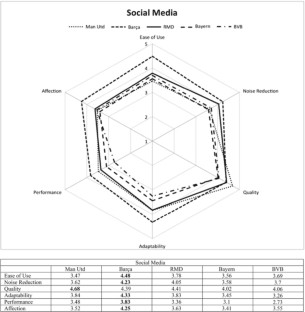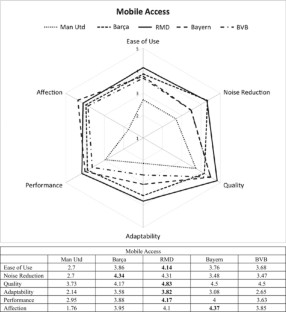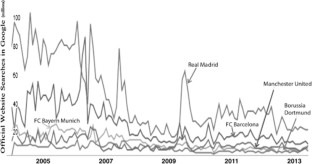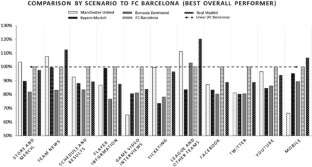 References
Apple Store (2013) http://store.apple.com/us, accessed 31 October 2013.

Gibson, O. (2012) Manchester United 'most popular team in the world' with 659 million fans. The Guardian, 29 May, http://www.theguardian.com/football/2012/may/29/manchester-united-premierleague.

Google Trends, Interest Over Time (2013) http://www.google.com/trends/explore#q=%2Fm%2F0hvgt%2C%20%2Fm%2F06l22%2C%20%2Fm%2F0175rc%2C%20%2Fm%2F01w_d6%2C%20%2Fm%2F050fh&date=1%2F2007%2085m&cmpt=q, accessed 10 February 2014.

Hambrick, M.E. (2012) Six degrees of information: Using social network analysis to explore the spread of information within sport social networks. International Journal of Sport Communication 5 (1): 16–34.

Hambrick, M.E., Simmons, J.M., Greenhalgh, G.P. and Greenwell, T.C. (2010) Understanding professional athletes' use of twitter: A content analysis of athlete tweets. International Journal of Sport Communication 3 (4): 454–471.

Hur, Y., Ko, Y.J. and Valacich, J. (2011) A structural model of the relationships between sport website quality, e-satisfaction, and e-loyalty. Journal of Sport Management 25 (5): 458–473.

Hutchins, B. and Rowe, D. (2012) Sport Beyond Television: The Internet, Digital Media and the Rise of Networked Media Sport. Vol. 40. London: Routledge.

James, J.D. and Ross, S.D. (2004) Comparing sport consumer motivations across multiple sports. Sport Marketing Quarterly 13 (1): 17–25.

Jones, D., Rawnsley, P. and Switzer, A. (2013) Annual Review of Football Finance – Highlights. Deloitte Annual Review of Football Finance 2013. London: Deloitte LLP, pp. 1–16.

List of European Cup and UEFA Champions League finals (2014) Wikipedia. Available at: http://en.wikipedia.org/wiki/List_of_European_Cup_and_UEFA_Champions_League_finals, accessed 23 June 2014.

Miranda, F.J., Chamorro, A., Valero, V. and Maestre, J. (2010) Quantitative assessment of football web sites: An empirical study of the best European football club. Journal of Service Science and Management 3 (1): 110–116.

Net Market Share (2014) Mobile/Tablet Operating System Market Share (as of January 2014). http://www.netmarketshare.com/operating-system-market-share.aspx?qprid=8&qpcustomd=1, accessed 27 February 2014.

Pedersen, P.M. (2013) Reflections on communication and sport: On strategic communication and management. Communication & Sport 1 (1–2): 55–67.

Pegoraro, A. (2010) Look who's talking-athletes on twitter: A Case study. International Journal of Sport Communication 3 (4): 501–514.

Ritchie, J., Lewis, J. and Gillian, E. (2003) Designing and selecting samples. In: J. Ritchie and J. Lewis (eds.) Qualitative Research Practice: A Guide for Social Science Students and Researchers, London; Thousand Oaks, CA: Sage Publications, pp. 77–108.

Sanderson, J. (2010) Framing Tiger's troubles: Comparing traditional and social media. International Journal of Sport Communication 3 (4): 438–453.

Scholl, H.J. (2013) Evaluating sports websites from an information management perspective. In: P.M. Pedersen (ed.) Routledge Handbook of Sport Communication. New York: Routledge, pp. 289–299.

Scholl, H.J. and Carlson, T.S. (2012) Professional sports teams on the web: A comparative study employing the information management perspective. European Sport Management Quarterly 12 (2): 37–41.

Scholl, H.J., Eisenberg, M.B., Dirks, L. and Carlson, T.S. (2011) The TEDS framework for assessing information systems from a human actors' perspective: Extending and repurposing Taylor's value-added model. Journal of the American Society for Information Science and Technology 64 (4): 789–804.

Scholl, M., Ehrlich, P., Wiesner-Steiner, A. and Edich, D. (2014) The Project TEDS@wildau: TEDS Framework Integration into the Moodle Platform for User-Specific Quality Assurance of Learning Scenarios. Paper presented at the 47th Hawaii International Conference on System Science (HICSS 2014), Waikoloa Village, Hawaii.

Seo, W. and Green, B. (2008) Development of the motivation scale for sport online consumption. Journal of Sport Management 22 (1): 82–109.

Waters, R.D., Burnett, E., Lamm, A. and Lucas, J. (2009) Engaging stakeholders through social networking: How nonprofit organizations are using Facebook. Public Relations Review 35 (2): 102–106.

Waters, R.D., Burke, K.A., Jackson, Z.J. and Buning, J.D. (2011) Using stewardship to cultivate fandom online: Comparing how National Football League teams use their web sites and Facebook to engage their fans. International Journal of Sport Communication 4 (2): 163–177.

Wolfradt, U. and Doll, J. (2001) Motives of adolescents to use the Internet as a function of personality traits, personal and social factors. Journal of Educational Computing Research 24 (1): 13–28.
Acknowledgements
Reprinted with permission, from IEEE January 2014, 47th Hawaii International Conference on System Sciences, 'Digital and Social Media in Pro Sports: Analysis of the 2013 UEFA Top Four,' by M. Jurisch, H. Krcmar, H.J. Scholl, K. Wang, Y. Wang, G. Woods, D. Xu, and Y. Yao.
About this article
Cite this article
Scholl, H., Wang, K., Wang, Y. et al. Top soccer teams in cyberspace: Online channels for services, communications, research, and sales. J Market Anal 2, 98–119 (2014). https://doi.org/10.1057/jma.2014.10
Received:

Revised:

Published:

Issue Date:
Keywords
social media

mobile computing

sport