Abstract
The purpose of this study is to explore the use of Enterprise Social Networks (ESN), namely, Yammer and Chatter, using the lens of resistance and deployment of workarounds among individuals employed in a large, service sector organization. By doing so, we can illustrate the motivation behind individual use of ESN within a large organization, the reasons for not using it and the outcomes of their choices on the organization's performance and day-to-day activities. The research approach of our study involves employing a qualitative approach and adopting the interpretive research perspective. Our findings illustrate that there are several bottom-up and top-down pressures, which effectively hinder the adequate or successful use of ESN and drive user resistance and workarounds. The contributions of our study are manifold. First, since ESN are actively considered by organizations, our findings can inform policymakers on the issues that might arise beyond implementation, more so, during the actual use of the system. In other words, the results of this research can shed light on the areas where their efforts are best placed. At a theoretical level, our study enriches the extant literature associated with adoption issues, by explaining that ESN involve multi-level organizational characteristics found within a specific context of use, that of ESN.
Access options
Buy single article
Instant access to the full article PDF.
USD 39.95
Price excludes VAT (USA)
Tax calculation will be finalised during checkout.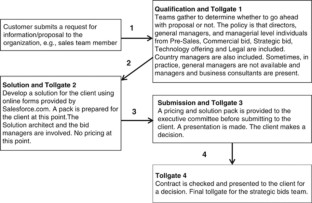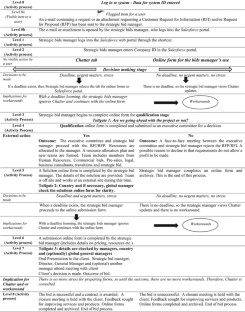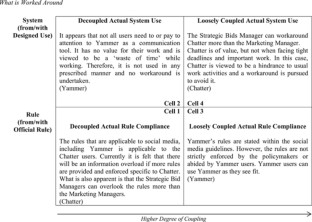 References
Alter, S. (2014). Theory of Workarounds, Communications of the Association for Information Systems 34 (1): 1041–1066.

Alvarez, R. (2008). Examining Technology, Structure and Identity During an Enterprise System Implementation, Information Systems Journal 18 (2): 203–224.

Azad, B. and King, N. (2011). Institutionalized Computer Workaround Practices in a Mediterranean Country: An examination of two organizations, European Journal of Information Systems 21 (4): 358–372.

Bain, P. and Taylor, P. (2000). Entrapped by The 'Electronic Panopticon'? Worker resistance in the call centre, New Technology, Work and Employment 15 (1): 2–18.

Benbasat, I. and Barki, H. (2007). Quo Vardis TAM? Journal of the Associaiton of Informaiton Systems 8 (4): 212–218.

Benbasat, I. and Barki, H. (2009). Quo vadis, TAM? Journal of the Association for Information System 8 (3): 211–218.

Benbya, H. and McKelvey, B. (2006). Using Coevolutionary and Complexity Theories to Improve IS Alignment: A multi-level approach, Journal of Information Technology 21 (4): 284–298.

Borgatti, S.P. and Cross, R. (2003). A Relational View of Information Seeking and Learning in Social Networks, Management Science 49 (4): 432–445.

Boudreau, M.-C. and Robey, D. (2005). Enacting Integrated Information Technology: A human agency perspective, Organization Science 16 (1): 3–18.

Button, G., Mason, D. and Sharrock, W. (2003). Disempowerment and Resistance in the Print Industry? Reactions to Surveillance-Capable Technology, New Technology, Work and Employment 18 (1): 50–61.

Callaghan, G. and Thompson, P. (2001). Edwards Revisited: Technical central and call centres, Economic and Industrial Democracy 22 (1): 13–37.

Ciborra, C.U. (2002). The Labyrinths of Information: Challenging the wisdom of systems, Oxford: Oxford University Press.

Davis, F.D. (1980). A Technology Acceptance Model for Empirically Testing New End-User Information Systems: Theory and results, Cambridge, MA: Massachusetts Institute of Technology.

Davis, F.D. (1989). Perceived Usefulness, Perceived Ease of Use, and User Acceptance of Information Technology, MIS Quarterly 13 (3): 319–340.

Eisenhardt, K.M. (1989). Buiding Theories from Case Study Research, Academy of Management Review 14 (4): 532–550.

Ferneley, E.H. and Sobreperez, P. (2006). Resist, Comply or Workaround? An Examination of Different Facets of User Engagement with Information Systems, European Journal of Information Systems 15 (4): 345–356.

Fernie, S. and Metcalf, D. (1998). (Not) Hanging on the Telephone: Payment system in the new sweatshops. Centre for Economic Performance. London, UK: London School of Economics.

Folger, R. and Skarlicki, D.P. (1999). Unfairness and Resistance to Change: Hardship as mistreatment, Journal of Organizaitonal Change Management 12 (1): 35–50.

Franz, C.R. and Robey, R. (1984). An Investigation of User-Led System Design: Rational and Political Perspectives, Communications of the ACM 27 (12): 1202–1209.

Geertz, C. (1973). The Interpretation of Cultures: Selected essays, New York: Basic Books.

Ginzberg, M.J. (1981). Early Diagnosis of MIS Imple-mentation Failure: Promising results and unanswered questions, Management Science 27 (4): 459–478.

Glaser, B.G. and Strauss, A.L. (1967). The Discovery of Grounded Theory: Strategies for Qualitative Research, Chicago, IL: Aldine Publishing.

Greenwood, R. and Hinings, C.R. (1996). Understanding Radical Organizational Change: Bringing together the old and the new institutionalism, The Academy of Management Review 21 (4): 1022–1054.

Griffith, T.L. (1999). Technology Features as Triggers for Sensemaking, Academy of Management Review 24 (3): 472–488.

Hirschheim, R. and Klein, H.K. (1994). Realizing Emancipatory Principles in Information Systems Development: The case for ETHICS, MIS Quarterly 18 (1): 83–109.

Howard, P.N. (2002). Network Ethnography and the Hypermedia Organization: New media, new organizations, new methods, New Media & Society 4 (4): 550.

Huuskonen, S. and Vakkari, P. (2013). 'I Did It My Way': Social workers as secondary designers of a client information system, Information Processing & Management 49 (1): 380–391.

Jarvenpaa, S.L. and Majchrzak, A. (2008). Knowledge Collaboration Among Professionals Protecting National Security: Role of transactive memories in ego-centered knowledge networks, Organization Science 19 (2): 260–276.

Jermier, J.M., Knights, D. and Nord, W. (eds.) (1994). Resistance and Power in Organizations, London: Routledge.

Joshi, K. (1991). A Model of Users' Perspective on Change: The case of information systems technology implementation, MIS Quarterly 15 (2): 229–242.

Kane, G.C., Alavi, M., Labianca, G.J. and Borgatti, S. (2014). What's Different About Social Media Networks? A Framework and Research Agenda, MIS Quarterly 38 (1): 275–304.

Kaplan, A.M. and Haenlein, M. (2010). Users of The World, Unite! The Challenges and Opportunities of Social Media, Business Horizons 53: 59–68.

Keen, P.G.W. (1981). Information Systems and Organizational Change, Communications of the ACM 24 (1): 24–33.

Kobayashami, I.M., Fussell, S.R., Xiao, Y. and Seagull, F.J. (2005). Work Coordination, Workflow and Workarounds in a Medical Context, in CHI '05 Extended Abstracts on Human Factors in Computing Systems. Conference on Human Factors in Computing Systems: Portland, USA, pp. 1561–1564.

Koch, H., Gonzalez, E. and Leidner, D. (2012). Bridging the Work/Social Divide: The emotional response to organizational social networking sites, European Journal of Information Systems 21 (6): 699–717.

Lankshear, G. and Mason, D. (2001). Technology and Ethical Dilemmas in a Medical Setting: Privacy, professional autonomy, life and death, Ethics and Information Technology 3 (3): 223–233.

Lankshear, G., Cook., P., Mason, D. and Coates, S. (2001). Call Centre Employees Responses to Electronic Monitoring: Some research findings, Work, Employment & Society 15 (3): 595–605.

Lapointe, L. and Beaudry, A. (2014). Identifying IT User Mindsets: Acceptance, resistance and ambivalence, in 47th Hawaii International Conference on System Sciences (HICSS 47), Hawaii, pp. 4619–4628.

Lapointe, L. and Rivard, S. (2005). A Multilevel Model of Resistance to Information Technology Implementation, MIS Quarterly 29 (3): 461–491.

Laumer, S. and Eckhardt, A. (2012). Why Do People Reject Technologies: A review of user resistance theories, in Y.K. Dwivedi, M.R. Wade and S.L. Schneberger (eds.) Information Systems Theory. Vol. 28, New York: Springer, pp. 63–86.

Leonardi, P. and Barley, S. (2010). What's under Construction Here? Social Action, Materiality, and Power in Constructivist Studies of Technology and Organizing, The Academy of Management Annals 4 (3): 1–51.

Leonardi, P.M., Huysman, M. and Steinfield, C. (2013). Enterprise Social Media: Defintion, history and prospects for the study of social technologies in organizations, Journal of Computer Mediated Communication 19: 1–19.

Marakas, G. and Hornik, S. (1996). Passive Resistance Misuse: Overt support and covert recalcitrance in IS implementation, European Journal of Information Systems 5: 208–219.

Markus, M.L. (1983). Power, Politics, and MIS Implementation, Communications of the ACM 26 (6): 430–444.

Meyer, J.W. and Rowan, B. (1977). Institutionalized Organizations: Formal structure as myth and ceremony, American Journal of Sociology 83 (2): 340–363.

Moore, G.C. and Benbasat, I. (1996). Integrating Diffusion of Innovations and Theory of Reasoned Action Models to Predict Utilization of Information Technology by End-Users, in K. Kautz and J. Pries-Hege (eds.) Diffusion and Adoption of Information Technology, London: Chapman and Hall, pp. 132–146.

Oinas-Kukkonen, H., Lyytinen, K. and Yoo, Y. (2010). Social Networks and Information Systems: Ongoing and future research streams, Journal of the Associaiton of Informaiton Systems 11 (2): 61–68.

Orlikowski, W.J. and Baroudi, J.J. (1991). Studying Information Technology in Organizations: Research approaches and assumptions, Information Systems Research 2 (1): 1–28.

Orlikowski, W.J. (1992). The Duality of Technology: Rethinking the concept of technology in organizations, Organization Science 3 (3): 398–427.

Orlikowski, W.J. (1993). CASE Tools as Organizational Change: Investigating incremental and radical changes in systems development, MIS Quarterly 17 (3): 3309–3340.

Orlikowski, W.J. (2000). Using Technology and Constituting Structures: A practice lens for studying technology in organizations, Organization Science 11 (4): 404–428.

Orr, J.E. (1996). Talking about Machines: An ethnography of a modern job, Ithaca, NY: ILR Press/Cornell University Press.

Orton, J.D. and Weick, K.E. (1990). Loosely Coupled Systems: A reconceptualization, Academy of Management Review 15 (2): 203–223.

Pentland, B.T. and Feldman, M.S. (2008). Designing Routines: On the folly of designing artifacts, while hoping for patterns of action, Information and Organization 18 (4): 235–250.

Petrides, L.A., McClelland, S.I. and Nodine, T.R. (2004). Costs and Benefits of the Workaround: Incentive, solution or costly alternative, International Journal of Educational Management 18 (2): 100–108.

Piskorski, M.J. (2011). Social Strategies that Work, Harvard Business Review 89 (11): 116–122.

Prasad, P. and Prasad, A. (2000). Stretching the Iron Cage: The constitution and implications of routine workplace resistance, Organization Science 11 (4): 387–403.

Ren, Y., Carley, K. and Argote, L. (2006). The Contingent Effects of Transactive Memory: When is it more beneficial to know what others know?, Management Science 52 (5): 671.

Riemer, K., Diederich, S., Richter, A. and Scifleet, P. (2011). Tweet Talking – Exploring The Nature of Microblogging at Capgemini Yammer. Business Information Systems Working Paper Series, University of Sydney, Sydney, Australia.

Riemer, K., Overfeld, P., Scifleet, P. and Richter, A. (2012). Eliciting the Anatomy of Technology Appropriation Processes: A Case Study in Enterprise Social Media, in European Conference on Information Systems (ECIS 2012), Barcelona, Spain.

Rosenthal, P. (2004). Management Control as an Employee Resource: The case of front line service workers, Journal of Mangement Studies 41 (4): 601–622.

Schwarz, A., Chin, W.W., Hirschheim, R. and Schwarz, C. (2014). Toward a Process based View of Information Technology Acceptance, Journal of Information Technology 29 (1): 73–96.

Selander, L. and Henfridsson, O. (2012). Cynicism as User Resistance in IT Implementation, Information Systems Journal 22 (4): 289–312.

Selznick, P. (1957). Leadership in Administration, New York: Harper and Row.

Sewell, G. and Wilkinson, B. (1992). Someone to Watch over the Surveillance, Discipline and Just-in-Time Labour Process, Sociology 26 (2): 271–289.

Suchman, L. (1987). Plans and Situated Actions: The problem of human-machine communication, New York, NY: Cambridge University Press.

Szulanski, G. (1996). Exploring Internal Stickiness: Impediments to the transfer of best practice within the firm, Strategic Management Journal 17 (S2): 27–43.

Timmons, S. (2003). Nurses Resisting Information Technology, Nursing Inquiry 10 (4): 257–269.

Treem, J.W. and Leonardi, P.M. (2012). Social Media Use in Organizations: Exploring the affordances of visibility, editability, persistence, and association, Communication Yearbook 36: 143–189.

Venkatesh, V., Morris, M.G., Davis, G.B. and Davis, F.D. (2003). User Acceptance of Information Technology: Towards a unified view, MIS Quarterly 27 (3): 425–478.

Walsham, G. (1995). Interpretive Case Studies in IS Research: Nature and method, European Journal of Information Systems 4 (2): 74–81.

Walsham, G. (2006). Doing Interpretive Research, European Journal of Information Systems 15 (3): 320–330.

Webb, M. and Palmer, G. (1998). Evading Surveillance and Making Time: An ethnographic view of the Japanese factory floor in Britain, British Journal of Industrial Relations 36 (4): 611–627.

Wu, L. (2013). Social Network Effects on Productivity and Job Security: Evidence from the adoption of a social networking tool, Information Systems Research 24 (1): 30–51.

Yammer (2014). Guide to events. 25 October, [WWW document] https://about.yammer.com/success/wp-content/uploads/sites/13/Guide-to-Events_en_US.pdf (accessed 4 January 2014).
Acknowledgements
The principal author thanks the Royal Academy of Engineering, A. Jones, M.A. Stewart, B. Krepel and University of Hertfordshire for the funding, access to Service Ltd and time afforded to this research.
Appendix A
Appendix A
Background to yammer and chatter
Background to yammer
Yammer is a private and secure online environment that supports real-time communication, collaboration and sharing within enterprises. Simply stated, it is a social network for businesses and companies, and is provided by Microsoft. Service Ltd has almost 24,000 users from within its 140,000 global workforce. Access to a Yammer network is determined by a user's Internet domain so that only individuals with appropriate e-mail addresses may join their respective networks. From the interviews it was learnt that updates are sent on a daily basis to the users, and in the late mornings. Users then decide what is of interest to them and what is not. Some appreciated this practice but others did not like it. A business consultant mentioned that updates are about individuals leaving and arriving, and disliked this particular feature: 'I find information on people leaving and coming in to the company as a waste of time'. In Yammer, some individuals also posted their personal hobbies and interests, as for example, recipes, or the latest gadgets and had discussions on them. One commercial bids manager mentioned that 'It is really nice that we can ask someone at work about a recipe, or the latest i-phone rather than asking someone else', while an IT manager found it interesting: 'I like the quote of the day, or small information on Yammer'.
Figure A1 informs readers on Yammer's structure and its interface.
Implementing Yammer
Service Ltd's Yammer network was launched in 2008 shortly after the inauguration of Yammer in the United States. It emerged after some individuals attended an Information Technology conference where a freeware known as Yammer was mentioned. This encouraged three engineers to begin posting on Yammer and encouraging growth. The network was very quiet for 2 years. As the Yammer champion said, '1000 people joined, but the three folks posted consistently – maybe once or twice a week each'. Then, in March 2010 there was a push towards growth where word-of-mouth and a single e-mail were used to encourage users. This led to the network peaking to hit critical mass. In January 2011, Service Ltd signed a contract and before the agreement it was found that there were around 3000 users. In 2011 February, Service Ltd merged with another American organization that had 5000 users, which led to a growth in the number of users in Service Ltd to approximately 8000. The network grew rapidly over the next year or two, thanks to a better understanding of the usage process, and then growth levelled. It has been just under 25,000 for some time now (at least 1.5 years). When reasons for the flat line were explored, several theories had been suggested. The first one was that there were limited resources invested into further development of Yammer. Second, despite all the promotions and initiatives that were undertaken, it appeared that the saturation or mature point had been reached. Therefore, further efforts appeared not to be achieving any outcomes. Third, the organization formed better processes to remove duplicate users. This better understanding of the processes led to the removal of multiple accounts, or of accounts of users who had left the organization, that is, whose employment contracts ceased to exist. If this had been pursued from the start of the implementation period, then there might be even less registered Yammer users. As the Corporate Communications Manager, who is also the Yammer champion said: 'It was us poking into Yammer's process for validating and getting rid of users who had left the company or who had more than one e-mail account. So Yammer keeps your user ID off your e-mail account. So if you have multiple accounts, you could accidentally or purposely set up a multiple Yammer profile. But we have, through our I.D. system, identified only one e-mail that would then get into the system. Therefore, you would be signing in with your Service Ltd ID rather than your e-mail account'.
As far as the champion of Yammer knew, there was no top-level (senior management) support, but approval for implementing Yammer did exist. Hence, there were no barriers that prevented the development and implementation of Yammer. In addition, as the champion commented, there was no strong campaign pursued, or senior management saying 'Everybody needs to use Yammer'.
In Service Ltd (UK) the Corporate Communications Manager recalled, 'When Yammer first came out, there was a pretty decent promotion about it. So there was some information about the processes to follow for using Yammer'. Further, there was no synchronous plan that the organization was pursuing to diffuse and develop Yammer any further. In other words, there was no concerted effort or campaign being pursued. Nevertheless, there is a corporate policy about using Yammer. As the champion of Yammer stated, 'So we do have a corporate policy governing about what you can say, or cannot say on Yammer. Here's what you do if something goes wrong and all of that'.
Background to Chatter
Chatter is provided by Salesforce as a secure enterprise collaboration application and social development platform. The unique selling point that Salesforce emphasizes is that Chatter allows organizations to collaborate in real time within a secure, private social network for their business. Further, it provides developers with the opportunity to use the Salesforce Chatter platform (www.salesforce.com/chatter/platform) to build social enterprise applications, with all 135,000 native Salesforce applications instantly becoming social. Having achieved immense success in the cloud computing arena, Chatter is the next major innovative initiative for Salesforce.com. To access Chatter, a salesfigure.com account is needed, which is provided only to the employees of the organization and is not available to every member of the public. An example of a Chatter webpage is provided in Figure A2.
As shown in Figure A1 and Figure A2, the appearance of both ESN is quite similar to that of Facebook. As the Marketing Manager for Europe, who is also the Chatter champion, commented: 'Chatter is a Facebook for the organization'.
Implementing Chatter
Comparatively, Service Ltd's Chatter system is in its early stages as implementation took place in May 2014. To date, there are less than 1100 users in Europe and approximately 2000 globally. This shows that presently, compared with Yammer, there appears to be a larger social system user database. In what follows, we describe the background to Chatter's implementation.
Salesforce was using Salesforce.com as a tool for their communication and their sales process, that is, as a Customer Relationship Management system for reporting the organization's sales activity. In simple terms, as described by the Marketing Manager for Service Ltd (Europe), who is the Chatter, champion, 'In lay man's terms, Chatter is a social media Facebook of Salesforce that has the capability to have conversations with the other users of Service Ltd. It also discusses updates, opportunities and account contacts among the many other features of Salesforce'.
In Service Ltd, many of the sales people felt there was support for the ESN use as they were already using Salesforce.com every day. In the mean time, there was a huge drive within Salesforce to tear communication down to one tool, as there was a lot of frustration because of the many available tools. For example, one individual exclaimed his frustration by wondering 'What tool do I use, how do I log in?' To ensure some streamlining and to reduce, or eliminate the frustration, Chatter was enabled to an existing Salesforce.com group, that is, largely the Sales and Marketing departments. To implement Chatter, it was decided that all user groups would have the same capabilities. Therefore, some groups that did not enjoy the same features as the other Chatter users were provided with similar ones. This ensured uniformity. As a developer team member (also an Internal Communications Manager for United States) said: 'There were different business groups – some who were more excited about Chatter and wanted Chatter to be enabled right away, but there were others with a wait and see attitude. So, it was decided that all the user groups would have the features and then, Chatter would be enabled'. The European champion spoke of how Chatter was implemented globally with champions around the globe: 'Initially there were project managers who were co-ordinating the efforts'. Europe's deployment strategies have been successful and their efforts were used as the benchmark. Some quick guides or 1 min tutorials were also used in Europe. These were drawn primarily from YouTube videos developed by Salesforce or from homemade videos with screen captures in them. These videos provided information on functionality, how to post an image, or how to interact with groups.
Another pursued strategy was to inform the senior management on Chatter's capabilities as a social media channel for the organization. This involved the provision of a 15 min presentation to Country Managers and General Managers in Western Europe. As the Chatter champion said, 'In the presentation, the importance of Chatter was also emphasized. This included: Chatter will allow communication. It will allow direct engagement. So you can have central management engaging directly with the field agents. There will be no need to use e-mail or other such channels. It is short and to the point as there is a limit the text to 140 characters. Finally, it is a hub to the organization's business activity. Second. Chatter allows recognition: "If someone has signed off a contract, then senior management can take an instant action using Chatter. You know, to say congratulations, great job, and great win". The Account Manager gets acknowledged as well. Therefore, the peers will see the recognition and acknowledgement and gives them encouragement. This helps with sales competitiveness. Finally, Chatter helps with collaboration. It enables virtual teams to work together, creates groups and allows content to be uploaded to those groups'.
The US strategies were more conservative. Some Salesforce information on Chatter usage, some quick guides and thorough tutorials, configured education courses and planned out education courses for their staff members were employed. Information for Senior Managers was not diffused, as it was believed that the inertia, or demand from individuals would drive the provision of Chatter.
About this article
Cite this article
Choudrie, J., Zamani, E. Understanding individual user resistance and workarounds of enterprise social networks: the case of Service Ltd. J Inf Technol 31, 130–151 (2016). https://doi.org/10.1057/jit.2016.9
Published:

Issue Date:

DOI: https://doi.org/10.1057/jit.2016.9
Keywords