Abstract
Mobile devices as personal communication tools are used as platforms for viral marketing within existing social networks. Although there is some evidence on the usefulness of mobile viral marketing from the marketers' perspective, little is known about the motivations, attitudes, and behaviors of consumers engaged in this marketing instrument. The purpose of this research is to better understand the motivations behind a consumer's decision to engage in mobile viral marketing strategies. The outcome is a grounded theory of mobile viral marketing with respect to the consumer and his social network, decomposing the mobile viral effect and identifying the determinants of reception, usage, and forwarding of mobile viral content. This result helps researchers and marketers to better understand the critical components of mobile viral marketing strategies and prepares the ground for further research in this emerging field.
This is a preview of subscription content, log in to check access.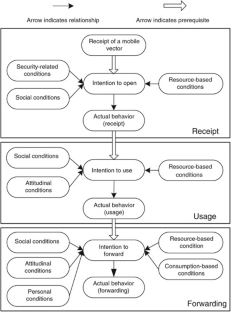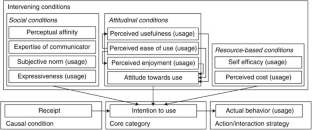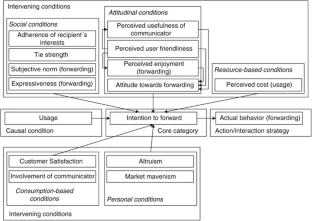 References
Ajzen, I. (1988). Attitudes, Personality, and Behavior, Chicago: The Dorsey Press.

Ajzen, I. (1991). The Theory of Planned Behavior, Organizational Behavior and Human Decision Processes 50 (2): 179–211.

Arndt, J. (1967). Role of Product-Related Conversations in the Diffusion of a New Product, Journal of Marketing Research 4 (3): 291–295.

Bandura, A. (1982). Self-Efficacy Mechanism in Human Agency, American Psychologist 37: 122–147.

Barwise, P. and Strong, C. (2002). Permission-Based Mobile Advertising, Journal of Interactive Marketing 16 (1): 14–24.

Bauer, H.H., Barnes, S.J., Reichardt, T. and Neumann, M.M. (2005). Driving Consumer Acceptance of Mobile Marketing: A theoretical framework and empirical study, Journal of Electronic Commerce Research 6 (3): 181–192.

Bazijanec, B., Pousttchi, K. and Turowski, K. (2004). An Approach for Assessment of Electronic Offers. Applying Formal Methods: Testing, performance, and M/Ecommerce, in M. Núñez, Z. Maamar, K. Pousttchi, F. Rubio and F.L. Pelayo (eds.) FORTE 2004 Workshops The Form EMC, EPEW, ITM, Toledo, Spain: Lecture Notes in Computer Science, pp. 44–57.

Bone, P.F. (1992). Determinants of Word-of-Mouth Communication during Consumption, Advances in Consumer Research 19: 579–583.

Brown, J. and Reingen, P. (1987). Social Ties and Word-of-Mouth Referral Behavior, Journal of Consumer Research 14 (3): 350–362.

de Bruyn, A. and Lilien, G.L. (2008). A Multi-Stage Model of Word of Mouth Through Electronic Referrals, International Journal of Research in Marketing 25: 151–163.

Chen, W.-K., Huang, H.C. and Chou, S.C.T. (2008). Understanding Consumer Recommendation Behaviour in a Mobile Phone Service Context, in Proceedings of the 16th European Conference on Information Systems (Galway, Ireland), 1022–1033.

Compeau, D.R. and Higgins, C.A. (1995). Computer Self-Efficacy: Development of a measure and initial test, MIS Quarterly 19 (2): 189–211.

Cunningham, S.M. (1967). The Major Dimensions of Perceived Risk, in D.F. Cox (ed.) Risk Taking and Information Handling in Consumer Behavior, Boston, MA: Harvard University Press, pp. 82–108.

Davis, F.D. (1989). Perceived Usefulness, Perceived Ease of Use, and User Acceptance of Information Technology, MIS Quarterly 13 (3): 319–340.

Dawason, E.M. and Chatman, E.A. (2001). Reference Group Theory with Implications for Information Studies: A theoretical essay, Information Research 6 (3) [WWW document] http://informationr.net/ir/6-3/paper105.html (accessed 19th January 2008).

Dichter, E. (1966). How Word-of-Mouth Advertising Works, Harvard Business Review 44 (6): 147–166.

Ducoffe, R.H. (1996). Advertising Value and Advertising on the Web, Journal of Advertising Research 36 (5): 21–36.

Feick, L. and Price, L. (1987). The Market Maven: A diffuser of marketplace information, Journal of Marketing 51 (1): 83–97.

Feick, L.F., Guskey, A. and Price, L. (1995). Everyday Market Helping Behavior, Journal of Public Policy & Marketing 14 (2): 255–266.

Fishbein, M. and Ajzen, I. (1975). Belief, Attitude, Intention and Behavior: An introduction to theory and research, Reading: Addison-Wesley.

Gefen, D. (2002). Customer Loyalty in E-Commerce, Journal of the Association for Information Systems 3 (2): 27–51.

Gefen, D., Karahanna, E. and Straub, D.W. (2003). Inexperience and Experience with Online Stores: The importance of TAM and trust, IEEE Transactions on Engineering Management 50 (3): 307–321.

Gilly, M.C., Graham, J.L., Wolfinbarger, M.F. and Yale, L.J. (1998). A Dyadic Study of Interpersonal Information Search, Academy of Marketing Science 26 (2): 83–100.

Glaser, B.G. and Strauss, A. (1967). The Discovery of Grounded Theory: Strategies for qualitative research, Chicago: Aldine Publishing.

Goffman, E. (1959). The Presentation of Self in Everyday Life, Garden City: Doubleday.

Granovetter, M.S. (1973). The Strength of Weak Ties, American Journal of Sociology 78: 1360–1380.

Helm, S. (2000). Viral Marketing – Establishing consumer relationships by 'word-of-mouse', Electronic Markets 10 (3): 158–161.

Hennig-Thurau, T., Gwinner, K.P., Walsh, G. and Gremler, D.D. (2004). Electronic Word-of-Mouth via Consumer-Opinion Platforms: What motivates consumers to articulate themselves on the internet, Journal of Interactive Marketing 18 (1): 38–52.

Herr, P.M., Kardes, F.R. and Kim, J. (1991). Effects of Word-of-Mouth and Product-Attribute Information on Persuasion: An accessibility-diagnosticity perspective, Journal of Consumer Research 17 (4): 454–462.

Igbaria, M., Parasuraman, S. and Baroudi, J.J. (1996). A Motivational Model of Microcomputer Usage, Journal of Management Information Systems 13 (1): 127–143.

Intuitive Media Research Services (2006). Kids Go Mobile. Ownership and Use of Mobile Phones by Children aged 6 to 13 for ICT in Education Sector, 6th December 2006 [WWW document] http://www.nma.co.uk/assets/getAsset.aspx?liAssetID=20934 (accessed 9th May 2007).

I-play (2005). I-Play Outlines Collective Industry Action Required for Mobile Gaming Market to Reach True Potential, 1st August 2005 [WWW document] http://www.iplay.com (accessed 9th May 2007).

Jelassi, T. and Enders, A. (2004). Leveraging Wireless Technology for Mobile Advertising, in Proceedings of the 12th European Conference on Information Systems (Turku, Finland, 2004). Turku School of Economics and Business Administration.

Jurvetson, S. (1997). What is Viral Marketing?, Original version published in the Netscape M-Files [WWW document] http://www.dfj.com/cgi-bin/artman/publish/steve_may00.html (accessed 1st November 2006).

Karjaluoto, H. and Alatalo, T. (2007). Consumers Attitudes Towards and Intention to Participate in Mobile Marketing, International Journal of Services Technology and Management 8 (2/3): 155–173.

Karjaluoto, H., Lehto, H., Leppäniemi, M and Jayawardhena, C. (2008). Customers Intention to Engage in Permission Based Mobile Marketing Communications, in Proceedings of the European Marketing Academy (EMAC) Conference (Brighton, United Kingdom, 2008).

Katz, E. and Lazarsfeld, P.F. (1955). Personal influence: The part played by people in the flow of mass communications, New York: Free Press.

Katz, M.L. and Shapiro, C. (1985). Network Externalities, Competition and Compatibility, American Economic Review 75 (3): 424–440.

Kavassalis, P., Spyropoulou, N., Drossos, D., Mitrokostas, V., Gikas, G. and Hatzistamatiou, A. (2002). Mobile Permission Marketing – Framing the Market Inquiry, in Proceedings 13th International Telecommunications Society's (ITS) European Regional Conference (Madrid, Spain, 2002).

Krippendorf, K. (1980). Content Analysis. An Introduction to its Methodology, Beverly Hills: Sage Publications.

Ling, R. and Yttri, B. (2005). Control, Emancipation and Status: The mobile telephone in the teen's parental and peer group control relationships, in R. Kraut (ed.) Information Technology at Home, Oxford: Oxford University Press.

Marini, S. and Wiedemann, D.G. (2006). Entwicklungen im Bereich Mobile Advertising aus der Sicht von Experten, in K. Pousttchi (ed.) Ergebnisse der Expertenbefragung MM 1. Studienpapiere der Arbeitsgruppe Mobile Commerce, Augsburg, Germany: Wi-mobile Research Groups, University of Augsburg, pp. 1–49.

Martin, P.Y. and Turner, B.A. (1986). Grounded Theory and Organizational Research, Journal of Applied Behavioral Science 22 (2): 141–157.

Maxwell, J.A. (1996). Qualitative Research Design: An interactive approach, Thousand Oaks: Sage.

McCracken, G. (1989). Who is the Celebrity Endorser? Cultural Foundation of the Endorsement Process, Journal of Consumer Research 16 (3): 310–321.

Mitchell, V.-W. (1999). Consumer Perceived Risk: Conceptualisations and models, European Journal of Marketing 33 (1): 163–196.

Montgomery, A.L. (2001). Applying Quantitative Marketing Techniques to the Internet, Interfaces 31 (2): 90–108.

Mort, G.S. and Drennan, J. (2005). Marketing M-Services: Establishing a usage benefit typology related to mobile user characteristics, Journal of Database Marketing & Customer Strategy Management 12 (4): 327–341.

Norman, A.T. and Russell, C.A. (2006). The Pass-Along Effect: Investigating word-of-mouth effects on online survey procedures, Journal of Computer-Mediated Communication 11 (4) [WWWdocument] http://jcmc.indiana.edu/vol11/issue4/norman.html (accessed 9th February, 2008).

Nysveen, H., Pedersen, P.E. and Thorbjørnsen, H. (2005). Intentions to Use Mobile Services: Antecedents and cross-service comparisons, Journal of the Academy of Marketing Science 33 (3): 330–346.

Okazaki, S. (2005). New Perspectives on M-Commerce Research, Journal of Electronic Commerce Research 6 (3): 160–164.

Oliver, R.L. (1997). Satisfaction: A behavioral perspective on the consumer, New York: Irwin/McGraw-Hill.

Pagani, M. (2004). Determinants of Adoption of Third Generation Mobile Multimedia Services, Journal of Interactive Marketing 18 (3): 46–59.

Phelps, J.E., Lewis, R., Mobilio, L. and Perry, D. (2004). Viral Marketing or Electronic Word-of-Mouth Advertising: Examining consumer responses and motives to pass along email, Journal of Advertising Research 45 (4): 333–348.

Pousttchi, K. and Wiedemann, D.G. (2006). A Contribution to Theory Building for Mobile Marketing: Categorizing mobile marketing campaigns through case study research, in Proceedings of the 5th International Conference on Mobile Business (Copenhagen, Denmark, 2006). IEE Computer Society.

Pousttchi, K. and Wiedemann, D.G. (2007). Success Factors in Mobile Viral Marketing: A multi-case study approach, in Proceedings of the 6th International Conference on Mobile Business (Toronto, Canada, 2007). IEE Computer Society.

Schiffman, L.G. and Kanuk, L.L. (1997). Consumer Behavior, 9th edn, Upper Saddle River: Prentice Hall.

Song, J. and Walden, E. (2007). How Consumer Perceptions of Network Size and Social Interactions Influence the Intention to Adopt Peer-to-Peer Technologies, International Journal of E-Business Research 3 (4): 49–66.

Strauss, A. and Corbin, J. (1990). Basics of Qualitative Research: Grounded theory techniques and procedures, Newbury Park: Sage.

Subramani, M.R. and Rajagopalan, B. (2003). Knowledge-Sharing and Influence in Online Social Networks via Viral Marketing, Communications of the ACM 46 (12): 300–307.

Sundaram, D.S., Mitra, K. and Webster, C. (1998). Word-of-Mouth Communications: A motivational analysis, Advances in Consumer Research 25: 527–531.

Swan, J.E. and Oliver, R.L. (1989). Postpurchase Communications by Consumers, Journal of Retailing 65 (4): 516–533.

Tsang, M.M., Ho, S.-C. and Liang, T.-P. (2004). Consumer Attitudes toward Mobile Advertising: An empirical study, International Journal of Electronic Commerce 8 (3): 65–78.

Venkatesh, V. and Davis, F.D. (2000). Theoretical Extension of the Technology Acceptance Model: Four longitudinal field studies, Management Science 46 (2): 186–204.

Weimann, G. (1991). The Influentials: Back to the concept of opinion leaders? Public Opinion Quarterly 55 (2): 268–279.

Wiedemann, D.G. (2007). Exploring the Concept of Mobile Viral Marketing through Case Study Research, in Proceedings of the 2nd Conference on Mobility and Mobile Information Systems (Aachen, Germany). Bonn: Lecture Notes in Informatics pp. 49–60.

Wiedemann, D.G., Haunstetter, T. and Pousttchi, K. (2008). Analyzing the Basic Elements of Mobile Viral Marketing. An Empirical Study, in IEEE Computer Society (ed.), Proceedings of the 7th International Conference on Mobile Business (Barcelona, 2008); Silver Spring, MD: IEEE Computer Society.

Wojnicki, A.C. and Godes, D.B. (2004). Word-of-Mouth and the Self-Concept: The effects of satisfaction and subjective expertise on inter-consumer communication, Working Paper, Harvard University, USA.

Wu, J. and Wang, S. (2005). What Drives Mobile Commerce? An Empirical Evaluation of the Revised Technology Acceptance Model, Information and Management 42 (5): 719–729.

Zaichkowsky, J.L. (1985). Measuring the Involvement Construct, Journal of Consumer Research 12 (3): 341–352.
About this article
Cite this article
Palka, W., Pousttchi, K. & Wiedemann, D. Mobile word-of-mouth – A grounded theory of mobile viral marketing. J Inf Technol 24, 172–185 (2009). https://doi.org/10.1057/jit.2008.37
Keywords
mobile viral marketing

mobile word-of-mouth

mobile marketing

theoretical framework

grounded theory