Abstract
Scholars advocating a sociological view of securitisation have criticised the Copenhagen school for its overemphasis on the grammar of security and its neglect of the social situatedness of securitisation. Accordingly, these critics have also pointed to the relevance of rhetorical strategy, that is, how agents tailor their securitising moves to specific audiences and contexts. This article advances our knowledge of rhetorical strategies of securitisation in two ways. First, it introduces the four rhetorical appeals of authority, fidelity, presence, and emotionality as text-level factors that facilitate the success of securitising moves. Second, the article focuses on rhetorical assemblage and argues that narrative theory enables us to gain a nuanced understanding of how securitising actors seek to create the four rhetorical appeals by selecting and combining discursive resources. To illustrate the added value of this theoretical framework, I use the documentary movies Countdown to Zero and Nuclear Tipping Point. These documentaries are securitising moves that seek to persuade a public audience in the United States of the existential threat that nuclear weapons pose and to mobilise this audience to support the cause of disarmament.
Access options
Buy single article
Instant access to the full article PDF.
US$ 39.95
Tax calculation will be finalised during checkout.
Subscribe to journal
Immediate online access to all issues from 2019. Subscription will auto renew annually.
US$ 119
Tax calculation will be finalised during checkout.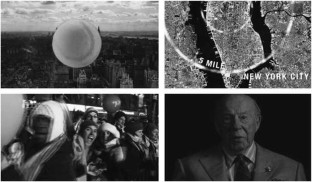 Notes
1.

The label of 'rhetorical strategy' is more accurate than the two alternative labels as it highlights the persuasive/argumentative and situated character of securitisation. As James Martin (2014: 9) notes, '[t]o explore rhetoric is to consider how, at specific moments and locations, ideas are fashioned into arguments with a certain force and direction in order to win the assent of an audience'. Buzan et al. also point to the rhetorical dimension of securitisation by referring to the 'particular rhetoric and semiotic structure' (Buzan et al. 1998: 25) of securitising moves.

2.

These qualities of securitising actors are at the core of the so-called Paris school of security studies. See, for example, Bigo and Tsoukala (2008).

3.

Although Aristotle argued in his writings that rhetors actively construct these characteristics (Amossy 2001), an audience may already attribute these characteristics as a consequence of past communicative encounters.

4.

See also Balzacq, who emphasises the relevance of 'objective developments' (2005: 181) for successful securitisation, and Stritzel's (2012) work on intertextual links.

5.

Debra Hawhee (2011) argues for a more encompassing treatment of the visual in rhetorical studies. She notes that scholars of rhetoric should not only address visual rhetoric as the persuasive use of visual objects and perspectives but also what she labels 'rhetorical vision', that is, 'rhetoric's role in sense perception and the importance of developing a rhetorical style that infuses words with perceivable movement and life, with visualizable action' (Hawhee 2011: 140).

6.

7.

8.

9.

10.

Secondary locations that appear throughout the documentary include countries of the former Soviet Union, Pakistan, and Iran.

11.

12.

As Sanford and Emmott (2012: 173) note, identification only follows from the use of the generic you if it 'describes certain experiences that are sufficiently general to parallel any reader's everyday experience'.

13.

14.

Glenn Hook (1985: 67) labels these two perspectives as top-down and bottom-up, or perpetrator- and victim-perspectives on nuclear weapons.

15.

This syllogism has been very powerful but not uncontested in the post-9/11 debate about nuclear proliferation. Brian Michel Jenkins (2008: 191), for example, argues that '[e]ven jihadists must calibrate their violence or risk isolation. While asserting that they are justified in killing millions, they argue among themselves about the application of violence'.

16.

Countdown to Zero also includes clips that show soldiers and civilians cheering after China's first nuclear test (0:25:10), people celebrating in the street after India's nuclear test in 1974 (0:25:48) and a North Korean rally with imagery of a launching missile (0:27:52). The images of cheering crowds suggest that the handling of nuclear weapons by these states is guided by emotions and impulses rather than rational reflection. According to Hugh Gusterson, this image of new nuclear-weapon states is the heart of what he – drawing on the work of Edward Said – calls 'nuclear orientalism' (1999: 123–28).

17.

Bal refers to this type of narrator as a character-bound narrator (2009: pos. 631).

18.

Nuclear-disarmament initiatives have also used fiction films to support their cause. In the 1980s, for example, disarmament initiatives capitalised on The Day After (1983), a movie that depicts the consequences of nuclear detonations in Kansas (Overpeck 2012). See also Shapiro (2002).
References
Åhäll, Linda and Thomas A. Gregory (2013) 'Security, Emotions, Affect', Critical Studies on Security 1(1): 117–20.

Amossy, Ruth (2001) 'Ethos at the Crossroads of Disciplines: Rhetoric, Pragmatics, Sociology', Poetics Today 22(1): 1–12.

Andersen, Rune S. and Frank Möller (2013) 'Engaging the Limits of Visibility: Photography, Security and Surveillance', Security Dialogue 44(3): 203–21.

Andersen, Rune S., Juha A. Vuori and Can E. Mutlu (2015) 'Visuality', in Claudia Aradau, Jef Huysmans, Andrew Neal and Nadine Voelkner eds, Critical Security Methods: New Frameworks for Analysis, 85–117, London and New York: Routledge.

Aristotle (2007) Rhetorik, Stuttgart: Reclam.

Austin, John L. (1962/2010) Zur Theorie der Sprechakte (How to Do Things with Words), Stuttgart: Reclam.

Bal, Mieke (2009) Narratology: Introduction to the Theory of Narrative, 3rd edn. Toronto: University of Toronto Press, [Kindle Edition].

Balzacq, Thierry (2005) 'The Three Faces of Securitization: Political Agency, Audience and Context', European Journal of International Relations 11(2): 171–201.

Balzacq, Thierry, ed. (2011a) Securitization Theory: How Security Problems Emerge and Dissolve, London and New York: Routledge [Kindle Edition].

Balzacq, Thierry, ed. (2011b) 'A Theory of Securitization: Origins, Core Assumptions, and Variants', in, Securitization Theory: How Security Problems Emerge and Resolve, 1–30, London and New York: Routledge [Kindle Edition].

Berenskoetter, Felix (2014) 'Parameters of a National Biography', European Journal of International Relations 20(1): 262–88.

Bigo, Didier and Anastassia Tsoukala, eds, (2008) 'Understanding (in)Security', in, Terror, Insecurity and Liberty. Illiberal Practices of Liberal Regimes after 9/11, 1–9, London and New York: Routledge.

Binns, Daniel and Paul Ryder (2015) 'Re-viewing D-day: The Cinematography of the Normandy Landings from the Signal Corps to Saving Private Ryan', Media, War & Conflict 8(1): 86–99.

Birdsell, David S. and Leo Groarke (2007) 'Outlines of a Theory of Visual Rhetoric', Argumentation & Advocacy 43(3–4): 103–13.

Bitzer, Lloyd F. (1968) 'The Rhetorical Situation', Philosophy & Rhetoric 1(1): 1–14.

Bleiker, Roland and Emma Hutchison (2014) 'Introduction: Emotions and World Politics', International Theory 6(3): 490–91.

Brahnam, Sheryl (2009) 'Building Character for Artificial Conversational Agents: Ethos, Ethics, Believability, and Credibility', PsychNology 7(1): 9–47.

Buzan, Barry and Lene Hansen (2009) The Evolution of International Security Studies, Cambridge: Cambridge University Press.

Buzan, Barry, Ole Wæver and Jaap de Wilde (1998) Security: A New Framework for Analysis, Boulder: Lynne Rienner Publishers.

Campbell, David (1992) Writing Security: United States Foreign Policy and the Politics of Identity, Minneapolis: University of Minnesota Press.

Campbell, David and Michael J. Shapiro (2007) ''Guest Editor's Introduction: Special Issue on Securitization, Militarization and Visual Culture in the Worlds of Post-9/11'', Security Dialogue 38(2): 131–37.

Clark, Gregory (2004) Rhetorical Landscapes in America: Variations on a Theme from Kenneth Burke, Columbia: University of South Carolina Press.

Cohen, Jonathan (2001) 'Defining Identification: A Theoretical Look at the Identification of Audiences with Media Characters', Mass Communication & Society 4(4): 245–64.

Coles, Robert (1989) The Call of Stories: Teaching and the Moral Imagination, Boston: Houghton Mifflin.

Consigny, Scott (1974) 'Rhetoric and Its Situations', Philosophy & Rhetoric 7(3): 175–86.

Copland, Amy (2006) ''Catching Characters' Emotions: Emotional Contagion Responses to Narrative Fiction Film'', Film Studies 8(1): 26–38.

Crawford, Neta C. (2000) 'The Passion of World Politics: Propositions on Emotions and Emotional Relationships', International Security 24(4): 116–56.

Cuddy, Amy J. C., Peter Glick and Susan T. Fiske (2007) 'The BIAS Map: Behaviors from Intergroup Affect and Stereotypes', Journal of Personality and Social Psychology 92(4): 631–48.

Dalaqua, Renata H. (2013) ''Securing our Survival (SOS)': Non-state Actors and the Campaign for a Nuclear Weapons Convention through the Prism of Securitisation Theory', Brazilian Political Science Review 7(3): 90–117.

De Graaf, Anneke, Hans Hoeken, José Sanders and Johannes W. J. Beentjes (2012) 'Identification as a Mechanism of Narrative Persuasion', Communication Research 39(6): 802–23.

Fisher, Walter (1985) 'The Narrative Paradigm: An Elaboration', Communication Monographs 52(4): 347–67.

Foss, Sonja K. (1994) 'A Rhetorical Schema for the Evaluation of Visual Imagery', Communication Studies 45(3–4): 213–24.

Freedman, Lawrence (2013) Strategy: A History, Oxford: Oxford University Press.

Geiger, Jeffrey (2011) American Documentary Film: Projecting the Nation, Edinburgh: Edinburgh University Press.

Genette, Gérard (1983/1988) Narrative Discourse Revisited, Ithaca: Cornell University Press.

Gottweis, Herbert (2007) 'Rhetoric in Policy Making: Between Logos, Ethos, and Pathos', in Frank Fischer, Gerald J. Miller and Mara S. Sidney, eds, Handbook of Public Policy Analysis: Theory, Politics, and Methods, 237–50, Boca Raton: CRC Press.

Gottweis, Herbert (2012) 'Political Rhetoric and Stem Cell Policy in the United States', in Frank Fischer and Herbert Gottweis, eds, The Argumentative Turn Revisited: Public Policy as Communicative Practice, 211–35, Durham: Duke University Press.

Gusterson, Hugh (1999) 'Nuclear Weapons and the Other in the Western Imagination', Cultural Anthropolgy 14(1): 111–43.

Hansen, Lene (2011) 'Theorizing the Image for Security Studies: Visual Securitization and the Muhammad Cartoon Crisis', European Journal of International Relations 17(1): 51–74.

Hansen, Lene (2015) 'How Images Make World Politics: International Icons and the Case of Abu Ghraib', Review of International Studies 41(2): 263–88.

Hawhee, Debra (2011) 'Looking into Aristotle's Eyes: Toward a Theory of Rhetorical Vision', Advances in the History of Rhetoric 14(2): 139–65.

Hecht, Gabriel (2012) Being Nuclear: Africans and the Global Uranium Trade, Cambridge, MA, and London: MIT Press.

Heck, Axel and Gabi Schlag (2013) 'Securitizing Images: The Female Body and the War in Afghanistan', European Journal of International Relations 19(4): 891–913.

Hill, Charles A. and Marguerit Helmers, eds, (2004) Defining Visual Rhetoric, Mahwah, NJ, and London: Lawrence Erlbaum Associates.

Hook, Glen D. (1985) 'Making Nuclear Weapons Easier to Live With: The Political Role of Language in Nuclearization', Bulletin of Peace Proposals 16(1): 67–77.

Jasper, James M. (1998) 'The Emotion of Protest: Affective and Reactive Emotions in and Around Social Movements', Sociological Forum 13(3): 397–424.

Jasper, James M. (2011) 'Emotions and Social Movements: Twenty Years of Theory and Research', Annual Review of Sociology 37: 14.1–14.19.

Jasper, James M. (2012) 'Choice Points, Emotional Batteries, and Other Ways to Find Strategic Agency at the Microlevel', in Gregory M. Maney, Rachel V. Kutz-Flamenbaum, Deana A. Rohlinger and Jeff Goodwin, eds, Strategy in Action: Movements and Social Change, 13–42, Minneapolis: University of Minnesota Press.

Jenkins, Brian Michael (2008) Will Terrorists Go Nuclear? Amherst: Prometheus Books, [Kindle Edition].

Johnson, Nan (1996) 'Ethos', in Theresa Enos, ed. Encyclopedia of Rhetoric and Composition: Communication from Ancient Times to the Information Age, 243–45, New York: Routledge.

Jowett, Garth S. and Victoria O'Donnell (2015) Propaganda & Persuasion, 6th edn. London: SAGE.

Kauffmann, Charles and Donn W. Parson (1990) 'Metaphor and Presence in Argument', in David C. Williams and Michael D. Hazen, eds, Argumentation Theory and the Rhetoric of Assent, 91–102, Tuscaloosa: University of Alabama Press.

Kennerly, Michele (2010) 'Getting Carried Away: How Rhetorical Transport Gets Judgment Going', Rhetoric Society Quarterly 40(3): 269–91.

Klimmt, Christoph and Peter Vorderer (2010) 'Media Entertainmant', in Charles R. Berger, Michael E. Roloff and David R. Ewoldsen, eds, The Handbook of Communication Science, 345–62, Los Angeles: SAGE.

Krebs, Ronald R (2015) 'Tell Me a Story: FDR, Narrative, and the Making of the Second World War', Security Studies 24(1): 131–70.

Krebs, Ronald R. and Patrick Thaddeus Jackson (2007) 'Twisting Tongues and Twisting Arms: The Power of Political Rhetoric', European Journal of International Relations 13(1): 35–66.

Kuusisto, Rika (2009) 'Comic Plots as Conflict Resolution Strategy', European Journal of International Relations 15(4): 601–26.

Lejano, Raul, Mrill Ingram and Helen Ingram (2013) The Power of Narrative in Environmental Networks, Cambridge, MA, and London: MIT Press.

Lombard, Matthew and Theresa Ditton (1997) 'At the Heart of it All: The Concept of Presence', Journal of Computer-Mediated Communication 3(2), doi: 10.1111/j.1083–6101.1997.tb00072.x.

Martin, James (2014) Politics and Rhetoric: A Critical Introduction, London and New York: Routledge.

Martin, James (2016) 'Capturing Desire: Rhetorical Strategies and the Affectivity of Discourse', British Journal of Politics and International Relations 18(1): 143–160.

Mayer, Frederick (2014) Narrative Politics: Stories and Collective Action, Oxford: Oxford University Press.

McLeod, Laura (2013) 'Back to the Future: Temporality and Gender Security Narratives in Serbia', Security Dialogue 44(2): 165–81.

Miskimmon, Alister, Ben O'Loghlin and Laura Roselle (2013) Strategic Narratives: Communication Power and the New World Order, London and New York: Routledge.

Nedeau, Richard, Richard G. Niemi and Timothy Amato (1995) 'Emotions, Issue Importanceand Political Learning', American Journal of Political Science 39(3): 558–74.

Nye, Joseph S. (2012) The Future of Power, New York: Public Affairs.

Olson, Lester C. (2007) 'Intellectual and Conceptual Resources for Visual Rhetoric: A Re-examination of Scholarship since 1950', Review of Communication 7(1): 1–20.

Overpeck, Deron (2012) ''Remember! It's Only a Movie!' Expectations and Receptions of The Day After (1983)', Historical Journal of Film, Radio and Television 32(2): 267–92.

Perelman, Chaïm and Lucie Olbrechts-Tyteca (1969) The New Rhetoric: A Treatise on Argumentation, Notre Dame and London: University of Notre Dame Press.

Perlmutter, David D. (1998) Photojournalism and Foreign Policy: Icons of Outrage in International Crises, Westport: Praeger.

Plantinga, Carl (1999) 'The Scene of Empathy and the Human Face in Film', in Carl Plantinga and Greg M. Smith eds, Passionate Views: Film, Cognition, and Emotion, 239–56, Baltimore: Johns Hopkins University Press.

Pouliot, Vincent (2010) 'The Materials of Practice: Nuclear Warheads, Rhetorical Commonplaces and Committee Meetings in Russian-Ameican Relations', Cooperation and Conflict 45(3): 294–311.

Ricciardelli, Lucia (2010) 'Documentary Filmmaking in the Postmodern Age: Errol Morris & The Fog of Truth', Studies in Documentary Film 4(1): 35–50.

Ringmar, Erik (2006) 'Inter-texual Relations: The Quarrel over the Iraq War as a Conflict between Narrative Types', Cooperation and Conflict 41(4): 403–21.

Roe, Paul (2008) 'Actor, Audience(s) and Emergency Measures: Securitization and the UK's Decision to Invade Iraq', Security Dialogue 39(6): 615–35.

Ross, Andrew G. (2014) Mixed Emotions: Beyond Fear & Hatred in International Conflict, Chicago and London: University of Chicago Press.

Salter, Mark B. (2008) 'Securitization and Desecuritization: A Dramaturgical Analysis of the Canadian Air Transport Security Authority', Journal of International Relations and Development 11(4): 321–49.

Sanford, Anthony J. and Catherine Emmott (2012) Mind, Brain, and Narrative, Cambridge: Cambridge University Press.

Saunders, David (2010) Documentary, London and New York: Routledge.

Schwartz, Stephen I. ed. (1998) 'Strengthening Atomc Accountability', in, Atomic Audit: The Costs and Consequences of U.S. Nuclear Weapons since 1940, 545–57, Washington: Brookings Institution Press.

Senn, Martin (2009) Wolves in the Woods: The Rogue State Concept from a Constructivist Perspective, Baden-Baden: Nomos.

Senn, Martin and Christoph Elhardt (2014) 'Bourdieu and the Bomb: Power, Language, and the Doxic Battle over the Value of Nuclear Weapons', European Journal of International Relations 20(2): 316–40.

Shapiro, Jerome F. (2002) Atomic Bomb Cinema: The Apocalyptic Imagination on Film, London and New York: Routledge.

Smith, Craig R. (2004) 'Ethos Dwell Pervasively: A Hermeneutic Reading of Aristotle on Credibility', in Michael J. Hyde ed., The Ethos of Rhetoric, 1–19, Columbia: University of South California Press.

Snee, Brian J. (2006) 'Free Guns and Speech Control: The Structural and Thematic Rhetoric of Bowling for Columbine', in Diane S. Hope, ed., Visual Communication: Perception, Rhetoric, and Technology, 193–208, Cresskill, NJ: Hampton Press.

Snyder, Jack (2015) 'Duelling Security Stories: Wilson and Lodge Talk Strategy', Security Studies 24(1): 171–97.

Stone, Deborah (2012) Policy Paradox: The Art of Political Decision Making, 3rd edn. London and New York: W. W. Norton.

Stritzel, Holger (2007) 'Towards a Theory of Securitization: Copenhagen and Beyond', European Journal of International Relations 13(3): 357–83.

Stritzel, Holger (2012) 'Securitization, Power, Intertextuality: Discourse Theory and the Translations of Organized Crime', Security Dialogue 43(6): 549–67.

Stritzel, Holger (2014) Security in Translation: Securitization Theory and the Localization of Threat, Houndmills: Palgrave Macmillan.

Subotic, Elena (2015) 'Narrative, Ontological Security, and Foreign Policy Change', Foreign Policy Analysis (forthcoming) advanced online publication 10.1111/fpa.12089.

Sylvest, Casper (2015) 'Shots of Ambivalence: Nuclear Weapons in Documentary Film', in Rens van Munster and Casper Sylvest, eds, Documenting World Politics: A Critical Companion to IR and Non-fiction Film, 95–113, London and New York: Routledge.

Tal-Or, Nurit and Jonathan Cohen (2010) 'Understanding Audience Involvement: Conceptualizing and Manipulating Identification and Transportation', Poetics 38(4): 402–18.

Taurek, Rita (2006) 'Securitization Theory and Securitization Studies', Journal of International Relations and Development 9(1): 53–61.

Ulbert, Cornelia and Thomas Risse (2005) 'Deliberately Changing the Discourse: What Does Make Arguing Effective?' Acta Poltica 40(3): 351–67.

Van Munster, Rens and Casper Sylvest (2013) 'Documenting International Relations: Documentary Film and the Creative Arrangement of Perceptibility', International Studies Perspectives 16(3): 229–245.

Van Munster, Rens and Casper Sylvest, eds, (2015a) Documenting World Politics: A Critical Companion to IR and Non-fiction Film, London and New York: Routledge.

Van Munster, Rens and Casper Sylvest, eds, (2015b) 'Introduction', in, Documenting World Politics: A Critical Companion to IR and Non-fiction Film, 3–22, London and New York: Routledge.

Van Veeren, Elspeth (2011) 'Captured by the Camera's Eye: Guantanamo and the Shifting Frame of the Global War on Terror', Review of International Studies 37(4): 1721–49.

Vuori, Juha A. (2010) 'A Timely Prophet? The Doomsday Clock as a Visualization of Securitization Moves with a Global Referent Object', Security Dialogue 41(3): 255–77.

Vuori, Juha A. (2013) 'Pictoral Texts', in Mark B. Salter and Can E. Multu eds, Research Methods in Critical Security Studies: An Introduction, 199–202, London and New York: Routledge.

Wæver, Ole (1995) 'Securitization and Desecuritization', in Ronnie D. Lipschutz ed., On Security, 46–86, New York: Columbia University Press.

Wæver, Ole (2000) 'The EU as a Security Actor: Reflections from a Pessimistic Constructivist on Post-sovereign Security Orders', in Morten Kelstrup and Michael C. Williams, eds, International Relations Theory and the Politics of European Integration, 250–94, London and New York: Routledge.

Weber, Max (1922/1972) Wirtschaft und Gesellschaft, 5th edn. Tübingen: Mohr Siebeck.

Wibben, Annick T. (2011) Feminist Security Studies: A Narrative Approach, London and New York: Routledge [Kindle Edition].

Williams, Michael C. (2003) 'Words, Images, Enemies: Securitization and International Politics', International Studies Quarterly 47(4): 511–31.

Williams, Michael C. (2011) 'Securitization and the Liberalism of Fear', Security Dialogue 42(4–5): 453–63.

Zarefsky, David (2004) 'Presidential Rhetoric and the Power of Definition', Presidential Studies Quarterly 34(3): 607–19.
Filmography
Countdown to Zero (2010, dir. Lucy Walker, produced by Global Zero).

Nuclear Tipping Point (2010, dir. Ben Goddard, produced by the Nuclear Security Initiative).
Acknowledgements
This article received valuable input from presentations at the 2012 ISSS/ISAC Annual Conference in Chapel Hill, NC, and the 2014 Annual Convention of the ISA in Toronto. I also thank Ulla Jasper, Rens van Munster, Juha Vuori, three anonymous reviewers, and the editors of JIRD for their very helpful comments on earlier versions of the article, as well as Participant Media and the Nuclear Threat Initiative for granting me the permission to use still images of Countdown to Zero and Nuclear Tipping Point.
About this article
Cite this article
Senn, M. The art of constructing (in)security: probing rhetorical strategies of securitisation. J Int Relat Dev 20, 605–630 (2017). https://doi.org/10.1057/jird.2016.7
Keywords
narrative theory

nuclear disarmament

rhetorical strategy

securitisation