Abstract
This article contributes to the study of South American regionalism focusing on the emergence of sectoral cooperation starting in 2000. To do so, the article analyses two policy areas — transport infrastructure and energy integration — addressing two questions: Why has regional cooperation emerged despite the absence of economic interdependence and market-driven demand for economic integration? And why are policy outcomes evident in some areas (i.e. transport infrastructure) while limited in others (i.e. energy)? It is argued that the emergence of regional cooperation as well as the variation in policy outcomes between areas can be explained largely by the articulation of a regional leadership and its effect on the convergence of state preferences. The article shows how the Brazilian leadership, incentivised by the effects of the US-led Free Trade Area of the Americas negotiations and the financial crises that hit the region in the late 1990s, made state preferences converge towards a regionalist project encompassing all South American countries by making visible the mutual benefits of cooperation on transport infrastructure and energy. In the case of energy, however, the emergence of a second regional leadership project — pursued by Chávez's Venezuela — and deep preference divergence led sectoral cooperation into a gridlock.
This is a preview of subscription content, log in to check access.
Access options
Buy single article
Instant access to the full article PDF.
US$ 39.95
Price includes VAT for USA
Subscribe to journal
Immediate online access to all issues from 2019. Subscription will auto renew annually.
US$ 131
This is the net price. Taxes to be calculated in checkout.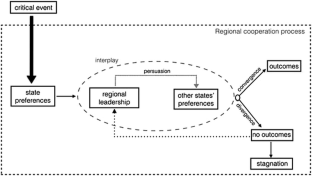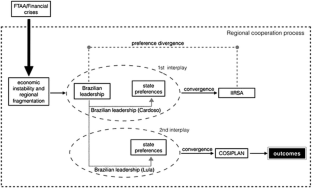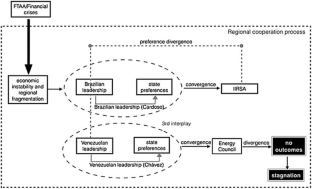 Notes
1.

UNASUR is an intergovernmental regional organisation that groups together all 12 South American countries.

2.

The most emblematic regional organisations of the first wave of regionalism were the Latin American Free Trade Association (ALALC), created under the influence of the UN Economic Commission for Latin American (CEPAL) in 1960, and the Andean Pact, launched in 1969 with the signing of the Cartagena Agreement. These organisations were aimed chiefly at promoting the industrial development of member states' economies. The regional organisations created in the 1980s and 1990s, such as the Latin American Integration Association (1980), the MERCOSUR (1991), and the Andean Community (1996), promoted regional economic integration as a stepping-stone for a more competitive insertion in the world economy, following the open regionalism policy paradigm: a trade-oriented strategy of regional economic integration – which was imported from APEC countries and became dominant in Latin America in the early 1990s – pivoted on the reduction of tariff barriers and the opening up of national markets to foreign trade and investments; the economic schemes conceived under the umbrella of 'open regionalism' were designed to have an 'open membership' not limited to the countries of a specific region (ECLAC 1994).

3.

The 1997–1999 East Asian financial crises reverberated through the region and contributed to the devaluation of the Brazilian real and the Argentinean peso, which led to Argentina's default in 2001.

4.

Together with infrastructure and energy, Brazil's regional agenda included collective security and trade convergence between CAN and MERCOSUR.

5.

6.

IIRSA's ten integration and development hubs are the Andean Axis, the Peru-Brazil-Bolivia Axis, the Paraguay-Parana Waterway Axis, the Capricorn Axis, the Southern Andean Axis, the Southern Axis, the Mercosur-Chile Axis, the Central Inter-Oceanic Axis, the Amazon Axis, and the Guyana Shield Axis (IDB 2011: 66).

7.

Between 2002 and 2006, left-wing governments won elections in Argentina, Bolivia, Brazil, Chile, Ecuador, Uruguay, and Venezuela (although Chávez got to power in 1997, it was only in reaction to the 2002 coup attempt that his government turned decisively to the left).

8.

It is noteworthy that, although BNDES has become an important financier of South American infrastructure projects, it did not finance any IIRSA/COSIPLAN projects. As a matter of fact, BNDES prioritised South American governments' demands for loans concerning domestic infrastructure projects, which were not part of the integration project portfolio but had more political visibility and thus provided higher electoral payoffs. By conditioning lending activities to South American governments on the requirement to contract Brazilian companies and workforce, BNDES fostered the regionalisation of the Brazilian construction sector, rather than the integration of South America's regional infrastructure (Hochstetler and Montero 2013).

9.

PETROSUR is an energy cooperation initiative that Venezuela has addressed to all South American countries following the model of PETROCARIBE (Venezuela's flagship cooperation programme with the Caribbean countries). The initiative is based on strategic cooperation among state oil companies aimed at increasing production efficiency, and it includes assistance for oil developments, investments in refining capacity, and preferential oil pricing among member countries.

10.

Brazil is privileging national and bilateral energy projects over regional energy cooperation, while Venezuela's hegemonic project has lost momentum due to the severe domestic economic and political problems of the post-Chávez phase.

11.

It is relevant to specify that 82.3 per cent (477 projects) of COSIPLAN's total projects are national, 16.4 per cent (95 projects) are binational, and only 0.8 per cent (5 projects) and 0.3 per cent (2 projects) are, respectively, tri-national and multinational. In terms of territorial scope by country, Argentina absorbs 180 projects (145 national and 35 binational), Brazil 106 (79 national, 25 binational, and 2 tri-national), and Peru 73 (49 national, 21 binational, 1 tri-national, and 2 multinational) (COSIPLAN Portfolio Projects Database 2014).

12.

Within the COSIPLAN portfolio, there are 101 projects that belong to API because of their high impact on South America's physical integration, totalling an estimated investment of US$ 16.7 billion (10.6 per cent of COSIPLAN's total investment).

13.

14.

This evaluation methodology has been designed to identify complementary actions that aim at minimising the negative effects – from a social, environmental, and cultural point of view – of IIRSA's infrastructure projects. The methodology includes the participation of experts in the area of environmental and social evaluation, as well as of civil society groups.

15.

The construction or refitting of hydroelectric plants and microcentrals represents 60 per cent of energy generation projects and 85.4 per cent of estimated investments in the subsector, whereas energy interconnection projects are exclusively focused on building new power interconnections (COSIPLAN 2013: 62).
References
Amorim, Celso (2011) Breves Narrativas Diplomáticas, São Paulo: Benvira.

Arashiro, Zuleika (2011) Negotiating the Free Trade of the Americas, New York: Palgrave Macmillan.

Barrera-Hernández, Lila (2012) 'South American Energy Network Integration: Mission Possible?' in Martha M. Roggenkamp, Lila Barrera-Hernández, Donald N. Zillman and Iñigo del Guayo eds, Energy Networks and the Law: Innovative Solutions in Changing Markets, 61–77, Oxford: Oxford University Press.

Briceño-Ruiz, José (2008) 'From the South American Free Trade Area to the Union of South American Nations: The Transformations of a Rising Regional Process', Latin American Policy 1(2): 208–29.

Burges, Sean W. (2005) 'Bounded by the Reality of Trade: Practical Limits to a South American Region', Cambridge Review of International Affairs 18(3): 437–54.

Cardoso, Fernando H. (2006) A Arte da Política. A historia que vivi, Rio de Janeiro: Civilização Brasileira.

Carranza, Mario (2003) 'Can Mercosur Survive? Domestic and International Constraints on Mercosur', Latin American Politics and Society 45(2): 67–103.

Checkel, Jeffrey T. (1999) 'Social Construction and Integration', Journal of European Public Policy 6(4): 545–60.

Checkel, Jeffrey T. (2001) 'Why Comply? Social Learning and European Identity Change', International Organization 55(3): 553–88.

COSIPLAN (2011) Agenda de Proyectos Prioritarios (API), available at http://www.iirsa.org/admin_iirsa_web/Uploads/Documents/api_agenda_de_projetos_port.pdf (accessed 10 November, 2014).

COSIPLAN (2013) Project Portfolio 2013, COSIPLAN UNASUR, available at http://www.iirsa.org/Document/Detail?Id=3716 (accessed 10 November, 2014).

COSIPLAN-API Report (2013) Agenda de Proyectps Prioritarios de Integración: Informe de Avance 2013, COSIPLAN-UNASUR, available at http://www.iirsa.org/Document/Detail?Id=3718 (accessed 10 November, 2014).

COSIPLAN Portfolio Projects Database (2014) available at http://www.iirsa.org/proyectos/inicio.aspx (last accessed on 22 October, 2014).

Dabène, Olivier (1997) La région Amérique latine: interdépendance et changement politique, Paris: Presses de Sciences Po.

Dabène, Olivier (2009) The Politics of Regional Integration. Theoretical and Comparative Explorations, New York: Palgrave Macmillan.

Dabène, Olivier (2012) 'Explaining Latin America's Fourth Way of Regional Integration', paper prepared for the Congress of the Latin American Studies Association (LASA), San Francisco, 25 May, 2012.

ECLAC (1994) Open Regionalism in Latin America and the Caribbean. Economic Integration as a Contribution to Changing Productions Patterns with Social Equity, Santiago: ECLAC books.

FIESP (2012) 8 Ejes de Integración de la Infraestructura de América del Sur, São Paulo: FIESP.

Flemes, Daniel, ed. (2010) Regional Leadership in the Global System: Ideas, Interests and Strategies of Regional Powers, Farnham, Burlington: Ashgate.

Friedman-Rudovsky, Jean (2012) 'The Bully from Brazil', Foreign Policy, 20 July, available at http://foreignpolicy.com/2012/07/20/the-bully-from-brazil/ (accessed 15 December, 2013).

Gamarra, Luis F. (2013) 'Carretera IIRSA Sur: símbolo de unión entre dos países', La Reública [online], 5 June, available at http://www.larepublica.pe/05-06-2013/carretera-iirsa-sur-simbolo-de-union-entre-dos-paises (last accessed on 10 October, 2013).

Goldstein, Judith and Robert O. Keohane eds, (1993) Ideas and Foreign Policy: Beliefs, Institutions, and Political Change, Ithaca: Cornell University Press.

Gomes Saraiva, Miriam (2014) 'The Brazilian Soft Power Tradition', Current History 113(760): 64–69.

Gomez-Mera, Laura (2013) Power and Regionalism in Latin America. The Politics of Mercosur, Notre Dame: University of Notre Dame Press.

Hall, Peter A. (1989) The Political Power of Economic Ideas: Keynesianism across Nations, Princeton: Princeton University Press.

Higgott, Richard and Nicola Phillips (2000) 'Challenging Triumphalism and Convergence: The Limits of Global Liberalization in Asia and Latin America', Review of International Studies 26(3): 359–79.

Hochstetler, Kathryn and Alfred Montero (2013) 'The Renewed Developmental State: The National Development Bank and the Brazil Model', Journal of Development Studies 49(11): 1–16.

Honty, Gerardo (2006) 'Interconexión energética sin integración política', Revista del Sur 165(May/June): 13–26.

IDB (2011) IIRSA 10 años después: sus logros y desafíos, Buenos Aires: IDB-INTAL.

IDB (2012) Metodología de Análisis del potencial de integración productiva y desarrollo de servicios logísticos de valor agregado: La Experiencia de IIRSA, Buenos Aires: IDB-INTAL.

IDB-INTAL (2015) Carta Mensual INTAL n°222, February 2015, available at http://www10.iadb.org/intal/cartamensual/cartas/Articulo.aspx?Id=f3a00631-96df-4794-a896-2d530be6b88f&lang=es&utm_source=CM+español&utm_campaign=75cd06da43-BID_INTAL_Carta_Mensual_N_222_Febrero_2015.

Ikenberry, John G. and Charles A. Kupchan (1990) 'Socialization and Hegemonic Power', International Organization 44(3): 283–315.

Krapohl, Sebastian and Simon Fink (2013) 'Different Paths of Regional Integration: Trade Networks and Regional Institution-building in Europe, Southeast Asia and Southern Africa', Journal of Common Market Studies 51(3): 472–88.

Lins da Silva, Carlos E. (2002) 'A Política Externa', in Bolivar Lamounier and Rubens de Lima eds, A Era FHC: um balanço, 295–330, Brazil: Cultura Editores Asociados.

Lobell, Steven, Norrin M. Ripsman and Jeffrey W. Taliaferro, eds (2009) Neoclassical Realism, the State, and Foreign Policy, Cambridge, UK: Cambridge University Press.

Malamud, Andrés (2003) 'Presidentialism and Mercosur: A Hidden Cause for a Successful Experience', in Finn Laursen ed., Comparative Regional Integration: Theoretical Perspectives, 53–73, Aldershot: Ashgate.

Malamud, Andrés and Gian Luca Gardini (2012) 'Has Regionalism Peaked? The Latin American Quagmire and Its Lessons', The International Spectator: Italian Journal of International Affairs 47(1): 116–33.

Malamud, Andrés (2013) 'Overlapping Regionalism, No Integration: Conceptual Issues and the Latin American Experiences', Florence: EUI Working Papers – RSCAS 2013/2020.

Mattli, Walter (1999) The Logic of Regional Integration: Europe and Beyond, Cambridge, UK: Cambridge University Press.

Ministry of Foreign Affairs of Brazil (2000) Resenha de Política Exterior do Brasil 82 Segundo Semestre Brazil: Ministério das Relacoes Exteriores.

Moravcsik, Andrew (1993) 'Preferences and Power in the European Community: A Liberal Intergovernmentalist Approach', Journal of Common Market Studies 31(4): 473–524.

Moravcsik, Andrew (1997) 'Taking Preferences Seriously: A Liberal Theory of International Politics', International Organization 51(4): 513–53.

Moravcsik, Andrew (1998) The Choice for Europe. Social Purpose and State Power from Messina to Maastricht, Ithaca: Cornell University Press.

Palestini, Stefano (2012) 'Regímenes de Integración Regional: la construcción institucional de los mercados del sur global', Revista de Sociología 27: 55–78.

Pedersen, Thomas (2002) 'Cooperative Hegemony: Power, Ideas and Institutions in Regional Integration', Review of International Studies 28(4): 677–96.

Phillips, Nicola (2004) The Southern Cone Model. The Political Economy of Regional Capitalist Development in Latin America, London: Routledge.

Riggirozzi, Pía and Diana Tussie eds (2012) The Rise of Post-hegemonic Regionalism: The Case of Latin America, London: Springer.

Rubio, Veronica (2013) 'The Political Economy of Financial Cooperation in South America: CAF's Continuity, Growth and its role on Regional Long-Term Development Lending', paper prepared for the Congress of the Latin American Studies Association (LASA), Washington, 29 May – 1 June, 2013.

Ruggie, John G. (1982) 'International Regimes, Transactions, and Change: Embedded Liberalism in the Postwar Economic Order', International Organization 36(2): 379–415.

Sanahuja, José A. (2012) Post-liberal Regionalism in South America: The Case of UNASUR, Florence: EUI Working Papers – RSCAS 2012/05.

Scharpf, Fritz W. (1997) Games Real Actors Play: Actor-centered Institutionalism in Policy Research, New York: Westview Press.

Schmitter, Philippe C. (1970) 'Central American Integration: Spillover, Spillaround or Encapsulation?' Journal of Common Market Studies 9(1): 1–48.

Serbin, Andrés (2011) Chávez, Venezuela y la reconfiguración política de América Latina y el Caribe, Buenos Aires: Siglo XX.

Sikkink, Kathryn (1991) Ideas and Institutions: Developmentalism in Brazil and Argentina, Ithaca: Cornell University Press.

Soares De Lima, Maria R. (1999) 'Brazil's Alternative Vision', in Gordon Mace and Louis Béranger eds, The Americas in Transition, Boulder/London: Lynne Rienner Publishers.

Solingen, Ethel (2008) 'The Genesis, Design and Effects of Regional Institutions: Lessons from East Asia and the Middles East', International Studies Quarterly 52(2): 261–94.

Young, Oran R. (1991) 'Political Leadership and Regime Formation: On the Development of Institutions in International Society', International Organization 45(3): 281–308.

Young, Oran R. (1994) International Governance: Protecting the Environment in a Stateless Society, Ithaca: Cornell University Press.
Interviews
I1: Brazil's representative at COSIPLAN (23 October, 2012).

I2: Chile's representative at COSIPLAN (15 December, 2012).

I3: Brazil's representative at the Energy Council of UNASUR (19 October, 2012).

I4: Former Ministry of Strategic Affairs — Itamaraty (19 October, 2012).

I5: Director of South American Economic Relations — Itamaraty (22 October, 2012).

I6: Executive Secretary of the Latin American Energy Organisation (OLADE) (11 December, 2013).

I7: Analyst from the Brazilian Ministry of Planning (21 October, 2012).

I8: Expert on infrastructure integration from the Federal University of Rio de Janeiro (UFRJ) (8 October, 2012).

I9: Coordinator of International Negotiations, Industrial Federation of São Paulo (FIESP) (14 October, 2012).

I10: Director of the Energy Institute at the University of São Paulo (USP) (16 October, 2012).

I11: Director of the Infrastructure Department, Federation of Industries of São Paulo (FIESP) (14 October, 2012).

I12: Former President of the Republic of Chile (17 December, 2013).

I13: Ecuador's representative at the Energy Council of UNASUR (4 December, 2013).

I14: Argentina's representative at COSIPLAN-IIRSA (19 February, 2015).

I15: Senior representative from IDB-INTAL (15 February, 2015).
Acknowledgements
A preliminary version of this article was presented in the Seminar on Comparative Regional Integration organised by the Global Governance Programme at the European University Institute, in Florence, on 22 May, 2014. The authors wish to thank especially Carlos Closa, László Bruszt, Olivier Dabène, Philipp Schmitter, Detlef Nolte, Carlos Milani, and three anonymous reviewers for their critical comments. All errors or omissions are the authors' sole responsibility.
About this article
Cite this article
Palestini, S., Agostinis, G. Constructing regionalism in South America: the cases of sectoral cooperation on transport infrastructure and energy. J Int Relat Dev 21, 46–74 (2018). https://doi.org/10.1057/jird.2015.15
Keywords
energy integration

regionalism

regional leadership

South America

transport infrastructure

UNASUR