Abstract
This article outlines the evolution of additive manufacturing technology, culminating in 3D printing and presents a vision of how this evolution is affecting existing global value chains (GVCs) in production. In particular, we bring up questions about how this new technology can affect the geographic span and density of GVCs. Potentially, wider adoption of this technology has the potential to partially reverse the trend towards global specialization of production systems into elements that may be geographically dispersed and closer to the end users (localization). This leaves the question of whether in some industries diffusion of 3D printing technologies may change the role of multinational enterprises as coordinators of GVCs by inducing the engagement of a wider variety of firms, even households.
Abstract
Cet article étudie l'évolution de la technologie manufacturière additive, culminant dans l'impression 3D, et présente une perspective sur comment cette évolution influence les chaînes de valeur globales existantes (CVG) dans la production. En particulier, nous posons des questions sur comment cette nouvelle technologie peut influencer la dispersion et la densité géographiques des CVG. Il est possible qu'une plus forte adoption de cette technologie ait le potentiel d'inverser partiellement la tendance vers une spécialisation globale des systèmes de production dans des unités qui peuvent être dispersées au niveau géographique et qui peuvent être plus proches des utilisateurs finaux (localisation). Ceci pose la question si, dans certains secteurs d'activité, la diffusion des technologies d'impression 3D peut modifier le rôle des entreprises multinationales comme coordinateurs des CVG en entraînant l'engagement d'une plus grande variété d'entreprises, et même de foyers.
Abstract
Este articulo describe la evolución de la tecnología de fabricación aditiva, que culmina con la impresión 3D y presenta una visión de cómo esta evolución esta afectando las cadenas globales de valor (CGV) existentes en la producción. En particular, planteamos cómo esta nueva tecnología puede afectar la dispersión y densidad geográfica de las cadenas globales de valor. Potencialmente, una mayor adopción de esta tecnología tiene el potencial para revertir parcialmente la tendencia a la especialización global de sistemas de producción en elementos que pueden estar dispersos geográficamente y más cercanos a los usuarios finales (localización). Esto lleva a la pregunta de si en algunas industrias la difusión de tecnologías de impresión 3D pudiera cambiar el papel de las empresas multinacionales como coordinadoras de CGV mediante el inducir la participación de una variedad más amplia de firmas, e incluso individuos.
Abstract
Este artigo descreve a evolução da tecnologia de fabricação aditiva, culminando com a impressão 3D, e apresenta uma visão de como essa evolução está afetando as existentes cadeias globais de valor (GVCs) na produção. Em particular, nós levantamos questões sobre como esta nova tecnologia pode afetar a extensão geográfica e a densidade das GVCs. Potencialmente, uma ampla adoção dessa tecnologia tem o potencial de reverter parcialmente a tendência para a especialização global de sistemas de produção em elementos que podem estar geograficamente dispersos e mais próximos dos usuários finais (localização). Isso deixa a questão se, em algumas indústrias, a difusão de tecnologias de impressão 3D pode mudar o papel das empresas multinacionais como coordenadoras das GVCs ao induzir o envolvimento de uma ampla variedade de empresas, mesmo as famílias.
Abstract
这篇文章概述了最终形成3D打印的增材制造技术的演变, 并展示了这种演变是如何影响生产中的现有全球价值链 (GVCs) 的愿景。尤其是, 我们提出了关于这项新技术如何会影响GVCs的地域跨度与密度的问题。潜在地, 这项技术的广泛采用有可能部分逆转生产系统的全球专业化趋势向可能在地域上分散且更加接近终端用户 (本地化) 的生产元素发展。这就产生了3D打印技术在一些行业中的扩散是否能通过诱导更广泛的公司甚至家庭的参与而可能改变跨国公司作为GVCs协调者角色这个问题。
Access options
Buy single article
Instant access to the full article PDF.
US$ 39.95
Tax calculation will be finalised during checkout.
Subscribe to journal
Immediate online access to all issues from 2019. Subscription will auto renew annually.
US$ 119
Tax calculation will be finalised during checkout.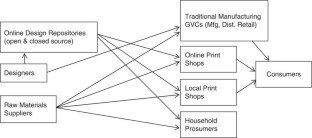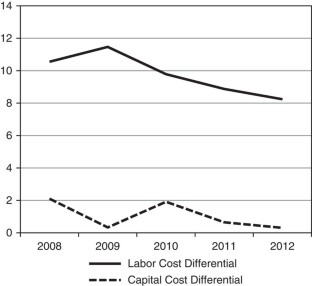 Notes
1.

The high price tags on these machines may have primarily resulted from intellectual property-protection regimes, rather than technical costs. For example, one of the simplest 3D printing techniques uses a filament of plastic, which is melted and used to trace out successive 2D layers – very much like a robot-controlled hot glue gun. This process, which is patented and trademarked by Stratasys, is called fused-deposition modeling (FDM).

2.

3.

4.

According to CNBC (2013:1), "Since 2007, about 680 patents a year have been filed – 39.6% more than 2002, when 487 patents were filed. Since 2003, the [US patent] office has granted 3,500 patents related to 3-D printing."

5.

Considering the cost and vulnerabilities of its logistics and supply chains, one of the biggest shipping companies, Maersk, has purchased uPrint SE 3D printers from Stratasys. The uPrint SE 3D printers use Fused Deposition Modeling (FDM) Technology to build 3D parts in ABS thermoplastic and can be used to produce durable spare parts right from the desktop. In the future, 3D printers could be used to print out spare or repair parts for the company's large, ocean-going oil tankers, and the digital blueprint could be downloaded from anywhere in the world (http://www.3ders.org/articles/20140713-3d-printing-could-revolutionize-supply-chains-at-maersk.html).

6.

The labor- and capital-cost differentials are based on weighted figures for four large developed market countries (the United States, Japan, Germany, and the United Kingdom) and four large emerging market countries (China, Mexico, Brazil and India) for the 5 years 2008–2012. For each of the 5 years a composite figure for labor and capital costs was calculated as a weighted average of the four developed market countries, respectively the four emerging market countries. The differential appears by dividing the weighted average for developed market countries by the weighted average for the emerging market countries. The weight used for each of the four developed market countries was its share of the four countries' total import of merchandises from the four emerging market countries. Correspondingly, the weight used for each of the four emerging market countries was its share of the four countries' total export of merchandises to the four developed market countries. The figure for the Indian labor costs in year 2012 was created by an extrapolation of the figures for the 4 preceding years.

7.

Ideally, labor costs should not be measured in nominal terms but as real wages, taking the average productivity of workers into account. The conventional measure of labor productivity, which is calculated as GDP divided by the number of employed people, largely ignores the possibility that low wages can be explained by factors other than low productivity, such as a country's high purchasing power parity; no or low minimum wages; excess labor supply; weak or non-existent trade unions; fierce cost competition among employers; or unfavorable terms of trade, which imply high producer and consumer surpluses accruing to foreign buyers. One might recognize several of these institutional and macroeconomic factors as characterizing emerging economies. However, there are many technical problems associated with developing a labor productivity measure that takes all of these factors into account. As an example, the US Bureau of Labor Statistics has abstained from preparing level comparisons of manufacturing productivity for these reasons, see www.bls.gov/ilc/#productivity.

8.

As an example, the hourly pay of workers in the Chinese manufacturing sector almost doubled from 2008 to 2012 (from USD 1.59 to 3.07), see www.conference-board.org/ilcprogram/index.cfm?id=28277#Table1). Hence Chinese manufacturers are impelled to migrate to other Asian countries, such as Vietnam, the Philippines and Indonesia, where the opportunities for labor arbitrage are sufficient to maintain their position in global value chains (Dicken, 2014).

9.

3D material recycling technology may affect this reasoning. Open-source "RecycleBots", or waste plastic extruders capable of making 3D printer feedstock have already been developed and preliminary studies have shown both economic and environmental benefits (Baechler, DeVuono, & Pearce, 2012; Kreiger, Anzalone, Mulder, Glover, & Pearce, 2013). Recycling devices (e.g., Filastruder, Filabot, and Filafab), have had successful kick-starter campaigns, but are not very widely commercialized and are much less developed than 3D printers. Thus in the short term, small 3D printers, widely diffused by inexperienced operators invite the potential for both failed prints and overproduction resulting in clutter and increased waste. Recycling lowers embodied energy per kilogram of material, and increases material availability, suggesting that it can lead to more sustainable relations between industries and the natural environment (Driscoll & Starik, 2004; Kreiger et al., 2013; Kreiger, Mulder, Glover, & Pearce, 2014). It also has implication for global value chains, especially location advantages current being enjoyed by raw material providers. Local recycling emphasizes locally available inputs reducing the need for movement of materials and provides the potential for new forms of sustainable development by increasing wages of waste pickers, see recent work by the Ethical Filament Foundation (2013) and the Plastic Bank http://plasticbank.org/.
References
Anzalone, G. C., Wijnen, B., & Pearce, J. M. 2015. Multi-material additive and subtractive prosumer digital fabrication with a free and open-source convertible delta RepRap 3-D printer. Rapid Prototyping Journal, 21 (5): 506–519.

Anzalone, G. C., Zhang, C., Wijnen, B., Sanders, P. G., & Pearce, J. M. 2013. A low-cost open-source metal 3D Printer. IEEE Access, 1: 803–810.

Baden, T., Chagas, A. M., Gage, G., Marzullo, T., Prieto-Godino, L. L., & Euler, T. 2015. Open labware: 3-D printing your own lab equipment. PLOS Biology, 13 (3): e1002086.

Baechler, C., DeVuono, M., & Pearce, J. M. 2012. Distributed recycling of waste polymer into RepRap feedstock. Rapid Prototyping Journal, 19 (2): 118–125.

Baldwin, C., & Clark, K. B. 2000. Design rules: Volume I, The power of modularity. Cambridge, MA: MIT Press.

Berman, B. 2012. 3D printing: The new industrial revolution. Business Horizons, 55 (2): 155–162.

Bowyer, A. 2014. 3D Printing and humanity's first imperfect replicator. 3D Printing and Additive Manufacturing, 1 (1): 4–5.

Bradshaw, S., Bowyer, A., & Haufe, P. 2010. The intellectual property implications of low-cost 3D printing. SCRIPTed, 7 (1): 5–31.

Buckley, P. J., & Ghauri, P. N. 2004. Globalisation, economic geography and the strategy of multinational enterprises. Journal of International Business Studies, 35 (2): 81–98.

Chesbrough, H. 2003. Open innovation: The new imperative for creating and profiting from technology. Boston: Harvard Business School Press.

CNBC. 2013. The "gold rush" for 3D printing patents, www.cnbc.com/id/100942655, accessed December 2013.

Danneels, E. 2004. Disruptive technology reconsidered: A critique and research agenda. Journal of Product Innovation Management, 21 (4): 246–258.

Dedrick, J., Kraemer, K. L., & Linden, G. 2010. Who profits from innovation in global value chains? A study of the iPod and notebook PCs. Industrial and Corporate Change, 19 (1): 81–116.

Dicken, P. 2014. Global shift: Mapping the changing contours of the world economy. London: Sage Publications.

Driscoll, C., & Starik, M. 2004. The primordial stakeholder: Advancing the conceptual consideration of stakeholder status for the natural environment. Journal of Business Ethics, 49 (1): 55–73.

Dunning, J. H. 1993. Multinational enterprises and the global economy. Reading, MA: Addison-Wesley.

Dunning, J. H. 2001. The eclectic (OLI) paradigm of international production: Past, present and future. International Journal of the Economics of Business, 8 (2): 173–190.

The Economist. 2012. A third industrial revolution: Special Report: Manufacturing and innovation. The Economist, April 21.

Ethical Filament Foundation. 2013. www.ethicalfilament.org/, accessed December 2013.

Flaherty, J. 2014. This dress is made from 3D printed plastic, but flows like fabric. Wired Magazine, www.wired.com/2014/12/dress-made-3D-printed-plastic-flows-like-fabric/, accessed February 2015.

Foss, N. J., & Pedersen, T. 2004. Organizing knowledge processes in the multinational corporation: An introduction. Journal of International Business Studies, 35 (5): 340–349.

Gereffi, G., Humphrey, J., & Sturgeon, T. 2005. The governance of global value chains. Review of International Political Economy, 12 (1): 78–104.

Gershenfeld, N. 2008. Fab: The coming revolution on your desktop – From personal computers to personal fabrication. New York: Basic Books.

Ghemawat, P. 2011. World 3.0 – Global prosperity and how to achieve it. Boston, MA: Harvard Business Review Press.

Ghoshal, S., & Bartlett, C. 1998. The individualized corporations. London: Heinemann.

Globerman, S., Roehl, T. W., & Standifird, S. 2001. Globalization and electronic commerce: Inferences from retail brokering. Journal of International Business Studies, 32 (4): 749–768.

Hobday, M. 1995. East Asian latecomer firms: Learning the technology of electronics. World Development, 23 (7): 1171–1193.

Hopkinson, N., Hague, R., & Dickens, P. (Eds) 2006. Rapid manufacturing: An industrial revolution for the digital age. New York: John Wiley & Sons.

Huizingh, E. K. 2011. Open innovation: State of the art and future perspectives. Technovation, 31 (1): 2–9.

Hull, C. 1986. Apparatus for production of three-dimensional objects by stereolithography, US Patent 4,575,330.

Jones, R., Haufe, P., Sells, E., Iravani, P., Olliver, V., Palmer, C., & Bowyer, A. 2011. RepRap – The replicating rapid prototyper. Robotica, 29 (1): 177–191.

Jovanovic, B., & Rousseau, P. L. 2005. General purpose technologies. Handbook of Economic Growth. Working Paper 11093, 1: 1181–1224. National Bureau of Economic Research, Cambridge, MA.

Kim, W. C., & Mauborgne, R. 2005. Blue ocean strategy: How to create uncontested market space and make the competition irrelevant. Boston: Harvard Business School Press.

Kitson, P. J., Rosnes, M. H., Sans, V., Dragone, V., & Cronin, L. 2012. Configurable 3D-printed millifluidic and microfluidic "lab on a chip" reactionware devices. Lab on a Chip, 12 (18): 3267–3271.

Kitson, P. J., Symes, M. D., Dragone, V., & Cronin, L. 2013. Combining 3D printing and liquid handling to produce user-friendly reactionware for chemical synthesis and purification. Chemical Science, 4 (8): 3099–3103.

Kleinert, J. 2003. Growing trade in intermediate goods: Outsourcing, global sourcing, or increasing importance of MNE networks? Review of International Economics, 11 (3): 464–482.

Kreiger, M., Anzalone, G. C., Mulder, M. L., Glover, A., & Pearce, J. M. 2013. Distributed recycling of post-consumer plastic waste in rural areas. MRS Proceedings, Vol. 1492: 91–96.

Kreiger, M. A., Mulder, M. L., Glover, A. G., & Pearce, J. M. 2014. Life cycle analysis of distributed recycling of post-consumer high density polyethylene for 3D printing filament. Journal of Cleaner Production, 70 (1): 90–96.

Kumar, N. 1994. Determinants of export orientation of foreign production by US multinationals: An inter-country analysis. Journal of International Business Studies, 25 (1): 141–156.

Lee, H., & Tang, C. 1997. Modelling the costs and benefits of delayed product differentiation. Management Science, 43 (1): 40–53.

Lipson, H., & Kurman, M. 2013. Fabricated: the new world of 3D printing. New York: John Wiley & Sons.

Lussenburg, K., Van der Velden, N. M., Doubrovski, E. L., Geraedts, J. M. P., & Karana, E. 2014. Designing with 3D printed textiles: A case study of Material Driven Design. In iCAT 2014: Proceedings of the 5th International Conference on Additive Technologies, Vienna, Austria, 16–17 October.

Maskell, P., Pedersen, T., Petersen, B., & Dick-Nielsen, J. 2007. Learning paths to offshore outsourcing – From cost reduction to knowledge seeking. Industry and Innovation, 14 (3): 239–257.

Mehrabi, M. G., Ulsoy, A. G., & Koren, Y. 2000. Reconfigurable manufacturing systems: Key to future manufacturing. Journal of Intelligent Manufacturing, 11 (4): 403–419.

METI. 2002. METI White Paper Year 2001, Database of the METI website, www.meti.go.jp/english/report/index.html, accessed August 2014.

Mikkola, J. H. 2003. Modularity, component outsourcing, and inter-firm learning. R&D Management, 33 (4): 439–454.

Moilanen, J., & Vadén, T. 2013. 3D printing community and emerging practices of peer production. First Monday, 18 (8) doi:10.5210/fm.v18i8.4271.

Mudambi, R. 2008. Location, control and innovation in knowledge-intensive industries. Journal of Economic Geography, 8 (5): 699–725.

New York Times. 2012. How Zara grew into the world's largest fashion retailer, www.nytimes.com/2012/11/11/magazine/how-zara-grew-into-the-worlds-largest-fashion-retailer.html?pagewanted=all&_r=1&pagewanted=print. November 9, accessed December 2015.

Nyman, H. J., & Sarlin, P. 2013. From bits to atoms: 3D printing in the context of supply chain strategies. Working Paper, HICSS 2014: 4190–4199, Cornell University Library, arXiv.org, Ithaca, NY.

Opam, K. 2014. Watch this 3D printer make pizza fit for astronauts. The Verge, www.theverge.com/2014/1/24/5342180/watch-this-3d-printer-make-pizza-fit-for-astronauts, accessed February 2015.

Oviatt, B. M., & McDougall, P. P. 1994. Toward a theory of international new ventures. Journal of International Business Studies, 25 (1): 45–64.

Pearce, J. M. 2014. Open-source lab: How to build your own hardware and reduce research costs. London: Elsevier.

Pearce, J. M. 2015. Return on investment for open source hardware development. Science and Public Policy, advance online publication, June 20; doi:10.1093/scipol/scv034.

Pine, B. J. 1993. Mass customization – The new frontier in business competition. Boston, MA: Harvard Business School Press.

Piore, M., & Ruiz Duràn, C. 1998. Industrial development as a learning process: Mexican manufacturing and the opening to trade. In M. Kagami, J. Humphrey, & M. Piore (Eds), Learning, liberalisation and economic adjustment 191–241. Tokyo: Institute of Developing Economies.

Porter, M. E. 1985. Competitive advantage – Creating and sustaining superior performance. New York: Free Press.

Porter, M. E. 1986. Competition in global industries: A conceptual framework. In M. E. Porter (Ed), Competition in global industries 15–60. Cambridge, MA: Harvard Business School Press.

RepRap.org. 2012. RepRap family, http://reprap.org/wiki/RepRap_Family_Tree, accessed December 2013.

Ricardo, D. 1817. On the principles of political economy and taxation. London: John Murray.

Scheithauer, U., Schwarzer, E., Richter, H. J., & Moritz, T. 2015. Thermoplastic 3D printing – An additive manufacturing method for producing dense ceramics. International Journal of Applied Ceramic Technology, 12 (1): 26–31.

Sells, E., Bailard, S., Smith, Z., & Bowyer, A. 2010. RepRap: The replicating rapid prototype: Maximizing customizability by breeding the means of production. In F. T. Piller, & M. M. Tseng (Eds), Handbook of research in mass customization and personalization: strategies and concepts, vol. 1 568–580. Hackensack, NJ: World Scientific.

Smith, A. 1776. An inquiry into the nature and causes of the wealth of nations. London: George Routledge and Sons.

Symes, M. D., Kitson, P. J., Yan, J., Richmond, C. J., Cooper, G. J. T., Bowman, R. W., Vilbrandt, T., & Cronin, L. 2012. Integrated 3D-printed reactionware for chemical synthesis and analysis. Nature Chemistry, 4 (5): 349–354.

Tushman, M. L., & Anderson, P. 1986. Technological discontinuities and organizational environments. Administrative Science Quarterly, 31 (3): 439–465.

UNCTAD. 2013. World investment report 2013: Global value chains: Investment and trade for development. New York: United Nations.

Volberda, H. W. 1998. Building the flexible firm. Oxford: Oxford University Press.

von Weizsäcker, C. 1993. The division of labour and market structure. Empirica, 20 (3): 241–244.

Wijnen, B., Anzalone, G. C., & Pearce, J. M. 2014. Open-source mobile water quality testing platform. Journal of Water, Sanitation and Hygiene for Development, 4 (3): 532–537.

Wittbrodt, B. T., Glover, A. G., Laureto, J., Anzalone, G. C., Oppliger, D., Irwin, J. L., & Pearce, J. M. 2013. Life-cycle economic analysis of distributed manufacturing with open-source 3D printers. Mechatronics, 23 (6): 713–726.

WTO. 2013. International Trade Statistics 2013. New York: World Trade Organization. www.wto.org/statistics, accessed December 2015.

WTO. 2015. Understanding the WTO: Developing countries. New York: World Trade Organization, www.wto.org/English/thewto_e/whatis_e/tif_e/dev4_e.htm, accessed December 2015.

Yu, D., & Hang, C. C. 2011. Creating technology candidates for disruptive innovation: Generally applicable R&D strategies. Technovation, 31 (8): 401–410.

Zhang, C., Anzalone, N. C., Faria, R. P., & Pearce, J. M. 2013. Open-source 3D-printable optics equipment. PLoS ONE, 8 (3): e59840.
Additional information
Accepted by John Cantwell, Editor-in-Chief, 12 November 2015. This article has been with the authors for four revisions.
About this article
Cite this article
Laplume, A., Petersen, B. & Pearce, J. Global value chains from a 3D printing perspective. J Int Bus Stud 47, 595–609 (2016). https://doi.org/10.1057/jibs.2015.47
Received:

Revised:

Accepted:

Published:

Issue Date:
Keywords
additive manufacturing

3D printing

value chain

geographic span

geographic density