Abstract
We analyze the impact of language-based gender distinctions within languages' grammatical structures on women's corporate presence. Using four different data sets, we find that countries where the dominant language marks gender more intensely have significantly lower female participation on boards of directors and in senior management, as well as smaller female-led corporate teams. We also find that the gender marking of the language used in the headquarters' home country impacts female presence on the subsidiary boards of multinational companies, independently of gender marking in the language of the host country. Our findings suggest that linguistic gender marking offers a superior alternative to the commonly used aggregate values-based measures of culture, and that its research usage should be expanded accordingly. Underpinning this proposed expansion is the very stable nature of language-based gender distinctions, which are inherited from the distant past, and the direct influence of language on cognition via the shaping of the mental representation of social reality. The findings also reinforce the need to view language design as a vital strategic, as well as operational, tool for multinational companies.
Access options
Buy single article
Instant access to the full article PDF.
USD 39.95
Price includes VAT (USA)
Tax calculation will be finalised during checkout.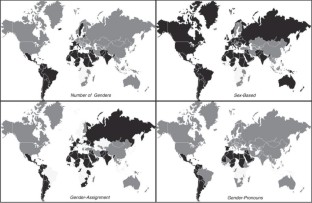 References
Acemoglu, D., Johnson, S., & Robinson, J. A. 2001. The colonial origins of comparative development: An empirical investigation. American Economic Review, 91 (5): 1369–1401.

Adams, S., & Flynn, P. 2005. Actionable knowledge: Consulting to promote women on boards. Journal of Organizational Change Management, 18 (5): 435–450.

Barnouw, J. 1979. The rule of metaphor: Multi-disciplinary studies of the creation of meaning in language. The Review of Metaphysics, 33 (1): 200–204.

Boroditsky, L., Schmidt, L., & Phillips, W. 2003. Sex, syntax, and semantics. In D. Gentner, & S. Goldin-Meadow (Eds), Language in mind: Advances in the study of language and cognition, 61–80. Cambridge, MA: MIT Press.

Boserup, E. 1970. Woman's role in economic development. London: George Allen & Unwin.

Brock, D. M., Shenkar, O., Shoham, A., & Siscovick, I. C. 2008. National culture and expatriate deployment. Journal of International Business Studies, 39 (8): 1293–1309.

Burke, R., & Mattis, M. (Eds) 2000. Women on corporate boards of directors. Dordrecht: Kluwer Academic.

Chen, M. K. 2013. The effect of language on economic behavior: Evidence from savings rates, health behaviors, and retirement assets. American Economic Review, 103 (2): 690–731.

Chomsky, N. 1980. Rules and representations. New York: Columbia University Press.

Christiansen, M. H., & Kirby, S. (Eds) 2003. Language evolution: The states of the art. Oxford: Oxford University Press.

Corbett, G. G. 2011. Chapters 30–32. In M. S. Dryer, & M. Haspelmath (Eds), World Atlas of Linguistic Structures. Munich: Max Planck Digital Library.

Darwin, C. 1859. On the origin of species. London: John Murray.

Dryer, M. S., & Haspelmath, M. (Eds) 2011. World Atlas of Linguistic Structures. Munich: Max Planck Digital Library.

Emrich, C. G., Denmark, F. L., & Den Hartog, D. N. 2004. Cross-cultural differences in gender egalitarianism. In R. House, P. J. Hanges, M. Javidan, P. W. Dorfman, & V. Gupta (Eds), Culture, leadership and organizations: The GLOBE study of 62 societies. Thousand Oaks, CA: Sage.

Encyclopedia Britannica. 2010. Encyclopedia Britannica 15th edition. Chicago, IL: Encyclopædia Britannica, Inc.

Evans, N., & Levinson, S. C. 2009. The myth of languages universals: Language diversity and its importance for cognitive science. Behavioral and Brain Sciences, 32 (5): 429–492.

Fernandez, R. 2010. Does culture matter? NBER Working Papers No.16277, National Bureau of Economic Research.

Freytag, A., & Thurik, R. 2007. Entrepreneurship and its determinants in a cross-country setting. Journal of Evolutionary Economics, 17 (2): 117–131.

Givati, Y., & Troiano, U. 2012. Law, economics, and culture: Theory of mandated benefits and evidence from maternity leave policies. Journal of Law and Economics, 52 (2): 339–364.

Grosvold, J., & Brammer, S. 2011. National institutional systems as antecedents of female board representation: An empirical study. Corporate Governance: An International Review, 19 (2): 116–135.

Gupta, A. K. 1987. SBU strategies, corporate-SBU relations, and SBU effectiveness in strategy implementation. Academy of Management Journal, 30 (3): 477–500.

Hall, R. E., & Jones, C. I. 1999. Why do some countries produce so much more output per worker than others? The Quarterly Journal of Economics, 114 (1): 83–116.

Hinds, P. J., Neeley, T. B., & Cramton, C. D. 2014. Language as a lightning rod: Power contests, emotion regulation, and subgroup dynamics in global teams. Journal of International Business Studies, 45 (5): 536–561.

Hofstede, G. 1980. Culture's consequences: International differences in work-related values. Thousand Oaks, CA: Sage.

Hofstede, G. 1998. Masculinity and femininity: The taboo dimension of national cultures. Thousand Oaks, CA: Sage.

Hofstede, G., Hofstede, G. J., & Minkov, M. 2010. Cultures and organizations: Software of the mind, 3rd edn. New York: McGraw-Hill.

House, R. J., Hanges, P. J., Javidan, M., Dorfman, P. W., & Gupta, V. 2004. Culture, leadership and organizations: The GLOBE study of 62 societies. Thousand Oaks, CA: Sage.

Javidan, M., & House, R. J. 2001. Cultural acumen for the global manager: Lessons from Project GLOBE. Organizational Dynamics, 29 (4): 289–305.

Johanson, J., & Vahlne, J. E. 1977. The internationalization process of the firm – A model of knowledge development and increasing foreign market commitments. Journal of International Business Studies, 8 (1): 23–32.

Johansson, S. 2005. Origins of language: Constraints on hypotheses. Amsterdam: John Benjamins.

Lambert, R. A., Larcker, D. F., & Weigelt, K. 1991. How sensitive is executive compensation to organizational size? Strategic Management Journal, 12 (5): 395–402.

Luo, Y., & Shenkar, O. 2006. The multinational corporation as a multilingual community: Language and organization in a global context. Journal of International Business Studies, 37 (3): 321–339.

Miller, A. R. 2011. The effects of motherhood timing on career path. Journal of Population Economics, 24 (3): 1071–1100.

Moore, G., & Shackman, G. 1996. Gender and authority: A cross-national study. Social Science Quarterly, 77 (2): 274–288.

Mueller, S. L., & Thomas, A. S. 2001. Culture and entrepreneurial potential: A nine country study of locus of control and innovativeness. Journal of Business Venturing, 16 (1): 51–75.

Rajan, R., & Zingales, L. 1998. Financial dependence and growth. American Economic Review, 88 (3): 559–586.

Sampson, G., Gill, D., & Trudgill, P. (Eds) 2009. Language complexity as an evolving variable. Oxford: Oxford University Press.

Santacreu-Vasut, E., Shoham, A., & Gay, V. 2013. Do female/male distinctions in language matter? Evidence from gender political quotas. Applied Economics Letters, 20 (5): 495–498.

Sen, A. 1999. Development as freedom. Oxford: Oxford University Press.

Stevenson, L., & Lundström, A. 2001. Patterns and trends in entrepreneurship, SME policy and practice in ten economies. Entrepreneurship Policy for the Future Series, Vol. 3. Vällingby, Sweden: Elanders Gotab.

Tenzer, H., Pudelko, M., & Harzing, A. W. 2014. The impact of language barriers on trust formation in multinational teams. Journal of International Business Studies, 45 (5): 508–535.

Triandis, H. C. 1995. Individualism and collectivism. Boulder, CO: Westview.

Webber, R. H. 1969. Convergence or divergence. Columbia Journal of World Business, 4 (3): 75–93.

Weber, M. 1930. The protestant ethic and the spirit of capitalism. London: Routledge.

Welch, D. E., Welch, L. S., & Piekkari, R. 2005. Speaking in tongues: The importance of language in international management processes. International Studies of Management & Organization, 35 (1): 10–27.

Whorf, B. L. 1956. Language, thought and reality: Selected writings of Benjamin Lee Whorf. Cambridge, MA: The MIT Press.

Wichmann, S., & Holman, E. W. 2009. Assessing temporal stability for linguistic typological features. Munich: LINCOM Europa.

Williamson, O. E. 1975. Markets and hierarchies: Analysis and antitrust implications. New York: Free Press.

Wright, E. O., Baxter, J., & Birkelund, G. E. 1995. The gender gap in workplace authority: A cross-national study. American Sociological Review, 60 (3): 407–435.

Wu, C., Lawler, J. J., & Yi, X. 2008. Overt employment discrimination in MNC affiliates: Home-country cultural and institutional effects. Journal of International Business Studies, 39 (5): 772–794.
Additional information
Accepted by Mary Yoko Brannen, Deputy Editor, 8 January 2014. This paper has been with the authors for three revisions.
About this article
Cite this article
Santacreu-Vasut, E., Shenkar, O. & Shoham, A. Linguistic gender marking and its international business ramifications. J Int Bus Stud 45, 1170–1178 (2014). https://doi.org/10.1057/jibs.2014.5
Received:

Revised:

Accepted:

Published:

Issue Date:
Keywords
language

gender marking

culture

logistic regression

grammatical structure