Abstract
Market liberalization in emerging-market economies and the entry of multinational firms spur significant changes to the industry/institutional environment faced by domestic firms. Prior studies have described how such changes tend to be disruptive to the relatively backward domestic firms, and negatively affect their performance and survival prospects. In this paper, we study how domestic supplier firms may adapt and continue to perform, as market liberalization progresses, through catch-up strategies aimed at integrating with the industry's global value chain. Drawing on internalization theory and the literatures on upgrading and catch-up processes, learning and relational networks, we hypothesize that, for continued performance, domestic supplier firms need to adapt their strategies from catching up initially through technology licensing/collaborations and joint ventures with multinational enterprises (MNEs) to also developing strong customer relationships with downstream firms (especially MNEs). Further, we propose that successful catch-up through these two strategies lays the foundation for a strategy of knowledge creation during the integration of domestic industry with the global value chain. Our analysis of data from the auto components industry in India during the period 1992–2002, that is, the decade since liberalization began in 1991, offers support for our hypotheses.
Access options
Buy single article
Instant access to the full article PDF.
US$ 39.95
Tax calculation will be finalised during checkout.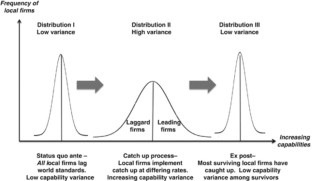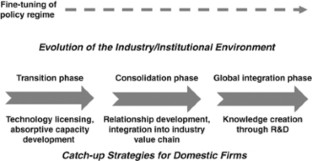 Notes
1.

An analysis of data from the CapEx database maintained by CMIE, India, shows that the number of financial collaborations increased by 32% (from 182 to 240) during 1998–2002, when compared with the 1992–1997 period. By contrast, the number of technical collaborations decreased by 16% (from 219 to 189).

2.

As per Hennart's (2009) "bundling" model, when both MNE's FSAs and the complementary CSAs possessed by local firms are difficult to transact in markets, the MNE enters through an equity joint venture with a local firm. When the MNE's FSAs are easy to transact but the complementary CSAs possessed by local firms are difficult to transact, MNEs are better off licensing or selling their FSAs to the local firms. However, when the MNE's FSAs are difficult to transact, but the complementary CSAs are easy to transact, MNEs are better off choosing a wholly owned subsidiary as the entry mode.

3.

For domestic firms, another potential catch-up strategy is learning by exporting. Exporting may allow firms, especially in less developed and technologically backward economies, to benefit from spillovers and become more productive and innovative over time (Aw & Hwang, 1995; Bernard & Jensen, 1999; Golovko & Valentini, 2011; Salomon & Jin, 2008; Salomon & Shaver, 2005a). However, only the more efficient of these firms are likely to export (Clerides, Lach, & Tybout, 1998). Also, firms tend to export only after they gain strength in their domestic markets (Salomon & Shaver, 2005b). Furthermore, firms that do not possess distinct competencies have been found not to benefit from exporting (Cassiman & Golovko, 2011). Therefore we expect domestic firms to focus on exports only after they become productive and established in the domestic market.

4.

Unlike MNEs in developed markets, domestic firms in most emerging economies undergoing liberalization are likely to be small, produce only one product (or a few products) and cater to limited domestic demand. Therefore they may not derive scale/scope benefits from R&D. Competing demands for scarce financial resources may limit their ability to invest much in internal R&D. Even if a domestic firm were to invest in R&D, these efforts could prove risky and detrimental to performance as competitors quickly introduce off-the-shelf designs obtained through technology collaborations (Narayana, Mridul, & Chandan, 1992). Therefore, in the early years of liberalization, internal R&D by domestic firms is likely to be limited to adapting licensed technologies for local use (Narayanan, 1998). Indeed, only those firms that have successfully coped with technology upgrading and changes in the industry environment are likely to invest in internal R&D (see Van den Bosch et al., 1999).

5.

We recognize the limitation of using royalty expenses as a surrogate measure of technology upgrading through licensing and joint ventures. Hence we drew data on technology collaborations between domestic firms and MNEs from CMIE's CapEx database. We created an alternative measure, a dummy variable TechCollab, that took the value 1 if a domestic firm had technical collaborations with a relevant MNE, and 0 otherwise. Using this alternative measure yielded similar results.

6.

We carried out this categorization in two stages. In the first stage, we collected data on the customer base of firms in our sample, and categorized firms that derived 60% or more of their annual revenues directly from auto manufacturers as belonging to Tier 1. We categorized the remaining firms as belonging to lower tiers. We also requested two industry experts (individually), each with at least 15 years' experience in the Indian auto industry, to categorize our sample of firms into different tiers, based on their knowledge of auto manufacturers' relationships with suppliers. In the second stage, we compared our categorization with those of the two experts. When differences arose in the categorization of a few firms, we sought the opinion of a third industry expert, and adopted the majority opinion.

7.

As per industry practice, we defined complexity as a composite ranking on three dimensions: (1) complexity of technology; (2) complexity of production process; and (3) criticality to performance of end product. We requested three industry experts to rank each firm's primary products on these three dimensions and then aggregate these rankings to determine whether the firm offered products of high, medium or low complexity. When differences arose among the three experts in the case of a few products, we adopted the majority opinion.

8.

Given our hypotheses that TechLicensing would negatively influence Performance during the 1992–1997 phase and positively during the 1998–2002 phase, we tested for a potential curvilinear relationship between the two variables. The quadratic term (TechLicensing squared) was not statistically significant in either phase.

9.

We emphasize that 93–94% of components firms in our sample were Indian-controlled, that is, firms in which the Indian partner had majority ownership and control. Accordingly, our results on the positive relationship between customer relationships and performance pertain primarily to domestic Tier 1 firms.

10.

In addition, we used logistic regression models to explore how technology licensing and the strength of customer relationships were associated with the probability of survival of domestic firms beyond the 1992–1997 phase. We estimated five models, each exploring the determinants of firm survival (i.e., "did not fail" or "was not acquired") for one, two, three, four and five years beyond the transition phase (1992–1997). We found that the strength of customer relationships (Tier) increased the probability of survival significantly in all five models, whereas technology upgrading (TechLicensing) ceased to be associated with survival beyond 1998. These results offered additional support for our Hypotheses 1 and 2.

11.

The contrasting experiences of two auto components firms, one in Brazil and the other in India, which forged joint ventures with Lucas Industries, UK, support this conjecture. Freios Varga, the Brazilian joint venture with Lucas (formed in 1971), was bought out by the foreign partner after Lucas merged with the Varity Corporation in 1996 (Humphrey & Memedovic, 2003). In contrast, Lucas TVS, the Indian joint venture between Lucas and the TVS Group, was acquired by the TVS Group in 2001 from Varity, and is now a Indian-owned Tier-1 supplier to both domestic and MNE auto manufacturers (Nagaraj, 2003).
References
Abramovitz, M. 1986. Catching up, forging ahead, and falling behind. Journal of Economic History, 46 (2): 385–406.

Alcacer, J., & Chung, W. 2007. Location strategies and knowledge spillovers. Management Science, 53 (5): 760–776.

Amsden, A. H. 1989. Asia's next giant: South Korea and late industrialization. New York: Oxford University Press.

Aw, B. Y., & Hwang, A. 1995. Productivity and the export market: A firm level analysis. Journal of Development Economics, 47 (2): 313–332.

Bell, M., & Pavitt, K. 1993. Technological accumulation and industrial growth: contrasts between developed and developing countries. Industrial and Corporate Change, 2 (2): 157–210.

Bernard, A., & Jensen, J. B. 1999. Exceptional exporter performance: Cause, effect, or both? Journal of International Economics, 47 (1): 1–25.

Bhagwati, J. 1993. India in transition: Freeing the economy. Oxford: Oxford University Press.

Blomström, M., & Kokko, A. 1998. Multinational corporations and spillovers. Journal of Economic Surveys, 12 (2): 1–31.

Boisot, M., & Child, J. 1999. Organizations as adaptive systems in complex environments: The case of China. Organization Science, 10 (3): 237–252.

Cantwell, J. 1989. Technological innovation and multinational corporations. Oxford: Blackwell.

Cantwell, J., & Mudambi, R. 2005. MNE competence-creating subsidiary mandates. Strategic Management Journal, 26 (12): 1109–1128.

Cantwell, J., & Mudambi, R. 2011. Physical attraction and the geography of knowledge sourcing in multinational enterprises. Global Strategy Journal, 1 (3–4): 206–232.

Cantwell, J., Dunning, J. H., & Lundan, S. 2010. An evolutionary approach to understanding international business activity: The co-evolution of MNEs and the institutional environment. Journal of International Business Studies, 41 (4): 567–586.

Cassiman, B., & Golovko, E. 2011. Innovation and internationalization through exports. Journal of International Business Studies, 42 (1): 56–75.

Chen, S.-F. S. 2010. A general TCE model of international business institutions: Market failure and reciprocity. Journal of International Business Studies, 41 (6): 935–959.

Chung, W. 2001. Identifying technology transfer in foreign direct investment: Influence of industry conditions and investing firm motives. Journal of International Business Studies, 32 (2): 211–229.

Clerides, S. K., Lach, S., & Tybout, J. R. 1998. Is learning by exporting important? Micro-dynamic evidence from Colombia, Mexico, and Morocco. Quarterly Journal of Economics, 113 (3): 903–947.

Cohen, W., & Levinthal, D. 1990. Absorptive capacity: A new perspective on learning and innovation. Administrative Science Quarterly, 35 (1): 128–152.

Cusumano, M. A., & Takeishi, A. 1991. Supplier relations and management: A survey of Japanese, Japanese-transplant, and US auto plants. Strategic Management Journal, 12 (8): 563–588.

D'Costa, A. P. 1995. The restructuring of the Indian automobile industry: Indian state and Japanese capital. World Development, 23 (2): 485–502.

D'Costa, A. P. 2004. Flexible practices for mass production goals: Economic governance in the Indian automobile industry. Industrial and Corporate Change, 13 (2): 335–367.

Dunning, J. H. 1988. The theory of international production. The International Trade Journal, 3 (1): 21–66.

Dunning, J. H., & Lundan, S. 2008. Multinational enterprises and the global economy, (2nd edn). Cheltenham: Edward Elgar.

Dyer, J. H. 1996. Specialized supplier networks as a source of competitive advantage: Evidence from the auto industry. Strategic Management Journal, 17 (4): 271–291.

Dyer, J. H., & Nobeoka, K. 2000. Creating and managing a high-performance knowledge-sharing network: The Toyota case. Strategic Management Journal, 21 (3): 345–367.

Dyer, J. H., & Singh, H. 1998. The relational view: Cooperative strategy and sources of interorganizational competitive advantage. Academy of Management Review, 23 (4): 660–679.

Ekiert, G., & Hanson, S. E. 2003. Capitalism and democracy in Central and Eastern Europe: Assessing the legacy of communist rule. Cambridge: Cambridge University Press.

Evans, P. B. 1979. Dependent development: The alliance of multinational, state and local capital in Brazil. Princeton, NJ: Princeton University Press.

Everatt, D., Tsai, T., & Cheng, B. 1999. The Acer Group's China manufacturing decision, Version A, Ivey Case Series #9A99M009, Richard Ivey School of Business, University of Western Ontario, Canada.

Fang, E., & Zou, S. 2010. The effects of absorptive and joint learning on the instability of international joint ventures in emerging economies. Journal of International Business Studies, 41 (5): 906–924.

Garud, R. 1997. On the distinction between know-how, know-what and know-why. In A. Huff & J. Walsh (Eds), Advances in strategic management: 81–101. Greenwich, CT: JAI Press.

Ghemawat, P., & Kennedy, R. E. 1999. Competitive shocks and industrial structure: The case of Polish manufacturing. International Journal of Industrial Organization, 17 (6): 847–867.

Goffin, K., Lemke, F., & Szwejczewski, M. 2006. An exploratory study of "close" supplier-manufacturer relationships. Journal of Operations Management, 24 (2): 189–209.

Golovko, E., & Valentini, G. 2011. Exploring the complementarity between innovation and export for SMEs' growth. Journal of International Business Studies, 42 (3): 362–380.

Granger, C. 1989. Forecasting in business and economics, (2nd edn). San Diego, CA: Academic Press.

Gulati, R., & Gargiulo, M. 1999. Where do interorganizational networks come from? American Journal of Sociology, 104 (5): 1439–1493.

Gulati, R., Nohria, N., & Zaheer, A. 2000. Strategic networks. Strategic Management Journal, 21 (3): 203–215.

Hagedoorn, J., & Cloodt, M. 2003. Measuring innovative performance: Is there an advantage in using multiple indicators? Research Policy, 32 (8): 1365–1379.

Helper, S., & Kiehl, J. 2004. Developing supplier capabilities: Market and non-market approaches. Industry and Innovation, 11 (1/2): 89–107.

Henderson, R., & Cockburn, I. 1994. Measuring competence? Exploring firm effects in pharmaceutical research. Strategic Management Journal, 15 (Winter Special Issue): 63–84.

Hennart, J.-F. 2000. Transaction costs theory and the multinational enterprise. In C. Pitelis & R. Sugden (Eds), The nature of the transnational, (2nd edn): 72–118. London: Routledge.

Hennart, J.-F. 2009. Down with MNE-centric theories! Market entry and expansion as the bundling of MNE and local assets. Journal of International Business Studies, 40 (9): 1432–1454.

Hoetker, G. 2005. How much you know versus how well I know you: Selecting a supplier for a technically innovative component. Strategic Management Journal, 26 (1): 75–96.

Holburn, G., & Vanden Bergh, R. 2008. Making friends in hostile environments: Political strategy in regulated industries. Academy of Management Review, 33 (2): 521–540.

Holweg, M., Luo, J., & Oliver, N. 2009. The past, present and future of China's automotive industry: A value chain perspective. International Journal of Technological Learning, Innovation and Development, 2 (1–2): 76–118.

Humphrey, J. 2003. Globalization and supply chain networks: The auto industry in Brazil and India. Global Networks, 3 (2): 121–141.

Humphrey, J., & Memedovic, O. 2003. The global automotive industry value chain: What prospects for upgrading by developing countries, UNIDO Sectoral Studies Series. Vienna: UNIDO.

Humphrey, J., Mukherjee, A., Zilbovicius, M., & Arbix, G. 1998. Globalisation, foreign direct investment and the restructuring of supplier networks: The motor industry in Brazil and India. In M. Kagami, J. Humphrey, & M. Piore (Eds), Learning, liberalisation and economic adjustment: 117–189. Tokyo: Institute of Developing Economies.

Humphrey, J., & Salerno, M. S. 2000. Globalization and assembler-supplier relations: Brazil and India. In J. Humphrey, Y. Lecler, & M. S. Salerno (Eds), Global strategies and local realities: The auto industry in emerging markets: 149–175. New York: St Martin's Press.

Ivarsson, I., & Alvstam, C. G. 2005. Technology transfer from TNCs to local suppliers in developing countries: A study of AB Volvo's truck and bus plants in Brazil, China, India and Mexico. World Development, 33 (8): 1325–1344.

Jalan, B. 1991. India's economic crisis: The way ahead. New Delhi: Oxford University Press.

Kim, L. 1998. Crisis construction and organizational learning: Capability building and catching-up at Hyundai Motor. Organization Science, 9 (4): 506–521.

Kogut, B. 1988. Joint ventures: Theoretical and empirical perspectives. Strategic Management Journal, 9 (4): 319–332.

Kogut, B., & Zander, U. 1992. Knowledge of the firm, combinative capabilities, and the replication of technology. Organization Science, 3 (3): 383–397.

Kumar, N., & Siddharthan, N. S. 1994. Technology, firm size and export behaviour in developing countries: The case of Indian enterprises. Journal of Development Studies, 31 (2): 289–309.

Lane, P. J., & Lubatkin, M. 1998. Relative absorptive capacity and interorganizational learning. Strategic Management Journal, 19 (5): 461–477.

Lee, L. 1979. Identification and estimation in binary choice models with limited (censored) dependent variables. Econometrica, 47 (4): 977–995.

Mahmood, I. P., & Mitchell, W. 2004. Two faces: Effects of business groups on innovation in emerging economies. Management Science, 50 (10): 1348–1365.

Mahmood, I. P., & Rufin, C. 2005. Government's dilemma: The role of government in imitation and innovation. Academy of Management Review, 30 (2): 338–360.

Mahmood, I. P., & Singh, J. 2003. Technological dynamism in Asia. Research Policy, 32 (6): 1031–1054.

Mahon, J. F., & Murray, E. A. 1981. Strategic planning for regulated companies. Strategic Management Journal, 2 (3): 251–262.

Majumdar, S. 1997. The impact of size and age on firm-level performance: Some evidence from India. Review of Industrial Organization, 12 (2): 231–247.

Makino, S., & Delios, A. 1996. Local knowledge transfer and performance: Implications for alliance formation in Asia. Journal of International Business Studies, 27 (5): 905–927.

Martin, X., & Salomon, R. 2003. Knowledge transfer capacity and its implications for the theory of the multinational corporation. Journal of International Business Studies, 34 (4): 356–373.

McDermott, G. A., & Corredoira, R. A. 2010. Network composition, collaborative ties, and upgrading in emerging-market firms: Lessons from the Argentine auto-parts sector. Journal of International Business Studies, 41 (2): 308–329.

McDermott, G. A., Corredoira, R. A., & Kruse, G. 2009. Public-private institutions as catalysts of upgrading in emerging market societies. Academy of Management Journal, 52 (6): 1270–1296.

Meyer, K. E. 2001. Institutions, transaction costs, and entry mode choice in Eastern Europe. Journal of International Business Studies, 32 (2): 357–367.

Meyer, K. E., Mudambi, R., & Narula, R. 2011. Multinational enterprises and local contexts: The opportunities and challenges of multiple embeddedness. Journal of Management Studies, 48 (2): 235–252.

Morck, R., & Yeung, B. 1991. Why investors value multinationality. Journal of Business, 64 (2): 165–187.

Mudambi, R. 2008. Location, control and innovation in knowledge-intensive industries. Journal of Economic Geography, 8 (5): 699–725.

Mudambi, R., & Helper, S. 1998. The "close but adversarial" model of supplier relations in the US auto industry. Strategic Management Journal, 19 (8): 775–792.

Mudambi, R., & Navarra, P. 2004. Is knowledge power? Knowledge flows, subsidiary power and rent-seeking within MNCs. Journal of International Business Studies, 35 (5): 385–406.

Nagaraj, R. 2003. Foreign direct investment in India in the 1990s: Trends and issues. Economic and Political Weekly, 38 (17): 1701–1712.

Narayana, D., Mridul, E., & Chandan, M. 1992. Growth, technical dynamism and policy change in the Indian motor vehicle industry. In A. Ghosh, K. K. Subrahmanian, M. Eapen, & H. A. Drabu (Eds), Indian industrialization: Structure and policy issues: 184–207. New Delhi: Oxford University Press.

Narayanan, K. 1998. Technology acquisition, de-regulation and competitiveness: A study of Indian automobile industry. Research Policy, 27 (2): 215–228.

Newman, K. 2000. Organizational transformation during institutional upheaval. Academy of Management Review, 25 (3): 602–619.

Okada, A. 2004. Skills development and interfirm learning linkages under globalization: Lessons from the Indian automobile industry. World Development, 32 (7): 1265–1288.

Okada, A., & Siddharthan, N. S. 2007. Industrial clusters in India: Evidence from automobile clusters in Chennai and the national capital region. Chiba, Japan: Institute of Developing Economies (JETRO).

Peng, M. W. 2000. Business strategies in transition economies. Thousand Oaks, CA: Sage.

Peng, M. W. 2003. Institutional transitions and strategic choices. Academy of Management Review, 28 (2): 275–296.

Peng, M. W., & Heath, P. S. 1996. The growth of the firm in planned economies in transition: Institutions, organizations, and strategic choice. Academy of Management Review, 21 (2): 492–528.

Rugman, A. M., & Verbeke, A. 2001. Subsidiary-specific advantages in multinational enterprises. Strategic Management Journal, 22 (3): 237–250.

Salomon, R., & Jin, B. 2008. Does knowledge spill to leaders or laggards? Exploring industry heterogeneity in learning by exporting. Journal of International Business Studies, 39 (1): 132–150.

Salomon, R., & Shaver, J. M. 2005a. Learning from exporting: New insights from examining firm innovation. Journal of Economics and Management Strategy, 14 (2): 431–460.

Salomon, R., & Shaver, J. M. 2005b. Export and domestic sales: Their interrelationship and determinants. Strategic Management Journal, 26 (9): 855–871.

Saranga, H. 2009. The Indian auto component industry: Estimation of operational efficiency and its determinants using DEA. European Journal of Operational Research, 196 (2): 707–718.

Saxenian, A. 1994. Regional advantage. Cambridge, MA: Harvard University Press.

Singh, N. 2004. Strategic approach to strengthening the international competitiveness in knowledge based industries: The case of the Indian automotive industry, Discussion paper # 2004-84, Research and Information System for the Non-aligned and Other Developing Countries, New Delhi, India.

Spicer, A., McDermott, G. A., & Kogut, B. 2000. Entrepreneurship and privatization in Central Europe: The tenuous balance between destruction and creation. Academy of Management Review, 25 (3): 630–649.

Swaminathan, P. 1988. Liberalization, market concentration and prospects for growth: A study of the TVS group of companies. Economic and Political Weekly, 23 (20): 1026–1031.

Suarez, F. F., & Oliva, R. 2005. Environmental change and organizational transformation. Industrial and Corporate Change, 14 (6): 1017–1041.

Teece, D. 1986. Profiting from technological innovation: Implications for integration, collaboration, licensing and public policy. Research Policy, 15 (6): 285–205.

Tewari, M. 2001. Engaging the new global interlocutors: Foreign direct investment and the transformation of Tamil Nadu's automotive supply base. Boston, MA: Harvard University, Center for International Development, Research and Advisory Project for the Tamil Nadu Government.

Tushman, M. L., & Romanelli, E. 1985. Organizational evolution: A metamorphosis model of convergence and re-orientation. In B. Staw & L. L. Cummings (Eds), Research in organizational behavior, Vol. 7: 171–223. Greenwich, CT: JAI Press.

Uhlenbruck, K., Meyer, K. E., & Hitt, M. A. 2003. Organizational transformation in transition economies: Resource-based and organizational learning perspectives. Journal of Management Studies, 40 (2): 257–282.

Uzzi, B. 1996. The sources and consequences of embeddedness for the economic performance of organizations: The network effect. American Sociological Review, 61 (4): 674–698.

Van den Bosch, F. A. J., Volberda, H. W., & De Boer, M. 1999. Coevolution of firm absorptive capacity and knowledge environment: Organizational forms and combinative capabilities. Organization Science, 10 (5): 551–568.

Van Tulder, R., & Ruigrok, W. 1998. European cross-national production networks in the auto industry: Eastern Europe as the low end of the European car complex, Working paper #121, Berkeley Roundtable on the International Economy (BRIE) Working Paper Series, Berkeley, CA.

Veloso, F., & Kumar, R. 2002. The automotive supply chain: Global trends and Asian perspectives, ERD working paper series #3, Asian Development Bank, Manila, Philippines.
Acknowledgements
We benefited immensely from the critical comments and suggestions offered by Ishtiaq Mahmood and three anonymous reviewers. We also acknowledge the suggestions offered on earlier versions by Mike Peng, Anshuman Tripathy, and the participants at the 2008 Academy of Management and the 2009 Academy of International Business annual meetings.
Additional information
Accepted by Ishtiaq Mahmood, Area Editor, 19 December 2011. This paper has been with the authors for three revisions.
About this article
Cite this article
Kumaraswamy, A., Mudambi, R., Saranga, H. et al. Catch-up strategies in the Indian auto components industry: Domestic firms' responses to market liberalization. J Int Bus Stud 43, 368–395 (2012). https://doi.org/10.1057/jibs.2012.4
Received:

Revised:

Accepted:

Published:

Issue Date:
Keywords
upgrading

catch-up

India

internalization theory

liberalization

auto components industry