Abstract
This article studies the interaction and profitability of the five most well-established calendar effects: the Halloween effect, January effect, turn-of-the-month (TOM) effect, weekend effect and holiday effect. We find that Halloween and TOM are the strongest and most profitable effects. The equity premium over the sample 1963–2008 is 7.2 per cent if there is a Halloween or TOM effect, and −2.8 per cent in all other cases. An investment strategy based on these two effects gives higher net risk-adjusted returns than a passive buy-and-hold strategy. These findings are robust across different sample periods, market segments and international stock markets.
Access options
Buy single article
Instant access to the full article PDF.
US$ 39.95
Tax calculation will be finalised during checkout.
Subscribe to journal
Immediate online access to all issues from 2019. Subscription will auto renew annually.
US$ 119
Tax calculation will be finalised during checkout.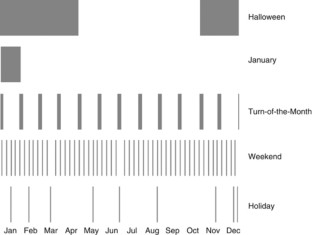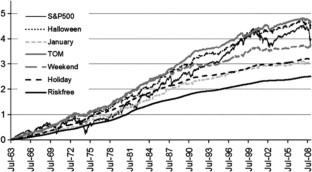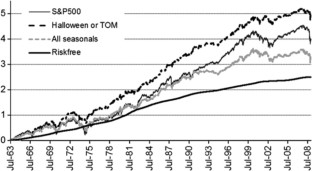 Notes
1.

We leave some other, in our view less well documented and accepted, calendar effects outside the scope of this research. For example, Kolb and Rodriguez (1987) document the Friday 13 effect.

2.

The market data are based on individual stock return data from the Center for Research in Securities Prices and are obtained from the online data library of Kenneth French.

3.

The literature on calendar effects is not always unanimous on the definition of the effects. For example, some authors have used below-average Monday returns in combination with above-average Friday returns as the weekend effect.

4.

This list of holidays is the same as Tsiakas (2010). For a full list of observed holidays for NYSE, see www.chronos-st.org/NYSE_Observed_Holidays-1885-Present.html. Note that we do not consider the following non-trading days as holidays: Funerals/mourning (25 November 1963 [J. Kennedy], 9 April 1968 [M. King], 31 March 1969 [D. Eisenhower], 28 December 1972 [H. Truman], 25 January 1975 [L. Johnson], 27 April 1994 [R. Nixon], 11 June 2004 [R. Reagan], 2 January 2007 [G. Ford]); weather (10 February 1969 [snow], 27 September 1985 [hurricane Gloria]), the first lunar landing (21 July 1969), the New York City blackout (14 July 1977), the World Trade Center terrorist attacks (11 September 2001) or the Wednesday closings during the paper crisis of the second half of 1968.

5.

For example, CXO advisory, a research investment blog, employs a trading calendar, which combines several calendar effects: www.cxoadvisory.com/calendar-effects. Further, a list of links to research papers on this topic is included on this Website.

6.

7.

This also follows from a correlation analysis on the returns from the five calendar effects. The average correlation is low with 0.20, and the maximum correlation is between the Halloween and January effect, with 0.41.

8.
References
Ariel, R.A. (1987) A monthly effect in stock returns. Journal of Financial Economics 18 (1): 161–174.

Bouman, S. and Jacobsen, B. (2002) The Halloween indicator, sell in may and go away: Another puzzle. American Economic Review 92 (5): 1618–1635.

Chen, C.R. and Chan, A. (1997) From T-bills to stocks: Seasonal anomalies revisited. Journal of Business Finance and Accounting 24 (5): 573–592.

Christophe, S.E., Ferri, M.G. and Angel, J.J. (2009) Short selling and the weekend effect in Nasdaq stock returns. The Financial Review 44 (1): 31–57.

Cross, F. (1973) The behavior of stock prices on Fridays and Mondays. Financial Analysts Journal 29 (6): 67–69.

Doeswijk, R.Q. (2008) The optimism cycle: Sell in May. De Economist 156 (2): 175–200.

Galai, D., Kedar-Levy, H. and Schreiber, B.Z. (2008) Seasonality in outliers of daily stock returns: A tail that wags the dog? International Review of Financial Analysis 17 (5): 784–792.

Haggard, K.S. and Witte, H.D. (2010) The Halloween effect: Trick or treat? International Review of Financial Analysis 19 (5): 379–387.

Haug, M. and Hirschey, M. (2006) The January effect. Financial Analysts Journal 62 (5): 78–88.

Jacobs, B.I. and Levy, K.N. (1988) Disentangling equity return regularities: New insights and investment opportunities. Financial Analysts Journal 44 (3): 18–43.

Jacobsen, B. and Visaltanachoti, V. (2009) The Halloween effect in U.S. sectors. The Financial Review 44 (3): 437–459.

Kamstra, M.J., Kramer, L.A. and Levi, M.D. (2003) Winter blues: A SAD stock market cycle. American Economic Review 93 (1): 324–343.

Keim, D.B. (1983) Size-related anomalies and stock return seasonality. Journal of Financial Economics 12 (1): 13–32.

Keim, D.B. (1989) Trading patterns, bid-ask spreads and estimated security returns: The case of common stocks at calendar turning points. Journal of Financial Economics 25 (1): 75–97.

Kolb, R.W. and Rodriguez, R.J. (1987) Friday the thirteenth: 'Part VII' – A note. Journal of Finance 42 (5): 1385–1387.

Kunkel, R.A., Compton, W.S. and Beyer, S. (2003) The turn-of-the-month effect still lives: International evidence. International Review of Financial Analysis 12 (2): 207–221.

Lakonishok, J. and Smidt, S. (1988) Are seasonal anomalies real? A ninety-year perspective. Review of Financial Studies 1 (4): 403–425.

Lucey, B.M. and Zhao, S. (2008) Halloween or January: Yet another puzzle. International Review of Financial Analysis 17 (5): 1055–1069.

McConnell, J.J. and Xu, W. (2008) Equity returns at the turn of the month. Financial Analysts Journal 64 (2): 49–64.

Pettengill, G.N. (1989) Holiday closings and security returns. Journal of Financial Research 12 (1): 57–67.

Poterba, J.M. and Weisbenner, S.J. (2001) Capital gains tax rules, tax-loss trading, and turn-of-the-year returns. Journal of Finance 56 (1): 353–368.

Reinganum, M.P. (1983) The anomalous stock market behavior of small firms in January. Journal of Financial Economics 12 (1): 89–104.

Sullivan, R., Timmerman, A. and White, H. (2001) Dangers of data mining: The case of calendar effects in stock returns. Journal of Econometrics 105 (1): 249–286.

Tsiakas, I. (2010) The economic gains of trading stocks around holidays. Journal of Financial Research 33 (1): 1–26.

Van den Bergh, W.M. and Wessels, R.E. (1985) Stock market seasonality and taxes: An examination of the tax-loss selling hypothesis. Journal of Business Finance and Accounting 12 (4): 515–530.

Wilson, J.W. and Jones, C.P. (1993) Comparison of seasonal anomalies across major equity markets: A note. The Financial Review 28 (1): 107–115.
About this article
Cite this article
Swinkels, L., van Vliet, P. An anatomy of calendar effects. J Asset Manag 13, 271–286 (2012). https://doi.org/10.1057/jam.2012.9
Received:

Revised:

Published:

Issue Date:
Keywords
calendar effects

Halloween indicator

holiday effect

January effect

turn-of-the-month effect

weekend effect